Hi! I'm Laura, a food-loving Registered Dietitian Nutritionist, recipe developer and food blogger. I really love food – all food – yes, even French fries! I'm also a bit of a history buff and I love to travel and learn about new places and the foods that are traditional to those areas.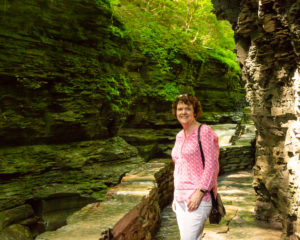 I love to cook and that is why I became a dietitian. Cooking doesn't need to be hard or time consuming. Don't get me wrong – it can be, but it doesn't need to be. My goal is to help people learn to love food, and hopefully enjoy cooking. I also believe that all food has a place in our lives – even French fries. Yes, there are serious reasons some people need to follow special diets, but for the average person, most food can fit, even if it means minor tweaks to make it work for you.
Having worked as an RDN for over 20 years in a variety of settings, I think I have a balanced view of nutrition and how to make food fit in our lives.  I have developed recipes and fun (I think) ideas for how to use various products or ingredients for the last 15 years.  I've developed recipes and done nutritional analysis for the StarKist Co. (R),  Blue Harbor Fish Co. (R) and Portofino brands and you can see some of my work on those websites.    
On this site you will find recipes I make at home and share with family and friends.
Why "On the Kitchen Shelf"? I think this name captures everything I want this website to encompass. You'll find recipes, book, and product reviews, travel stories, local interest stories, notes from cool shops I find, kitchen hints and tricks to save you time in the kitchen and hopefully someday a store that features my favorite products and books (maybe even a few of my own). Ok, that sounds like a lot so hang in there with me as I get this going.
I'd love to hear from you, so feel free to leave me comments, questions and feedback; I only ask that you be respectful, thoughtful and helpful. Any rude, disparaging or ugly comments will be deleted.