I love curling up with a good book and cup of tea in the afternoon. Having a little treat to go with it, like this hearty date nut bread, makes the afternoon that much better. I don't like super sweet things (I've probably mentioned that before!) but do like a little treat occasionally.
When I was just beginning to learn to cook and bake my Mom had me try what she called a "quick bread". She said it was a good practice for measuring ingredients and mixing. You really have to learn a variety of skills to make a quick bread – everything from how to prepare your pan to measure your ingredients, to learning how to mix them and the importance of not over-mixing.
I knew she also liked quick breads because they aren't super sweet. They are a nice little treat for breakfast or an afternoon treat and a great way to incorporate fruit, nuts and even vegetables into a snack – which makes them an even better treat from my perspective.
I think I had only made date nut bread once or twice before I came up with this recipe. I knew the flavors I wanted in it and I knew I also wanted to use one of our local distillery's whiskey. (If you live in Pittsburgh and haven't tried Wigle Whiskey or visited their distillery you should!)
My husband gave me the book "Ratios" for Christmas one year and I read the chapter on quick breads and decided to give it a try. It required a bit of tweaking but ultimately I was able to get just the right balance of flavors.
This hearty date nut bread is a pretty dense bread. I love the richness of the dates, the zestiness from the orange and the hint of whiskey flavor that comes through just at the end. I think it's the perfect combination and it does go well with a cup of Dareeling tea in the afternoon!
Date Nut Bread is one of my Dad's favorites too so this is a special recipe for me and it is quickly becoming one of my favorites. If you try it, let me know what you think in the comments!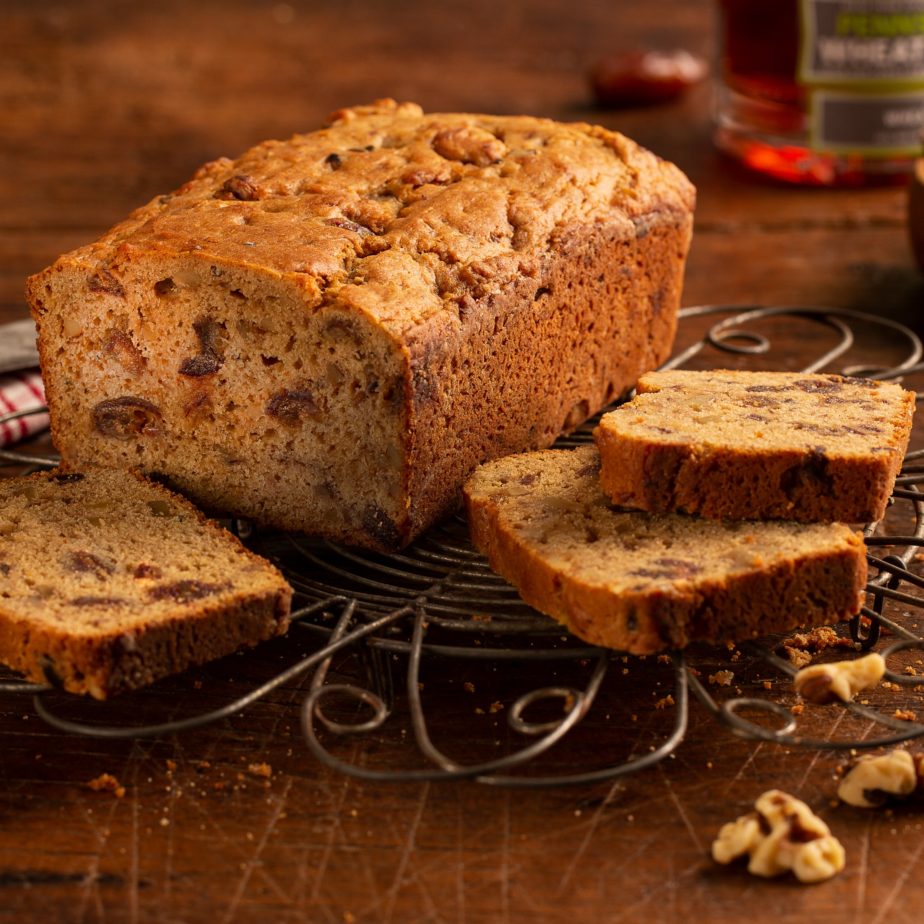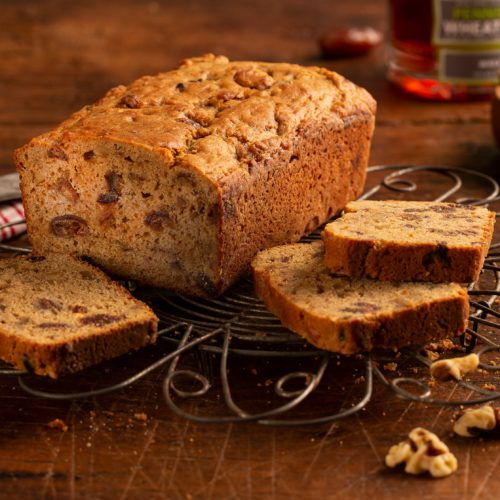 Date Nut Bread
A rich and hearty bread that is perfect with a cup of tea on a cold winter afternoon
Ingredients
1

cup

chopped dates

1/4

cup

Whiskey

I used Wigle Wheat

2

cups

flour

2

tsp

baking powder

1/2

tsp

ground cardamon

1/2

tsp

cinnamon

3/4

cup

packed brown sugar

2

eggs, beaten

1/2

tsp

orange zest

1/2

cup

orange juice

freshly squeezed

1/2

cup

butter, melted

1/2

cup

chopped walnuts
Instructions
Place dates and whiskey in a small bowl and let sit for a minimum of 2 hours and up to 12 hours.

Butter and flour a 9×5 loaf pan. Cut a piece of parchment paper the size of the bottom of the loaf pan. Place it on the bottom of the pan and butter it.

Mix flour, baking powder and the spices together in a large bowl.

Place brown sugar in a medium bowl and mix in eggs, orange juice and zest.

Add sugar, juice and egg mixture and the melted butter to the flour and stir to just combine (do not overstir, the batter should be slightly lumpy)

Gently mix in the chopped dates (along with any remaining whiskey) and walnuts. Spoon batter into prepared loaf pan.

Place in the middle of the preheated oven and bake for 50 minutes or until tester comes out clean.

Let sit for 10 minutes to cool and then remove from the pan. Place on a wire rack to finish cooling.