It's National Doughnut Day! What better way to celebrate than making homemade doughnuts? Ok, well, it is certainly easier to hit the nearest Duck Donuts or Dunkin but I had fun playing with my two kitchen appliances to do a little test – so bear with me. Have you ever tried doughnuts made in an air fryer Instant Pot?
Honestly, my brother-in-law gave me a challenge: Come up with a way to make doughnuts in an Instant Pot. I've never used my Instant Pot for baking so I thought I'd give it a try and while I was at it, try them in the air fryer too. I mean, why not?
The Doughnut Batter
I used the same batter for both sets up donuts. Let's compare apples to apples, right? I modified a recipe that my Great, Great Aunts used, for Sour Milk Doughnuts. When I made it originally the batter was pretty wet, so I adjusted a few things and downsized it a bit.
I eliminated the water and used ½ buttermilk and ½ nonfat Greek yogurt as one of my readers suggested and that made for a much thicker dough that worked really nicely. (Check out the original recipe here)
I did let the batter sit in the refrigerator for a good 2 hours before rolling it out.
Making the Doughnuts
Once the batter was good and cold I pulled it out and divided it into 3 disks. I covered 2 and worked with the first one, dividing it into 6, ¼ cup portions. I rolled each one into a 6-inch log, that ended up being about ½ inch in diameter. Then rolled each in a cinnamon-sugar mixture.
I bought these cute little silicone donut molds and rubbed 18 of them with a little grapeseed oil. (you could use canola oil or any other mild-flavored oil). I filled each with one log, fitting it into the mold and crimping the ends together. Easy peasy so far!
Baking the Doughnuts
Now the test! So, I tried the air fryer first. I have a little air fryer, but it's perfect for just the 2 of us. I set it at 370℉ and cooked the first batch for 15 minutes. Okay…a bit too long! They were crispy and too browned on the top – a bit overcooked.
So I backed the time down and cooked them for ~7 minutes at 370℉. I stopped at 5 minutes, quickly turned the donuts over to let them brown on the other side for 2 minutes. Not necessary but it helped with more even cooking. These were pretty good! Cooked through and nice and cake-like.
Then I tried the Instant Pot with the final six. I put the rack in the bottom and poured a cup of water in. Then placed 6 of the filled molds on top of the rack and covered them loosely with foil. I set the Instant Pot for 10 minutes on manual high pressure and let it go. Once it finished I released the pressure manually.
The Instant Pot version were softer, as you'd expect and almost spongy. They were cake-like but were missing the nice crust of a baked good.
Here they are side by side. The one cooked in the Instant Pot is definitely denser.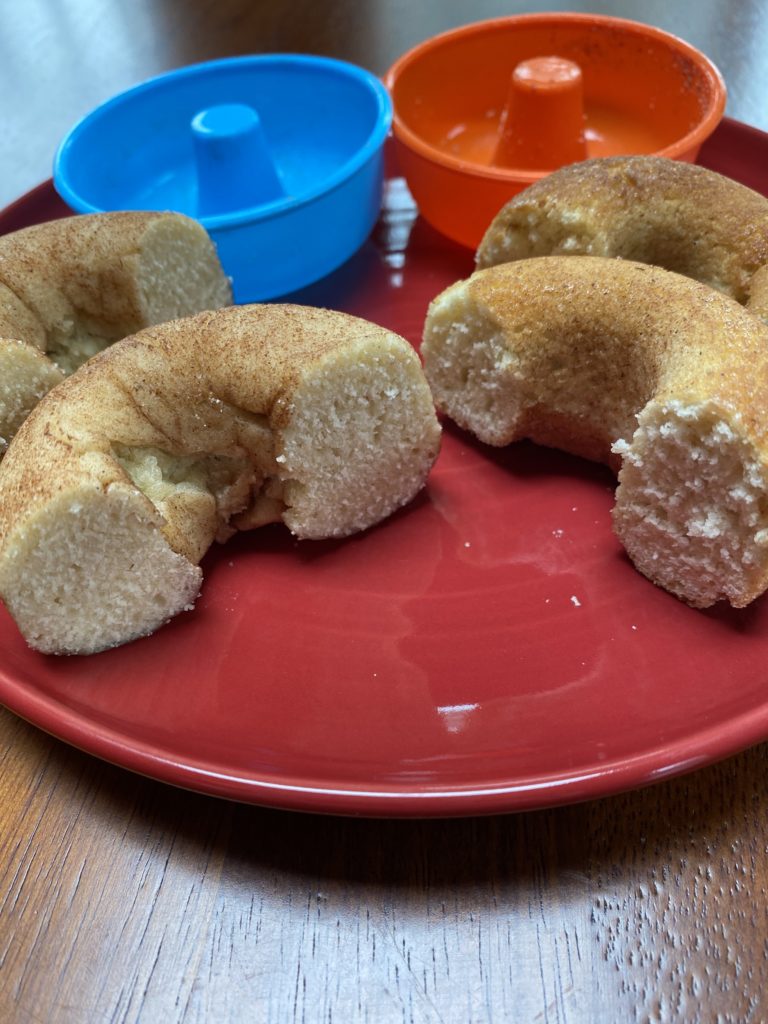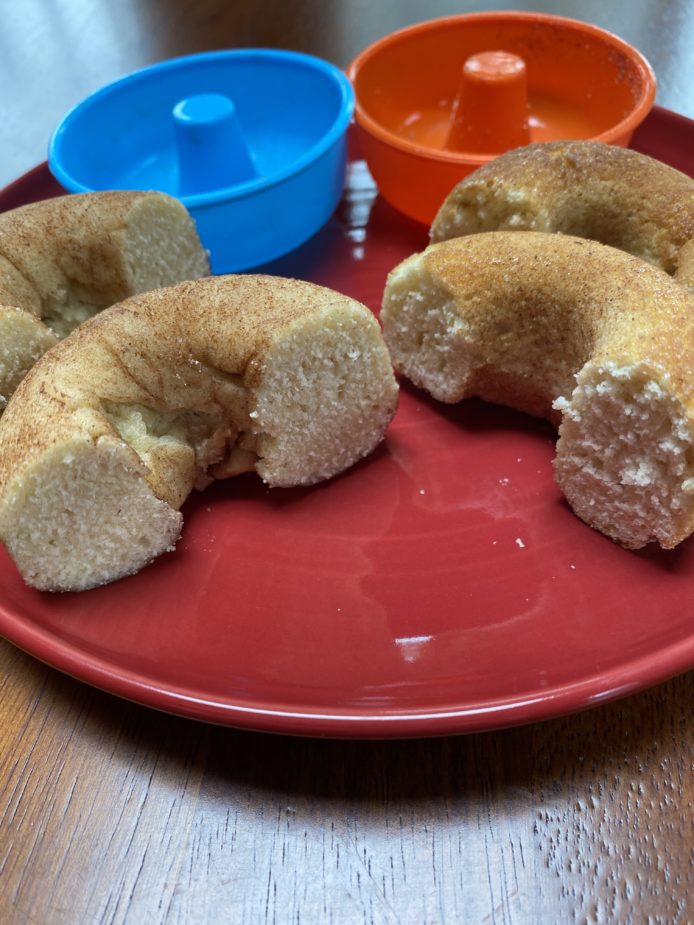 The flavor was still good, but both my husband and I agree – the air fryer wins out. Actually, there is nothing better than a real, fried doughnut, but these worked well and I didn't have to deal with all that hot oil!
Would I make them again? Yes and no. I'll definitely try donughnuts in the air fryer again but will work on a "lighter" dough. This one is so heavy and dense it is almost too much. I don't know about the Instant Pot. I may try it with a different dough, and possibly, if they were covered in gooey chocolate they may work…but that kind of defeats the purpose!
So, happy National Doughnut (or Donut) Day! Have you ever had doughnuts made in an air fryer or Instant Pot – or are you a purest? Tell me below