The Strip District is more than just a place to find delicious food. It's also well-known for its nightlife, including a range of bars and nightclubs. More recently it has become a place of distilling inspiration. As craft brewing, winemaking and distilling have grown in popularity throughout the country, the Pittsburgh craft spirits industry is growing quickly. Much of it is driven by one local distillery who has paved the way for others.
With old, empty warehouses and storage facilities, the Strip District has seen many of these dilapidated buildings restored into cool distilleries, wineries and craft breweries where you can stop in to grab a drink and a bite to eat, listen to a hip new band or just pick up a bottle to take home.
Here are a few of my favorites with more to come soon!
Distilleries
Whiskey has a long history in Western Pennsylvania. After all, it is the birthplace of rye whiskey and is where the Whiskey Rebellion started.
Fast forward about 200 years and Prohibition put an end to all of it, shutting down more than just drinking establishments. Distilleries and breweries in the area were shuttered and it was almost a century until someone had enough grit to bring it back to the area. Today they are popping up all over Western Pennsylvania, thanks to one determined family who owns the first on-premise, craft distillery in Western Pennsylvania, Wigle Whiskey.
Wigle Whiskey
The idea for Wigle Whiskey was born on a road trip. After spending a long weekend in Niagra on the Lake, the family started talking about how fun it would be to open a winery. (Now isn't that everyone's dream?) But being cocktail drinkers, and smart marketers, they asked, why not a distillery? No one was doing that – and Wigle was born – but not until a lot of hard work and lobbying the State of Pennsylvania's legislature to change the outdated laws.
The distillery is located in an old building on Smallman Street in the Strip District, just outside the main shopping area and a couple of blocks from the old Produce Terminal Building. They converted an old garage into a bright and airy tasting room with the stills behind a glass block wall and, in the same area, a place for tours and "bottle labeling parties".
Fast forward eight years and they now have tasting shops throughout the city and a barrelhouse that is open in the summer where they have musicians and festivals on weekends in the summer and fall. But the home-base remains in the Strip District and is one of the most visited and awarded distilleries in the area. It's been so successful that they recently purchased the building next door and are undergoing a major remodeling, adding a new tasting room and kitchen. I've been monitoring the progress and can't wait to see the new space when it opens!
They started with Rye and Wheat Whiskey and the first batches were clear. We took a tour early on and even bought our own little barrel to experiment with aging whiskey and seeing how the tastes matured and aged over time.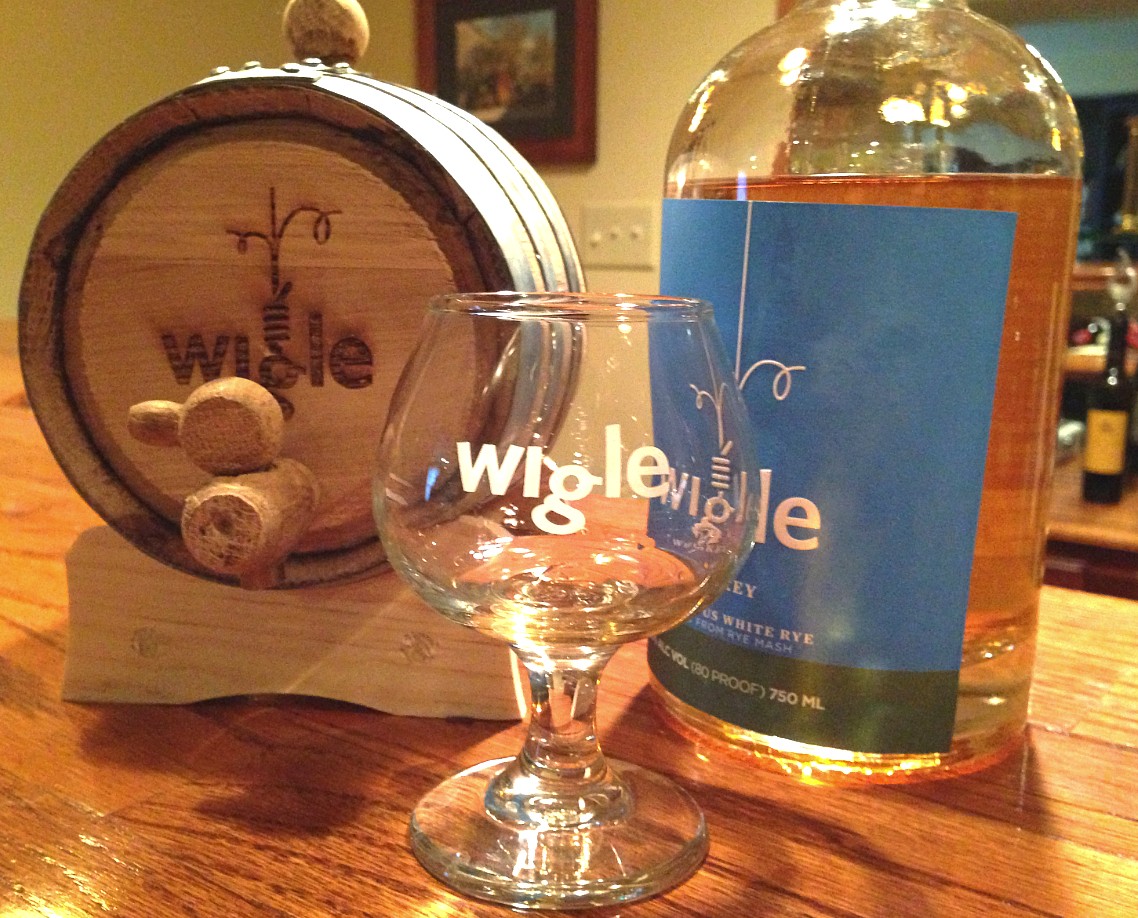 Today, they are one of the most awarded local distilleries and are at the forefront of the Pittsburgh craft spirits industry. They have added to their collection of straight wheat and rye whiskey with specialty whiskeys, bourbon, cordials, and bitters.
Their tours are fun and you leave knowing all about the history of distilling in Western Pennsylvania, as well as what they do. Join up with a bottle labeling party and enjoy one of their craft cocktails while you label the latest release. Who knows, on one of your future trips you may just pick up a bottle you labeled!
Wigle Whiskey is located 2401 Smallman Street with tasting rooms throughout the city. Stay tuned for information about their expanded Strip District site, coming soon!
Wineries
There are four wineries located in the Strip District, three that are "urban wineries" and have their operations in the Strip and one that brings their wine in from Lake Erie. Each has a unique story and wines that fit many palates.
Pittsburgh Winery
I discovered Pittsburgh Winery shortly after they opened in their original, home in the old Franklin Savings and Trust Building on Penn Avenue. The building is currently undergoing major renovations so the winery has temporarily moved a block away but still has the same great wines, happy hours and musical events.
Their wines are made from grapes sourced primarily from Napa and Sonoma regions of California and they aren't apologetic about that. The wines are excellent and would stand up to any from that region. They offer everything from a light and citrusy Sauvignon Blanc to a spicy and smokey Zinfindel and dark, rich Cabernet Sauvignon and Malbec.
The owner Tim (a music lover and former bass player for local bands Brownie Mary and Buzz Poets) converted the original space in the basement into a grape crushing room, barrel room, and music venue. Soon they will occupy the first floor and basement of the renovated space, and everyone is looking forward to hanging out amongst the wine barrels, and sipping on a recent release while enjoying great local music once again.
Pittsburgh Winery is temporarily located 2710 Penn Avenue where they offer tastings Wednesday – Sunday 12 – 7 (5 PM on Sunday) and happy hours Friday and Saturday nights from 6 – 8 PM.