While Pittsburgh is still considered a mid-western, meat and potatoes kind of city, seafood has been a part of Pittsburgh's culture from the early days. The city is surrounded by three rivers and fishing is a regular weekend past-time for many. Bass fishing is a well-known sport on the Allegheny and Ohio rivers (Pittsburgh hosted the Bassmaster Classic Annual Bass Fishing Tournament in 2005) and trout can be found in one of the many rivers nearby. Pittsburgh is only 2-1/2 hours south of Lake Erie, which is known for its Walleye, Pike and Smallmouth Bass.
Along with fresh fish from the rivers, The Strip District houses two of the best seafood shops in the area. One that has been in business for over 100 years and is still owned by the original family, and a newer shop with some of the best sushi in the area. Head to the Strip to find some of the best seafood in Pittsburgh.
Wholey's Market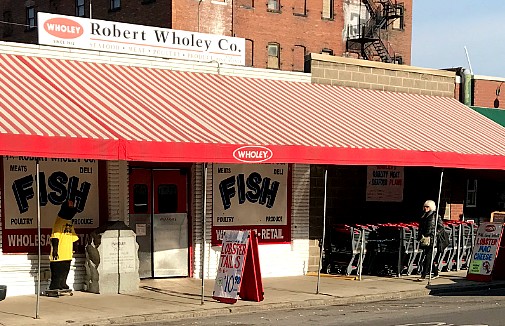 Robert Wholey Co. or Wholey's Market opened in the Strip District in 1959 but the original business started in 1912 in the McKees Rocks area of the city. It started as a general store, offering staples like coffee, butter, and eggs but also sold live poultry. After WWII, when Robert Wholey returned from the war, he moved the poultry market into downtown Pittsburgh to the old Diamond Market. When that closed in 1959, the family moved the poultry business to the Strip District.
Wholey's was not originally a seafood market. As Sam, one of Robert's son's describes the history, Wholey's was known for their freshly dressed chickens, but one day a man came in selling some lake fish and asked them to try to sell it. The rest, as they say, is history. With a long counter full of a huge variety of fresh/fresh-frozen fish, along with a couple of large tanks of live trout and lobsters, and freezers full of frozen seafood you can find just about any variety you need.
As his son Sam describes, Robert Wholey was a good businessman, but more importantly, he understood people. He had a big heart and would greet every customer to the store and loved talking to people. He made the store into a shopping destination and often hosted special events in the nearby parking lot like a petting zoo, picnics, and barbeques.
When you visit, don't forget to give "Rachel", the 800 – 900-pound bronze piggy bank a pat on her nose and drop a coin in. All proceeds go to a local children's charity and are currently going to the Big Brothers Big Sisters organization.
Wholey's Market is located at the corner of Penn Avenue and 17th Street. Although best known for their seafood, they have a full butcher shop, fresh produce, and other grocery products throughout the store.
Penn Avenue Fish Co.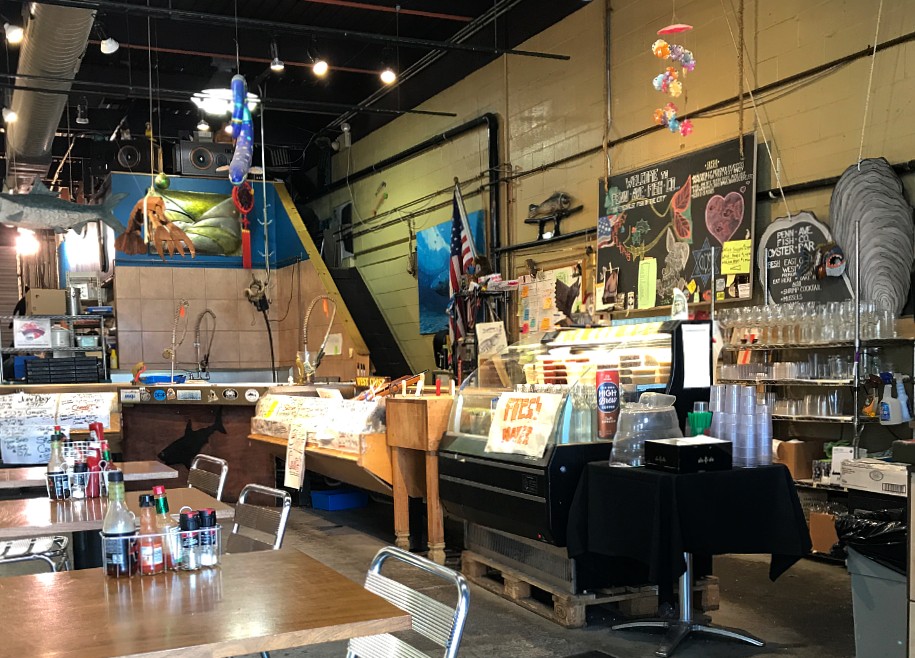 Penn Avenue Fish Co. is one of the newer establishments in the Strip and opened in 2007. In addition to having a select variety of fresh fish for purchase, and fishmongers who really know their business, Penn Avenue Fish is also a highly regarded, casual seafood restaurant with one of the best sushi bars in Pittsburgh.
Head into the open, friendly shop and you'll find large fish sculptures and fun sea urchin mobiles dangling from the open industrial ceilings. Contemporary ocean-themed paintings adorn the walls and behind the counter is a large chalkboard sign welcoming you to "Penn Avenue Fish Co. 'The Freshest Fish in the City' ". There you will find the list of sushi and oysters available that day, along with playful chalk-drawn ocean-themed pictures.
While the atmosphere may seem whimsical, they take their seafood seriously. At the back of the shop, you'll find an ice-filled case with the day's selections laid out. One of their knowledgeable fishmongers will answer any question about the selections available or when they might get a variety you are looking for. If you're lucky, you'll get a fun story and a little history about the fish you are buying along with cooking suggestions.
Penn Avenue Fish Co. is located in the 2200 block of Penn Avenue, next door to S&D Polish Deli.