From bakeries, chocolate, and candy shops to an old fashioned ice cream parlor, the Strip District is full of places that will satisfy your sweet tooth! Here are some of my favorite places to visit for sweets and treats with more coming soon.
Mon Aimee Chocolat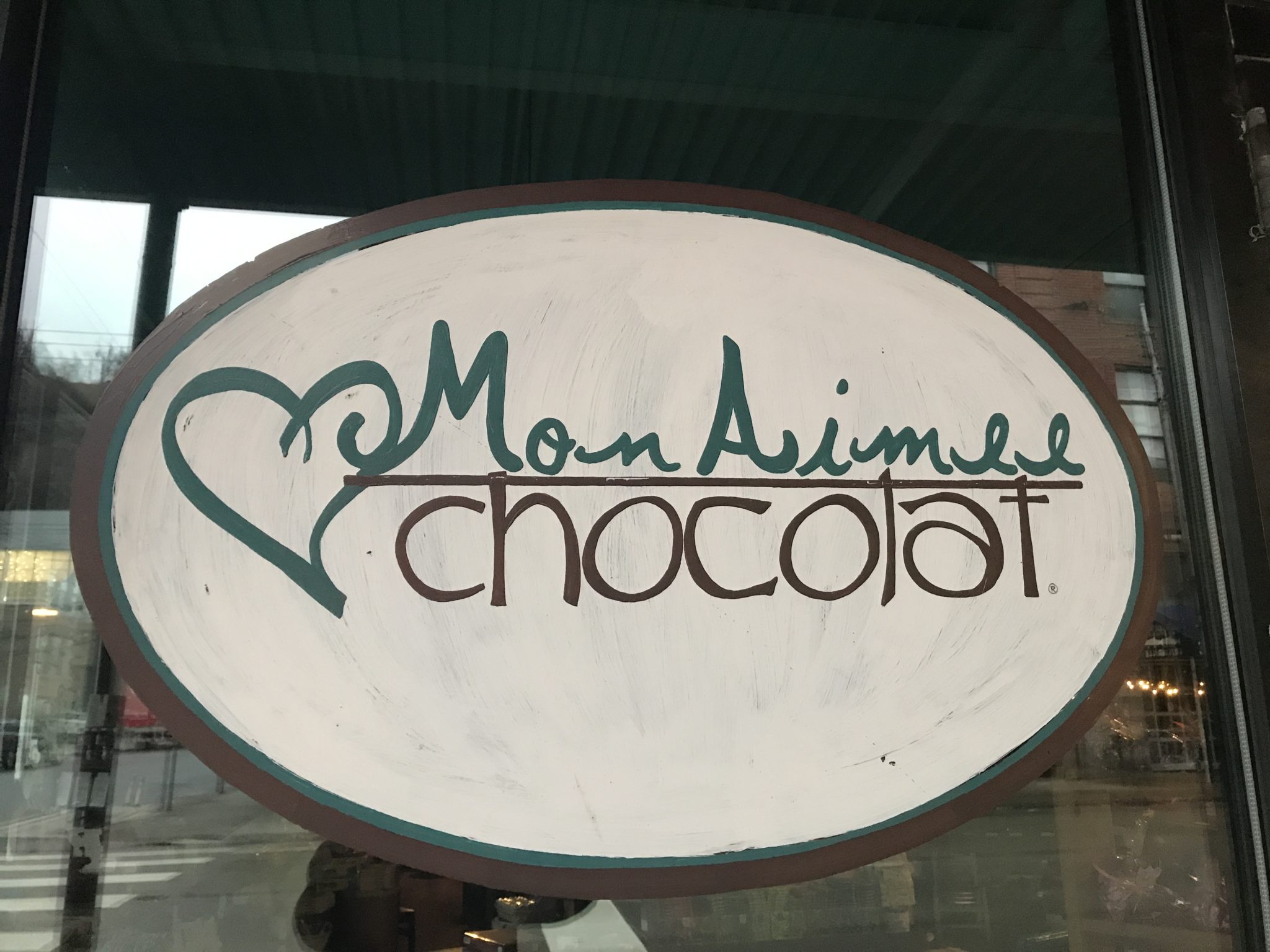 One of the best chocolate shops in the city is located in the Strip District. Mon Aimee Chocolat is the place to go if you are a specialty baker or are looking for some of the best chocolates for an upcoming holiday.
This gourmet chocolate shop has chocolates from some of the best chocolatiers in the country. In addition to fine bars from Guittard and their own proprietary hot chocolate blend, they have seasonal chocolate treats, truffles made with Wigle whiskey, specialty caramels, and gelato made in small batches.
The owner, Amy, proudly sources all the products herself and looks for "direct trade" chocolates. She knows her chocolate and what to look for, so if you are a baker and want the best, I wouldn't go anywhere else. If you are just wandering through the Strip on a Saturday, definitely wander in and you will surely walk out with at least a treat or two.
Mon Aimee is located on the corner of 21st and Penn Avenue. It is just across from Pennsylvania Macaroni Company and up the street from St. Stanislaw Catholic Church.
Klavon's Ice Cream Parlor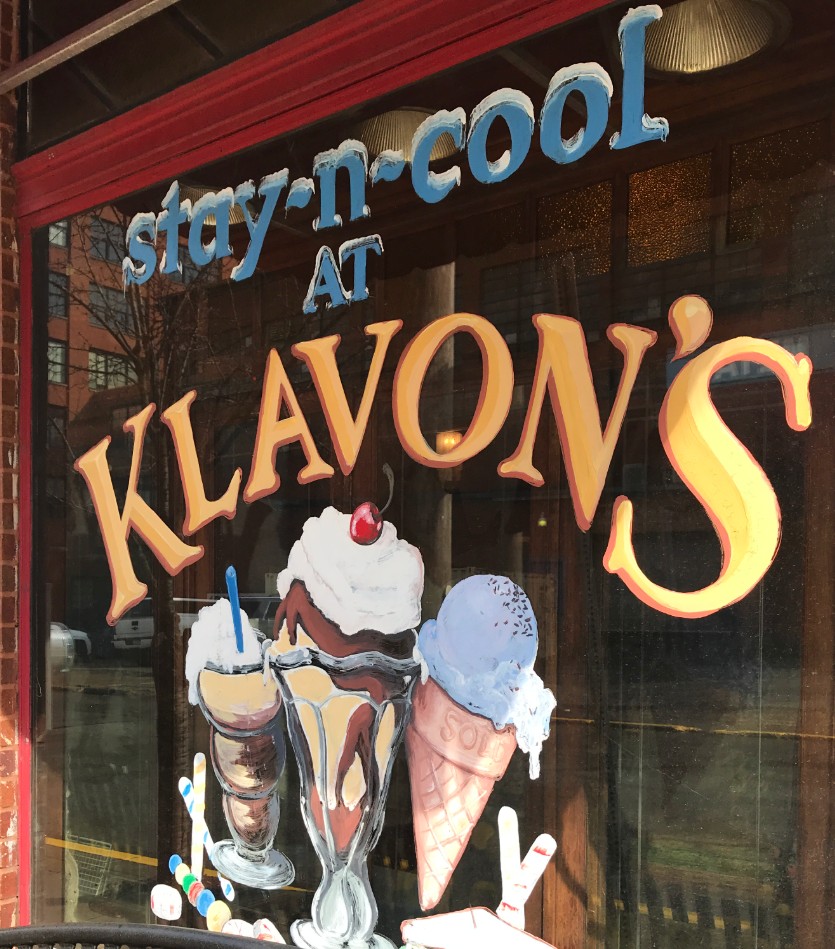 Take a step back in time as you walk through the old wooden door at Klavon's Ice Cream Parlor. Complete with the original marble counter, iron stools, wire-rimmed wooden tables, and original soda fountain and milkshake machine. The list of the day's ice cream flavors and various sundaes are artfully captured on chalkboards behind the counter. The walls above the old apothecary cases and phone booths have playful, colorful murals with cartoon characters and an ice cream cone lined yellow-brick walkway – reminiscent of the old Candyland game.
I love that the owners have left the shop the way it was and haven't modernized. There is quite a history to this little shop and the new owners have retained more than just the ambiance. Candy jar lined shelves, an old popcorn machine and a Coca-Cola refrigerator make you feel like you walked into a 1920's movie set. The apothecary cases in the back of the shop hold old medicine jars and elixirs that helped most common ailments back in the day.
Honestly, the best part is the ice cream! Even on a chilly winter day, there is nothing better than stopping in here for a delicious treat. Grab a seat at the bar and enjoy a classic sundae or a scoop with some whipped cream on top.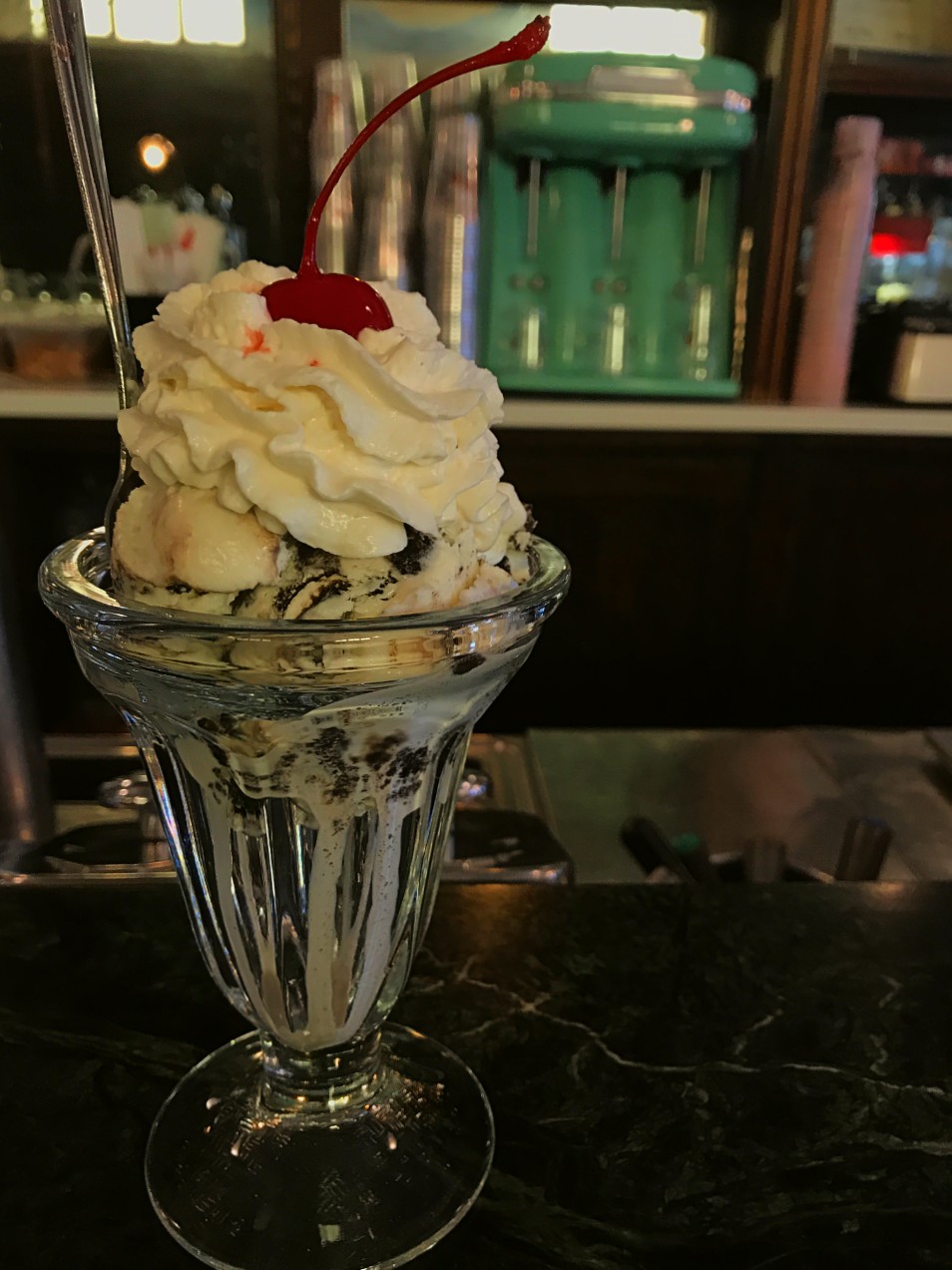 The ice cream is made on-site, in the Penn State Creamery style. They used to serve Creamery Ice Cream but the owner took the famous ice cream making course and now makes his own. This is one of my favorites – Cookies and Cream with whipped cream and a cherry on top.
The next time you find yourself in the Strip District, take a walk to 28th and Penn. Order a scoop and just hang out, taking it all in. You will walk out feeling like you just stepped back in time.
Klavon's is located at the corner of 28th and Penn Avenue in the Strip District.