It's National Homemade Soup Day! There is something kind of funny about this – last week the temperature outside was in the negative numbers and today it's supposed to be in the high 50s! But still, it's early February and I know this is just a tease from mother nature! Despite what the groundhog said I know it will turn cold again soon and a hearty Italian soup will definitely hit the spot!
A broth based soup with tons of vegetables and a bit of pasta is one of my favorite winter soups. I can't think of anything better to warm you up after a day on the slopes or shoveling the walk, or just after a long day of work.
Even if you aren't much of a cook, I think soup is one of the easiest things you can make from scratch. You almost don't need a recipe! It's hard to go wrong with a variety of vegetables, a protein or two and broth of your choice.
The other thing that I love about a good homemade soup is it typically freezes well and holds up. I will often make a big batch and freeze it in dinner portions for later. Then I have a super easy but healthy dinner on a busy night. Just add a salad and roll and you are all done!
For this one I used an Italian sausage, taken out of its casing and crumbled like large pieces of ground beef. You can use a spicy or sweet sausage – I prefer sweet, but if you like a little bit of a kick, go with spicy! My favorite place to get my sausage is at Parma Sausage in the Strip District. They make it onsite and it is always fresh and perfectly seasoned! But any good Italian sausage will add a delicious flavor.
I added pesto to this soup for seasoning and between that and the sausage you really don't need any other spices except a little salt and pepper.
You can use any pasta you'd like – I chose tortellini because I had some in the freezer I wanted to use up, but any medium size pasta will work. A little tip though – if you are making this ahead, don't add the pasta until just before serving! The pasta will continue to soak up the liquid and expand leaving very little broth – and if you have to add more broth you'll dilute the flavor from the pesto. So if you are making this to freeze, hold off on adding the pasta and spinach until you are ready to serve it and add them both as you reheat it.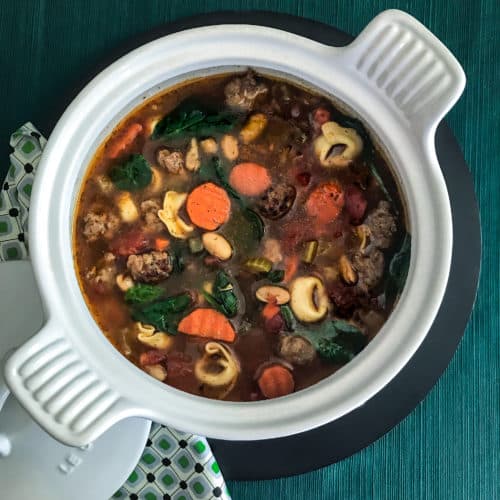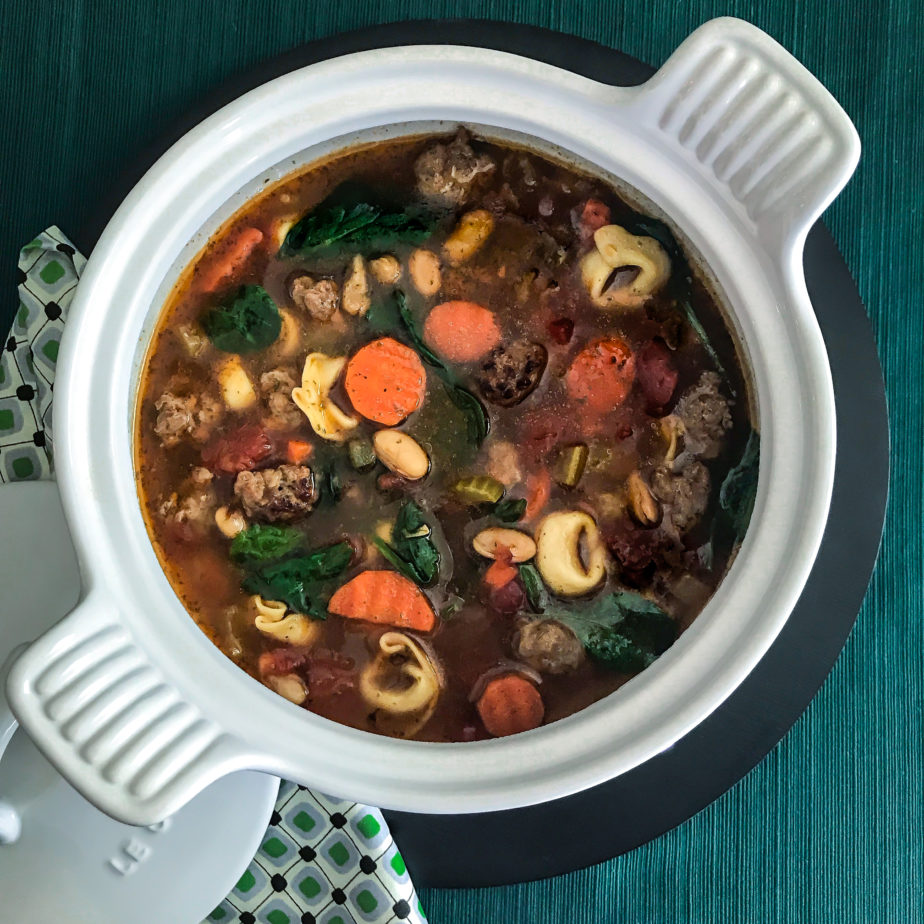 Sausage and Bean Soup
Italian Sausage and Cannellini Beans – a simple homemade soup that only takes about 30 minutes. You can use sweet or hot sausage and any type of pasta you like. It's perfect for warming up on a cold winter day!
Ingredients
1

Tbsp

Olive Oil

Extra Virgin

1/2

cup

diced sweet onion

1

tsp

minced garlic

(2 cloves)

1/2

cup

diced carrot

1/2

cup

diced celery

3

Italian Sausage links

sweet or spicy

1

can (14.5 oz.)

diced tomatoes

not drained

2

cans (15 oz. each)

cannellini beans

drained and rinsed

1

Tbsp

prepared pesto

6

cups

chicken broth

1

cup

medium pasta (ditalini, tortellini, etc)

3

oz.

fresh baby spinach

(1/2 bag)
Instructions
Heat olive oil in a large saucepan over medium heat. Add onion, garlic, carrots and celery and cook until just softened, about 5 minutes.

Remove sausage from casings and crumble (mini meatball size pieces). Add sausage pieces to the sauce pan and cook until browned and cooked through.

Mix in tomatoes (and juice), beans and pesto. Stir to combine well.


Add chicken broth and turn up heat to medium high. Heat until broth is just starting to boil.

Add pasta and boil until pasta is al dente.

Stir in spinach to wilt. Season with salt and pepper if needed.
Notes
If making this recipe ahead, don't add the pasta or spinach until just before serving.  Reheat the soup and then add the pasta and finish with the spinach.  This would be good with a little parmesan cheese sprinkled on top too!
Please follow and like us: