Laura is an award winning dietitian who is frequently quoted in the media
Recent placements include Parade, US News and World Report, Eating Well and Parents Magazine.
Laura M. Ali, MS, RDN, LDN is a culinary nutritionist based in Pittsburgh, PA and owner of Laura M. Ali, LLC a nutrition communications company.
Prior to starting her own business, Laura was the RD and Nutrition spokesperson for both Del Monte Foods and StarKist Co. She has over 30 years of experience as a registered dietitian, 15 of that as a brand spokesperson for 2 leading healthy food brands.
Laura is often quoted in the media and is available for spokesperson work, media appearances, recipe development and freelance writing projects. If you'd like to discuss a project or talk about ways to work together, contact her here.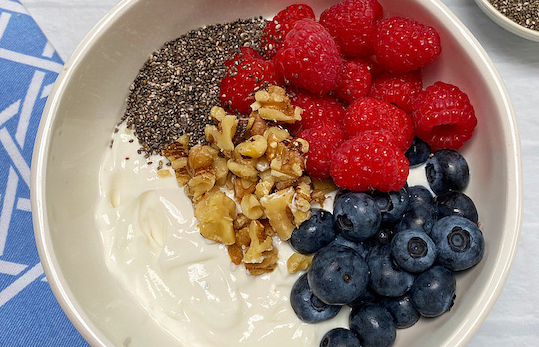 November 4, 2022
Nutritionists Agree: 3 Foods You Should Eat This Fall if You Struggle With High Blood Pressure
Additional Media Placements
Pittsburgh Post-Gazette

April 2, 2022
Food Network

March 30, 2022
VeryWell Fit

March 8, 2022
"Greens Powder: Is it Worth Trying?"

Eat This, Not That!

December 17, 2021
"The Best Eating Habits for Your Gut Health, Say Dietitians"
Fitbit Blog
December 16, 2021
"The Best Cold Weather Foods to Eat Right Now"
Eat This, Not That!
November 8, 2021
"Over 50? Eat These Foods for Stronger Bones, Say Dietitians"
Eat This, Not That!
September 29, 2021
"Simple Ways to Avoid Vitamin D Deficiency, Say Experts"
Fitbit Blog
September 28, 2021
"4 Heart Healthy Recipe Swaps to Try Today"
Eat This, Not That!
August 22, 2021
"Eating Habits to Avoid if You Want a Lean Body, Say Dietitians"
The Healthy
August 20, 2021
"Avocado Oil vs. Olive Oil: Is One Healthier Than the Other?"
"7 Low-Cost, Super Healthy Vegetables to Add to Your Kids Meals"
"11 Store-Bought Condiments These Registered Dietitians Always Keep on Hand"
FitBit Blog
August 5, 2021
"5 Make-Ahead Breakfast Ideas for Busy Back to School Mornings"
US News & World Report
July 29, 2021
"Picnic Foods that Won't Spoil in Warm Weather"
Everyday Health
July 22, 2021
"Mangos 1o1: Nutrition, Benefits, Types and More!"
"The Best and Worst Foods For Brain Health, According to Dietitians"
"3 Simple Ways to Lighten Up Your Ice Cream"
"In Case You Need Another Reason to Eat Avocado Toast, Here are 10 Awesome Health Benefits of Avocados"
Health Central
June 1, 2021
"These Antioxidant-Rich Snacks Slow Wet AMD Progression"
"Tuna vs. Salmon: How they Compare, According to Dietitians"
Client Successes
Collaborative and Solution-Driven

To anyone who is looking for an RD who is collaborative, solution-driven, can develop nutritious and delicious recipes out of any ingredient, write great content, is hardworking, and is wicked smart…well look no further and hire Laura!

Edyta Stadnik, Sr. Brand Manager, StarKist Co.
Client Successes
High-Quality, Engaging Content

Laura is an excellent nutritionist, reader's writer, and an absolute pleasure to work with! Not only does she deliver authoritative, high-quality, well-researched, and engaging content, but she does so on-time, in line with the brief, and on point with the style. If you are looking for health content your readers will want to read or recipes they will bookmark, hire Laura! I highly recommend her!

– Tyler Einberger, COO & Director of SEO, Momentic
Client Successes
One of the Best Events They've Attended

Laura provided a special online holiday event for us focused on nutrition, stress and the holidays. She did a cook-a-long while also providing nutrition tips and tricks to help survive the holiday season stress-free. The attendees said it was one of the best events they've attended! Laura was such a joy and pleasure to work with and made my job a million times easier! I cannot thank her enough!

– Maddy Dixon, Alumni Coordinator, The University of Pittsburgh