There is something about the smell of apples and cinnamon cooking. The house just smells cozy and on a dreary fall day, that is just the smell I was looking for! Homemade cinnamon applesauce is easy to make and your house will smell wonderful all day long!
I used Honeycrisp apples for this batch. They are naturally sweet so you don't need to add any sugar but there are so many varieties of apples to choose from. If you can't find Honeycrisp, Macintosh or Ambrosia will work nicely.
The US Apple Organization and Washington Apple Commission both have good resources about the different varieties of apples that are commercially available and which types work well for various preparations. For instance, did you know that Macintosh apples cook down and give off a lot of liquid? No wonder my apple pies are always a gloppy mess!
Anyway, making homemade cinnamon applesauce is really easy. Just peel, core and slice your apples. Put them in a 3 qt. saucepan with 1/2 cup apple cider and 2 cinnamon sticks. Let them cook over medium-low heat, covered for about 30 minutes, stirring occasionally. Then, I stir them really well, cover again and let them sit for another 15 – 20 minutes and allow them to cool a bit.
Once they have cooled slightly, remove the cinnamon sticks and mash the apples with a fork or back of a spoon. Allow the mixture to cool completely before placing it in a sealed jar. The applesauce will last in the refrigerator for a week or two and you can freeze it for later too!
This batch is a thank you for my sister-in-law for hosting Thanksgiving dinner. I made another batch for Mark and me to enjoy this week.
A word of caution…. be careful when you are slicing your apples! I was moving fast today and trying to get a lot done and sliced my finger with a super sharp knife. I thought having apple slices in the shot above would make the picture better. It did, I got the shot, and then we headed to our local urgent care! They were great and fixed me up quickly and only delayed our dinner by an hour! Maybe my next post should be on knife safety…maybe I'll learn a thing or two! #reallife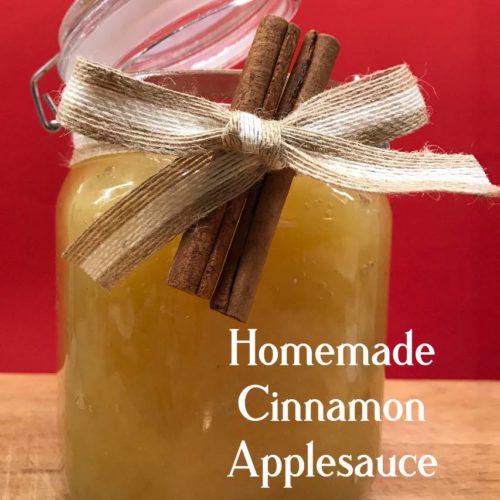 Cinnamon Applesauce
Simple homemade cinnamon applesauce – sweet just as it is – no added sugar is needed!
Ingredients
3

lbs

apples

about 8 apples

1/2

cup

apple cider

2

cinnamon sticks
Instructions
Peel, cut and core apples. Place in a 4 qt. sauce pan.

Add apple cider and cinnamon sticks. (Push cinnamon sticks down into the apples to cover them.)

Cover and cook over medium-low heat for 30 minutes, stirring occasionally.

Remove from heat, stir and cover. Let sit for at least 15 minutes.

Remove the cinnamon sticks and mash the apples with a fork until just chunky. If you like smooth applesauce, place the mixture in a food processor and blend until smooth.

Allow to cool completely and place in a large jar or airtight container.
Notes
Recipe makes about 1 quart of applesauce.