As we head into the winter months one thing I really look forward to is fresh citrus. Oranges and grapefruit and those little mandarines are all so good this time of year. I love adding them to salads and once I learned how to segment an orange (and other citrus fruit) I add them all the time.
Getting those perfect little segments out of the fruit and into the dish can be a bit of a challenge. But, I'm here to help and make it quick and simple for you and to share this delicious salad and bright and fresh orange vinaigrette!
How to Segment an Orange
To start segmenting the orange, slice the ends off, getting as close to the sections of the fruit as possible. (This works for grapefruit and pomelos as well!)
Next, take a sharp knife and cut as close to the orange as possible, removing the exterior pith. The pith, or outside of the orange tends to be very bitter so you want to remove as much as possible without cutting off too much of the orange.
Now that you have the orange "peeled", you can see the section markers. The trick is to take a very sharp knife and slowly cut as close to each side wall of the section as possible, ending at the center of the fruit. Repeat on the other side of the segment and the segment should easily fall out. Keep going until you have all the segments out.
What is left? All the walls of the segments and some of the pulp. But don't just throw this away! You can squeeze it out and get about 1/4 cup of juice from the inside. You'll use this to make your vinaigrette!
Make the Vinaigrette
Vinaigrettes are super easy to make and are a great way to use extra juice from a lemon, lime or orange. Typically a vinaigrette is a 1:3 ratio. One part acid and 3 parts oil. For me, I like my dressing with a little more bite and adjust the oil down. It ends up being closer to a 1:2 ratio.
I used about 1/4 cup of orange juice – whatever I could get out of the remaining orange sections – 1 Tbsp. white balsamic vinegar, 1/2 cup of extra virgin olive oil and about a tsp. of Agave syrup. I added a little salt (1/8 tsp.) and a similar amount of garlic powder.
Then, just whisk it together until it "emulsifies" or holds together. You won't see the line between the oil and acid.
Assemble the Salad
This is the easy part. I cook up some farro and let it cool slightly. Then mix in some baby kale and baby spinach while the farro is slightly warm and toss with a little of the vinaigrette. (The vinaigrette keeps the farro from clumping together)
Once cooled and the spinach and kale have wilted a little, toss in goat cheese, chopped pistachios, orange segments, and a little chopped fresh basil. (Dry basil works if you don't have fresh)
Just before serving toss with more vinaigrette to taste. Save the rest of the vinaigrette for later. It's delicious on a spinach or tossed salad or as a marinade for pork, chicken or fish.
So, did you ever segment an orange or grapefruit this way? If not, tell me how you do it in the comments! I love learning new tricks!
FUN FACT: Oranges hold a special place as a Christmas tradition. I remember finding an orange in the toe of our stockings every Christmas morning. The tradition for many families goes back at least to the early 1900s.
During the Great Depression, citrus was a special treat and very expensive. So for children to find this in their stockings was a huge treat and may have been their only gift.
We are so lucky that today we can get fresh citrus fruit at almost any time of the year. It is readily available, inexpensive, and is full of vitamin C, potassium, and antioxidants. Citrus fruit is s perfect addition in so many ways to our meals during the cold winter months!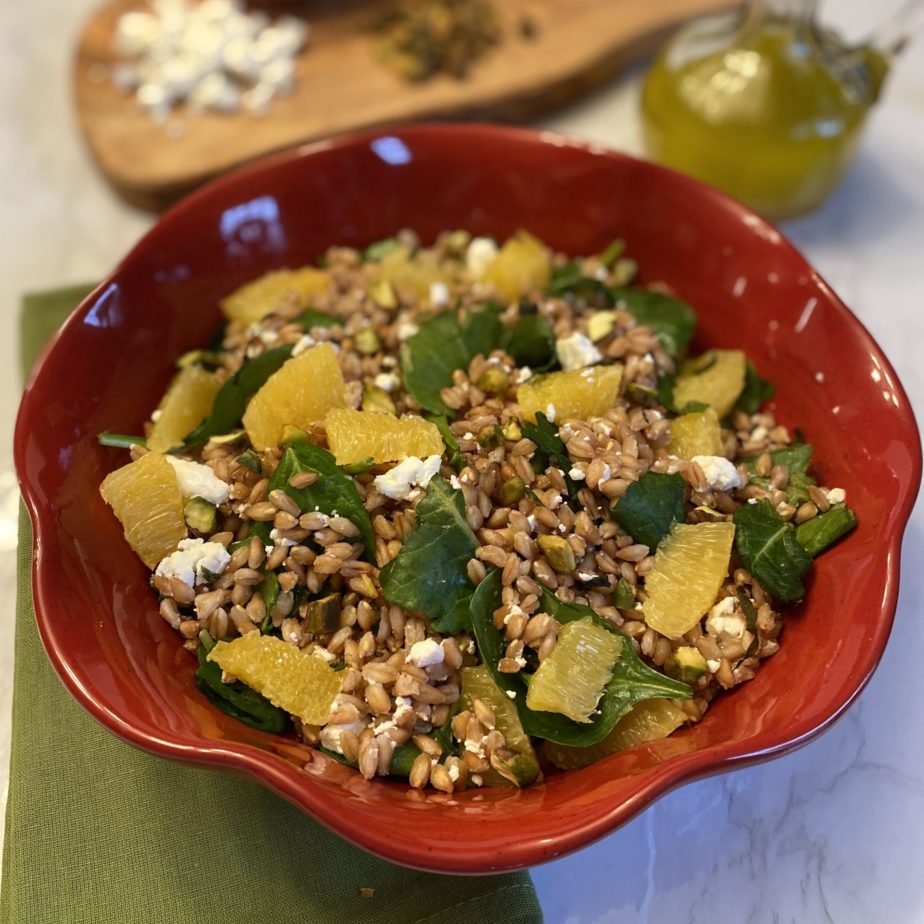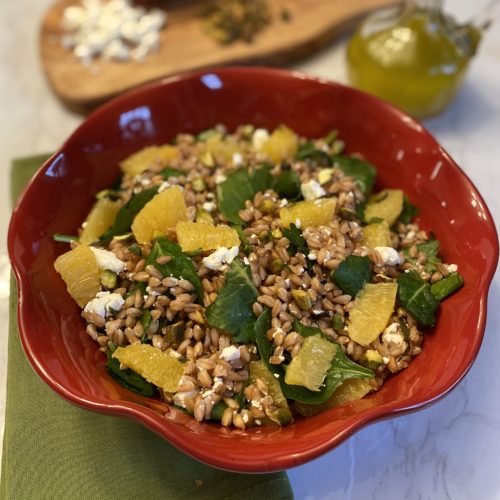 Hearty Winter Farro Salad
Ingredients
1

cup

farro

rinsed

2

cups

chicken broth

1

cup

baby spinach and kale

2

oz

goat cheese

1

orange

sectioned

2

Tbsp

chopped pistachios

1

tsp

chopped fresh basil
Orange Vinaigrette
1/4

cup

orange juice

1/2

cup

extra virgin olive oil

1

Tbsp

white balsamic vinegar

1/2

tsp.

agave syrup

1/8

tsp.

garlic powder

1/8

tsp.

salt
Instructions
Bring chicken broth to a boil and add the farro. Reduce heat to simmer and cover. Allow it to cook for about 20 minutes, until just tender.

While the farro cooks, segment the orange and make the vinaigrette.
Section Orange
Cut ends off the orange. Then slice the peel off the orange as close to the fruit as possible to peel the orange. You will be left with the interior sections of the orange.

Take a sharp knife and slice carefully as close to the section wall as possible and cut toward the center of the orange. Repeat on each side of each orange section.

Set the sections aside and squeeze the inside of the orange into a small bowl to get all the juice out. Set the juice aside to make the vinaigrette and cut the orange sections in half and set aside.
Make Vinaigrette
Place orange juice from sectioned orange in a medium bowl. Add olive oil, vinegar, agave syrup and spices. Whisk until emulsified (completely combined)

Drain farro if needed and allow to cool slightly.
Assemble Salad
Place in a medium bowl and toss with about a tablespoon of the vinaigrette to keep it from clumping. Add the spinach and kale and toss well. Allow to sit for 20 – 30 minutes and allow to cool further. Spinach and kale should wilt slightly.

Once cooled, toss in the orange sections, the goat cheese, pistachios and basil. Add enough vinaigrette to coat the salad lightly. Reserve the remaining vinaigrette and use for other salads or as a marinade.