I look forward to butternut squash soup every fall. There is nothing better on a cold fall night than a bowl of that hearty soup with some good homemade crunchy rolls. As much as I love the soup, sometimes it's fun to mix it up a bit which is why I played around with an easy butternut squash pasta sauce. Pasta is one of our favorite meals too, but just like the soup, sometimes it's good to mix it up a bit!
First, the butternut squash. They look intimidating, but they are super easy to prepare. If you don't want to peel and cut it yourself, most produce departments have it pre-cut and ready to go, but it's really not that hard to do yourself. It is really important to have a sharp knife! This will make easy work of cutting the squash.
How to cut a butternut squash
I start by cutting off each of the ends. Then, cut the "bulb" end off so you have two big pieces.
Next, peel each of the pieces. I use a peeler but you could use a knife as well, I just find the peeler easier to use.
Then, cut the "bulb" end in half and scoop out the seeds. Slice each half into ~1-inch slices and then into ~ 1-inch dices.
Cut the long piece in half lengthwise and then in strips. Cut each into ~1-inch cubes.
There, that wasn't so hard, was it? Well, you might have gotten a bit of an arm workout, but that's just a bonus in my book!
Making the Butternut Pasta Sauce
There are a couple of things I love about this sauce. First, it is rich and hearty and really fills you up. Second, it's packed with good nutrition and third, you can extend all those good nutrients by cooking your pasta in the same water you cook your squash, so kind of doubling up if you will!
First, boil the squash in a large pot of salted water. Yes, salted. I know, but trust me, you don't need a lot and if you add it here, you won't have to add it at the table and will likely use less. (The trick with salt is add it a little at a time, throughout the cooking process to build flavor – more on that another time!)
Cook the squash until tender. The amount of time will be based on how small or large your dices are. A 1-inch dice takes about 15 minutes to soften.
Remove the butternut squash with a slotted spoon to the bowl of your food processor (or blender) and let it cool slightly. Reserve the water because that is what you'll cook your pasta in!
Puree the squash until smooth and then add the milk, yogurt a little chicken broth and your herbs. Taste it and add some salt and pepper if needed.
This easy butternut squash pasta sauce makes 4 cups of sauce. I used about a 1/2 cup of sauce per cup of cooked pasta. If you don't need it all, the sauce freezes nicely. Add a side salad and you've got a delicious and nutritious fall dinner!
Butternut squash is full of antioxidants – especially Vitamin A and beta carotene (where it gets that beautiful orange color). It's also rich in Vitamin C, potassium, and fiber. And the best thing about this sauce? It is only 50 calories for a 1/2 cup serving!
Fall is really one of my favorite seasons and part of that is because of all the delicious vegetables that are available. Butternut squash is one of my favorites. Do you have a favorite way to use butternut squash? Let me know! I'm always looking for new ideas!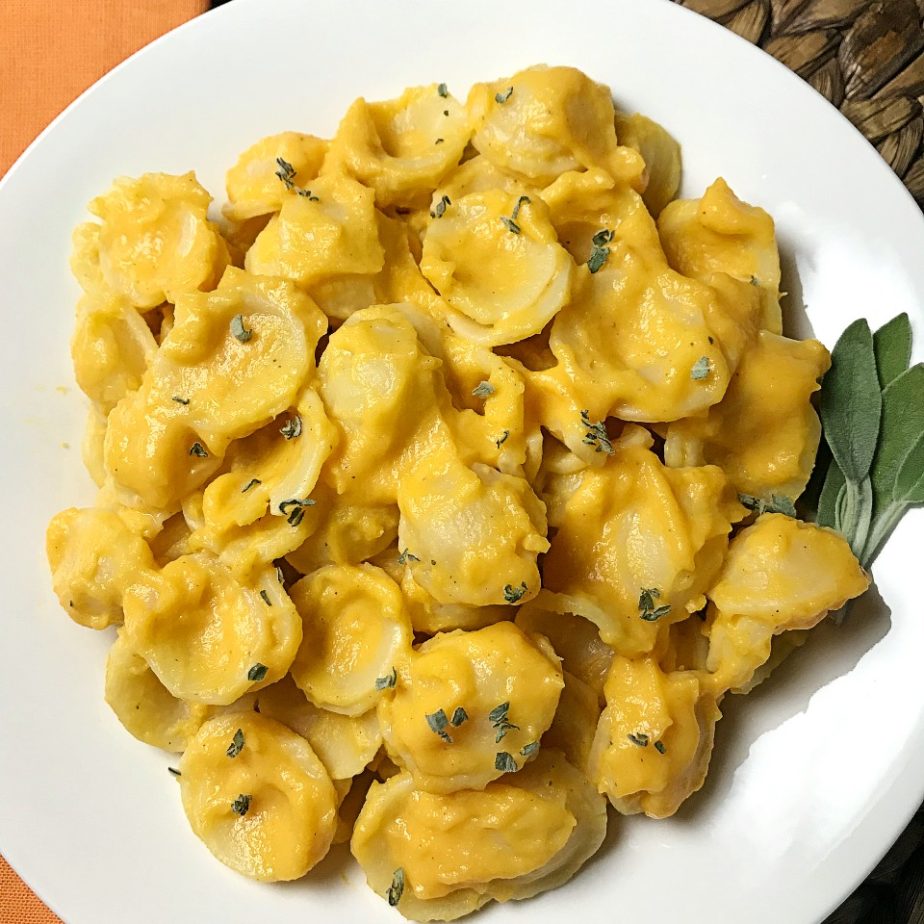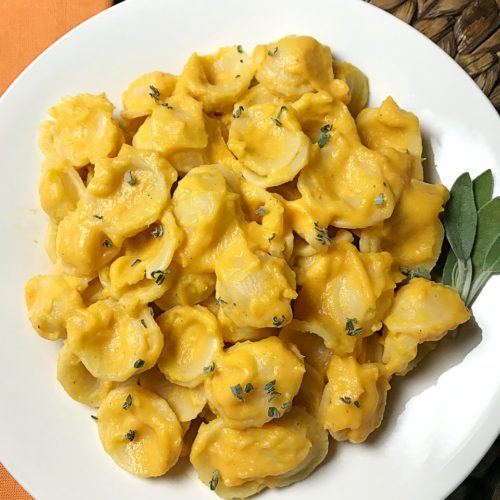 Butternut Squash Pasta Sauce
Ingredients
1

Butternut Squash

about 1-1/2 lbs.

1/4

cup

low fat milk

1/3

cup

non-fat plain Greek yogurt

1/2

cup

chicken broth

1/2

tsp

dry sage

1/4

tsp.

nutmeg

1/4

tsp.

salt

1/4

tsp.

ground black pepper
Instructions
Boil water with a little salt in a large 6 – 8 qt pot.  Add squash and boil until tender – about 10-15 minutes

Scoop squash out of the water into a food processor or blender.  (Save water for cooking pasta)

Allow to cool slightly and then puree the squash until smooth. 

With the food processor running, pour chicken broth and milk through the feed tube.

Add yogurt, sage and nutmeg and puree well

Taste and add salt and pepper as needed.
Nutrition