May is Mediterranean Diet Month – a month dedicated to celebrating the delicious and healthy way people in the Mediterranean eat. This Mediterranean Shrimp Pasta is a reminder of how delicious eating the Mediterranean way can be!
The Mediterranean diet is built on fruits, vegetables, whole grains, dried beans, nuts and seeds, olive oil, and seafood and has repeatedly been shown to be one of the healthiest diets in the world.
Researchers have found that people who follow a Mediterranean style diet and lifestyle have lower rates of heart disease and cancer and have found that it can help with weight loss along with improving your mood.
What is it about the diet that makes it so healthy? The foods typically eaten are full of fiber, antioxidants, omega 3 fatty acids and most are low in saturated fat and cholesterol.
Enjoying seafood twice a week, including shellfish, is an integral part of the Mediterranean diet. It's a great source of protein, is typically low in fat and saturated fat, and is low in calories. We love seafood (probably a good thing since I work for a seafood company!) and aim to have some type of seafood at least twice a week. In addition to salmon, cod, and scallops, shrimp is one of my favorites.
Shrimp
Shrimp is such an easy meal to prepare. Like most fish, it cooks quickly and requires only a little preparation. It's really versatile – it goes in everything from pasta and rice dishes to grilled and in tacos or on pizza. I usually have a bag of shrimp in my freezer for nights where I need a quick meal.
Since yesterday was "National Shrimp Day", (as well as Mother's Day) it was a great day to try this new recipe out. This dish looks fancy, but it takes all of 20 minutes to prepare! Just get everything measured and ready to go and you'll have dinner on the table in no time!
The trick with shrimp is to not over-cook it. Shrimp cooks very quickly and can go from tender to tough in a matter of seconds. Multitasking is not an option when cooking shrimp! You need to be ready to move them from the skillet to the plate as soon as they are cooked. Here are a few tips for cooking shrimp!
Steps for perfectly cooked shrimp
Thaw and then peel and devein your shrimp. (You can buy them this way so you don't need to mess with it)
Make sure your shrimp are all the same size. I like medium-size shrimp and typical buy "26 – 30" shrimp. This just means you get 26 – 30 shrimp per pound. The smaller the number the larger the size of the shrimp.
Add a little olive oil to your skillet or brush your grill with it and heat to medium heat.
Lay each shrimp flat on the pan or the grill and let them cook for 1 – 2 minutes until they release easily from the pan or grill. The most important thing here is to not let the shrimp overlap. If you need to cook them in 2 shifts, that's okay!
Turn them quickly to the other side and let them cook for another 1 -2 minutes. Watch the thickest part of the shrimp (the side where you too the vein out) and once that area turns from grey to pink the shrimp is done.
Remove them from the hot pan or grill immediately.
Because shrimp cooks so quickly, it one of those staples I like to have in my freezer for quick meals. This dish looks fancy but it can be ready in 20 minutes. It was perfect for Sunday dinner. Just a little fancy but it didn't require a lot of effort.
This Mediterranean Shrimp Pasta has everything that makes the Mediterranean diet so delicious. Seafood, fresh vegetables and herbs, and fresh pasta. Try it and let me know what you think in the comments!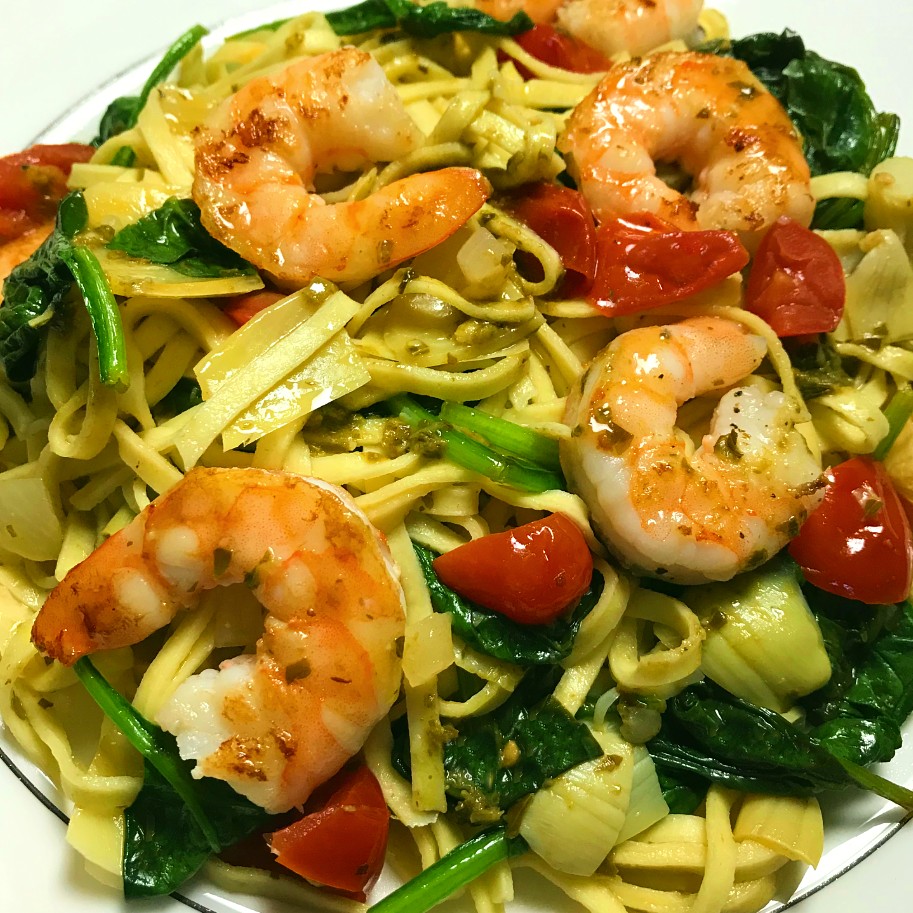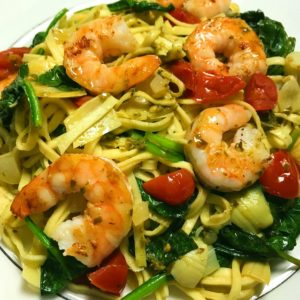 Mediterranean Shrimp Pasta
Ingredients
2

Tbsp

Extra Virgin Olive Oil

divided

1/2

cup

diced sweet onion

1

cup

diced grape tomatoes

1

cup

diced artichokes

3

cups

chopped fresh spinach

1/2

cup

white wine

3

Tbsp

prepared pesto

divided

1

lb

shrimp

16-20 size

1

lb

linguini pasta

2

Tbsp

grated Parmesan cheese

optional
Instructions
Wash your hands. If needed, peel and de-vein the shrimp.

Heat 1 Tbsp. olive oil in a large saucepan over medium heat. Saute onions until soft and translucent – about 5 minutes.

Add tomatoes and artichokes and saute for 2 – 3 minutes, until the tomatoes begin to soften. Stir in wine and broth and boil for 5 minutes, reducing the liquid. Stir in 1 Tbsp. pesto and combine well. Add the spinach and cook until spinach is cooked down.

While vegetables are cooking and liquid is reducing bring pasta water to a boil. If using dried pasta, begin cooking. If using fresh pasta wait until the shrimp is cooked

Heat remaining Tbsp. of olive oil in a large frying pan over medium heat. Lay shrimp in 1 layer around the frying pan and cook until they begin turning pink and easily release from the pan. Turn them over and cook for another minute, until pink throughout. Remove immediately from the pan.

Once the pasta is finished, drain and place back in the pot. Stir in the remaining 2 Tbsp. pesto.

Divide pasta among 4 plates. Top each with ¼ of the vegetable mix and 5 – 6 shrimp.