"I received free samples of California Walnuts mentioned in this post. By posting this recipe I am entering a recipe contest sponsored by California Walnuts and am eligible to win prizes associated with the contest. I was not compensated for my time."
One of the perks of working from home has been that my husband and I get to eat lunch together. It's nice to have a chance to catch up in the middle of the day! Then, later in the afternoon, he usually pops down for a quick snack. Normally that snack is a mix of nuts and dried fruit and a cup of tea. But, since we've been home I've had more time to play in the kitchen and I've been able to mix that up a little.
Whatever snack we have, it has to be something quick and that we can both take back to our desks (or the kitchen table in my case) and nibble on while we finish out the afternoon. We both enjoy something that has just a hint of sweetness but also satisfies that need for a little "crunch".
These chocolate walnut date bites are the perfect treat for us. The dates and orange juice give them their sweet flavor. Walnuts add heartiness and the "crunch" we are looking for. Two of these bites are just enough to give us a boost to finish up our afternoon in the office. An added bonus is knowing we are eating a good healthy snack as well.
Did you know that a handful of California walnuts are the only nut to provide an excellent source of the plant-based omega-3, ALA (2.5g/oz)? With 4 grams of protein per ounce and 2 grams of fiber per ounce, they are a filling snack that can help satisfy any afternoon craving. You can learn more about the nutritional benefits of California Walnuts at the California Walnut Board.
I love the combination of walnuts, oranges, and dates. I've used that combination in other recipes like a classic Date Nut Bread. They are also delicious on a salad of field greens with a bit of gorgonzola cheese on the side. Dates and oranges add a natural sweetness and the walnuts add a hearty richness to most dishes.
Whether you are a sweet or savory snacker, California walnuts are a versatile snack and can satisfy any taste preference.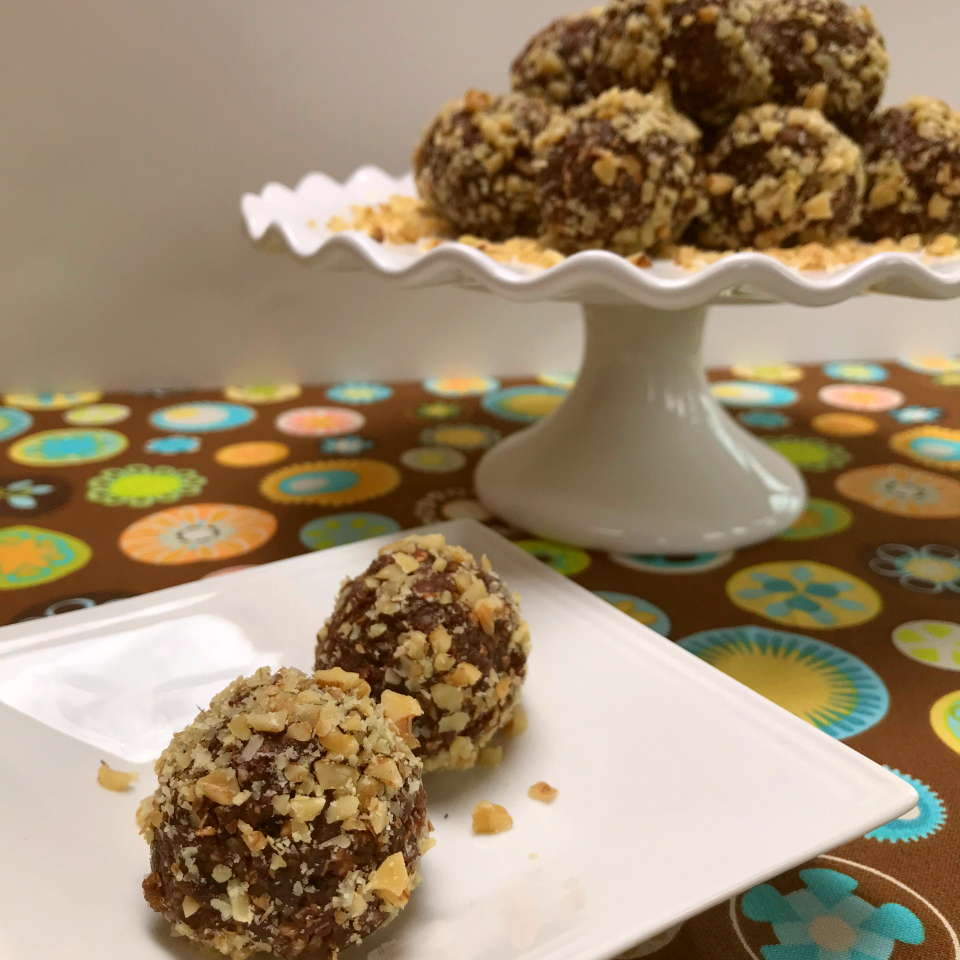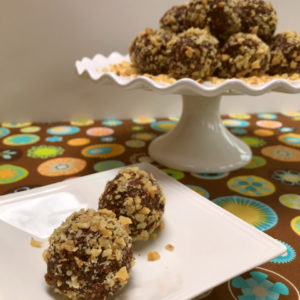 Chocolate Walnut Date Bites
Just sweet enough, these chocolate bites are a perfect afternoon treat.
Ingredients
1 – 1/2

cups

walnuts

divided

1

cup

old fashioned oats

8

oz.

dates

3

Tbsp

unsweetened cocoa powder

1

tsp.

vanilla extract

2

Tbsp

orange juice

1

tsp.

orange zest
Instructions
Wash your hands and assemble clean equipment.

Place all ingredients except 1/2 cup of walnuts in the bowl of a food processor fitted with chopping blade.

Pulse the ingredients until they are well blended and form a cohesive ball.

Form into 1 ounce balls using a 1 oz. scoop or a couple of spoons.

Finely chop the reserved 1/2 cup of walnuts and place in a tray or on a plate.

Roll each ball into the reserved, chopped walnuts and place on a sheet pan lined with wax paper.

Let dry at room temperature for ~ 30 minutes. Store in an air-tight container for 4-5 days or wrap tightly and store in the freezer for 2 – 3 months.
Nutrition