What a great weekend to fire up the grill. And what goes better with burgers and dogs than pickles? Was the store out of them? No problem, refrigerator pickles only take 24 hours to make and you can use up some of the vegetables in your fridge – no food waste!
It's been a rough spring and I'm so ready for summer! In addition to "the virus" and staying at home, it's been pretty chilly and rainy here in "the burgh". Finally, this weekend we've had sun and temps in the 60s, 70s, and even the 80s! Woo Hoo! What a perfect weekend for the unofficial kick-off to summer!
Time to fire up the grill and enjoy this gorgeous weather. I love having something special to dress up our cookouts and these little babies fit the bill perfectly! They are an easy way to jazz up your burgers or dogs, or just have on the side to munch on!
Ingredients
Refrigerator pickles are incredibly simple. Just vinegar, water, vegetables and some spices like peppercorns and mustard seeds. Nothing fancy!
Vinegar – You can use regular distilled white vinegar, cider vinegar or a mild rice wine vinegar. For these, I used regular distilled white vinegar.
Produce – Any hearty vegetable will work. Cucumbers are standard, but you can use almost anything you have in your fridge! Carrots, asparagus, green beans, red onions, and jalapeno peppers all work and make pretty jars!
Spices – Peppercorns (black, white, green, red, they all work!), mustard seeds, and dill seeds are standard "pickling spices" but I've also used cardamom seeds, coriander seeds (from the cilantro plant), sliced garlic and sliced ginger.
Prepping
This is probably the most difficult part – figuring out what shape or cut you want your pickles to be in. For that, think about how you might serve them or what you would put them on.
Carrots, beans, and asparagus work best as long spears, but you could cut the carrots into "coins" as well.
Cucumbers could be spears or slices.
Onions are great cut as slices (either strips or round cuts) and jalapeños work best as thinly sliced rounds.
I cut my carrots in spears, and my onions, cucumbers and jalapeños in slices. I also thinly sliced some ginger and some garlic to add to some of my vegetables.
Pickling
Now comes the fun part! Pull out some clear jars with tight lids. I use 8 oz. Ball canning jars. I like the size and they come with the lids and everything you need, plus they look pretty when you are done! Clean the jars well. (I run them through the dishwasher before I use them.)
For your "pickling juice", mix equal parts of vinegar and water in a saucepan and add some kosher salt and, if you like a sweeter pickle some granulated sugar. Heat the mixture until it is boiling and the sugar and salt have dissolved.
While your pickling juice is heating, stuff the jars with vegetables and spices. Here you can be as creative as you want! Mix and match your vegetables and spices – just think about what flavors might work well together. If you aren't sure, start with something tried and true like cucumbers with dill seed or with mustard seeds. Here are my combinations: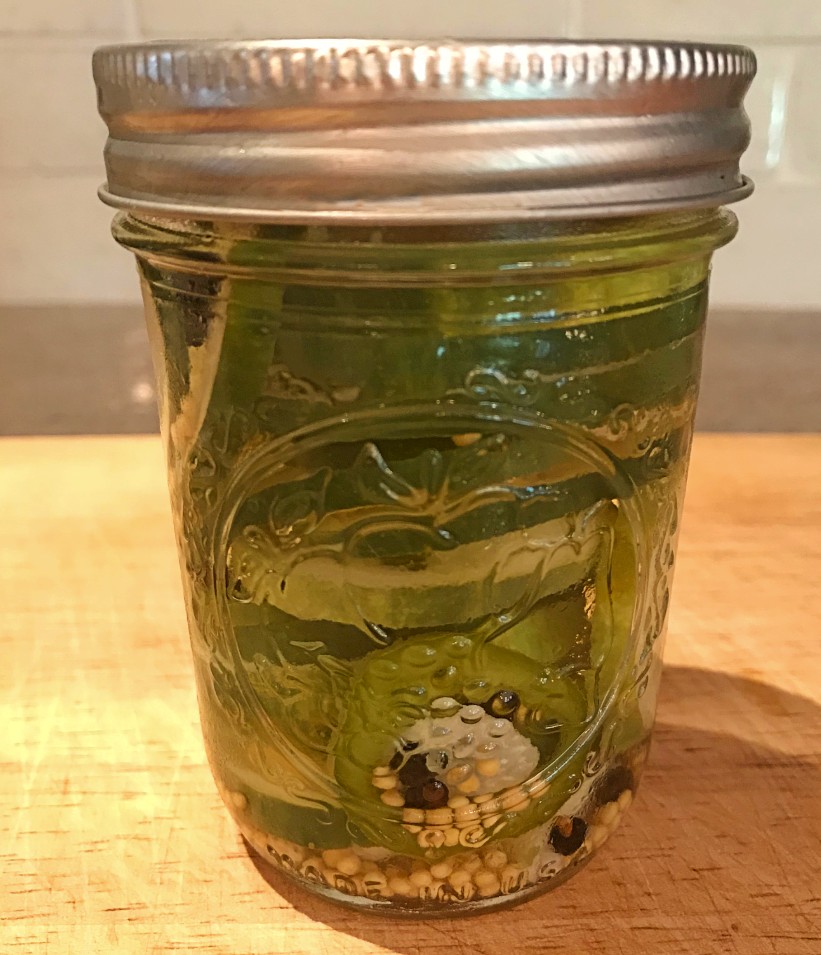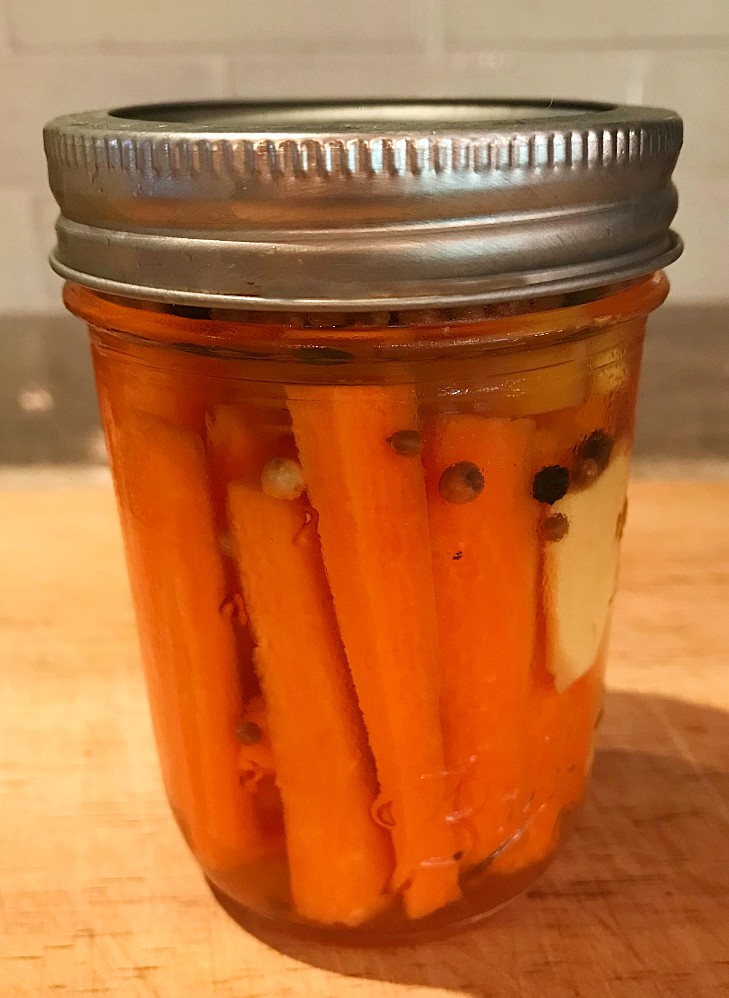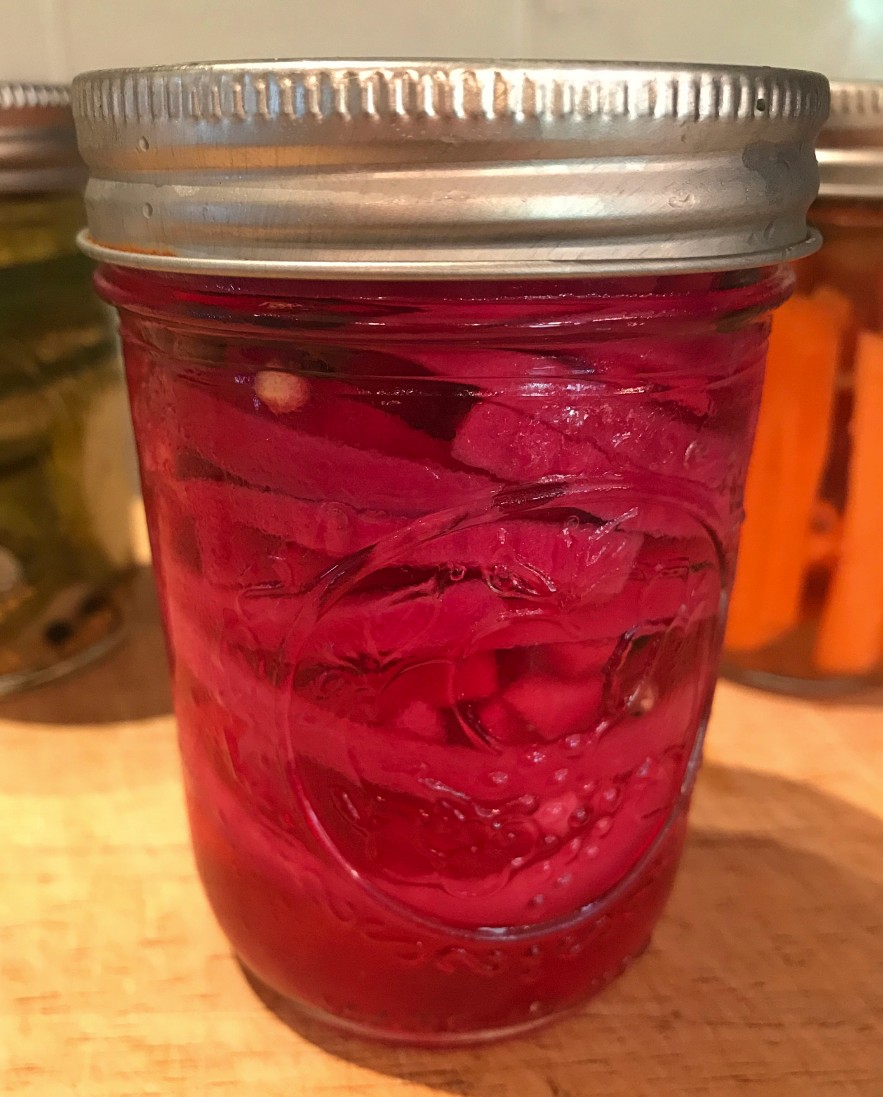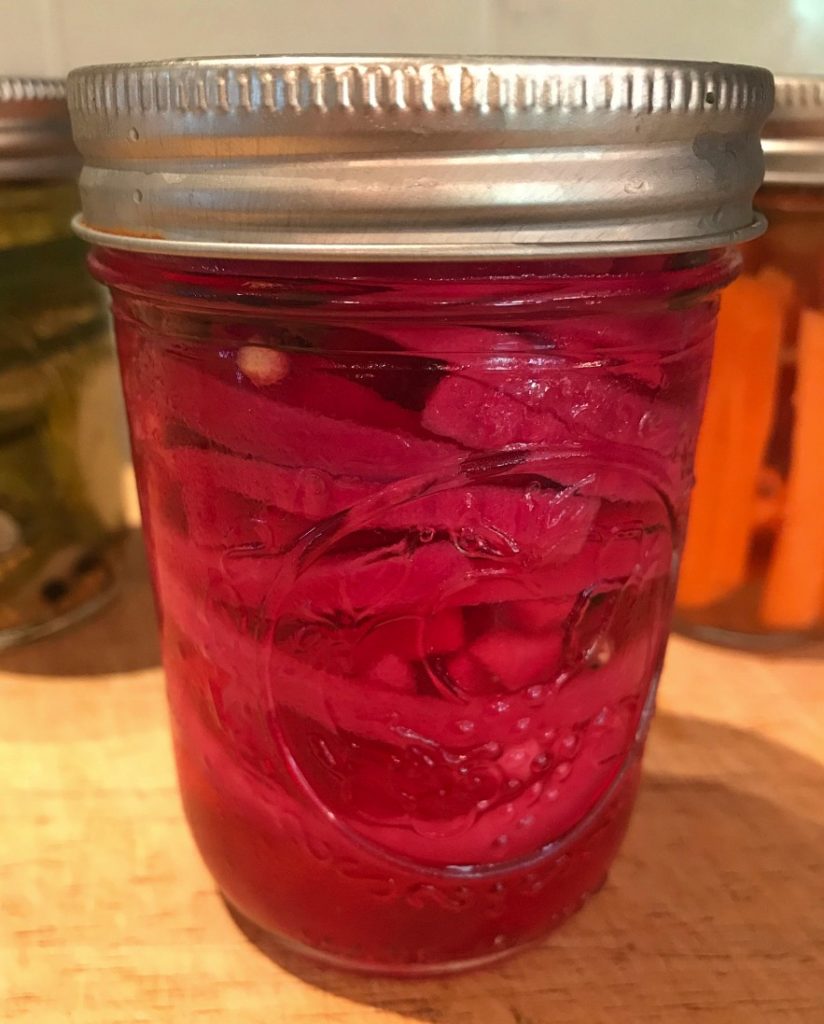 Leave about a 1/2 inch for air and then pour the hot liquid into your prepared jars. Cover them with the lid and seal them with the screw cap.
Let them cool on the counter. Once they are at room temperature, place them in the refrigerator to chill overnight. (Do NOT put the hot jar in the refrigerator! The temperature extremes will cause the jar to break and then you will just have a mess to deal with.)
In the morning – just look at those pretty jars of pickles! Now you are all ready for your grilled burgers and dogs. Refrigerator pickles – ready in just 24 hours and a gorgeous and delicious addition to your cookout or social distancing picnic!
Happy Memorial Day everyone! I hope everyone is staying safe and healthy!
If you follow me on Instagram you may have noticed that I've started a "Tip Tuesday" IGTV channel. This was last week's tip and you can watch it on IGTV (go to my profile and click on the TV) or in the link titled "Kitchen Tips" So check it out and look for other tips like this every Tuesday!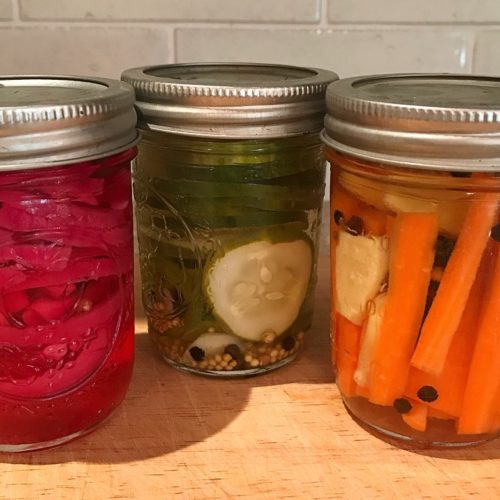 Refrigerator Pickles
This recipe makes enough for 3, 8 oz. jars of pickles but can easily be doubled, or cut down for more or less.
Equipment
8 oz. glass jars or other non-reactive container. (Do not use aluminum for pickling as the vinegar will react with the metal)
Ingredients
Vegetables
1

cup

sliced cucumber

1

cup

carrot strips

1

cup

sliced red onions

2

tbsp

sliced jalapenos
Spices
2

tbsp

sliced garlic

2

tbsp

sliced ginger

2

tbsp

peppercorns

1

tsp

mustard seeds
Pickling Juice
1

cup

distilled white vinegar

1

cup

water

2

tsp

kosher salt

2

tsp

granulated sugar

optional
Instructions
Wash your glass jars. (I run mine through the dishwasher). Allow them to air dry.

Wash your hands and clean your vegetables.

Cut your vegetables in the shape you want and fill your jars, leaving ~ 1/2 inch at the top.

Add your selected spices to each jar. Mix and match!

Heat the water, vinegar, salt and sugar (if you are using it) to a boil and stir until the salt and sugar dissolve.

Pour the pickling juice over the vegetables until the vegetables are covered. Place the lid on the jar and seal it with the screwtop ring.

Allow the jars to cool on the counter. Once cool, place in the refrigerator overnight.