Updated 7-11-2022
Just about everyone loves a good grilled burger on a hot summer day – but what about a beef and mushroom burger? Sure, sauteed mushrooms are great on the top of a burger, but did you know that they are also delicious when they are chopped and mixed into the ground beef?
With the price of beef skyrocketing, this is a great way to extend your ground beef AND add flavor and nutrition to your backyard barbeque.
I came across this method a few years ago and was intrigued. It's called "The Blend (TM)".
What is The Blend ?
The Blend is a mixture of finely chopped mushrooms mixed with ground beef. It adds extra bulk to your ground beef, stretching it so you get just a bit more out of it.
I used 1 1/3 pounds of ground beef for this grilled beef and mushroom burger recipe. By adding chopped mushrooms to my ground beef, I was able to make 6, 4-ounce burgers. That may not seem like a lot, but it gave me 1 extra hamburger.
If I were using the mix for meatloaf or tacos I'd get an extra serving. It would stretch two pounds of ground beef to close to 2-1/2 pounds – ok, now you're talking!
Benefits of The Blend
Now, I love sauteed mushrooms on a burger, but how would they taste IN a burger?
Turns out, the mushrooms as a bit of "lightness" to the burger and a savory flavor. Mushrooms have a unique flavor that is called umami.
Umami has recently been labeled the fifth flavor, alongside sweet, salty, bitter, and sour. Umami is what gives that earthy, savory flavor, and mushrooms are the perfect example of that flavor. Other foods that have an umami flavor are aged cheeses, some seafood, Worcestershire sauce and soy sauce, and seaweed.
Another benefit of using foods with umami is that it lessens the need for salt. One of the functions of salt is to balance flavor and bring out the natural flavor of the food you're seasoning and umami does the same thing. By using foods like mushrooms that have a strong umami flavor, you are able to cut back on the amount of salt you use.
So that's the flavor aspect but of course, adding mushrooms also adds a lot of nutrition to your burgers.
What Are the Nutritional Benefits of Adding Mushrooms?
Mushrooms are low in fat, and saturated fat and contain no cholesterol

Adding a blend of mushrooms to ground beef helps lower the amount of fat, saturated fat, and cholesterol you are eating. All positive moves that support heart health.

They are low in calories and contain fiber

Along with reducing the number of calories in your burger, the fiber in the mushrooms adds a satiating effect – which helps you get full faster.

They are a great source of the minerals potassium and selenium

Potassium is a mineral that helps with blood pressure management and helps our heart beat properly.
Selenium is an antioxidant that helps protect our body's cells from damage. Think of it like putting a protective coat on an iron railing to prevent rust – that is kind of how an antioxidant works in your body! Eating foods high in antioxidants helps protect our hearts, eyes, and brains and helps reduce our risk of heart disease, some types of cancer, and stroke and may reduce the risk of dementia and other chronic diseases.

They are one of only a few food sources of Vitamin D

You've probably heard Vitamin D called the sunshine vitamin. While you can get some from the sun most of us also need to get it from food. Mushrooms, fatty fish, and fortified dairy products are the best sources. Mushrooms grown under UV light contain between 10mcg to 3 – 12 mcg per ounce which is 15% – 60% of what you need daily. (1)
FAQs About Mushrooms
Should you wash fresh mushrooms?
Yes! Despite what you may have heard, always wash fresh produce before using it and this goes for mushrooms too. They won't absorb extra water – just wash and dry them before chopping.
What about a mushroom brush? Doesn't that clean the mushroom?
Using a mushroom brush just gets the visible dirt off. It's best to always wash your mushrooms under running cold water to remove any remaining dirt.
How long can you store fresh mushrooms?
Fresh mushrooms will last in your refrigerator for about a week as long as they are stored properly, with a porous covering.
What is the best way to store fresh mushrooms?
Keep fresh mushrooms in the packaging they came in, or place them in a paper bag to store in your refrigerator. Unlike other types of fresh produce, the container for storing mushrooms should be able to breathe, it should not be air-tight.
How can you freeze mushrooms?
If you won't use your fresh mushrooms within a week, saute them in a little oil or butter, cool them and then package them in a resealable freezer container to use later.
Do all mushrooms contain vitamin D?
Not all mushrooms are high in vitamin D. Many packages now have nutrition labels attached so look at the label to see if your variety has vitamin D. Many button mushrooms and some crimini mushrooms are now grown under UV light, so check the label on the package.
How to make The Blended Beef and Mushroom Burger
The Mushroom Council promotes the Blend as a way to add some flavor, nutrition, and bulk to your ground beef. I love this trick and honestly, your family doesn't need to know you've done this. They will only be complimenting you on the best burgers ever!
After you have washed and dried your mushrooms, finely chop them. I use crimini or baby Bella mushrooms but white, button mushrooms would work too.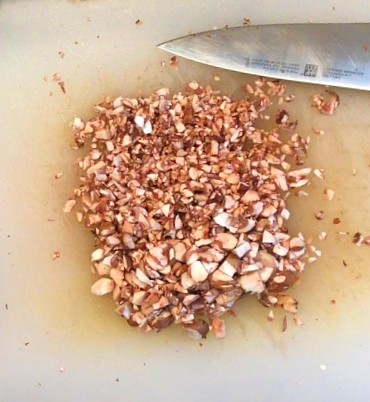 Chop them with a sharp knife or pulse them in your food processor.
Cook them in a frying pan to release the water. You don't have to do this step but mushrooms release a fair amount of water when cooked. If you don't precook them I find the burger breaks apart as it cooks, so I pre-cook them until they are dry.
To do this, heat a large frying pan on medium heat. Add a little grapeseed or canola oil and heat over medium heat for about a minute. Add the chopped mushrooms and cook for 3 – 5 minutes until they look "dry." If the mushroom pieces clump together, they still have a lot of moisture in them so cook them a bit longer until they are really loose.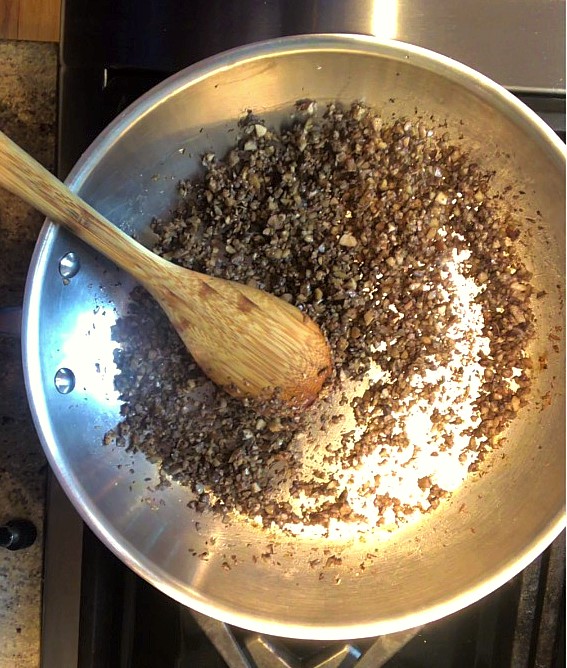 Now, let the mushrooms cool for about 10 minutes, or until you are able to comfortably touch them. Then mix them into your ground beef, with a little salt, pepper, and other seasonings. I have found that I don't need a lot of salt in these and if you are watching your salt intake, you can probably forgo it altogether. Thanks, umami!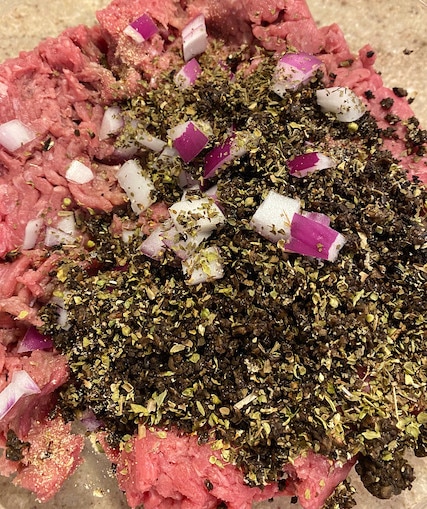 That's pretty much it. You can play with the proportions of meat to mushrooms but this is the level that works for me. Some people will go as high as 50/50 for mushrooms to ground beef. So a pound of mushrooms mixed with a pound of ground beef.
This grilled beef and mushroom burger recipe is easy to make and full of flavor but you can use the mixture in other recipes too. Try it in meatballs, taco mix, or meatloaf.
Blending in the mushrooms is a great way to extend that expensive ground beef and make a delicious tasting burger.
Sign up for my monthly email newsletter here to get more easy and healthy recipes every month. And if you tried this recipe and liked it. please give it a star rating. It will help others find this recipe online!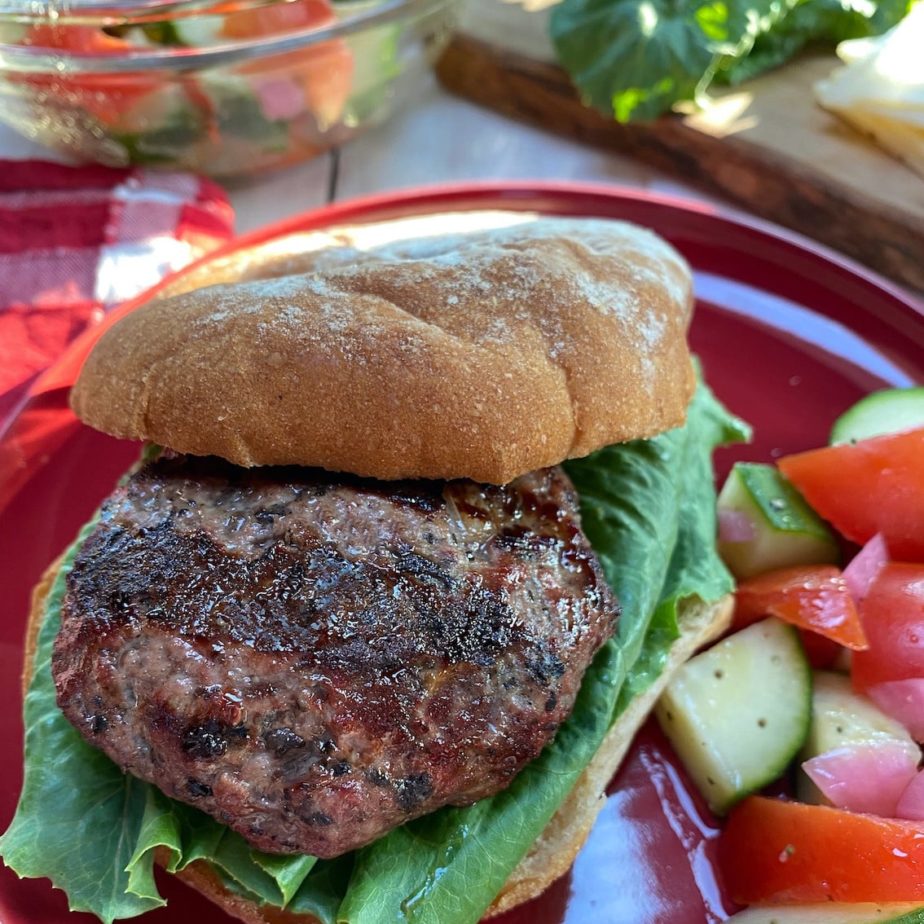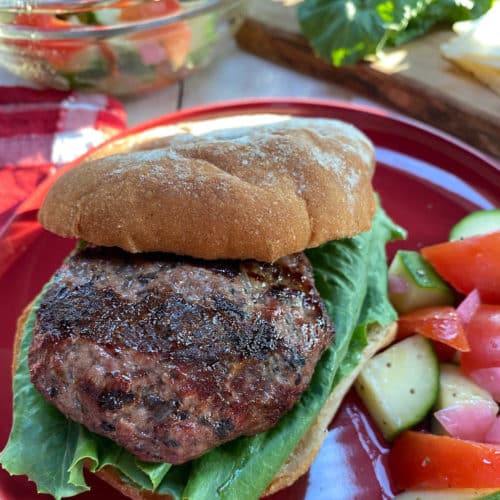 Blended Beef and Mushroom Burger
A delicious blend of mushrooms and ground beef with Italian seasonings
Ingredients
1

tsp

grapeseed oil

8

oz.

crimini mushrooms

Look for UV grown if possible

1.3

lb.

ground beef

90% lean

¼

tsp.

garlic powder

1

tsp.

oregano

1

tsp.

dry basil

black pepper

¼

cup

red onion

1

tbsp.

chopped parsley

fresh

6

hamburger buns
Instructions
Place mushrooms in the bowl of a food processor and pulse until all are finely chopped. NOTE: Use the PULSE function on your food processor, do not let it just run or you'll end up with pureed mushrooms!

Heat oil in a large frying pan over medium heat.

Once the oil is hot, add the chopped mushrooms and saute for ~ 3-5 minutes or until all the moisture is out and the mixture is dry.

Place ground beef in a bowl. Add mushrooms, onions, parsley, oregano, garlic powder and salt and pepper. Mix until well combined.

Form into 5 patties. Grill over medium heat for 5 – 8 minutes on each side.

Remove and place on a bun with lettuce and tomato if desired. You can add sliced roasted red peppers, sliced cheese, and onion slices if desired.
Notes
Note: Once cooked the burgers weigh about 3 ounces. If you prefer a larger burger, you could make 4, 6 ounce burgers.
Nutrition
Serving:
1
burger
Calories:
300
kcal
Carbohydrates:
25
g
Protein:
20
g
Fat:
10
g
Saturated Fat:
3.5
g
Polyunsaturated Fat:
1.5
g
Monounsaturated Fat:
3.5
g
Cholesterol:
65
mg
Sodium:
320
mg
Potassium:
370
mg
Fiber:
1
g
Sugar:
4
g
Vitamin C:
2
mg
Vitamin D:
11
µg
Calcium:
120
mg
Iron:
4
mg