Have you ever yelled at a deer? One summer night, I stood on my deck, overlooking my little vegetable garden and watched helplessly as a deer feasted away on my almost ripe tomatoes. Ugh! I had been waiting so patiently for them to ripen. Just a couple more days I thought, why the tomatoes?
The bigger problem was my garden was overflowing with zucchini! Yes, a first time gardener and I planted way too many zucchini plants. Those babies are quite proliferative! My sister was staying with me that summer so I figured a little extra would be fine. I found out later that she was not a fan of this delicious veggie so I ended up with way more than what I knew what to do with.
A garden full of zucchini and a hungry deer…let's help her out. So I yelled at the deer – "eat the zucchini, not the tomatoes!" Yes, it tilted its head, looked at me, and went right back to eating my treasured tomatoes.
So now, what to do with all that zucchini?
There is only so much grilled and sautéed zucchini you can have over the course of a summer. I do love my zucchini carrot bread, a few loaves of that is enough to last us well into the winter and it only uses up a few of these babies.
Enter… Zucchini Roll-Ups! A fun and really pretty alternative to lasagna. The best part of these is that you can use any filling you like. Italian sausage, ground beef, or even seafood would be delicious in these. I made mine a bit more plant-forward and added chopped fresh spinach, but really, use whatever floats your boat.
Prepping the Zucchini
The trick is to slice the zucchini thin enough and get the slices all the same thickness so they cook evenly. For that, I used a mandoline. You can use a knife, but then I'd recommend cooking the zucchini for a few minutes to soften them enough to roll.
Once you've sliced the zucchini, lay them on a baking rack for 10 minutes or longer to let some of the water drip off. Zucchini are "wet" and you'll see little water droplets fall off. Some people will salt theirs to "draw the water out" – similar to eggplant, but that's not necessary and just adds salt where it isn't needed. So, just let them sit for a little while and enough water will come off.
Mix Your Filling
While the zucchini is "sitting", preheat your oven, mix the filling and chop your spinach (or prep your other filling ingredients).
Place 1 cup of marinara sauce in the bottom of a 9 x 13 pan and spread it to cover the bottom of the pan.
Assembling the Zucchini Rolls
Lay 4 slices of zucchini on a clean cutting board. Spread each slice with ~ 1 – 1/2 Tbsp. of your filling and top with spinach. Roll each slice, tight enough to hold together but not so tight the filling spills out. Place next to each other in the pan, open end up so you can see the spiral.
Repeat until your pan is tightly filled. You'll need ~24 slices of zucchini to fill the pan if using medium size zucchini.
Top with 2 – 3 cups of marinara, filling between the rolls and drizzling on top. Place in the oven and bake for ~30 minutes, until the zucchini are tender, but still holding up.
A couple of these, with a hearty slice of Italian Bread and salad makes a delicious summer dinner and you'll likely have plenty of leftovers to freeze for another night.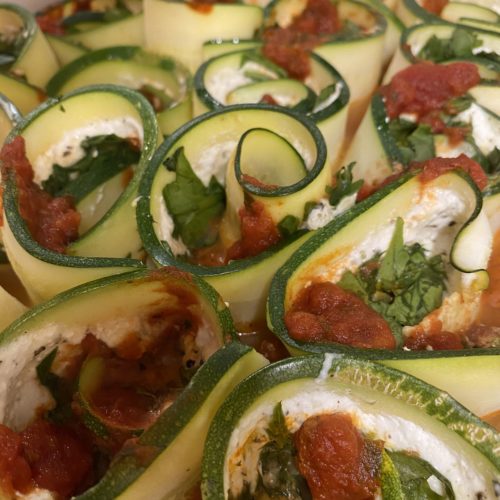 Zucchini Roll-Ups
A delicious way to use extra zucchini from your garden
Equipment
Mandoline

13 x 9 baking dish
Ingredients
2

medium

zucchini

1

cup

fresh spinach

chopped

15

oz.

Ricotta cheese

part skim

1

cup

mozzarella cheese

shredded

1

egg

1

tsp.

dried basil

1

tsp.

dried oregano

24

oz.

marinara sauce
Instructions
Prepare Zucchini Slices
Slice zucchini, lengthwise (1/4 inch thick x 4 inches long and 2 inches wide). Slice 24 slices.

Lay zucchini slices on baking rack to allow them to "weep"

Place 1 cup of Marinara sauce in the bottom of a 13 x 9 inch baking pan.
Prepare Filling
Place ricotta and mozzarella cheeses in a medium bowl and gently combine them.

Add egg, basil and oregano, salt and pepper. Mix until well combined.
Assemble Zucchini Rolls
Lay 4 of the zucchini slices on a cutting board. Top each with 1 – 1/2 Tbsp. of the ricotta mixture. Sprinkle with ~ 1 Tbsp. spinach and gently roll the zucchini. The cheese will help it stick together.

Place each zucchini roll with one of the open ends up and one on the sauce in the baking dish. Nestle them close to each other to help keep them in rolls.

Repeat with the remaining zucchini slices until the baking pan is filled.

Top with remaining 2 cups of sauce, getting sauce in between the rolls and drizzled on top.

Cover pan tightly with tin foil and bake for at least 30 minutes, or until zucchini is softened and cheese has melted.