Like most of us right now, we've been limiting our trips to the grocery store and working hard to use what we have. That has required a little creativity and trying some new things. I have to admit, even someone who cooks a lot sometimes needs a little kick in the butt to get out of her rut.
I don't know about you but this virus has given me quite the kick! I've learned how to make a sourdough starter (if you follow me on Instagram you've seen some of that), have made my own crackers, baked countless biscotti, frozen lots of leftovers and found endless ways to use fresh produce so it doesn't go to waste.
I bought a lot of fresh produce the last time I was as the store, including a big bag of red and green seedless grapes. But grapes only last so long and after a week, they really were starting to look a bit tired. Not wanting to waste them, I decided to try roasting them and came up with this roasted grape salad that worked perfectly alongside baked chicken.
I've grilled fruit, like pineapple, which intensified the sweetness and added a delicious caramelized flavor but I had never tried roasting fruit. I have to say, I didn't know what I was missing!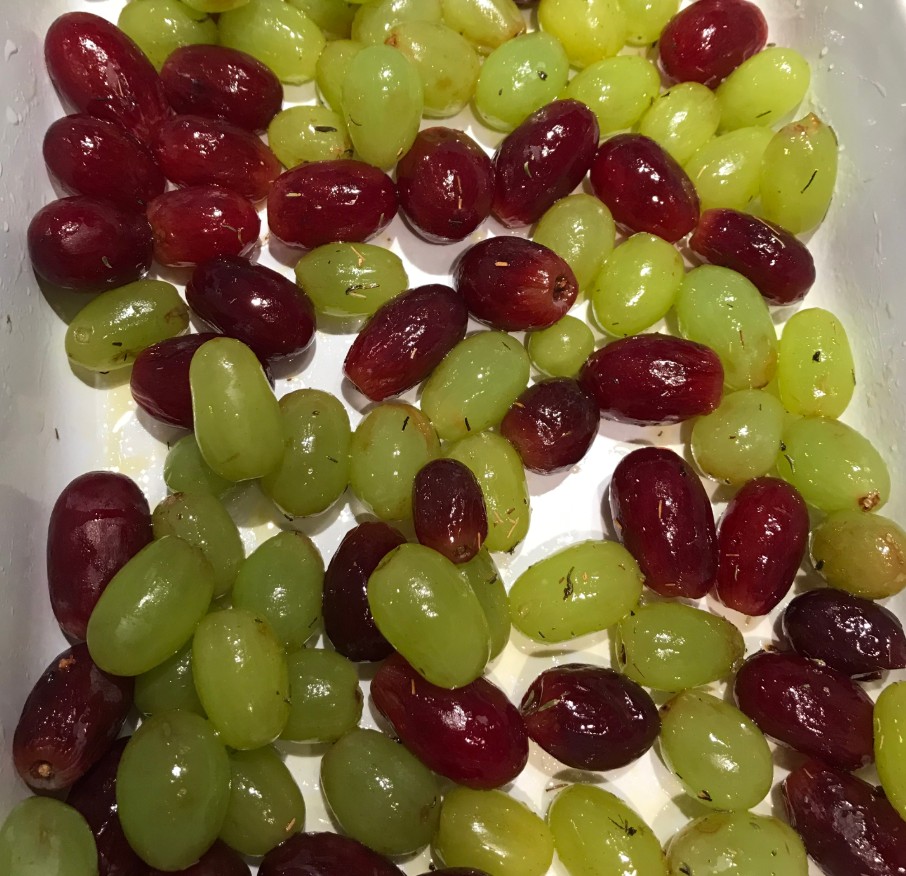 I washed them and tossed them into a roasting pan with some olive oil and dried thyme and roasted them for a good 20 minutes at 425°F, tossing them occasionally. Once they are bright and glossy and a bit shriveled, they are perfect!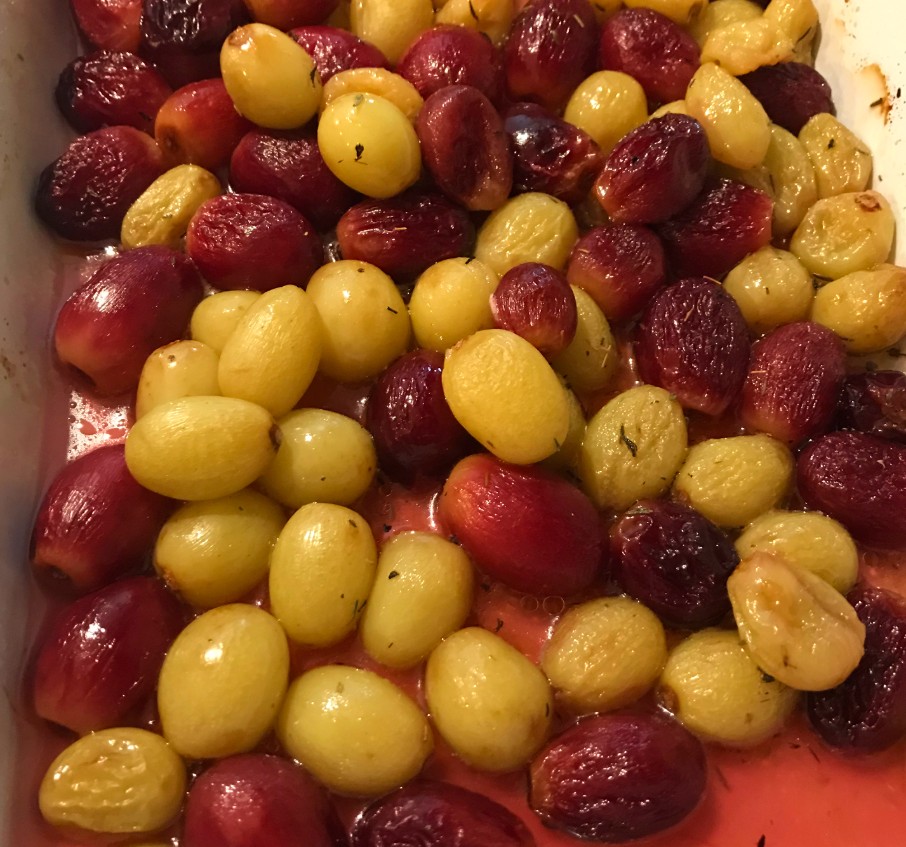 Roasting brought out the gorgeous, deep purple and yellow color of the grapes and the flavor was incredibly intense. They were sweet but also a bit sour and paired perfectly with couscous, goat cheese and pistachios in this roasted grape salad.
These last few weeks our efforts of social distancing and limiting trips to the grocery store has made me even more successful at using what I have and being more creative in the kitchen. I know I've gained some tricks that I'll continue after all this craziness is over. How about you? Have you found yourself finding creative ways to use some of the food you have rather than risk another trip to the grocery store?
What is your favorite new kitchen trick or recipe you've learned since we've been social distancing?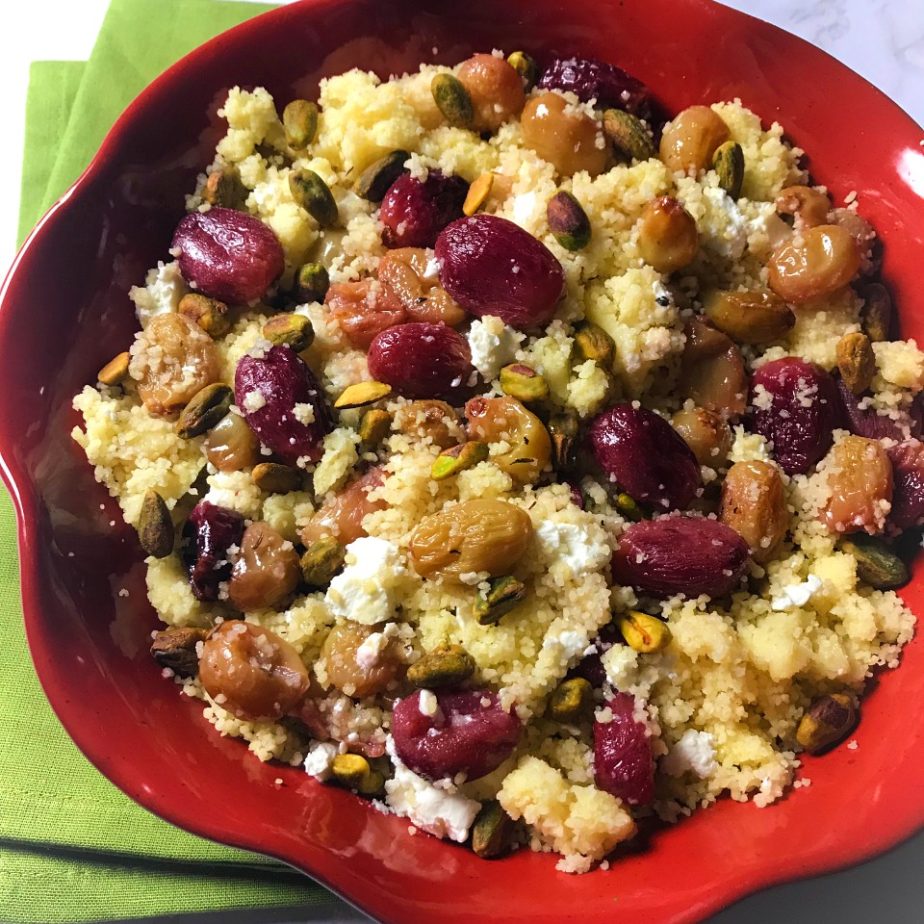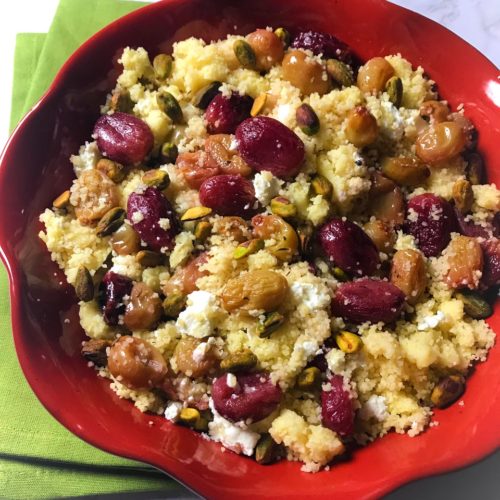 Roasted Grape Salad
Roasted Grapes with couscous, goat cheese and pistachios
Ingredients
2

cups

grapes

1/4

cup

olive oil

divided

1/2

tsp

dried thyme

2

cups

couscous

cooked

2

oz

goat cheese

crumbled

1/4

cup

chopped pistachios
Instructions
Wash grapes and place in large roasting pan. Toss with 2 Tbsp. olive oil and thyme. Place in the preheated oven and roast for 20 minutes, tossing after 10 minutes.

Meanwhile, prepare couscous and fluff with a fork when done. Toss with 2 Tbsp. of the remaining olive oil and place in a large serving bowl.

When grapes are done, toss the grapes along with juice from the pan into the couscous and mix together well.

Add goat cheese and pistachios and toss together. Serve warm, or place in the refrigerator, covered until ready to serve.