Thanksgiving is the holiday I look forward to every year! It is one of the few times we are able to get the majority of the family together and thankfully, this year, we will have almost everyone from my side here. I'm so grateful for this! Then, there is the food. While the table is full of traditional dishes, I do like to mix it up and try some new things and I'm doing that with my rice stuffing for the turkey this year.
I've been busy planning my menu and other than pumpkin pie, my favorite dish is the stuffing. While I usually make a pretty typical bread and sausage stuffing, this year I'm changing it up a bit. This rice stuffing has all the flavors of traditional stuffing, just using a nutty wild rice blend as the base instead of bread.
There are a lot of things to love about this stuffing. It is easy to make – easier than bread stuffing. It is a great make-ahead dish and it is easy to reheat. And, I think my favorite thing is that it won't dry out the way a bread stuffing will. So, let's get to it!
Ingredients for Rice Stuffing
Start with the stuffing base. I love the variety of rice in this Lundberg Wild Blend. Brown, black, red, and wild rice make a really pretty base for this dish. By itself, it has a nutty flavor and is nice and hearty rice so it is a perfect base for this stuffing. I cook it in broth to really add some flavor but that isn't necessary! I picked it up at my local grocery store, but you can also order it online if you can't find it.
Aromatics make a good seasoning base. I normally saute some celery and onions and a little garlic for my regular stuffing and did the same with this one. Just a quick saute in some olive oil!
To add some sweetness, I added diced apple and some dried cranberries. I added the apple to the celery and onion and sauteed it quickly too. used a Honeycrisp apple for this as I like the sweetness, with just a little bite. For more bite, try a Granny Smith or more sweetness, a Gala apple would work well too.
Then the crunch. The apples and celery give a little crunch but I felt it was missing something so I added toasted chopped walnuts. A classic combination, so no real surprise but the walnuts added a bit of crunch that was needed.
Finally, the seasonings. Again, I stuck with the classics but it worked – a little thyme and sage. Dried or fresh, they both work well in this.
Stovetop or Cook Inside the Turkey?
Yes, I grew up with every turkey being fully stuffed and cooked that way. Then, eventually, the warnings about food safety issues surfaced, and well, we went to a non-stuffed bird and I've stuck with that. I'm not a fan of stuffing that is cooked inside the bird anymore. It ends up just too wet and soggy for my taste. Now, I agree, stuffing outside of the bird can get dry, but I think I fixed that issue with this.
This stuffing was all done on the stovetop and is ready in about a half-hour. Most of that time is just cooking the rice and you can get everything else ready while the rice cooks.
Making the Rice Stuffing
It really is pretty easy to pull together.
First, cook the rice in broth.
While the rice is cooking saute the onions, celery, and apples in a bit of olive oil. For a little more flavor, you might want to use half olive oil and half butter. Butter does add a lot of flavor, so I often use both, but you can go with pure olive oil if you are watching your saturated fat intake. In this case, I decided we are getting enough fat with the rest of dinner so opted for pure olive oil this time.
While the apples, onions, and celery are cooking, mix in the sage, thyme, salt, and pepper and continue stirring.
When all the broth has been absorbed by the rice and it is tender, it is ready to go. Mix it with the celery, onion, and apples and stir it well to combine all the ingredients. Then added the cranberries and walnuts.
At this point, it is ready to serve. Put it all in a large, oven-safe dish. Cover it with plastic wrap and refrigerate it until you are ready to reheat it.
The best part of this rice stuffing for turkey recipe is that you can easily make it ahead and free up some precious stovetop space for the big day. I'm making mine on the day before Thanksgiving. I will cover it tightly with plastic wrap and store it in the fridge overnight. About a half-hour before serving I'll reheat it. Just remove the plastic wrap and cover it tightly with aluminum foil. Place it in the oven that has been preheated to 350°F. It will take about 20 minutes to warm up. If you are cooking for a large crowd and have doubled or tripled the recipe, allow more time or break it into smaller dishes to heat up before serving.
Finally, I will add some of the turkey drippings to it just before serving so you get that "roasted turkey" flavor but it isn't necessary.
I hope you have a safe and very happy Thanksgiving!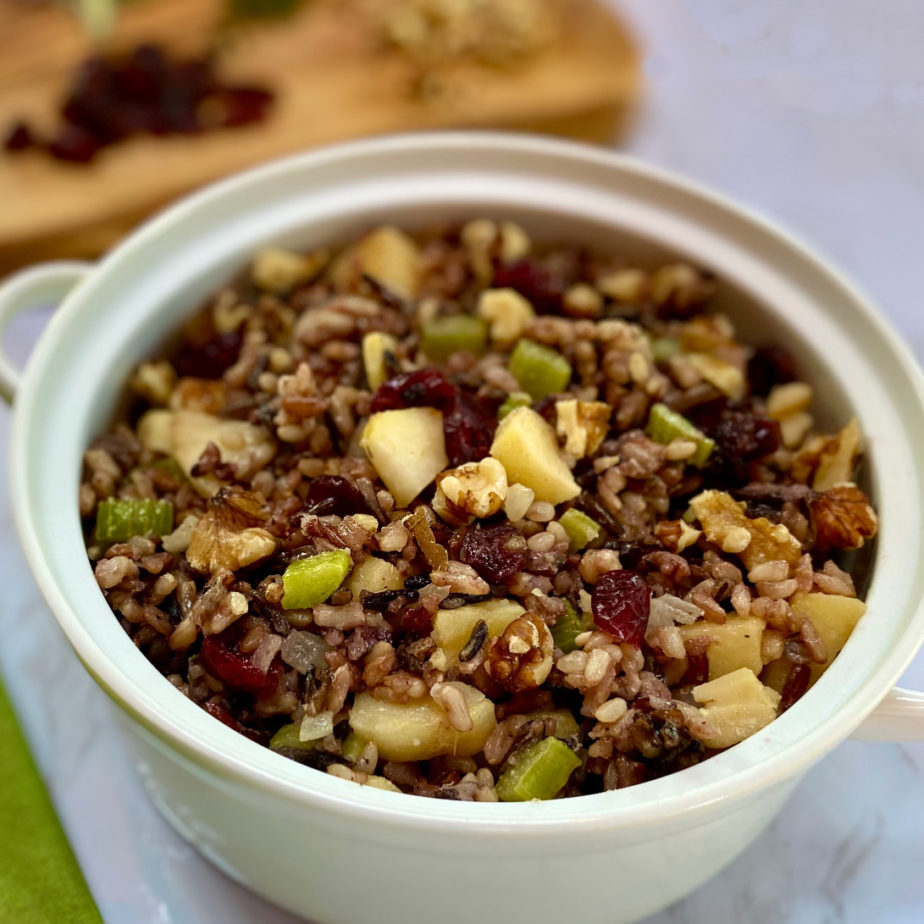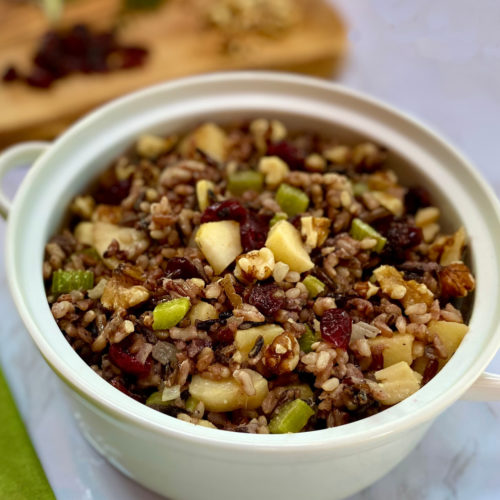 Rice Stuffing
An easy holiday side dish that can be made ahead and is perfect for gluten-free diets. It can easily be doubled or tripled for large family dinners!
Equipment
Large skillet

Medium saucepan
Ingredients
1

cup

brown and wild rice blend

Lundberg Farms is what I used

1 3/4

cup

chicken broth

1

tbsp

olive oil

1/4

cup

diced sweet onion

1/2

cup

diced celery

1

Honeycrisp or Gala apple

cored and diced

1/4

tsp

dry thyme

1/8

tsp

dry sage

1/4

tsp

kosher salt

1/4

tsp

ground black pepper

2

tbsp

dried cranberries

2

tbsp

toasted, chopped walnuts
Instructions
To cook the rice
Place broth in a medium saucepan and bring to a boil over medium heat. Add rice and stir. Then cover tightly with a lid and reduce the heat to simmer. Allow to simmer for about 40 minutes, checking only to see if the liquid has been absorbed.
To make the stuffing
Heat the olive oil in a large skillet over medium heat. Add the onion and celery and cook, stirring to prevent it from burning, for 3 – 4 minutes.

Add the diced apple, thyme, sage, and salt and pepper and continue to stir over medium heat for an additional 3 – 4 minutes, just until the apple begins to soften slightly.

Once the rice is done and all the liquid has been absorbed, stir the rice into the onion, celery, and apple mixture to thoroughly combine. Mix in the cranberries and toasted walnuts.

Place the mixture into a serving dish. At this point, it can be covered tightly with plastic wrap and placed in the refrigerator. To reheat, remove the plastic wrap and cover it with aluminum foil. Place in a 350°F oven and heat for 15 – 20 minutes, stirring part of the way through.
Nutrition
Calories:
170
kcal
Carbohydrates:
30
g
Protein:
4
g
Fat:
5
g
Saturated Fat:
0.5
g
Polyunsaturated Fat:
1.5
g
Monounsaturated Fat:
2
g
Sodium:
350
mg
Potassium:
90
mg
Fiber:
3
g
Sugar:
6
g
Vitamin C:
2
mg
Calcium:
15
mg
Iron:
1
mg