A few weeks ago I asked my Instagram followers which fall veggie they preferred, Brussel sprouts or winter squash? It was one of those fun "first day of Fall" questions and I think I showed a raw brussel sprout salad as the image next to acorn squash. The overwhelming response was Brussel sprouts. I have to say I was surprised, but then again, they really have become one trendy little vegetable popping up on restaurant menus and blogs like this. We typically think of Brussel sprouts as a side dish – roasted or boiled.
But did you know you can eat Brussel sprouts raw as well? My favorite way to eat raw Brussel sprouts is in a crunchy, flavorful salad.
Jump to Recipe
What are Brussel Sprouts?
Brussel sprouts are a cruciferous vegetable, the same family as kale, bok choy, and broccoli. They are a cruciferous vegetable that really became quite the rage a few years ago. They were popping up on every restaurant menu around and for a dietitian, well, I loved seeing that!
Why should you eat them?
The nutritional benefits of these cute little sprouts are amazing.
Like all non-starchy veggies, They are relatively low in calories with less than 30 for a half cup
They are super high in the antioxidant vitamin C, which helps support your immune system. An added bonus is that you get more vitamin C from raw sprouts than cooked.
Vitamin K, which helps your blood clot, supports your bones, and also has some brain- these little guys have protective benefits in abundance.
They are rich in fiber with about 3 grams per 1 cup. Fiber helps keep you full and regulates your GI tract.
They are a good source of beta-carotene, lutein and zeaxanthin, which are good for our eyes.
Their secret sauce is the antioxidant kaempferol which helps bolster our immune system and has been found to reduce inflammation.
Research has shown that the antioxidant kaempferol may help with reducing LDL (bad) cholesterol levels, reduce plaque build-up in our brains and potentially help reduce the risk of colon cancer [1]
What to Look for When Buying Brussel Sprouts
Like other fresh produce, you want to make sure you are selecting the freshest and best sprouts you can, so what do you look for?
If you can find them still on their stalk, they are a great choice because they will stay fresh longer. Store the stalk in fresh water and cut the sprouts off at the "neck" just before you are ready to use them.
If you buy them loose, look for small to medium sprouts that have tight leaves.
Avoid sprouts with dark spots, which is a sign of fungus
Avoid sprouts with yellowing leaves – they are getting old.
Loose sprouts will last about a week in the fridge.
Can You Eat Brussel Sprouts raw?
You can eat them raw, boiled, grilled, fried, or roasted! There are so many ways to enjoy Brussel sprouts and eating them raw is perfectly delicious! I know, we see them everywhere roasted and fried but more and more they are showing up in salads. So, I'm jumping on that bandwagon with my Brussel sprout salad with toasted walnuts.
For the salad, I sliced them on my mandoline (affiliate link) to get them nice and thin. It's a good arm workout, but you can often find them already shaved ready to go in the produce section of most grocery stores, which is a great time saver! And as always, a sharp knife will make quick work of slicing them if you prefer or a food processor is super fast too.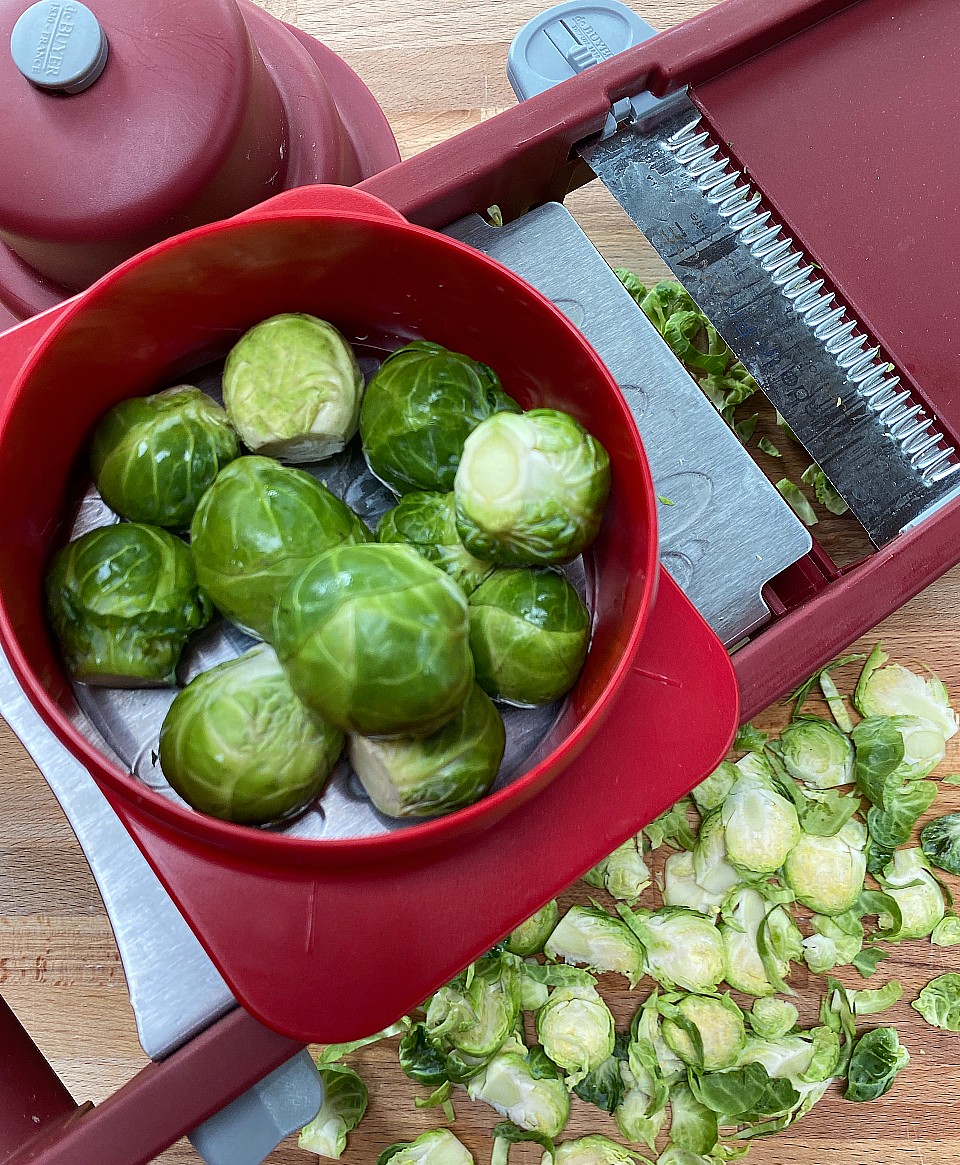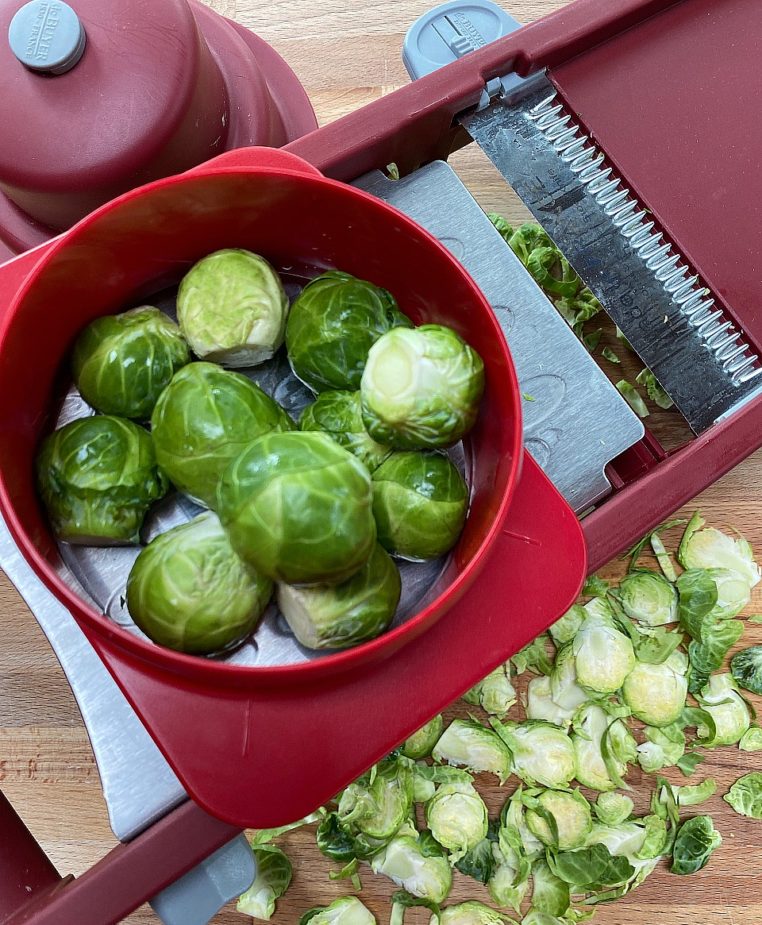 Brussel sprouts have a bit of a bitter note when they are raw which is why I've paired them with goat cheese and my honey dijon salad dressing. Adding the goat cheese mellows the bite from the sprouts and the onions and balances the flavor. The oil from the dressing has the added bonus of helping you absorb fat-soluble vitamin C and antioxidants in the sprouts.
What flavors work best with a Brussel sprout Salad?
I love adding some sweeter notes from dried fruits, like cranberries or dates* to balance the bitterness from the sprouts.  If you are looking for a holiday side, the dried fruit would make this a festive dish too!
Something with a "bite" like the red onion adds a bit of a contrast to the salad. (When I roast brussels sprouts I will toss them with a bit of balsamic vinegar for that bite.)
A toasted nut, like walnuts, also adds a bit of richness and when you toast them, the rich oily flavor comes to the front so you get a more intense walnut flavor which compliments the sprouts
Finish with a bit of goat cheese to just mellow everything out and toss with the dressing and this salad brings a bit of everything. If you aren't a fan of goat cheese, you could add some feta cheese or I really like a nice manchego cheese. It isn't soft and creamy like goat cheese, but it is mild and will add the same mellow note to the salad.
This is a delicious, light side dish for Thanksgiving, or make it for a cozy date night at home and it is easy to make a day ahead.
Slice the sprouts and onions and toss them together. Store them in an air-tight container.
Toast the walnuts and allow them to cool. Keep them in a separate air-tight container or resealable plastic bag.
Make the Honey Dijon Dressing and keep it in a mason jar or other glass container.
Just before serving toss the vegetables with the walnuts and goat cheese and serve with the dressing on the side.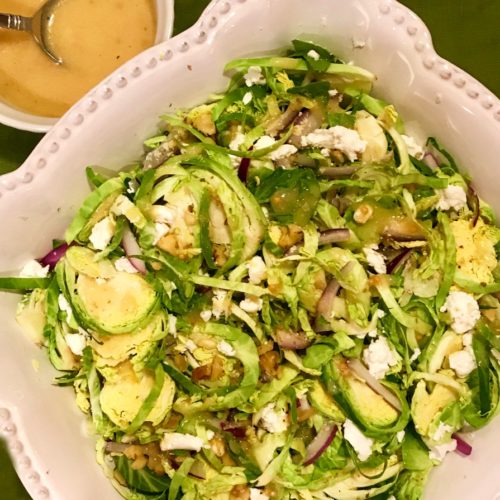 Shaved Brussel Sprout Salad
Ingredients
8

oz.

Brussel Sprouts

1/4

cup

sliced red onions

soaked in cold water for 10 minutes

1/4

cup

chopped, toasted walnuts

2

oz.

goat cheese, crumbled
Instructions
Slice the Brussel sprouts thinly on oa mandoline or in a food processor. You should end up with about 4 cups of shaved sprouts.

Place the shaved sprouts in a large bowl and toss with the onions, walnuts and goat cheese.

Serve with the Honey Dijon Dressing on the side.
Nutrition
Serving:
1
cup
Calories:
220
kcal
Carbohydrates:
8
g
Protein:
6
g
Fat:
19
g
Saturated Fat:
4.5
g
Polyunsaturated Fat:
11
g
Monounsaturated Fat:
3
g
Cholesterol:
10
mg
Sodium:
160
mg
Potassium:
281
mg
Fiber:
3
g
Sugar:
3
g
Vitamin C:
50
mg
Calcium:
100
mg
Iron:
1
mg
Love this idea? Be sure to follow me on Instagram or sign up for my email list for more delicious recipes and tips.
*This is an affiliate link to Natural Delights Dates on Amazon. If you make a purchase through this link I will earn a small commission.
Key takeaways: the perfect brussel sprout salad
So now you know: the perfect fall brussel sprout salad is a combo of thinly sliced sprouts, something sweet, something tangy, and some added nuts for crunch. Use this recipe as your starting point and feel free to personalize with your favorite nut, cheese, or dressing. Add some fruit or other vegetables. The possibilities are endless! Let me know if you try this and what you did to make it your own in the comments!
Note: This post contains affiliate links, meaning if you click on a link and purchase a product I will earn a small commission.