What better way to kick off National Peach Month than with a light grilled peach salad? If you have never tried grilling fruit then this salad is the perfect introduction!
Why Grill Fruit?
Fruit is naturally sweet and delicious on its own, but grilling brings on a whole new level of flavor. When you grill fruit, the high heat pulls all the sugars to the top of the fruit and carmelizes them so you get an incredibly sweet and intense flavor in every bite. It also gives the fruit a smokey flavor which I loved on this salad.
The Best Way to Grill Fruit
Always grill fruit with the flesh side on the grill grates. If you are grilling a peach, as I did for this salad, or other stone fruit like apricots or nectarines, halve them or quarter them and get the seed out. Other fruit, like pineapple, mangos, melons, or bananas, slice into thick slices or large wedges that are large enough that they won't fall between the grates. You can also use a grill basket (but you won't get those pretty grill marks) or an indoor grill pan.
Preheat the grill and brush the grates with canola oil or grapeseed oil (oils with a higher smoke point). Then place the fruit flesh side down on the grates and cook for about 5 minutes. If the fruit is really ripe it will take less time so watch it carefully! Not quite ripe? These may grill even better because the juices are locked in and will rise to the surface with the heat, making them super sweet and juicy. Ripe or over-ripe fruits will have the juice leech out during cooking so it's really better to use a less ripe piece.
How to Use Grilled Fruit
I guess the better question is, "is there anything you can't use grilled fruit in?" I suppose there are some things where grilled fruit wouldn't work well, but I can't think of any! In addition to salads like this grilled peach salad, grilled fruit adds a smokey flavor to salsas and couscous or pasta salads, is delicious on top of ice cream, makes an amazing cobbler, and brings out the savory notes of grilled fish, chicken, tofu or beef.
Does Grilled Fruit Lose Nutrients?
Since grilling is a "dry heat" method of cooking, you lose mainly water when cooking it, so the nutrient loss is minimal. We also know that cooking, or heating, opens up or breaks apart the cell walls in the fruit allowing the nutrients to become more "available" for our bodies to absorb. For instance, we know that when you heat a tomato, the lycopene in the tomato becomes more available and we see higher levels of absorption with cooked tomatoes than in the raw ones so the same is true with other fruits or vegetables.
The other thing to consider is that adding oil to fruits and vegetables also helps increase your ability to absorb those health-promoting antioxidants! Adding grilled fruit to a salad and then tossing with an oil-based salad dressing, just means you'll get even more bang for your buck! For this salad, I used my White Balsamic Ginger Vinaigrette. I love the bite of the ginger and balsamic added to the sweetness of the fruit and bring out the peppery notes of the arugula.
So, if you are firing up the grill anyway, why not throw some fruit on as well? What is your favorite way to use grilled fruit?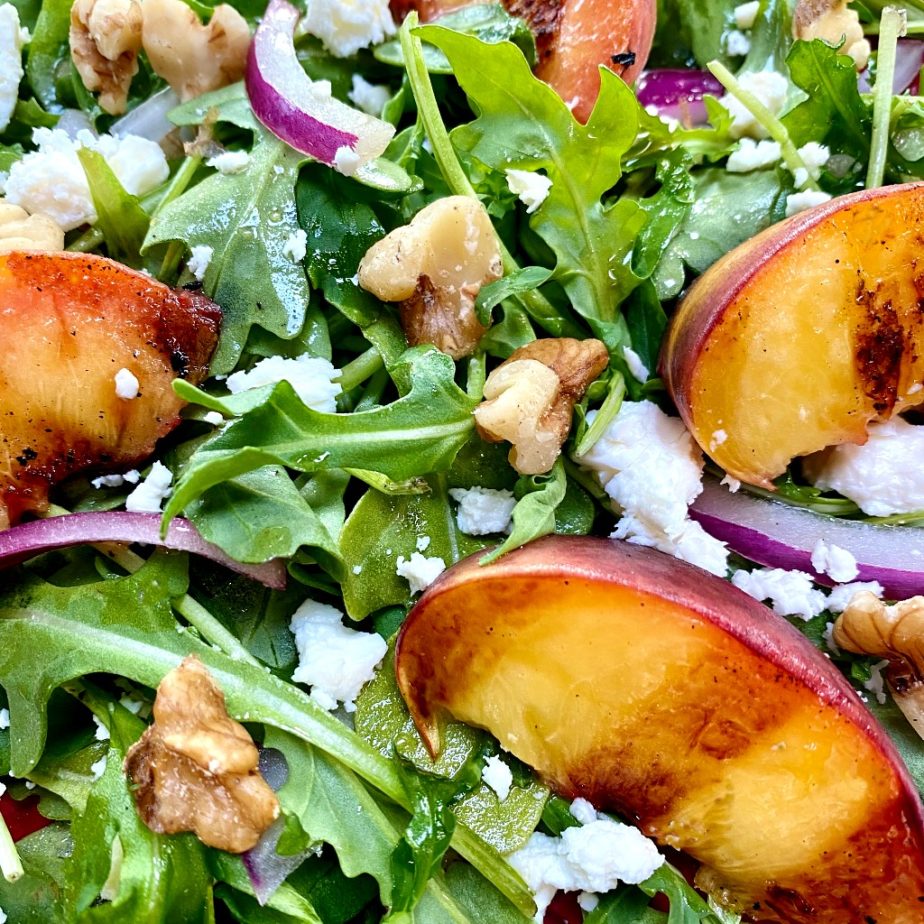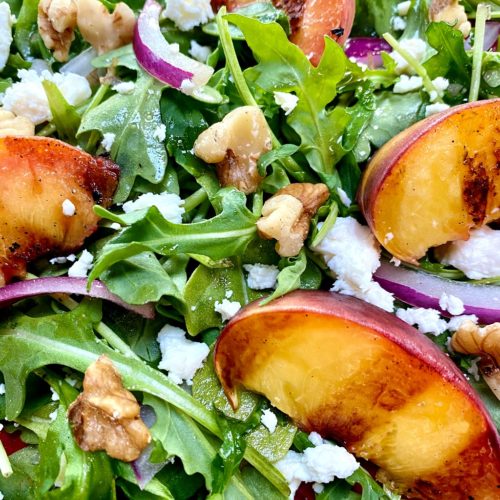 Grilled Peach and Arugula Salad with Toasted Walnuts
The peppery bite from the arugula pairs beautifully with the sweet and smokey flavor from the grilled peaches. This salad is an easy way to add some extra fruit to your meals
Ingredients
1

peach

quartered, pit removed

1

tsp

canola or grapeseed oil

4

cups

fresh baby arugula

washed and spun dry

1/4

cup

toasted walnuts

2

oz

goat cheese

crumbled

1/4

cup

sliced red onion

2

tbsp

white balsamic ginger vinaigrette
Instructions
Brush grill grates or grill pan with oil. Preheat grill to 400°F. Add peach quarters, flesh side down, and grill for 4 – 5 minutes on each side.

Meanwhile, divide arugula, walnuts, goat cheese and red onions between 2 plates.

When peaches are slightly softened and grill marks appear, remove them from the grill. Allow to cool slightly and then slice each quarter in half and add to 4 slices to each salad.
Nutrition
Calories:
340
kcal
Carbohydrates:
15
g
Protein:
11
g
Fat:
28
g
Saturated Fat:
8
g
Polyunsaturated Fat:
10
g
Monounsaturated Fat:
9
g
Cholesterol:
21
mg
Sodium:
210
mg
Potassium:
355
mg
Fiber:
3
g
Sugar:
10
g
Vitamin C:
13
mg
Calcium:
220
mg
Iron:
2
mg