The choice of cooking oils has expanded from one or two vegetable oils and olive oil to a wide range of nut and seed oils, many with health benefits along with unique flavor characteristics.
The grocery store shelves are lined with everything from imported extra virgin olive to walnut and avocado oil. Other than the cost, is there really any difference? What are the best oils for cooking? Let's take a look!
Updated: August 31, 2022
Best Oils for Cooking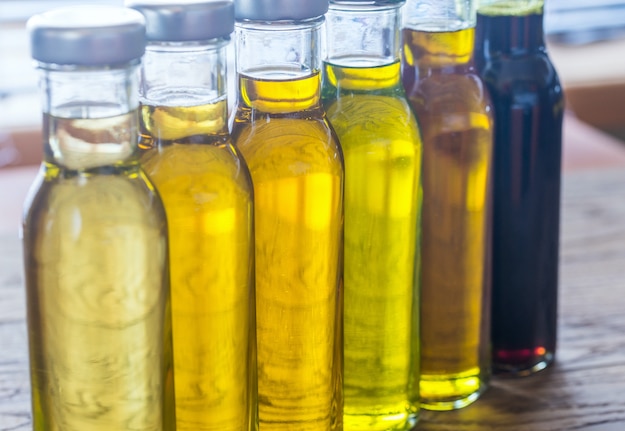 The selection of cooking oils is almost overwhelming now. Years ago it used to be "vegetable oil." That was it. Most of those were corn oil or a blend of oils but now we have a huge selection to choose from. Which oil is best for cooking? What should you use for salad dressing or baking? And what in the heck is a "finishing oil?"
If you are confused, you aren't alone!
You can find everything from sunflower oil, corn oil, and canola oil to highly specialized oils like pumpkin seed and walnut oil. You may also see "shortening" and some new favorites like coconut oil and ghee.
While they may all look the same on the shelf, they are unique. Some are great for cooking at high heat, while others are better used in cold dishes.
Many have nutritional benefits as well as interesting flavor profiles and can be a healthy addition to your diet.
There are many oils available but we'll focus on four of the healthiest oils- avocado, grapeseed, extra virgin oil, and walnut oil.
Avocado Oil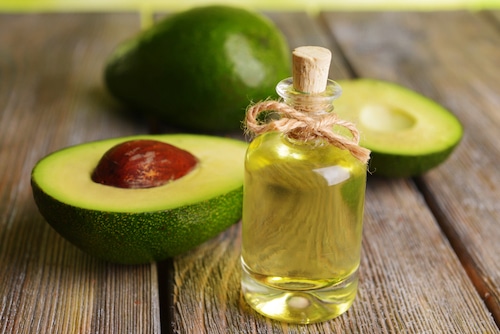 The avocado fruit is a nutrient-dense food that's rich in healthy monounsaturated fats, Vitamin E, and the antioxidants lutein and zeaxanthin which are important for eye health and brain health.
These nutrients remain in the oil when extracted from the fruit and have been found to have a role in reducing the risk of heart disease, and high blood pressure and are essential for eye health. Using avocado oil in place of other fats and oils is a great way to get some of these valuable nutrients.
Avocado oil has earthy and grassy notes with just mild hints of avocado flavor. It has a high smoke point, which means it can be heated over high heat without breaking down and causing off-flavors. It's perfect for sautéing, pan-frying, or even baking. It is also one of the best oils for air-frying.
It has a light green color and I love to use it drizzled over fish, mixed into a salsa or guacamole, or whisked into a hearty squash soup.
Grapeseed Oil
This oil is made from the grape seeds that remain after wine production. The oil is high in polyunsaturated fat, low in saturated fat, and rich in Vitamin E. There is little research to support the specific health benefits of grapeseed oil. Often the health benefits reported are for grapeseed extracts rather than the oil.
Grapeseed extract retains many of the antioxidant-rich nutrients found in grapes, but these are only found in small amounts in the oil.
Grapeseed oil is a mild flavored oil that works well in salad dressings and baked goods. Because it has a medium-high smoke point, is great for sautéing or pan-frying. Grapeseed oil is also one of the best oils for air-frying.
For a quick dressing, mix it with lemon juice, salt and pepper, and a little honey.
Grapeseed oil is also an excellent choice to drizzle over roasted vegetables. Its mild flavor really lets the vegetables shine!
Extra Virgin Olive Oil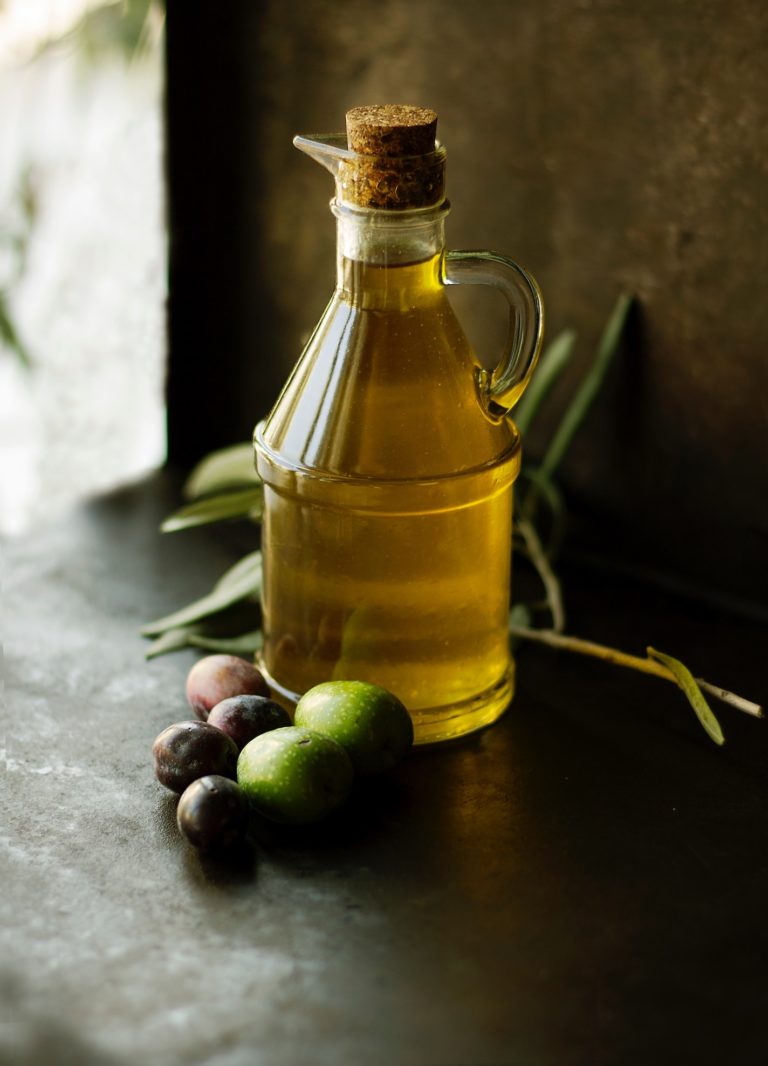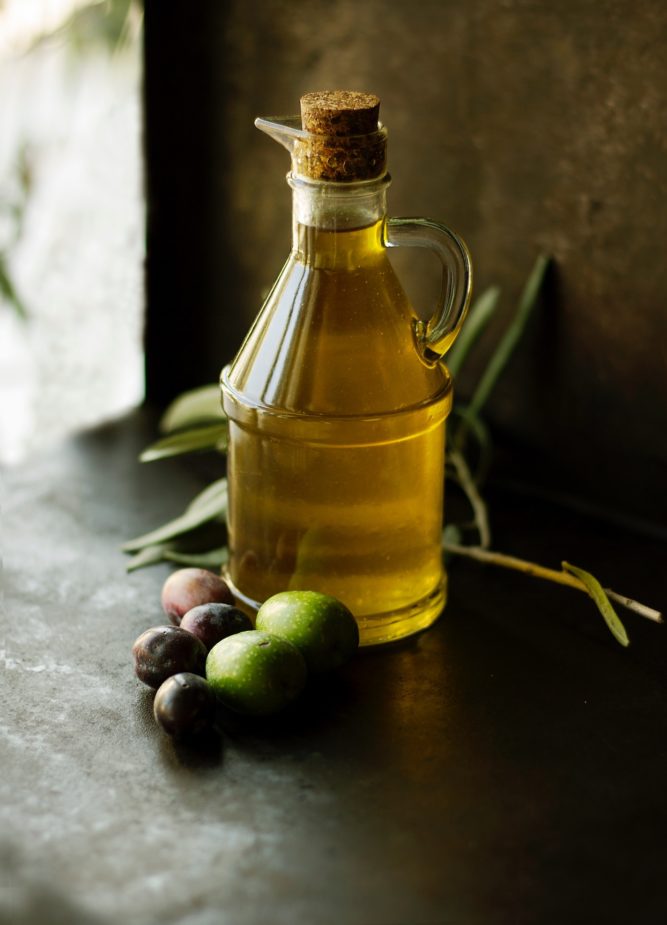 What can I say? This by far is one of my favorite oils to use. If you've ever smelled and tasted a good extra virgin olive oil you know that it smells a bit like freshly cut grass and has an "earthy" aroma. It's rich and buttery and so good drizzled over a crostini with fresh mozzarella.
Olive oil is the highest in monounsaturated fat, with avocado oil coming in a close second. These fats help reduce bad cholesterol levels and help reduce our risk of heart disease.
Both of these reasons are why you will always find a bottle of good extra virgin olive oil in my pantry!
Walnut Oil
Walnuts are an excellent source of Omega 3 fatty acids, which remain in the oil when it is extracted from the nut. Research has shown that people who eat a diet rich in Omega 3 fatty acids have lower rates of heart disease.
This nutty oil is best used in salad dressings or to drizzle over a grain salad or cooked dish at the last minute. It has a lower smoke point and tends to lose its flavor when heated so it's not one I cook with often but do use it for dressings. It's delicious on a spinach salad, mixed into cooked quinoa, or drizzled over grilled fish. 
Try the Walnut Oil Vinaigrette below – it is delicious on a smoked salmon salad!
How to Store Cooking Oils
Have you ever opened up a bottle of oil and caught an "off" odor? Or used an older oil in a salad dressing and thought something was wrong?
Did you know that oils can turn rancid?
When oil is exposed to air, heat, and light, it oxidizes. And the longer it is exposed, the more it oxidizes. That is why how, and where, you store your cooking oils is so important.
First off, as tempting as it is, keep your oils (like your spices) away from the stove. Heat will just speed up the oxidation process, so it's important to keep your oils cool.
They will last the longest if kept in a dark, cool place in the kitchen and tightly sealed container. If you don't use these often, keep them in the refrigerator, tightly sealed. They will keep this way for about six months.
Have fun experimenting with these different oils and expand the flavors in your food and gain the nutritional benefits each provides when you use them in place of other oils.
Most of these oils are available in your local supermarket but they can be pricey. You should expect to pay $2 – $10 more per bottle than your standard cooking oil.
Let me know if you try any of these oils and what you think! Sign up for my monthly email list and get a copy of my heart-healthy pantry list here.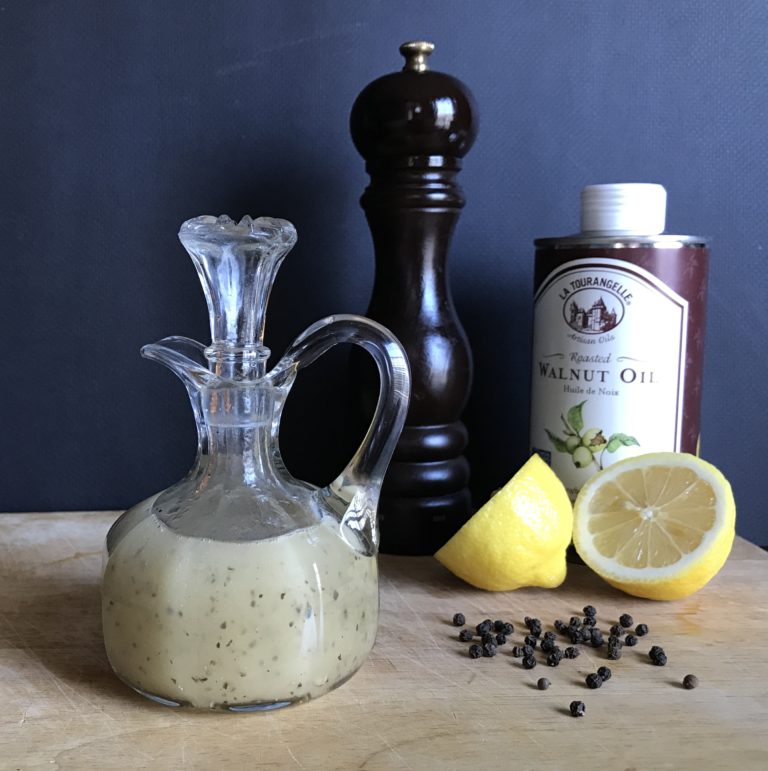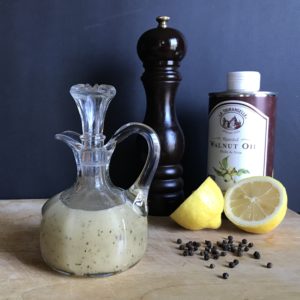 Walnut Oil Vinaigrette
A zesty vinaigrette with a nutty flavor that is perfect on any green salad. You can whip this together in less than 5 minutes!
Ingredients
1/2

cup

walnut oil

1/4

cup

lemon balsamic vinegar

or white wine vinegar

1/4

cup

lemon juice

1/2

tsp.

dried basil

salt and pepper
Instructions
Place walnut oil in a medium bowl.

Whisk in vinegar, lemon juice and basil until completely combined or emulsified.

Season with salt and pepper.