Homemade salad dressing is one of the easiest ways to dress up or make a salad a little more special. A basic vinaigrette dressing is an easy thing to pull together quickly but sometimes I like to mix it up and use slightly different ingredients.
While olive oil is my typical "go-to" oil for a salad dressing, I decided to switch it up a bit and replace it with some walnut oil in this dressing. It pairs perfectly with my Smoked Salmon Citrus Salad and would be delicious with any seafood or chicken salad.
Note: This post contains affiliate links which means if you click on a link and make a purchase I will make a very small commission. This helps support my website and I truly appreciate it!
Why Walnut Oil?
There are two main reasons I decided to give walnut oil a try here. First, I just love its nutty flavor, especially when you use a pure walnut oil like the La Tourangelle brand. Yes, it is a bit pricier than others, but it is made from slow-roasted walnuts and is 100% walnut oil. It isn't mixed with canola or vegetable oil like others often are.
Second, walnut oil is a nutrient-rich type of oil. It has plant-based omega-3s, antioxidants, and even a bit of melatonin. As a matter of fact, 1 tbsp has about 88% of the daily value for ALA omega 3s. People who eat a diet rich in omega-3s tend to have lower rates of heart disease, some types of cancer, and cognitive decline.
What You Will Need to Make this Walnut Oil Salad Dressing
Like other vinaigrettes, I follow a basic ratio of oil to acid. Most recipes call for a 3:1 ratio but I prefer to go a little heavier on the acid and lighter on the oil. This makes the dressing a bit tangier and isn't quite as high in fat.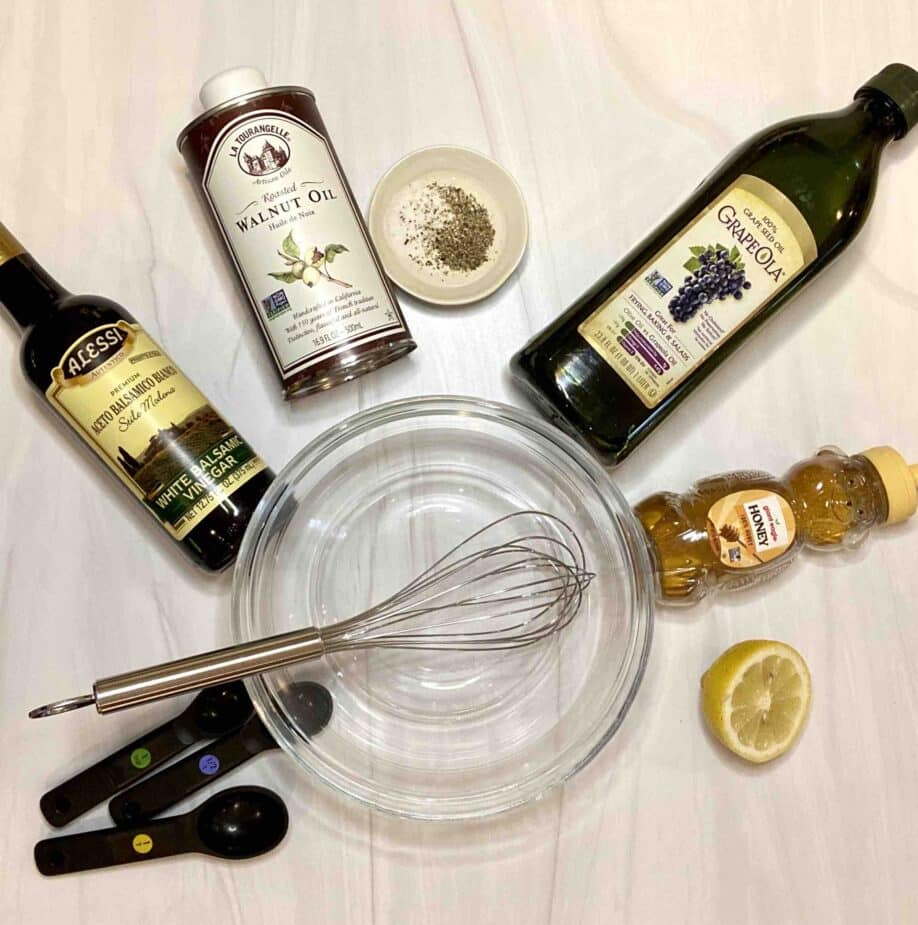 Walnut Oil
As I mentioned I really prefer 100% walnut oil over a less expensive blended oil. I want that delicious nutty flavor!
Grapeseed Oil
I cut this dressing with a little grapeseed oil. I know, why not just use a blended oil? You can but you really won't get the walnut flavor. By adding a little bland oil to this the walnut still comes through but isn't overpowering. I did try it without but over time realized it was just too much so modified the recipe.
White Balsamic Vinegar
While you could use white wine vinegar I like the extra little sweetness you get from balsamic vinegar. It really makes it so you don't need to add much sugar to this dressing.
Lemon Juice
The citrus adds just a burst of freshness and zest that works well with walnut oil. I also planned on using this on a smoked salmon salad and well, lemon just does go so well with salmon!
Honey
Pure clover honey is perfect in this dressing. It adds just a touch of sweetness that balances the tartness and nuttiness of the other ingredients.
Salt and Pepper
I use a fair amount of cracked black pepper and you can adjust this to your taste. For salt, I always use good quality kosher salt like Diamond Crystal. Salt brings out all the flavors and by using kosher salt I end up getting less sodium because kosher salt has about 40% less sodium than regular table salt.
How to Make it
Vinaigrettes are one of the least labor-intensive ways to add flavor to your meals. The full directions are in the recipe card below, but here is a step-by-step description to guide you and a short video at the end.
Step 1:
Mix the oils in a small bowl.
Step 2:
Whisk in the vinegar, lemon juice, and honey until emulsified, or the oil and vinegar are blended together.
Step 3:
Stir in the salt and pepper
Step 4:
Drizzle over your salad or place it in a glass container with a lid that seals and store it in the refrigerator until ready to use. 
Here's a short video showing how easy it is to whip this nutty walnut oil salad dressing together!
Variations
Like other vinaigrettes, you can certainly mix this up and swap ingredients. You could replace the lemon juice with orange juice or use canola oil or vegetable oil in place of the grapeseed.
Storage Tips
This will stay fresh in the refrigerator for about 2 weeks in a sealed glass jar. Make sure the seal is tight so other odors from the fridge don't infiltrate your delicious vinaigrette!
Take it out of the fridge about 30 minutes before using it to let the oils come to room temperature.
Other Recipes you will love
White Balsamic Ginger Vinaigrette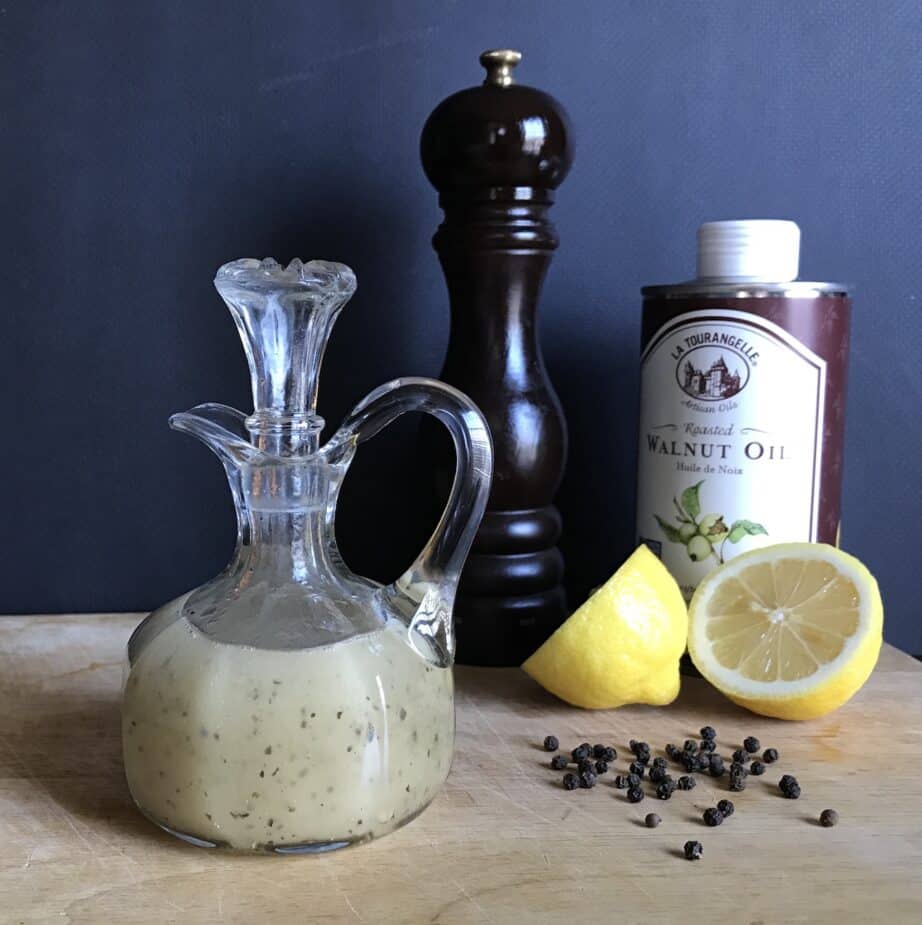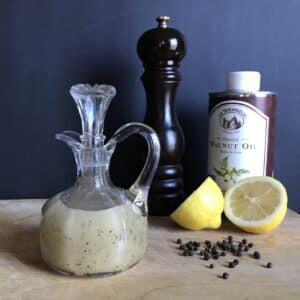 Simple Walnut Oil Salad Dressing
Nutty with just a bit of a bite, this vinaigrette is delicious drizzled over a seafood salad.
Ingredients
½

cup

walnut oil

¼

cup

grapeseed oil

¼

cup

white balsamic vinegar

2

tbsp.

lemon juice

1

tsp.

honey

¼

tsp.

black pepper

⅛

tsp.

kosher salt
Instructions
Mix the oils in a medium bowl.

Whisk the balsamic vinegar, lemon juice, and honey into the oils until it is completely blended or emulsified.

Season with salt and pepper
Nutrition
Serving:
1
tbsp
Calories:
100
kcal
Carbohydrates:
2
g
Fat:
10
g
Saturated Fat:
1
g
Polyunsaturated Fat:
7
g
Monounsaturated Fat:
2
g
Sodium:
15
mg
Potassium:
6
mg
Sugar:
1
g
Calcium:
1
mg