Zesty teriyaki sauce drizzled over a grilled salmon filet and veggies? That's a no-brainer pairing for me! Just add some rice, pineapple, and a few veggies and you have an amazing teriyaki salmon rice bowl ready in no time.
Grain bowls are such an easy dinner for two and the leftovers are perfect for packing for a fast lunch at the office. It makes sense that they are so trendy right now.
I even like making grain bowls when I have company! I don't have to worry about who likes what. Just set out the ingredients and let everyone make their own! A perfect casual and fun lunch or dinner.
While you can use any protein, seafood is a great option. Did you know less than 25% of Americans eat the recommended 2 servings of seafood weekly? That's why I love this rice bowl. You can use fresh, frozen, or canned seafood to make it.
It makes getting at least 1 serving of seafood a week easy.
What You Will Need to Make It
So let's get right to it. Here's what you will need to make this super easy and delicious teriyaki salmon rice bowl.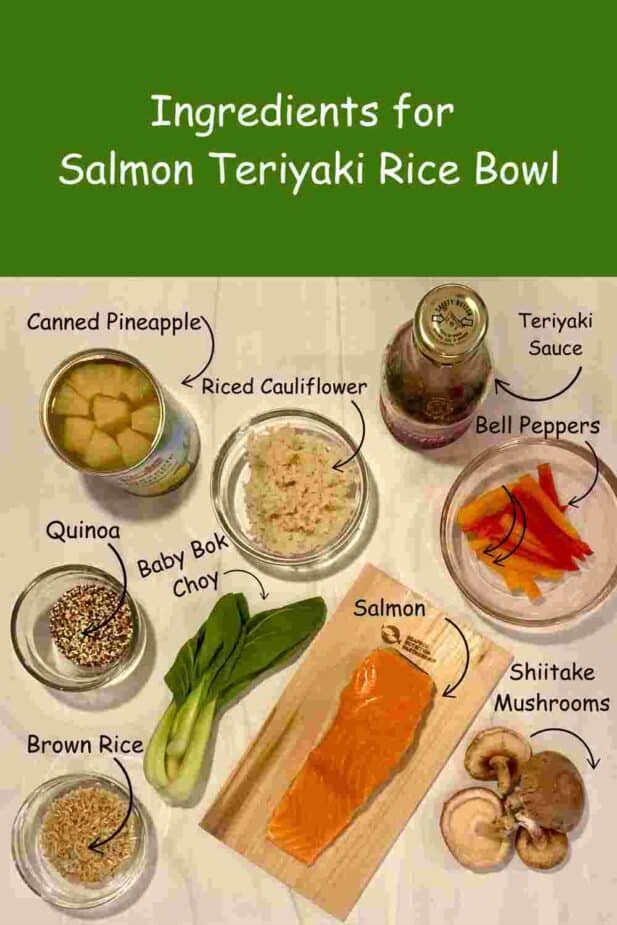 Salmon
I used fresh Atlantic salmon but honestly, canned salmon would be delicious too.
Seafood, especially fatty seafood like salmon, also helps support your brain and immune health and may give your mood a boost too! In addition to the heart-healthy omega-3s, it is packed with antioxidants and anti-inflammatory vitamins, minerals such as selenium, iron, and zinc.
Atlantic salmon is farm-raised which I know brings up lots of questions and concerns. I'm not going to get into that debate here but just know that the industry today is highly regulated to ensure healthy stocks and minimal impact on the environment.
Look for the Aquaculture Stewardship Council (ASC) seal which indicates farmed seafood that has been raised according to strict standards and care.
Farm-raised salmon makes up about ⅔ of all the salmon consumed in the US and tends to have a higher level of omega-3s than wild-caught.
Rice Blend
I made my own blend but you could buy a premade one too. I used a mix of brown rice and quinoa and mixed in some riced cauliflower.
Riced cauliflower is a great way to boost your veggie intake and mixing it into grains makes it so some people won't realize it's in there! I know, it's a bit sneaky and not my favorite way to get people to eat veggies, but if you have someone who is really hesitant to try, this is a way to get a little extra in.
Shiitake Mushrooms
If you didn't know already, I'm a huge mushroom fan and love adding them to salads, pizza, and casseroles. They are loaded with nutrients that may help protect our hearts and brain and for women may help us deal with some of the side effects of menopause.
You can read more about the health benefits of mushrooms in my recent post, but that's not why I added them here. Shiitake mushrooms are delicate in both texture and flavor so they don't compete with the richness of the salmon or the zestiness of the teriyaki sauce, but do add a hint of an earthy flavor.
Shiitake mushrooms were the perfect addition to this dish.
Baby Bok Choy
Bok choy is a leafy green cruciferous veggie that is commonly found in Asian-inspired dishes. It is an excellent source of brain-boosting vitamin K, potassium, and antioxidants, but more importantly, it has a mild, fresh flavor that compliments the shiitake mushrooms.
The immature, or baby version is tender and cooks quickly in stir-fries or is delicious in salads. You can often find it in plastic containers or in bags in the salad area of the produce section. If you can't find it, baby spinach or kale is a great substitution.
Pineapple
Canned pineapple packed in juice adds a bit of sweetness to this dish. You could also use fresh pineapple and grill it alongside the fish if you'd like but I chose to keep this simple.
Teriyaki Sauce
You could certainly make your own teriyaki sauce but for this teriyaki bowl, I chose to use a bottled, premade sauce.
I received a bottle of Kikomann Teriyaki Sauce to try and love it. It has a full teriyaki flavor but isn't overly sweet. I love that it has real sesame seeds in the sauce too. That makes it just a little extra special.
How to Make it
You'll find the exact directions in the recipe card below, but here is a summary of how to make this recipe.
STEP 1: Make the rice blend.
Start with cooking the rice and quinoa. While it is cooking you can get everything else going. You can cook the rice in water or in broth if you want a little extra flavor. I used long-grain brown rice and red and white quinoa and cooked them together. Then added the riced cauliflower at the end to finish cooking.
Alternatively, you can make the rice blend ahead of time and keep it in the fridge until you are ready. Just pull out what you need for the bowls when you are ready and reheat in the microwave.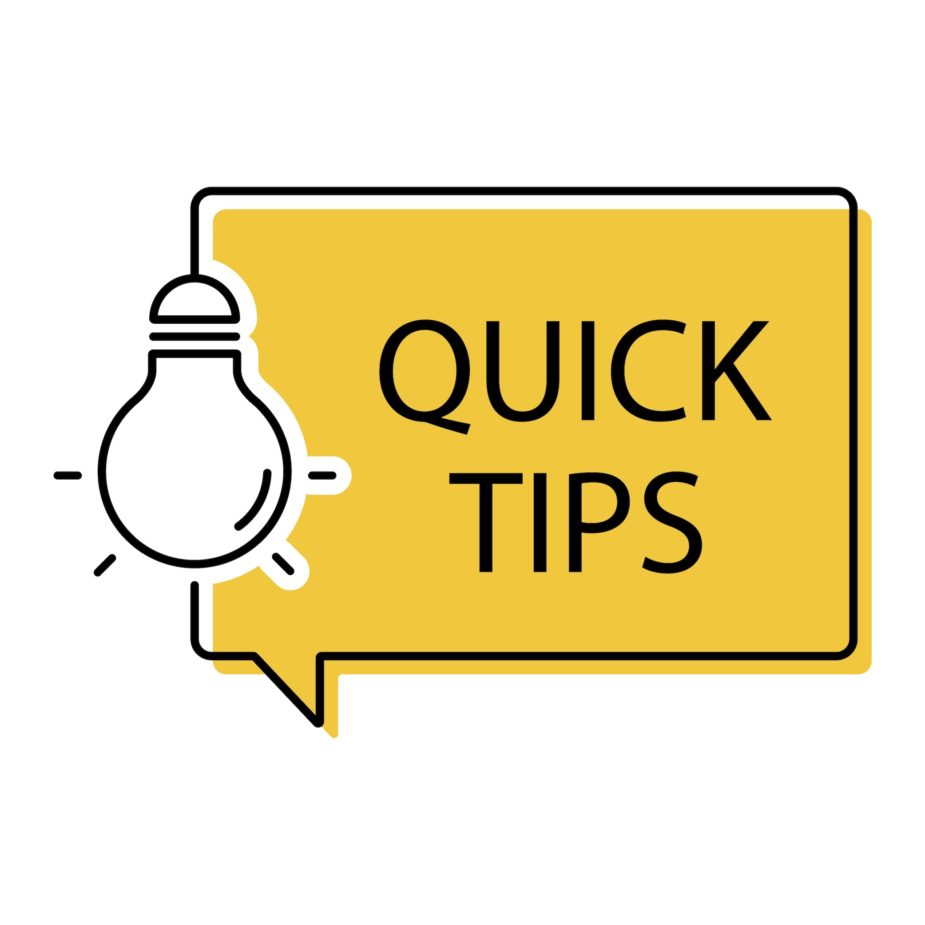 Timesaving Tip: Make a big pot of rice and quinoa and then use it throughout the week for a variety of meals.
STEP 2: Cook the Salmon
For this, I used fresh salmon and grilled it on a cedar plank. The cedar plant added a smokey flavor to the dish, but you could also bake it or grill it on a rack or cook it in a foil pouch.
If you are using the cedar plank, soak it in water for 30 minutes.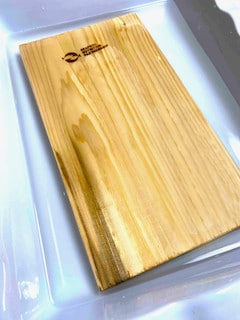 Yes, this does require a bit of forethought, so feel free to grill the salmon on a piece of foil or on a wire fish grill.
Preheat the grill and place the salmon on the soaked cedar plank or a piece of foil. Cook it on the grill, with the lid down (this captures all that amazing cedar flavor).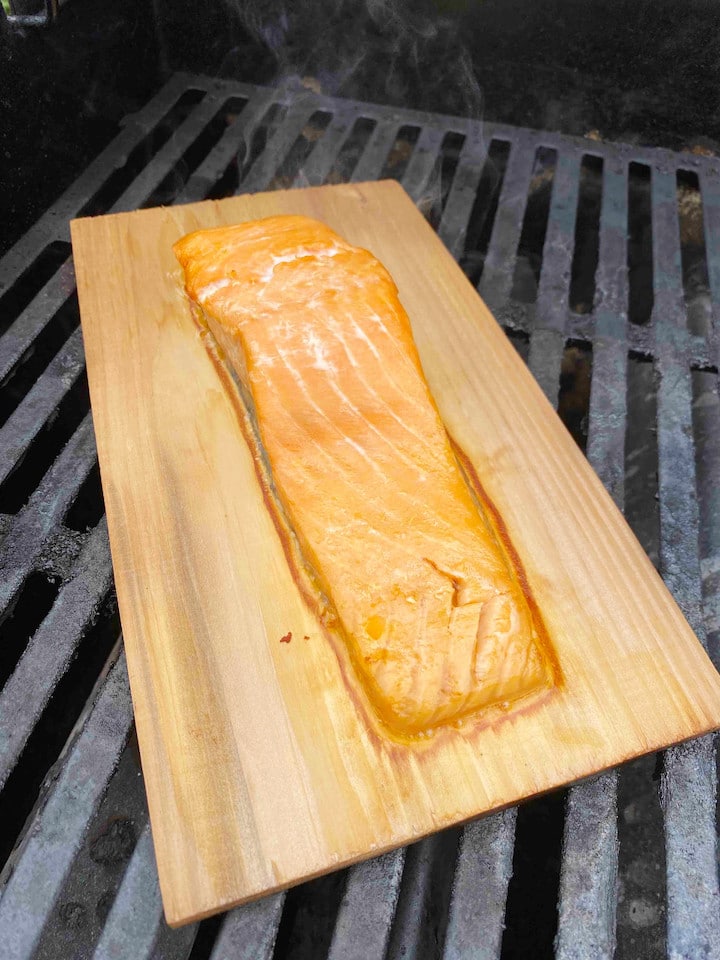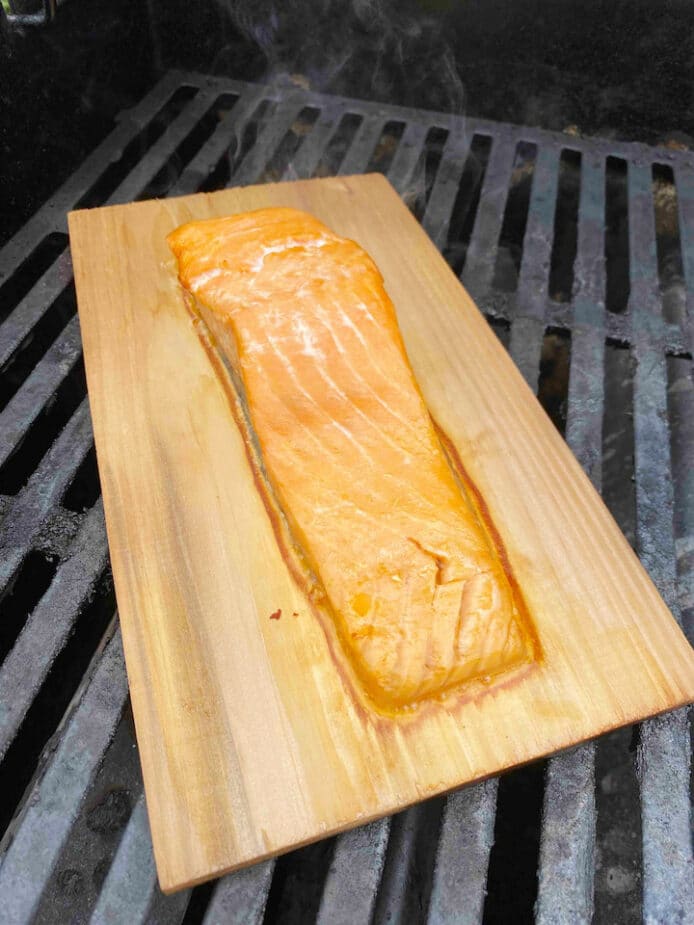 Not convinced you want to try your hand at cooking fish? No problem, simply use canned salmon instead. It's already cooked for you so you can open a can or pouch and toss it with a bit of the teriyaki sauce.
STEP 3: Prep the Veggies and Pineapple
Slice and dice the bell peppers and slice the mushrooms and bok choy.
In a medium skillet cook the mushrooms in a little grapeseed oil until browned. Then add the bok choy and saute them together quickly until the bok choy is just wilted. Remove from the heat.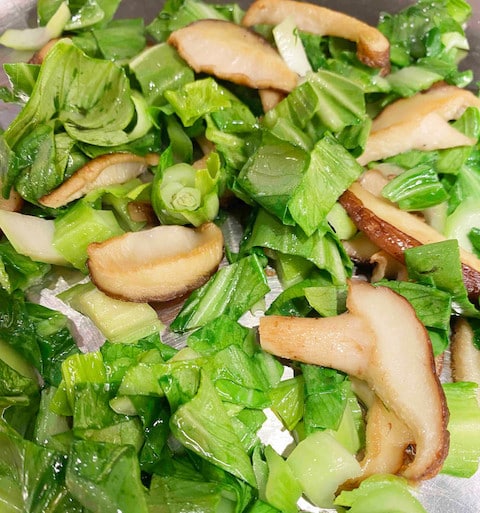 Drain the pineapple and save the juice. You can mix that into smoothies or sauces or even dressings later.
Note: I prefer sauteed mushrooms and greens but you can use raw if you want to save some time.
STEP 4: Assemble Your Bowls
The fun part! Just put a cup of the rice blend in the center of a bowl or plate. Top with the salmon, veggies, and pineapple. Drizzle a little more of the teriyaki sauce over the ingredients and dinner is done!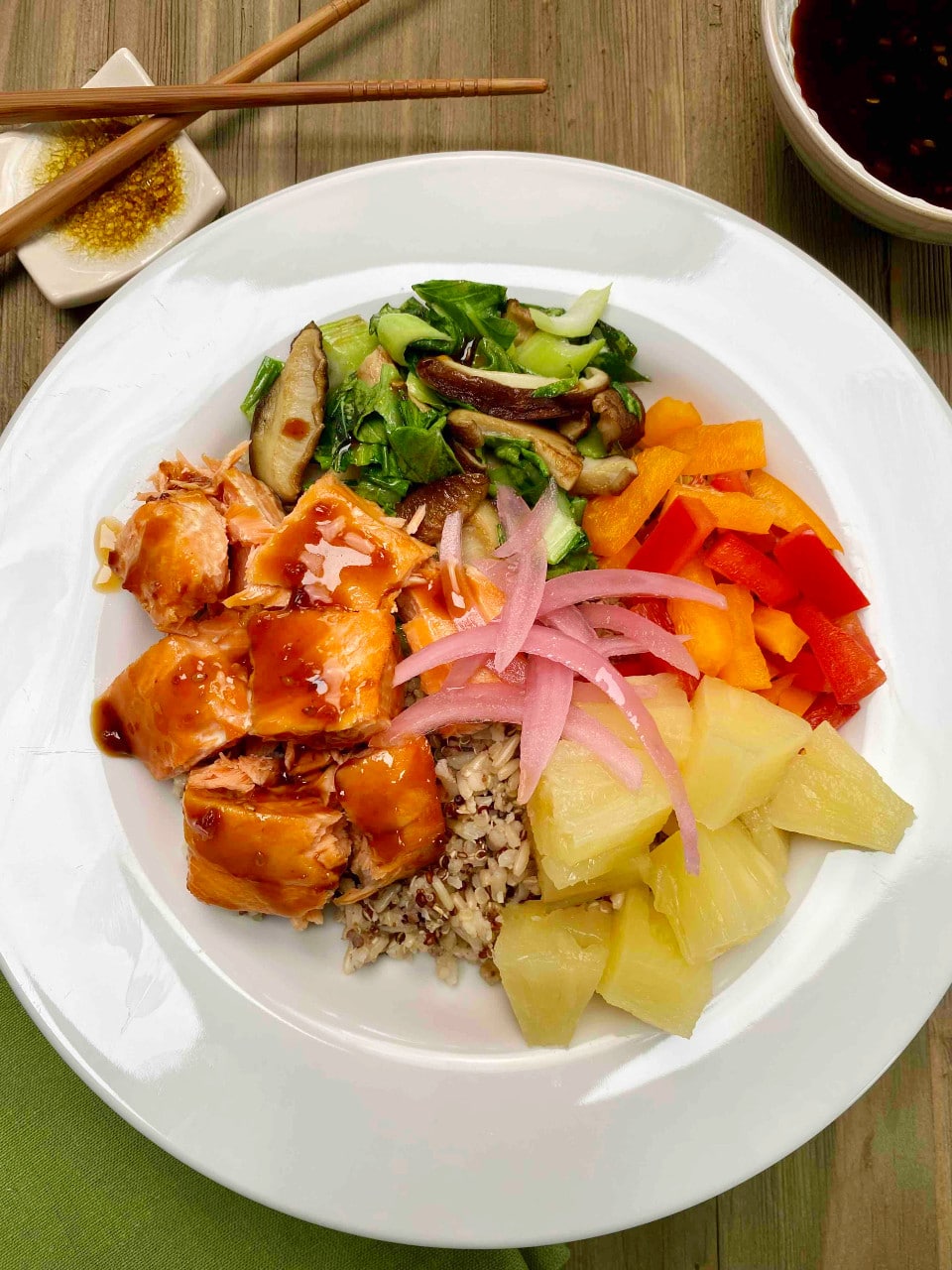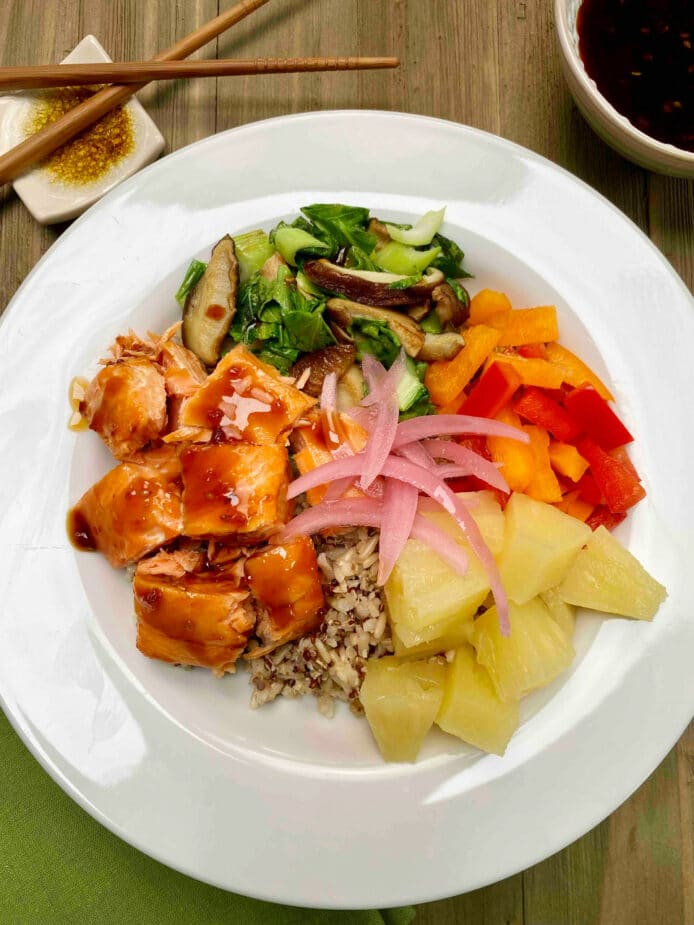 Recipe FAQs
Here are some common questions about this recipe:
How do I know when the salmon is done?
The easiest way is to check the temperature using an instant-read thermometer. You'll want to put the tip of the thermometer in the thickest part of the salmon and once it registers 145°F the salmon is done. It should also flake apart with a fork and not have a raw look on the inside.
Why do I see white stuff in my cooked salmon?
This is called salmon "curd" and it is just a type of protein (also called albumin) in the salmon that turns white as it cooks. It is perfectly normal and harmless. You can scrape it off if you don't want it on your beautiful piece of salmon!
Can you use canned salmon for this?
By all means! Look for a lump-style salmon for this recipe so you get nice big pieces instead of a lot of crumbs.
Can I add different fruits and veggies?
Of course! Some other great flavors that would work well in this are mandarin oranges in place of (or in addition to the pineapple), edamame beans, spinach, sauteed onions, avocado pieces, or even add some nuts like peanuts to this.
Can I prep any of the ingredients ahead?
You certainly can. The rice blend is easy to make ahead and store in the fridge until you are ready to use it. You can grill the salmon ahead, or use leftover salmon from a previous meal. You can chop and slice your veggies ahead too so they are ready to go.
What beverage would you serve with this Teriyaki Salmon Bowl?
For me, a crisp, cool white wine like a sauvignon blanc is perfect to accompany this meal, but if you are looking for a non-alcoholic drink iced tea or lemonade would also be delicious!
Variations
The versatility of grain bowls is what makes them so appealing. You can use the vegetables you have on hand and swap the protein for what you prefer. Mix up the grains too.
Here are some of my favorite combinations.
Grilled chicken with brown rice, corn, black beans, and peppers. Toss it all together with a southwestern seasoning blend.
Farro with chickpeas, cucumber, black olives, tomatoes, and feta cheese. Toss it with a Greek dressing and serve with hummus on the side.
Barley with roasted butternut squash, baby kale, spinach, and cannellini beans. Toss this in with an Italian seasoning blend.
Storage Tips
This makes a great "bento box" type lunch.
I recommend putting the ingredients in separate sections or containers to store.
When you are ready, scoop out the rice, salmon, mushrooms, and greens and reheat them together. Then top it with the remaining peppers and pineapple and a little teriyaki sauce just before eating. Toss it all together and you have a quick lunch or leftover dinner.
Other Recipes you will love
If you love seafood here are some other recipes you should try:
Scallops in a Lemon Rosemary Sauce
Shrimp in Tomato Sauce with Artichokes and Spinach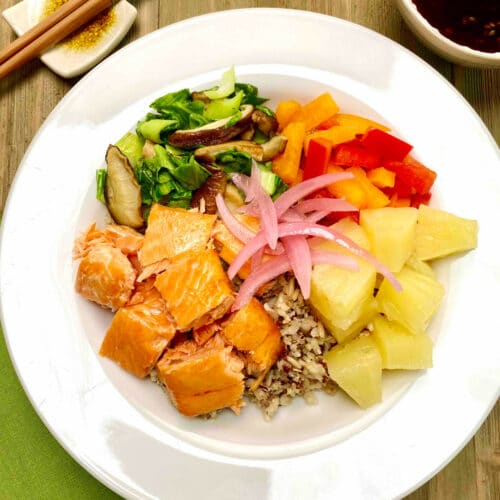 Teriyaki Salmon Rice Bowl
Equipment
1 Saucepan

1 small frying pan
Ingredients
¼

cup

brown rice

¼

cup

quinoa

½

cup

cauliflower "rice"

8

oz

salmon filet

1

tsp

grapeseed or peanut oil

1

cup

sliced shiitake mushrooms

1

cup

sliced baby bok choy

2

tbsp

teriyaki sauce

½

bell pepper

sliced

½

cup

pineapple chunks

fresh or canned in juice
Instructions
Cook quinoa and rice in 1 cup of water, or according to package directions, for about 10 minutes. When done, fluff with a fork or spoon and stir in the cauliflower rice and allow it to sit, covered for 5 minutes.

Preheat the grill or grill pan. If you are using a cedar plank to cook your salmon, soak it in hot water.

Place the salmon filet on the cedar plank or on a piece of foil or grill sheet and cook it, with the lid down for 10 – 15 minutes, or until the salmon is done. (Tests 145℉ on an instant-read thermometer)

Remove the salmon from the grill and allow it to sit for 5 minutes. Then cut it into pieces and toss with ½ the teriyaki sauce.

While the salmon is cooking, heat oil in a small frying pan until sizzling. Add the mushrooms and let them brown (about 2 minutes), turn them and add the baby bok choy and stir gently to combine and wilt the bok choy.
Assemble the grain bowls
Place 1 cup of the grain and cauliflower mixture in a shallow bowl. Repeat with the rest of the grain in a second bowl.

Top each bowl with ½ the salmon, cooked mushrooms, and bok choy, peppers, and pineapple.

Drizzle with the remaining teriyaki sauce and top with pickled red onions if desired.
Nutrition
Calories:
460
kcal
Carbohydrates:
48
g
Protein:
32
g
Fat:
16
g
Saturated Fat:
2.5
g
Polyunsaturated Fat:
5
g
Monounsaturated Fat:
4.5
g
Cholesterol:
70
mg
Sodium:
250
mg
Potassium:
830
mg
Fiber:
7
g
Sugar:
12
g
Vitamin D:
15
µg