We took a trip to Cape Cod this past fall where I had the most delicious scallops I think I've ever eaten. The first night I ordered them, they were served over polenta with a red pepper sauce and greens. The second time I ordered scallops they were served with clams and pasta with a light lemon sauce. Both were sweet, buttery, and delicious! I came home knowing I needed to try to make them myself.
So, I set out on my quest to find good sea scallops but ran into a small problem – finding fresh, dry-pack scallops in Pittsburgh is a bit difficult.
What do I mean by a dry pack scallop? A scallop is a scallop, right? Well, no. There are 2 ways you typically find scallops; "dry pack" or "wet pack". The most common way you will find scallops in your grocery store is called "wet pack". This means they are soaked in brine and then frozen. The brine causes the scallop to pick up moisture, and weight, so when you cook them, they shrink and often they end up tough and chewy. They are also harder to get that perfect sear on. Dry-pack scallops are not soaked and much easier to cook with.
I did find delicious, dry-pack jumbo scallops at Penn Avenue Fish Co. in the Strip District. The day I bought them they weren't busy so Kyle, the fishmonger, had time to tell me all about the various fish they had in the case that day and I learned that these scallops were fresh from New Bedford, Massachusetts.
Unfortunately, dry-pack scallops are much more expensive so knowing how to cook them is important – you really don't want to mess them up! But honestly, they are easy to cook if you know a few simple tricks.
Here are a few things you need to remember:
Dry them off well with a paper towel before cooking. You want all the moisture out of them. If you do buy brined scallops, soak them for about a half-hour to get some of the brine out and then dry them really well before cooking.
Trim the muscle off the side of the scallop before cooking. Many fishmongers take care of this for you. It is still a good idea to check and make sure it is cut away before cooking.
Get your pan and oil really hot before placing your scallops in.
Place your scallops in the pan (don't overcrowd them) and leave them alone for about 2 minutes or until they release from the pan easily. You will have a beautifully seared scallop.
Flip them and allow them to sear on the other side for about 2 minutes more, depending on their thickness.
Scallops cook quickly, and you don't want to overcook them or they will be tough instead of buttery, so watch them closely.
I made a lemon rosemary sauce to go over them and on the pasta. It took a few tries to get the sauce just right but I think I finally landed on a balanced sauce with just enough lemon and hint of rosemary. If you try it, let me know what you think!
Scallops are an excellent source of magnesium and potassium, are fairly low in calories, and high in lean protein. They cook very quickly so they are an easy way to add an extra serving of seafood to your week. So give them a try!
If you want to know more about buying and cooking scallops, The Spruce Eats has a great article!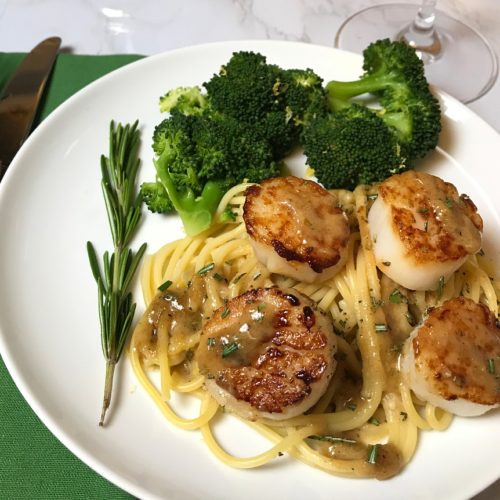 Scallops with a Lemon Rosemary Sauce
Light and buttery, these sea scallops are a delicious treat and best served with pasta or risotto to soak up the extra delicious sauce.
Ingredients
1/2

lb.

dry pack sea scallops

about 6-8

1

tbsp.

Extra Virgin Olive Oil

1

tbsp.

butter

2

tsp.

chopped rosemary

1/2

cup

chicken broth

1/4

cup

lemon juice

1/2

cup

white wine

1/2

tsp.

lemon zest
Instructions
Wash your hands before touching the scallops. Trim off the muscle on the side if it is there and then pat the scallops dry with a clean paper towel.

Melt 1/2 Tbsp. butter in a small frying pan. Add the extra virgin olive oil and turn the heat to medium high.

When the skillet is really hot, but not burning, add the scallops and sear for 2-3 minutes per side, being careful not to over cook them. Remove them from the pan with tongs.

Add the rest of the butter and broth to the skillet and turn down the heat. Scrape up any brown bits from the bottom of the pan and then stir in the wine, lemon juice, rosemary, and lemon zest and boil for about 5 minutes to reduce the sauce slightly.

Turn off the heat and add the scallops back to the pan and scoop the sauce over top. Heat slightly to warm them. Scallops should be at an internal temperature of 145°F.

Serve over pasta or risotto.