I love finding and creating fish recipes. Trying interesting ingredient combinations, new varieties of fish and even preparing traditional dishes with a little twist to make them my own is fun, which is why I came up with this easy Cod Veracruz recipe.
Maybe it is because I've worked in the seafood industry, for StarKist, for 10 + years, but honestly, I've always liked fish. And, since October is National Seafood Month, I decided this was a great time to tell you about one of my new favorite fish recipes!
Cod is a perfect type of fish to experiment with, especially if you are just learning to cook fish. It's probably best known as the fish you find at Friday night fish fries during Lent (at least in Pittsburgh!) or in "fish and chips".
It is pretty versatile and you can do a lot more with it than deep-frying it. It's rather bland, and because of that, it works well in a variety of dishes. I use it in fish tacos, seafood stews and this new dish I learned about and had to play around with, Cod Veracruz.
Cod has quite a history too. If you've read Mark Kurlansky's book, "Cod, A Biography of the Fish that Changed the World", you know the history. It has been a staple of many people's diets, wars were fought over it, people moved because of it – and we almost lost it! Atlantic Cod is still highly regulated and fishing is restricted but Pacific Cod is widely available.
From a nutritional standpoint, it is a pretty good choice for lean protein. It is low in fat and calories, is a good source of protein, B vitamins, and phosphorus.
For this dish, the cod is basically poached in a tomato, wine broth. Poaching keeps the fish moist so it won't dry out and overcook. Some herbs are added, but what really makes it special are the olives and capers added toward the end. There is something about the saltiness from the olives and capers that works so well with the tomatoes. The cod picks up the flavor of the tomato broth and it melts in your mouth. Serve it with either rice (more traditional) or couscous.
When it comes to fish recipes this is a perfect choice. It really is an easy dish to prepare and cooks quickly. You could easily do this for a weeknight dinner.
Do you cook fish at home? If not, why not?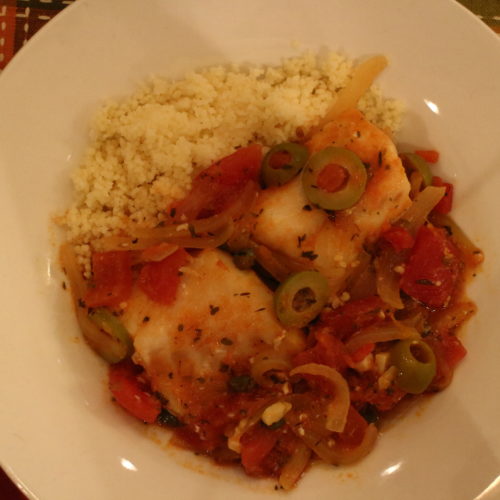 Cod Veracruz
A traditional Mexican seafood dish
Ingredients
1

Tbsp

Extra Virgin Olive Oil

1/2

cup

thinly sliced sweet onion

1

tsp.

minced garlic

1

14.5 oz. can

diced tomatoes

1

bay leaf

1/2

tsp

dried thyme

1

tsp.

dried parsley

can substitute fresh – use 1 Tbsp.

1/2

cup

dry white wine

1/2

cup

chicken broth

1.5

lb.

fresh cod fillets

cut into 4 pieces

1/4

cup

sliced green olives

about 15 olives

2

tsp

capers

drained

1/2 – 1

tsp

anchovy paste

optional
Instructions
In a large saute pan, heat olive oil over medium heat. Add onions and cook for 3 minutes, then add garlic and saute for 1 minute, being careful not to burn the garlic.

Stir in diced tomatoes and the juice and cook for 5 minutes, until all the liquid has cooked down.

Mix in bay leaf, thyme and dried parsley and then add wine and broth and continue cooking for another 5 minutes until liquid is thickened and cooked down.

Then stir in olives and capers and nestle the cod fillets into the sauce. If you'd like a little more depth of flavor, stir in 1/2 tsp. of anchovy paste. Cover and cook over low heat for 10 minutes.

Serve over rice or couscous.
Notes
The anchovy paste is completely optional but it adds a nice boost of flavor to the dish.  
Nutrition
Calories:
220
kcal
Carbohydrates:
6
g
Protein:
31
g
Fat:
6
g
Saturated Fat:
1
g
Cholesterol:
80
mg
Sodium:
690
mg
Potassium:
780
mg
Fiber:
2
g
Sugar:
3
g
Calcium:
80
mg
Iron:
1
mg