A pasta bake is a perfect make-ahead meal. They are so comforting and filling! They are something I make a lot of this time of year. We'll have some on Sunday night and the rest I freeze for a quick weeknight meal later in the month. This Italian Sausage, Spinach, and Artichoke pasta bake is one of my all-time favorite pasta bakes!
I was reminded about this recipe last weekend as I wandered around the Strip District, Pittsburgh's historic market area. One of my favorite sausage shops, Parma Sausage, is there and I love stopping in to pick up Sweet Italian Sausage and Prosciutto. They make everything on-site and it is authentic and fresh and oh so delicious!
This recipe looks creamy, but the sauce is a roux (made with flour, butter, broth, and wine). Shredded cheese is added at the end to make the final cheese sauce. So, it's creamy but it's not heavy like a creamy alfredo sauce. I like it better this way, but you could use a premade alfredo sauce to save time.
The spinach, mushrooms, and artichokes combined with the orrechetti pasta, sausage, and sauce make this a healthy meal by itself but a salad on the side is a delicious, light addition. You'll think you are dining in the Mediterranean!
How to Make a Roux
If you've never made a roux before it can be a bit intimidating, but all it takes is a bit of focus and about 10 minutes at the stove and you get the added bonus of a good arm workout! This is important though – you'll need to have everything set up beside you before you get started so you can add things quickly and continue whisking.
Assemble and measure all the ingredients for your sauce: butter, olive oil, flour, wine, broth, and cheese.
Gather the equipment you'll need including a frying pan or saute pan, a wire whisk, and a wooden spoon.
Heat the butter and olive oil in the frying pan or saute pan over medium-low heat.
Once the butter has melted, gradually whisk in the flour until it is well combined.
Continue whisking for about 3 minutes over medium-low heat – don't stop whisking and if it starts browning turn the heat down or take it off the heat, but continue whisking. (You need to cook it for at least 2 – 3 minutes to cook the flour long enough so it doesn't taste like flour)
After about 3 minutes the mixture should be bubbling and you can now slowly add the wine, whisking quickly while you add it to prevent the mixture from clumping. If it starts clumping, whisk a bit faster to get the lumps out.
Now, slowly add the broth and continue whisking while you add it. Just as with the wine, keep whisking to prevent lumps from forming. The mixture should be thin and smooth.
Keep cooking over medium-low heat, whisking it as it cooks for about 10 minutes until it begins to slowly boil and thicken.
Once it is thickened, stir in the shredded cheese with a wooden spoon or spatula and stir until the cheese melts. Now you can remove it from the heat and it is ready to stir into your cooked pasta, sausage, and vegetables.
Now, if you don't want to do all this, or it still intimidates you, jarred Alfredo sauce works great too! 1, 15 oz. jar should be plenty.
Making the Pasta Bake
Once you have the sauce, the rest is easy to pull together! Okay, you use a few pots and pans for this but bear with me – it is totally worth it in the end!
Crumble the sausage and cook it in a large frying pan until it is done.
Remove the sausage from the pan and add the onions and cook for a few minutes then stir in the garlic and cook for about a minute.
Next, add the mushrooms to the onions and cook until they are soft.
Then, stir in the artichokes and spinach and cook until the spinach has cooked down.
Remove it from the heat and stir the sausage back in and sprinkle the mixture with basil.
Boil a large pot of water with a little salt and add the pasta. I like pasta that has nooks and crannies and chose the orrechetti pasta for this (it looks like little hats!) but any kind of pasta, other than long noodles, will work.
I cook my pasta to the barely al dente stage – meaning it should still have a bite to it. It will finish cooking in the sauce in the oven later. If you cook it too long the pasta will be mushy instead of holding its shape.
Pulling it all together
Now comes the fun part, pulling it all together!
When the pasta is done, drain it and place it back in the large pot. (If you can pull out a scoop of the pasta liquid before you drain it, you may want to mix a little into the sauce to thin it out if it thickened.
Gently stir in the sausage and vegetable mix.
Now add the cheese sauce and mix it well. If it thickened too much add a little pasta water to thin it a little. The starch from the water will thicken it back up.
Pour the mixture into a 13 x 9 casserole dish.
At this point, you can either bake it or freeze it for later.

If you are eating it now, cover it and bake it at 350°F for about 15 minutes, or until the sauce starts bubbling.
If you freeze it, the morning before you want to have it, remove it from the freezer and place it in the refrigerator to thaw. (It may take up to 2 days to thaw.) Then preheat your oven to 350°F. Bake it, covered with foil, for 15 – 30 minutes, or until the sauce is bubbling and the center is hot. With a thermometer, it should be 165°F in the center.
I think a pasta bake is an ideal weeknight meal, when it is made ahead. Just thaw, cover and bake! While it is baking you can help the kids with homework, get lunches packed and ready for the next day or throw a load of laundry in and walk the dog!
Do you agree that a pasta bake makes a perfect make-ahead meal? Let me know if you try this one and if you did anything differently! I'd love to hear your thoughts!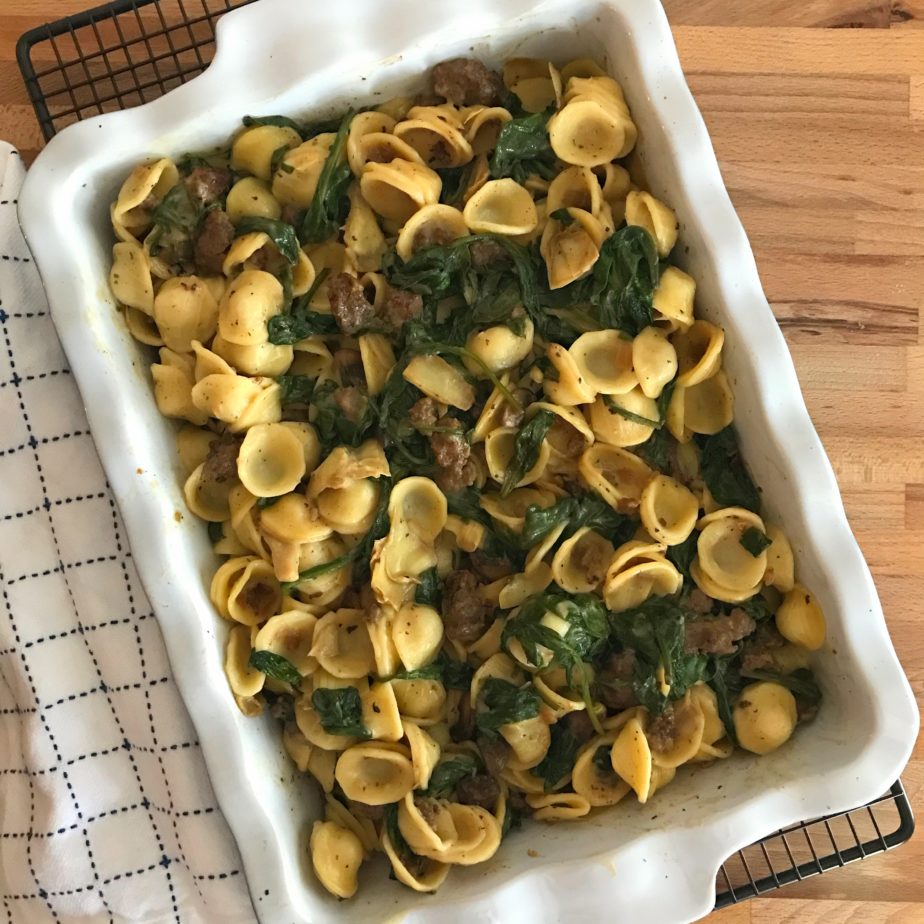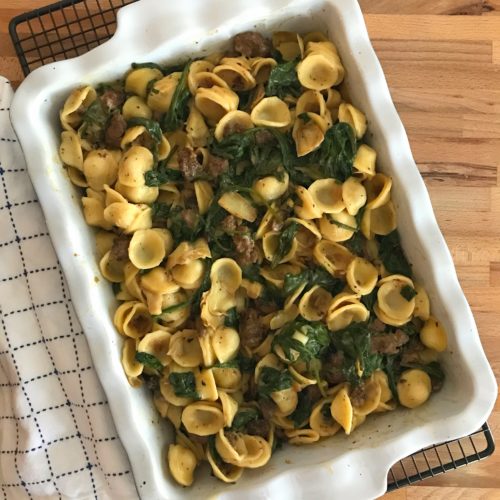 Italian Sausage, Spinach, and Artichoke Pasta Bake
Ingredients
1/2

lb

Italian Sausage

Sweet or Spicy, removed from casings and crumbled into ~ ½ to 1-inch pieces

½

cup

diced sweet onion

1

tsp.

minced garlic

3

cups

chopped crimini mushrooms

1

14 oz. can

quartered canned artichokes

drained

6

oz.

fresh baby spinach

½

tsp.

dried basil

1

lb.

orrechetti pasta

they look like hats!

3

Tbsp.

butter

1

Tbsp.

extra virgin olive oil

1/4

cup

flour

½

cup

white wine

1-1/2

cups

chicken broth

if using canned use reduced sodium

8

oz.

grated Fontinella cheese

¼

tsp.

ground nutmeg
Instructions
Preheat oven to 350°F. Butter a 13 x 9 casserole dish and set aside.

In a large sauté pan, cook sausage over medium heat until browned and cooked through. Remove from pan.

Add onions to the pan and cook ~ 3 minutes. Add garlic after about a minute.

½ cup diced sweet onion,

1 tsp. minced garlic

Add mushrooms to the pan and continue cooking until mushrooms and onions are softened.

3 cups chopped crimini mushrooms

Add artichokes and spinach and cook until spinach is cooked down. Add sausage back to pan and stir in basil.

1 14 oz. can quartered canned artichokes,

6 oz. fresh baby spinach,

½ tsp. dried basil

Now to make the roux: In a medium sauté pan, melt butter over medium-low heat. Add olive oil and gradually whisk in flour. Continue whisking for 3 minutes over medium-low heat. (Mixture should be just slightly boiling)

3 Tbsp. butter,

1 Tbsp. extra virgin olive oil,

1/4 cup flour

Gradually whisk in white wine, stirring constantly to prevent lumps. Very gradually whisk in chicken broth and continue whisking until thin and smooth.

½ cup white wine,

1-1/2 cups chicken broth

Cook over medium heat until thickened and then stir in cheese and stir until smooth. Remove from heat and stir in nutmeg.

8 oz. grated Fontinella cheese,

¼ tsp. ground nutmeg

Meanwhile, boil pasta for 10 minutes. Drain and place in a large casserole dish. Cover the pasta with ½ of the cheese sauce and stir to cover. Mix in sausage and spinach mixture and combine well. Add the remaining cheese sauce and toss well.

Place in preheated oven and bake for 15 minutes or until bubbling.
Notes
Tips:
To save time you can use 2 cups of a jarred Alfredo sauce instead of making your own cheese sauce. 
Want meatless?  Skip the sausage and add cannellini beans or peas to the mix instead!
Nutrition
Calories:
460
kcal
Carbohydrates:
54
g
Protein:
20
g
Fat:
18
g
Saturated Fat:
10
g
Polyunsaturated Fat:
0.5
g
Monounsaturated Fat:
3.5
g
Cholesterol:
50
mg
Sodium:
700
mg
Potassium:
345
mg
Fiber:
2
g
Sugar:
4
g
Calcium:
260
mg
Iron:
2
mg