After a long day working, the last thing most of us want to do is spend hours getting dinner on the table. That's one thing I love about cooking with frozen shrimp – it cooks so quickly that you can pull dinner together in no time! This zesty shrimp in tomato sauce is no exception. It comes together in about 30 minutes – from start to table! 
This recipe is also a great pantry meal. Besides the shrimp, just about everything else you need to make this is probably in your pantry. If you need ideas on what to keep in your pantry check out my heart-healthy pantry list here.
What's to Love About this Recipe
Shrimp is the most consumed type of seafood in the US and for good reason. It is pretty versatile, is easy to cook, cooks quickly, and is readily available. I always have a bag of it in my freezer because it is a great lean protein option for a quick dinner!
I use canned diced tomatoes. They are something I always have in my pantry and I use them in a lot of dishes. Canned tomatoes are often better than fresh. It's rare that I can find a fresh tomato that is flavorful and juicy, with the exception of a few times a year.
With canned tomatoes, they are picked and packed at the peak of ripeness, the flavor is always perfect, they are easy to use, and are packed with nutrition too.
Cooking with Shrimp
Cooks Quickly: Depending on the size, it cooks in 5 -6 minutes on the stovetop. In the oven, it may take up to 10 minutes.
Endless ways to cook it: You can cook it on the stovetop, in the oven, on the grill, or under the broiler. You can also boil it or pop it in your air fryer.
Seasoning Options: Italian seasonings, southwestern seasonings, Asian flavors, Greek or Mediterranean – they all work well with shrimp.
Serving Options: Use it in tacos, over pasta, on top of a salad, for an appetizer, or even make shrimp burgers!
Health Benefits of Shrimp
Shrimp is relatively low in calories, with 3 ounces providing only 85 calories while still packing 20 grams of lean protein you get a lot of bang for your buck. It is also full of other nutrients that support your heart, brain, eyes, and skin.
Shrimp has zinc that supports our immune system, iodine which is important for our thyroid health, and magnesium which keeps our heart, bones, and brain healthy!
It also has two antioxidants that help with keeping inflammation at bay and protects our heart and brain – selenium and astaxanthin. Yes, we usually think of colorful plant foods as being rich in antioxidants but seafood can have some too.
Pairing shrimp with tomatoes is a natural combination and you get additional nutrition from the tomatoes including vitamin C and lycopene. While canned tomatoes often contain added salt, you can find low sodium or unsalted varieties.
Canned tomatoes are rich in the antioxidant, lycopene and the canning process seems to increase the availability of the key antioxidant, lycopene. This means your body is able to absorb more lycopene from canned or processed tomatoes than from fresh tomatoes.
Then, add to that the spinach and you've got a pretty nutrient-rich dish. Cooking spinach helps increase the absorbability of iron, and combining them with vitamin C-rich tomatoes makes the iron that much more absorbable. You also get more beta-carotene from cooked spinach than raw.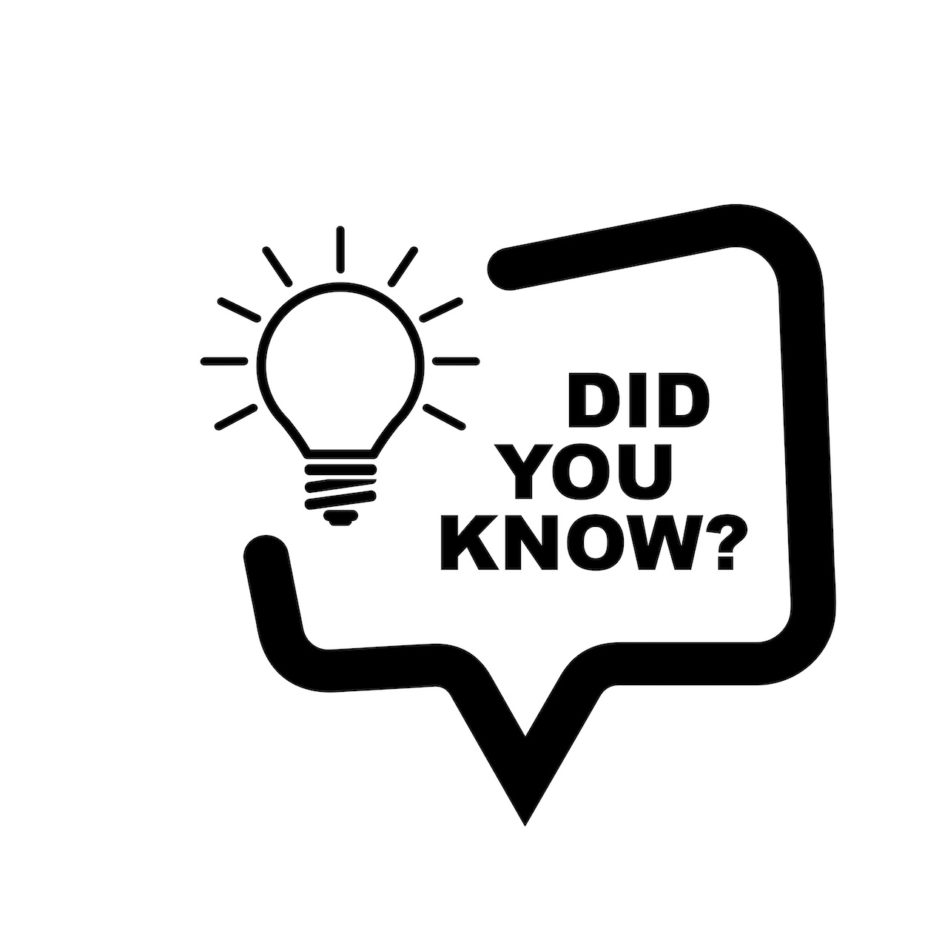 Shrimp contains an antioxidant called astaxanthin which is what gives shrimp its beautiful pink color. Astaxanthin helps with inflammation and has been linked to helping to support our brain health.
What You Will Need to Make Shrimp in Tomato Sauce
Now you know why this is such a great dish to include in your rotation, let's talk about how easy it is to make! You just need a few simple ingredients, and honestly, other than the shrimp and fresh spinach, most of them are probably in your pantry.
Shrimp – I try to buy the peeled and deveined shrimp, just because it saves time. But if you can't find it, it's pretty easy to do yourself. For this recipe, I used "extra-large" shrimp, which may also be labeled "26-30." The count just means that you will get between 26 and 30 shrimp per pound.
Sweet Onion – I do like sweet onions for this recipe as I like the sweeter note, versus more of an oniony bite. If all you have is a white or yellow onion, go ahead and use that.
Garlic – one clove, minced. And remember to mince it about 10 minutes before using it. You can read more about garlic here.
Diced Tomatoes – One can of diced tomatoes with their juice. If you use fresh, you'll need about 1-½ cups of fresh diced tomatoes, with any juice.
Artichoke Hearts – I use canned artichoke hearts for this recipe. Drained and quartered and you'll need either 2 whole artichokes or 8 quarters. You can also use frozen if you have those instead.
Fresh Baby Spinach – I packed my spinach in when measuring it – the more the better in my book! And don't forget, it will cook down. If you want, you can mix it up and use part spinach and part watercress, or baby kale or other baby green.
Dried Herbs – Basil, oregano, and red pepper flakes for a kick, but you can leave those out if you prefer.
EVOO – to cook with. You don't need much and this healthy oil adds a little grassy note as long as you don't heat it on too high of a temperature.
How to Make it
This dish comes together in under 30 minutes which is one reason I love it so much!
In the morning, take the shrimp out of the freezer and let it thaw in a covered dish in the refrigerator during the day. Once it is thawed, if it needs to be peeled and deveined do that, otherwise, you are ready to go.
When you are ready to cook, quickly chop the onion and garlic.
Heat the oil in a large frying pan over medium heat until just hot. Add the onion and cook it gently for just a few minutes. As it starts to become translucent, add the minced garlic and heat it for a minute. Then add the dry herbs and cook until they are fragrant.
Next, stir in the tomato and artichokes and cook until the juice just starts to boil. Now it's time to nestle the shrimp into the tomato mixture and cook it for about 2 minutes per side. It will turn pink and start to curl a bit.
Remove the shrimp and artichokes and place them on a clean plate. Add the spinach to the tomatoes and cook until it cooks down, then add the shrimp and artichokes and heat for a minute or two.
While you are cooking the shrimp you can cook some orzo or other small pasta in a separate pan so it will be ready when the shrimp with tomatoes are finished.
Tip: Perfectly cooked shrimp should form a "C" shape. If they curl all the way around and become more of an "O" shape they are overcooked! (Easy to remember…"O" for overcooked!)
FAQs
Can you use cooked shrimp in this recipe?
You could add precooked shrimp at the very end and heat them through, but I think they would end up being tough. Plus, cooking the shrimp in the tomato sauce allows the shrimp flavor to infuse throughout the dish.
What does the "count" on a bag of shrimp mean?
When you see 16-20 or 26-30 on a bag of shrimp it tells you about how many shrimp you will get in a pound. It's a great way to judge how many shrimp per person. If a recipe calls for 8 ounces of shrimp (1/2 pound) and you have a bag of 16-20 size shrimp, you know you'll need 8 – 10 shrimp for that recipe.
What size shrimp should you use for this recipe?
You can use whatever size you have but will need to adjust the cooking time. Smaller shrimp will cook faster and larger will take a minute or two longer. I used 26-30 or large shrimp.
I have a garden full of fresh tomatoes, can I use those in place of canned tomatoes?
Absolutely! You'll need about 1-1/2 cups of diced fresh tomatoes and make sure to save the juice as you cut them. You'll want the extra juice. If they aren't juicy, try adding a little tomato juice or tomato paste thinned with a little water to get more tomatoey liquid.
What causes shrimp to turn pink when you cook them?
Shrimp changes from a light greyish pink to a light pink color when cooking because of the antioxidant astaxanthin. Astaxanthin is a carotenoid that when heated, is released from its cells and turns the shrimp from grey to pink. Lobster and crab also contain this carotenoid.
If you are using fresh herbs instead of dry, how much should you use?
A general rule is to use 3 times more fresh herbs than dry. So if the recipe calls for 1/2 teaspoon, you should use 1 -1/2 teaspoons. Always add fresh herbs at the end of cooking instead of in the middle. You'll get much more flavor from the fresh herbs this way.
Storage Tips
Honestly, this is best enjoyed as soon as it is done, but if you have leftovers, store them in a non-reactive, airtight container. I like these glass containers with a snap-on lid. You can reheat it in the microwave on 50% heat and enjoy it for lunch the next day. 
Other Recipes you will love
If you love seafood dishes, here are a couple more that I think you'll love. And keep an eye out, I have a lot more seafood recipes coming soon!
Sign up for my monthly email to get more delicious recipes delivered right to your inbox!
Note: this post contains affiliate links, which means if you make a purchase using this link I will make a small commission at no additional cost to you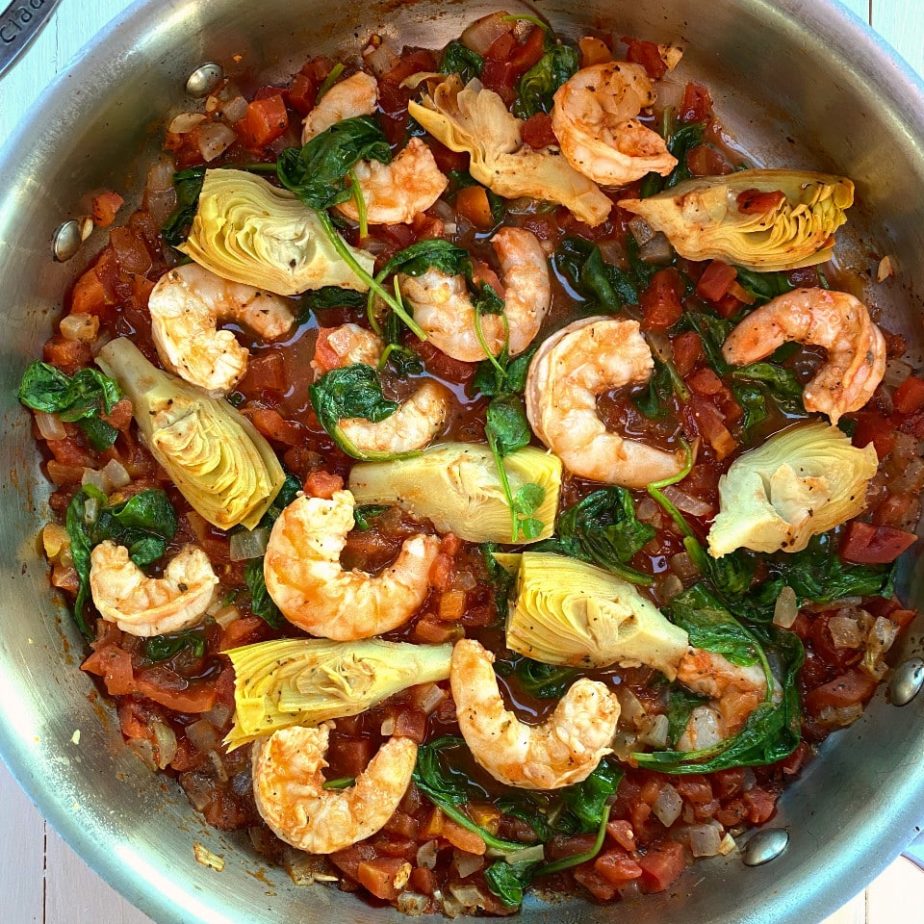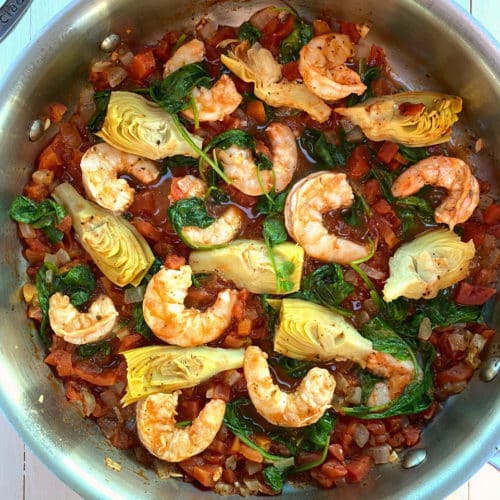 Shrimp in Tomato Sauce with Artichokes and Spinach
Shrimp is perfect for a quick weeknight dinner. Serve this zesty dish over orzo or pasta
Ingredients
2

tsp

extra virgin olive oil

½

cup

diced sweet onion

vidalia

1

clove garlic

minced

1

14.5 oz

can diced tomatoes with their juice

2

artichoke hearts

quartered

½

tsp

dry basil

⅛

tsp

red pepper flakes

¼

tsp

dry oregano

8

oz.

large size shrimp

2

cups

baby spinach
Instructions
Peel shrimp and devein if necessary.

Heat a large saucepan over medium heat. Add olive oil and let it get hot.

Add the onion and saute for about 3 minutes, being careful not to burn it. Add the garlic and cook, stirring for an additional minute.

Add spices to the onion and garlic and saute for 1 minute, or until you can smell them.

Add diced tomatoes, the juice, and the artichokes and cook until the mixture is just starting to boil.

Nestle the shrimp in the sauce and cook for about 2 minutes per side, until pink and firm. They should be in the shape of a "C." Be careful not to overcook them.

Remove the shrimp and artichokes to a small plate. Stir in the spinach and cook until it is just wilted. Add the shrimp and artichokes back into the sauce and heat gently over low heat for about 2 minutes, just until warm.

Serve over orzo or pasta.
Notes
The nutritional analysis does not include orzo or pasta. If you are following a low sodium diet, look for reduced sodium or unsalted tomatoes.
Nutrition
Calories:
160
kcal
Carbohydrates:
15
g
Protein:
19
g
Fat:
1
g
Cholesterol:
145
mg
Sodium:
1080
mg
Potassium:
580
mg
Fiber:
4
g
Sugar:
6
g
Vitamin C:
40
mg
Calcium:
180
mg
Iron:
3
mg