This easy strawberry crostini appetizer recipe is a fresh treat for a casual summer party or evening at home with cocktails. Fresh basil and goat cheese with the balsamic glaze adds just enough tang to balance out the sweetness of the strawberries in this easy crostini.
How to Make Strawberry Crostini
If you are looking for easy recipes for crostini I have to say, this is truly one of the easiest I've made. It takes just about 15 minutes and 6 ingredients.
Small French Baguette (about 6 inches)
Olive Oil
Goat Cheese
Strawberries
Basil
Balsamic Vinegar
Make the Crostini
Start with a small baguette. About 6-inches is the right size. If all you can find is a full-size baguette, cut it into thirds and wrap the other two tightly in plastic wrap and freeze them for later. Once you've tried this recipe I'm sure you'll want to make them again anyway!
Slice the baguette into 1/4 inch thick slices.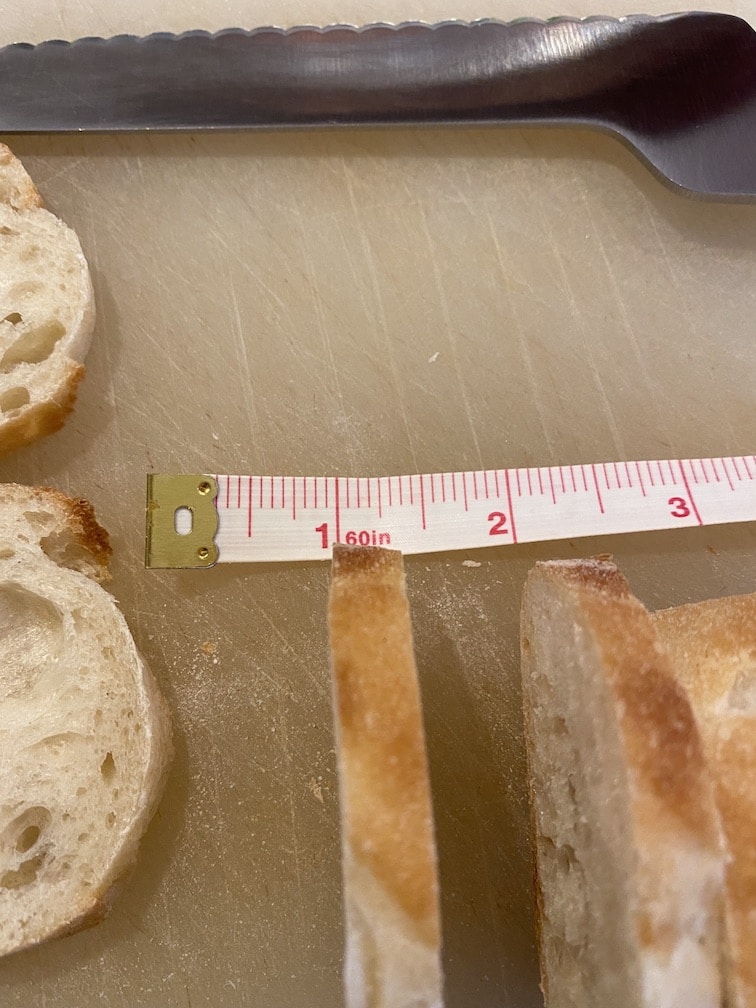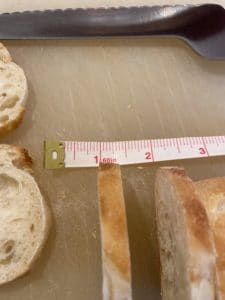 Yes, they are pretty thin, but that is how you want your crostini. Not quite as thin as a cracker, but easy to eat in 2 bites!
Brush both sides of each crostini slice with olive oil and place them on a sheet pan. Place them on the top rack of your oven, about 3 inches from the broiler, and cook them until they just begin to brown. Then flip them over and broil the other side.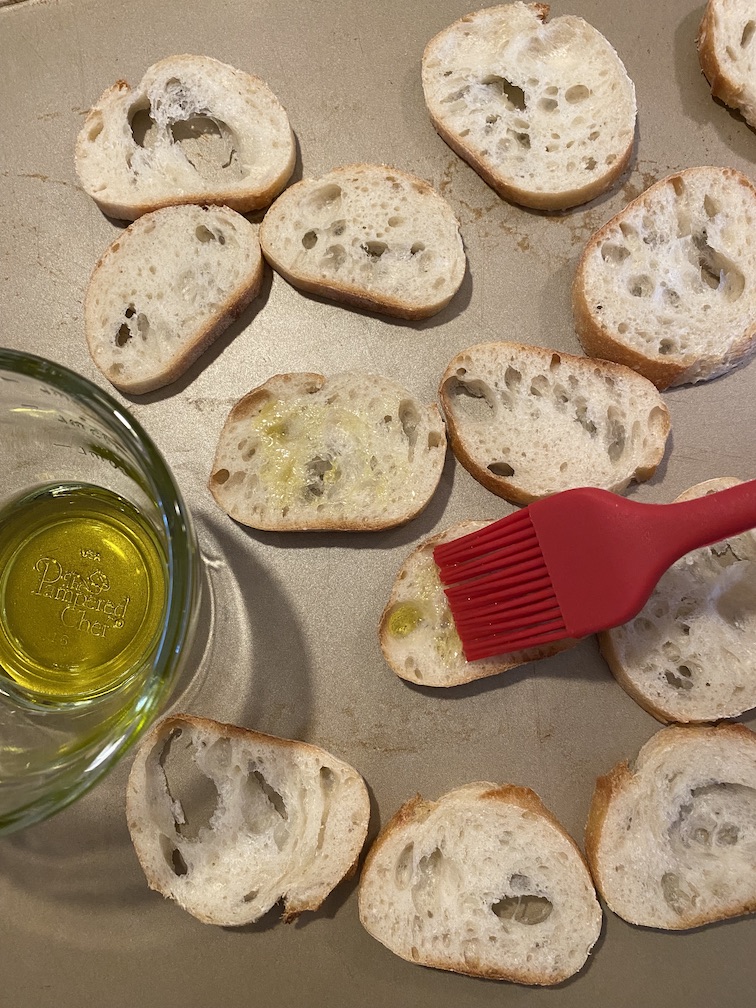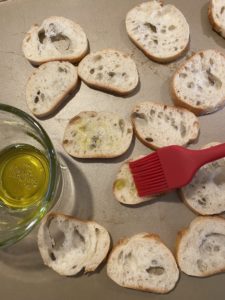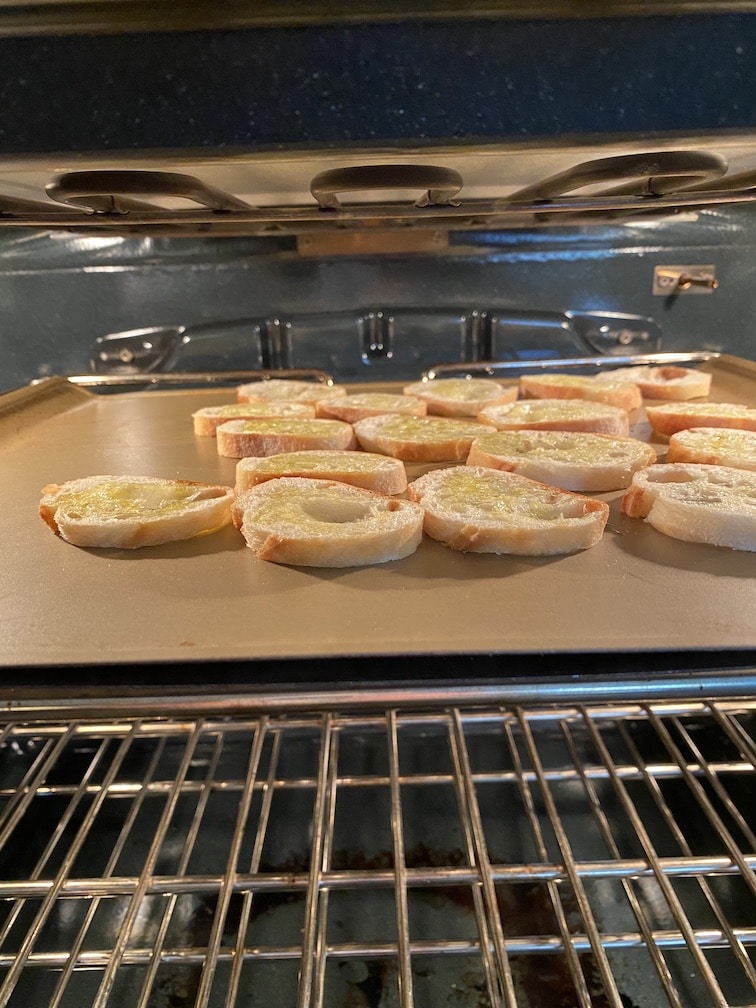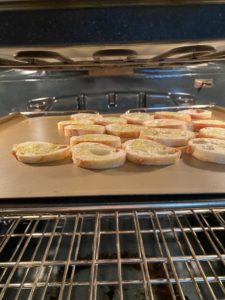 Remove them from the oven and place them on a wire rack to cool. For these you want them to be completely cool, so allow them to sit at room temperature for at least 5 minutes. You can do this step ahead and place them in a resealable bag, but use them within a day or two!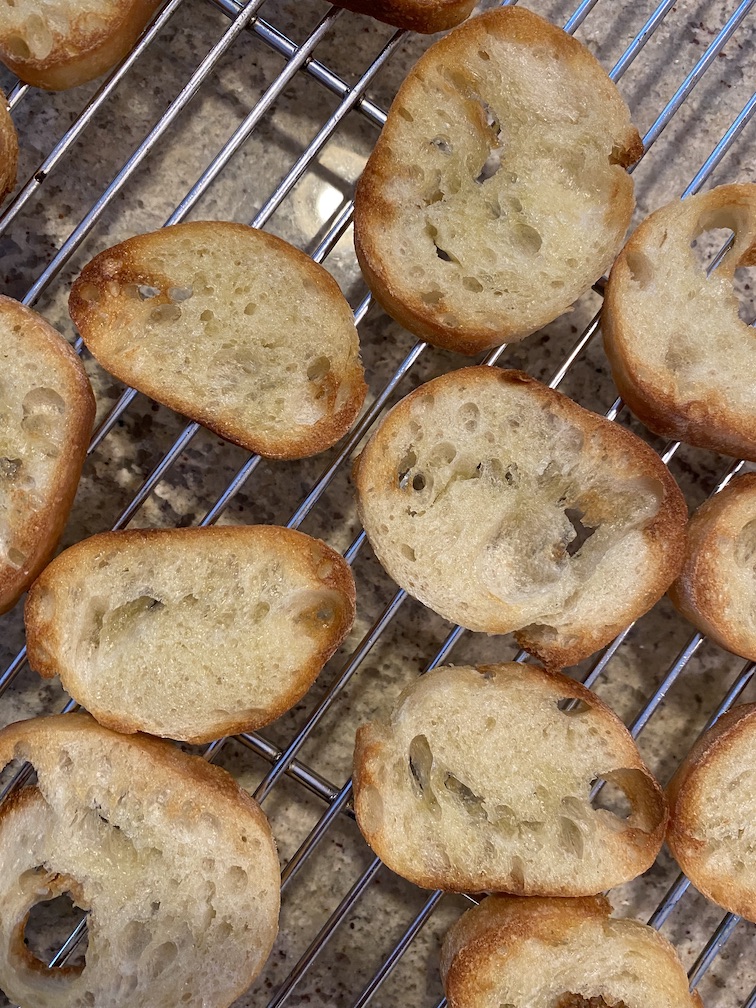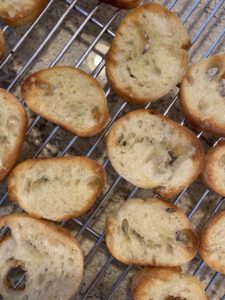 Prep the Ingredients
Take the goat cheese out of the refrigerator and let it warm slightly. You may want to do this as soon as the crostini are out of the oven. 30 minutes is long enough to make the goat cheese spreadable.
Wash your strawberries, remove the hull and stem and slice each into 4 thin slices.
Slice your basil and chop it. This is actually called "chiffonade." Just a fancy word for how you do this. Watch here:
Stack the fresh basil leaves on top of each other on your cutting board.
Roll the stack lengthwise so you have a long cylinder.
Then, take your knife and slice thin slices across the roll.
If you want you can cut the slices in half.
To make the balsamic glaze, put 1/4 cup of balsamic vinegar in a small saucepan and heat it over medium heat to a low boil. Allow it to boil for 3 -5 minutes until it is thick and coats the back of a spoon. You'll end up with just about a tablespoon.
Assemble the Crostini
Start this just before you are ready to serve and once the crostini are cooled. Spread each crostini with a thin layer of goat cheese. You'll use about 1 to 1-1/2 teaspoons of goat cheese for each crostini and put them on a serving platter
Then, place 2 – 3 strawberry slices on top of each crostini, top with a few slices of basil, and drizzle with a little of your balsamic glaze. There you go! Strawberry crostini – easy peasy!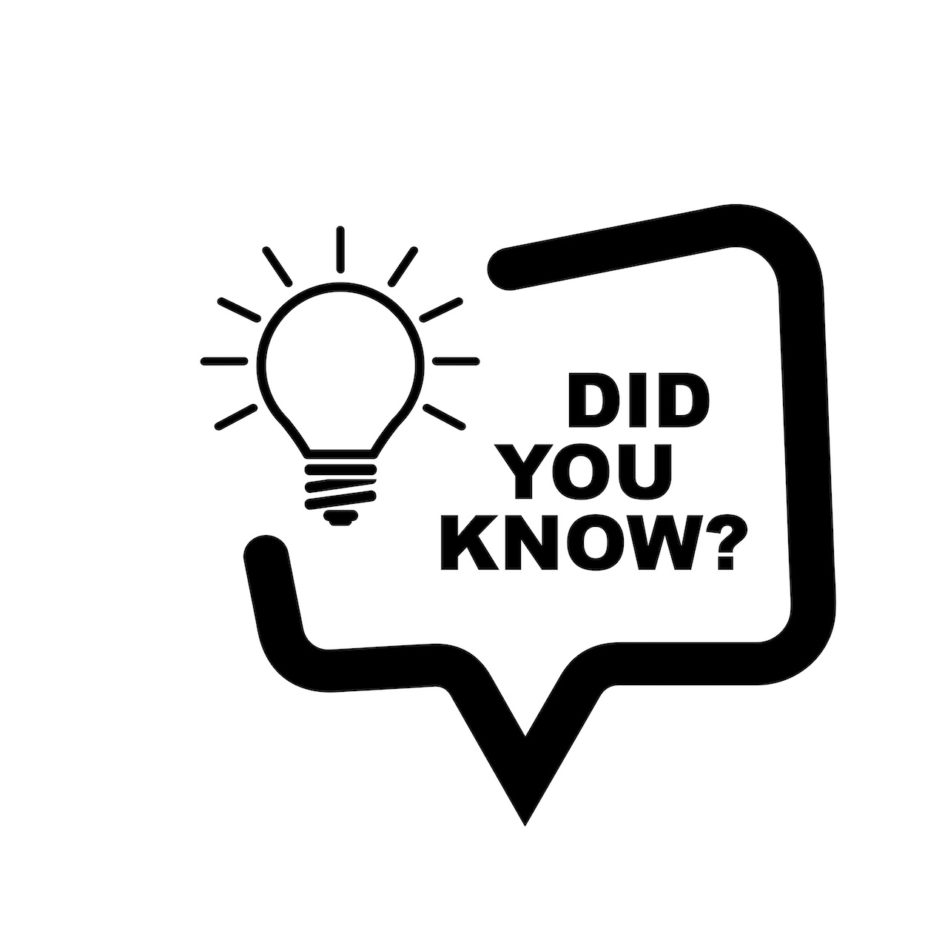 1 cup of strawberries has almost 100% of the Vitamin C you need in a day and 3 servings or more a week may help reduce your risk of dementia?
FAQs
What's the difference between balsamic glaze vs. balsamic vinegar?
A balsamic glaze is a reduced balsamic vinegar. Balsamic vinegar is boiled until some of the water has evaporated, and the liquid is reduced by at least half. This make a sweet, thick liquid that is easy to drizzle over bread, a salad or dessert.
Crostini versus Bruschetta? What's the difference?
A crostini is typically made from a French baguette and sliced into thin slices that are toasted until crisp. A bruschetta is made from a softer bread, like sour dough or Italian bread. It is sliced into thick slices and often lightly toasted.
What other types of cheese can you use instead of goat cheese?
Burrata cheese, cream cheese, or even mascarpone cheese would be good substitutions for goat cheese in this recipe.
Other Crostini Recipes You Might Like:
Roasted Grape and Mascarpone Crostini
If you try these, please give them a rating and let me know what you think in the comments below! And don't forget to sign up for my monthly email list to be the first to find out about new recipes and info!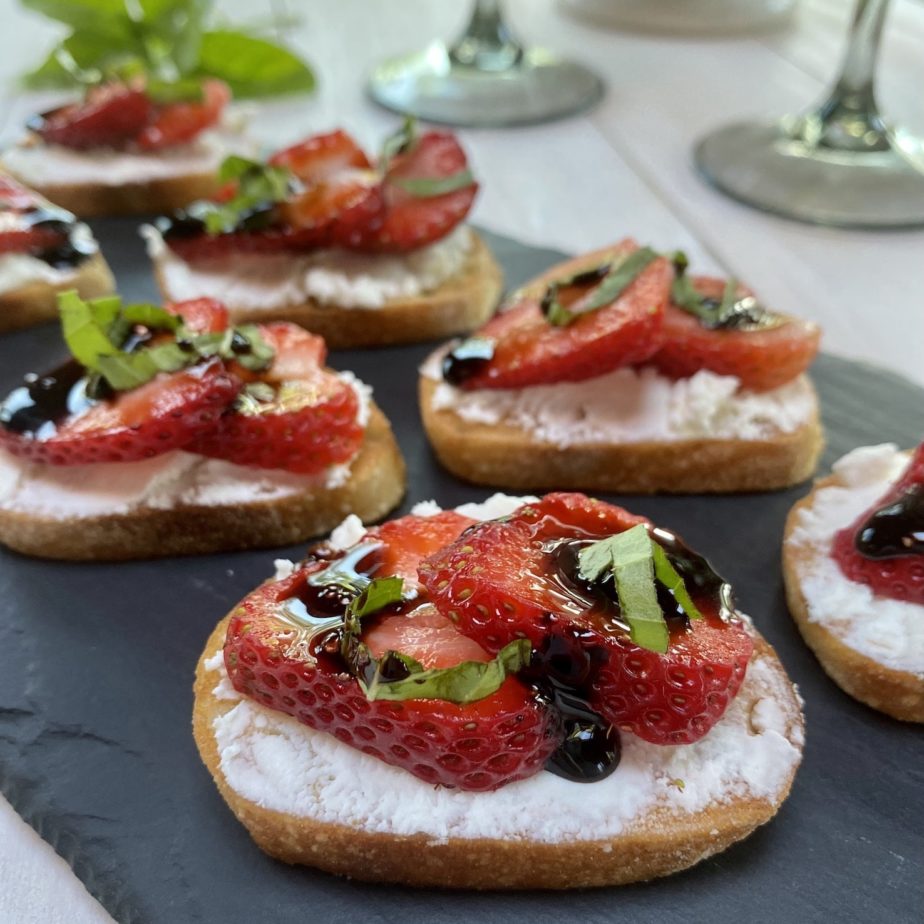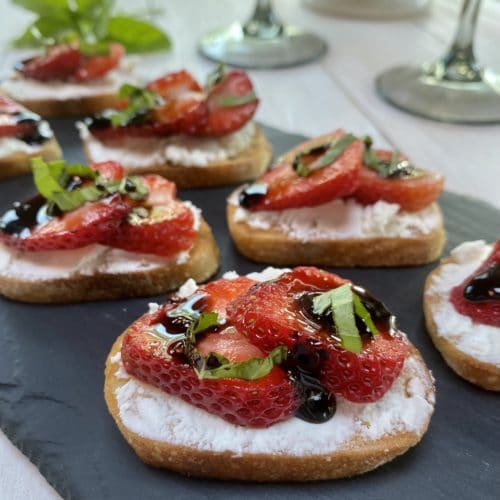 Strawberry Crostini with Balsamic Glaze
A sweet and tangy appetizer that is perfect for a summer party or casual weekend treat with cocktails.
Equipment
1 baking sheet

1 small saucepan
Ingredients
1

6 inch

baguette

sliced into ¼ inch rounds

1 ½

tbsp

extra virgin olive oil

4

oz.

goat cheese

8-10

strawberries

sliced thinly

1

tbsp

sliced fresh basil (chiffonade)

about 4 fresh basil leaves, sliced
Instructions
To Make Crostini
Place each crostini round on the baking sheet. Brush each side lightly with olive oil. Place the baking sheet on the top rack of the oven right under the broiler. Broil until lightly toasted around the edges. Flip each crostini over and broil until lightly toasted on the other side. Remove from the oven and allow to cool.

Place crostini on a platter and spread each with about 1 to 1 ½ teaspoons of goat cheese.

Place 2 – 3 strawberry slices on top of each crostini. Add a few sprinkles of chopped basil to each. Drizzle with a little balsamic glaze.
To Make the Balsamic Glaze
Place balsamic vinegar in a small saucepan and heat over medium heat to just boiling. Allow it to boil for 3 -5 minutes until reduced down to ~1 tablespoon. It will be thick and should coat the back of a spoon.
Nutrition
Serving:
4
crostini
Calories:
230
kcal
Carbohydrates:
17
g
Protein:
8
g
Fat:
14
g
Saturated Fat:
7
g
Polyunsaturated Fat:
1
g
Monounsaturated Fat:
6
g
Cholesterol:
20
mg
Sodium:
260
mg
Potassium:
100
mg
Sugar:
4
g
Vitamin C:
14
mg
Calcium:
90
mg
Iron:
1
mg