Updated: August 7, 2023
I love to have a variety of salad dressings and marinades on hand and while I always have an Italian or regular Balsamic vinaigrette, I love to mix it up too. That is where infused olive oils come in!
In the summer I usually have a citrus dressing ready for salads and I'll often use it for a marinade for fish or chicken too. Sometimes though, I like something with a fresh kick! After all, dressings are really what makes a salad special, right? And this balsamic ginger vinaigrette really spices up a summer salad!
I love the bite and spice you get from fresh ginger and wondered how it would work in a light dressing. Sure, it works well in a soy-based or miso dressing, but often those flavors overpower the ginger and it ends up just being a background flavor. So in this dressing, I made it front and center!
This is your classic vinaigrette – 3 parts oil, 1 part vinegar with a little sugar and salt added. What I did differently was gently cook the ginger in the olive oil and then let it cool before mixing it with the vinegar. This is one way to make infused olive oil.
What is Infused Olive Oil
Infused olive oil is an oil that has an herb or spice that is soaked in the oil. In this recipe, I cooked the oil gently over low heat with some peeled and sliced ginger to really infuse the ginger flavor into the oil.
You can make infused oils with any mild oil and almost any herb or spice, or even with garlic or fruit like cherries, peaches, or apricots. Honestly, the sky is the limit. This ginger-infused olive oil is perfect in a vinaigrette dressing.
Food Safety and Infused Cooking Oils
You do need to be careful when infusing oils as they are an ideal breeding ground for bacteria to grow. So you'll see in this recipe that I make a very small amount, just enough for a few salads so that I use it right away. If you make extra oil, store it in the refrigerator and use it within a couple of days.
Penn State Cooperative Extension has good advice and information about how to safely infuse cooking oils.
The other option is to buy a flavored oil from a specialty store like Olive Tap (in the Strip District in Pittsburgh) or other specialty stores. They often have a huge variety to choose from and are manufactured safely. (I keep a couple of flavors in my pantry all the time)
How to Make Ginger-Infused Olive Oil Dressing
Step 1
Peel the ginger and slice it into thin slices, about 1/8 of an inch thick. Place them in a small saucepan.
Step 2
Cover the ginger slices with the olive oil and heat it over low heat for about 10 minutes.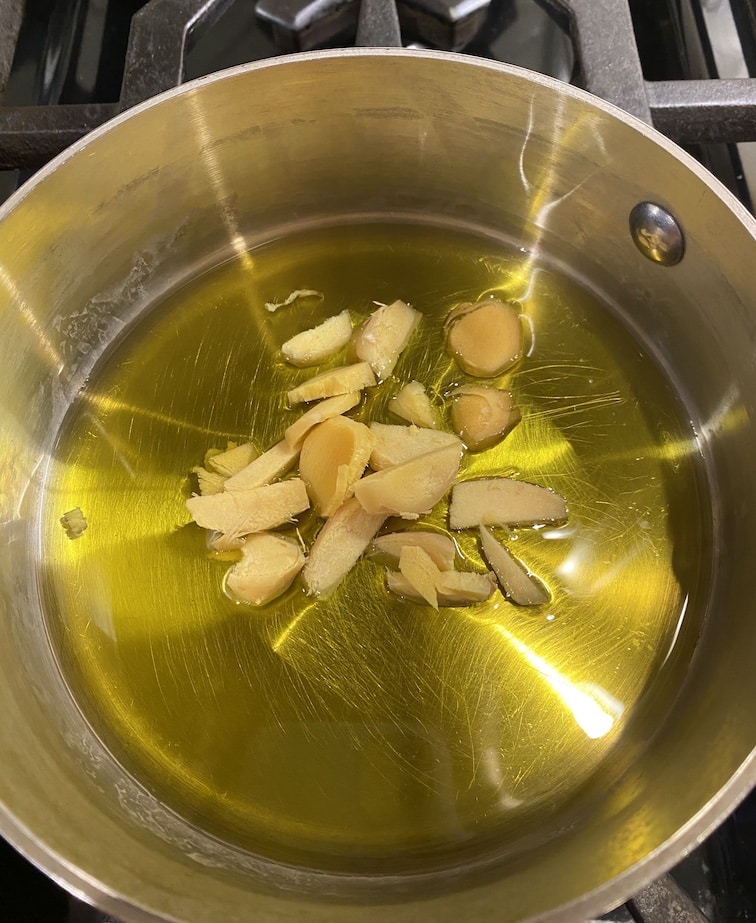 Step 3
Allow the oil and ginger to cool. Then strain the oil through a fine mesh strainer to remove all of the ginger pieces.
Step 4
Once the oil is cooled, whisk the infused olive oil with white balsamic vinegar, a little salt, and honey until combined.
Storage Tips
Store the dressing in the refrigerator in a glass jar. It will keep in the refrigerator for a couple of days.
The ginger flavor really comes through in this and adds a nice bite to your salad. This balsamic ginger vinaigrette would work nicely as a marinade for fish, pork, or chicken too! Try it in my Grilled Peach and Arugula Salad
White Balsamic Ginger Vinaigrette
A zesty and slightly sweet dressing or marinade made with ginger-infused olive oil.
Ingredients
2

tbsp

peeled and sliced ginger

1/4

cup

extra virgin olive oil

1-1/2

tbsp

white balsamic vinegar

1/2

tsp

honey

clover

1/4

tsp

sea salt
Instructions
In a small saucepan, heat olive oil and ginger over low heat for 10 minutes. pull off the heat and allow it to cool.

Once cooled, strain the oil through a fine mesh strainer to remove all the ginger.

In a small bowl, or a clean and sanitized mason jar, whisk the ginger-infused olive oil, vinegar, honey, and salt together until emulsified. (vinegar and oil are mixed together)

If you aren't using the dressing immediately, place it in a clean and sanitized container and store it in the refrigerator for up to a week.
Nutrition
Serving:
4
g
Calories:
130
kcal
Carbohydrates:
3
g
Fat:
14
g
Sodium:
150
mg
Sugar:
3
g