"I received free samples of California Walnuts mentioned in this post. By posting this recipe I am entering a recipe contest sponsored by California Walnuts and am eligible to win prizes associated with the contest. I was not compensated for my time."
I had some leftover bananas the other day and just wasn't in the mood to make another loaf of banana bread and I wondered, "how would a banana work in cookies?
So I set about playing with a banana walnut cookie recipe – and ended up here. Banana Walnut Biscotti!
I think Biscotti are the perfect treat! They aren't too sweet and have just the right amount of crunch. And if I haven't mentioned it before, I'm not a fan of super sweet treats and biscotti are perfect. And, while I love my chocolate cherry biscotti, I think these banana walnut are my new favorites!
So, why this combination? Well, as I mentioned, I had a banana that was super ripe. My choices were to freeze it for a smoothie or make something with it. I'm tired of banana bread and well, wanted something we could munch on for an afternoon snack. Plus it was a challenge.
Bananas are great for cutting down on fat and sugar in a recipe but they add a lot of moisture and since biscotti are intended to be somewhat dry, I wasn't sure how replacing some of the butter would work. Turns out – I think got it just right.
The other reason is walnuts. I'm always looking for ways to add in some extra nutrition into things we eat every day and walnuts are so nutrient-dense they are a great addition to many things and a delicious crunchy snack. Since almost all of us, snack daily (97% according to a new survey by California Walnuts and Kelton) finding good tasting and healthy snacks that have some positive nutritional properties is important.
Benefits of Walnuts
Walnuts definitely fit that bill and are an excellent choice for smart snacking. Did you know:
Research suggests that walnut consumption may be associated with improved cognitive function?
A growing field of research is looking at walnuts and cognitive function, including areas like healthy aging as well as mood, concentration and more.
Just one ounce of walnuts provides 4g of plant-based protein, 2g of fiber, 10% of your magnesium requirements and 2.5g of the heart healthy omega 3, ALA!
More information on snacking with walnuts can be found at https://walnuts.org/snacking/
I don't know about you but I can always use a bit of a boost, both in mind and in energy, in the afternoon! What better reason to grab one of these with a cup of tea or coffee? Just two of these little biscotti cookies have over an ounce of walnuts!
How to make Banana Walnut Biscotti
As I was thinking through how to make these I knew I wanted the banana to replace some of the fat in the recipe. I also knew that the banana would add a lot of moisture – the opposite of what you want in a crunchy biscotti!
How to solve that problem? I came up with 2 ways:
First I put some toasted walnuts in my food processor and pulverized them – almost making a walnut flour. (See below for why I toasted the walnuts!)That accomplished 2 things – it added some density to the cookie and boosted the nutritional value!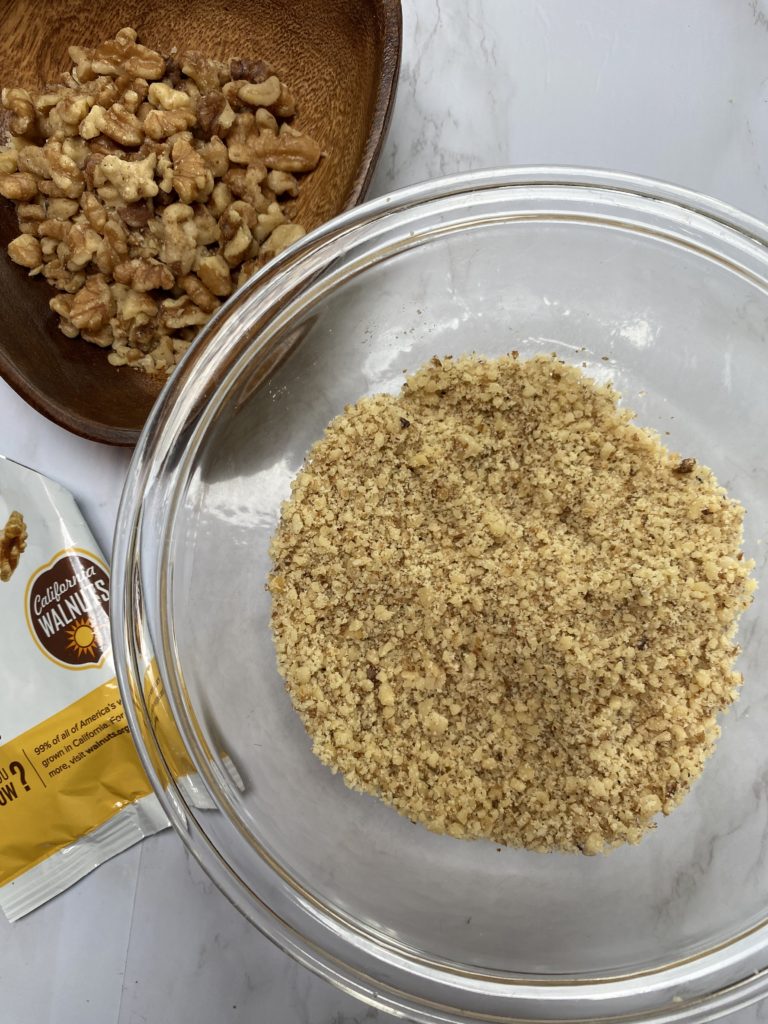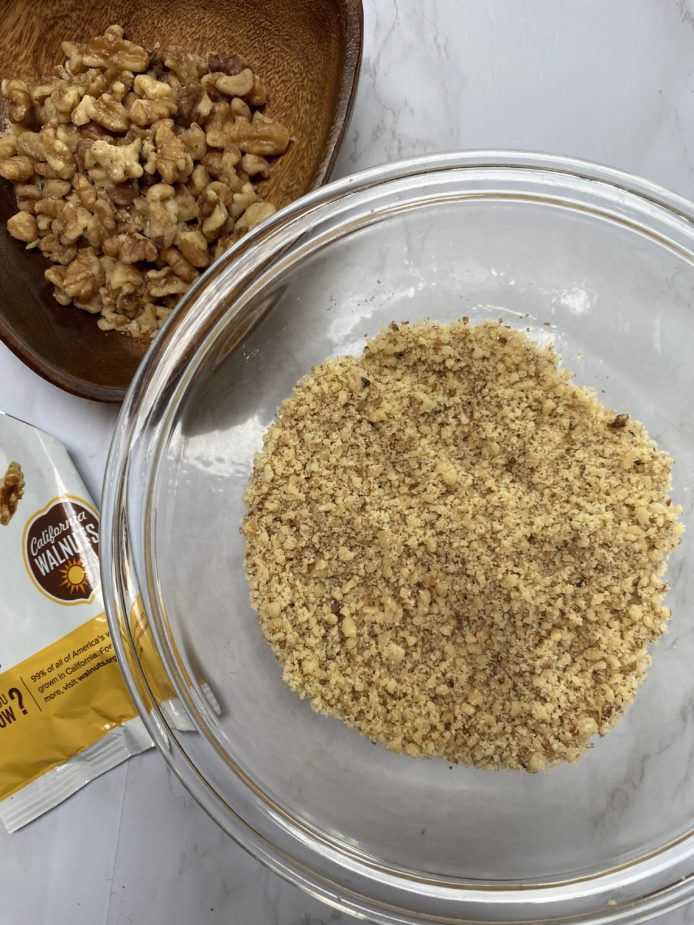 Second, I used whole wheat pastry flour instead of all-purpose flour. It also added some density and a bit of fiber.
Then, mixing everything together was pretty similar to how you make other cookies. I beat the butter, sugar, and banana until it was light and fluffy. This incorporates air to help make a lighter cookie.
Next, mix in the egg and vanilla and then add in the flour that has been mixed with the pulverized walnuts, and baking powder. To finish up, I added 3/4 cup of the remaining walnuts and some cocoa nibs (mini chocolate chips would work too) and mixed them in well.
Finally, I divided the dough in half and patted each half into an 11 x 2-inch log, and placed them on a baking sheet. I patted the remaining walnuts on top and they are ready for the oven where they will bake for about 30 minutes.
Toasting Walnuts
Before we get too much further, a word about toasting nuts – and you can watch this short video to further explain it, but toasting nuts before using them brings the full flavor out. If you are using nuts in cooking – whether cookies, cakes, or a salad, always toast them before! It takes no more than 5 minutes and believe me, your taste buds will thank you!
Baking the Banana Walnut Biscotti
Now, biscotti means "twice baked" in Italian, so, that means, we'll bake the logs and then cut them and bake the cookies again. It seems like a process, but it is so worth it in the end! You end up with crispy, crunchy cookies that are perfect for dunking in coffee.
Once the logs were firm to touch, I removed them from the oven, let them cool, and then cut each into 12, 1-inch cookies.
Those 24 cookies get put on another baking sheet, with one of the cut sides down. Bake for another 10 minutes, flip them and bake for 10 more minutes until they are lightly browned on all sides.
Now you have your crunchy, dunkable cookie!
So, if you are craving a sweet and savory treat, these banana walnut cookies might just be the perfect treat!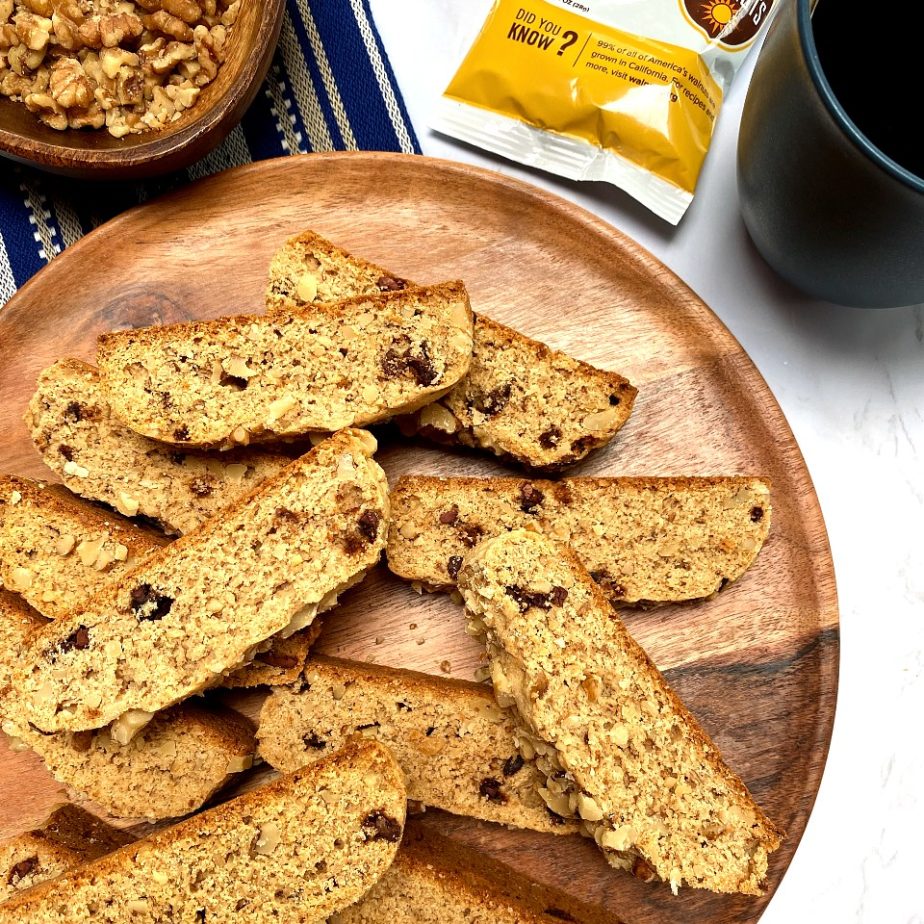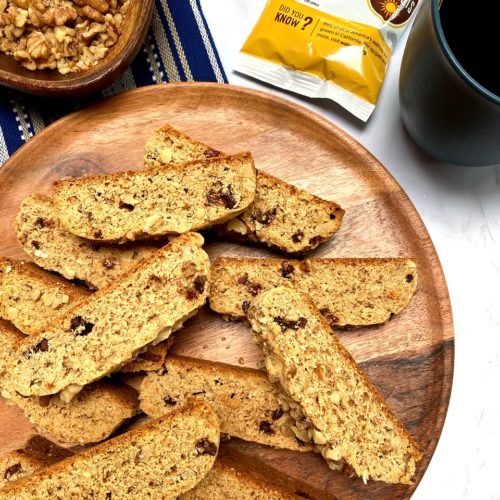 Banana Walnut Biscotti
Biscotti means "twice cooked" in Italian. So these cookies you will bake, then slice and bake again until they are crispy and firm. They are best dunked in a cup of coffee or tea and a perfect afternoon snack!
Ingredients
2

cups

toasted, California walnuts

divided

1/4

cup

butter

unsalted, room temperature

1/2

cup

granulated sugar

1/4

cup

ripe mashed banana

(about 1 small banana)

2

each

eggs

large

2

cups

whole wheat pastry flour

(or all-purpose flour)

2

tsp

baking powder

1/4

tsp

kosher salt

1/4

cup

dark chocolate cocoa nibs or chips
Instructions
Preheat the oven to 325°F. Butter 2 cookie sheets.

Place 1 cup of walnuts in the bowl of a food processor and blend until they are well ground.

With the second cup of walnuts, chop them into small pieces and set aside.

Beat the butter, sugar and banana on medium speed for 2 minutes until light and fluffy.

Add the eggs and vanilla and beat until well combined.

Sift flour with 1 cup ground walnuts, baking powder and salt. Gradually mix into the butter and banana mixture.

Stir the chopped walnuts and cocoa nibs (or chips) into the batter. (You can reserve 1/4 cup of the walnuts and pat them into the top of the biscotti if you want or mix them all in now.)

Divide the dough in half and pat into a 11 inch by 2 inch log with each half. Lay on one of the prepared cooking sheets.

Bake logs for 30 minutes, or until firm to the touch. Remove from the oven and let cool on a rack for 15 – 20 minutes.

Slice each log into 1-inch pieces – you should end up with 12 cookies from each log. Place on the second cookie sheet, with one of the cut sides down.

Bake for 10 minutes and then flip the cookies over to the other cut side and bake another 10 mintues.

Remove from the oven and place on a rack to cool. Then go dunk one in a hot cup of coffee and enjoy!
Nutrition
Serving:
2
cookies
Calories:
310
kcal
Carbohydrates:
28
g
Protein:
7
g
Fat:
19
g
Saturated Fat:
5
g
Polyunsaturated Fat:
9
g
Monounsaturated Fat:
3.5
g
Cholesterol:
40
mg
Sodium:
140
mg
Potassium:
50
mg
Fiber:
5
g
Sugar:
8
g
Vitamin C:
2
mg
Calcium:
50
mg
Iron:
1
mg