February is quite the food month – there is a lot to celebrate! It's Cherry Month and today is National Biscotti Day and well, since Valentine's Day is just two days away, what could be more perfect than a Chocolate Cherry Biscotti? I threw in some almonds for good measure as well. (They are good for your heart and it also happens to be heart month!) I think I covered all the bases with this recipe!
Biscotti means "Twice Baked" and were originally made this way (very dry) so they could be stored for a long time. They aren't too sweet and are perfect for dunking in coffee or tea, or in a fortified dessert wine called Vin Santo (an Italian tradition).
There are a few steps involved, but don't let that scare you away from trying these. They really are simple to make. Mix together a basic cookie dough, and add in whatever fruit and/or nuts you'd like. Then form the dough into two logs and bake them. Once they are done (about 25 – 30 minutes) let them cool and then slice them into cookies and bake them again. The second baking dries the cookie.
I love biscotti, and even though they take a while, they are one of my favorite cookies to make and eat! Store them in a cookie jar on your counter for a week, if they last that long!
A snowy winter afternoon is the best time to curl up with a good book, a cup of tea and enjoy these little treats!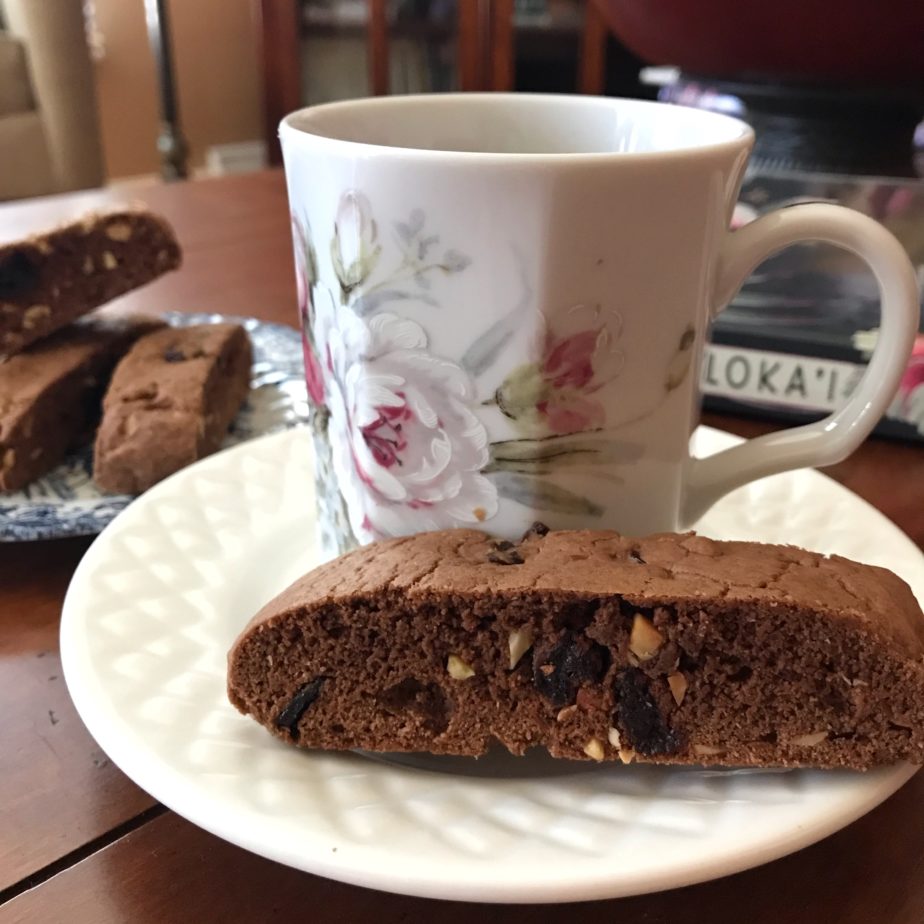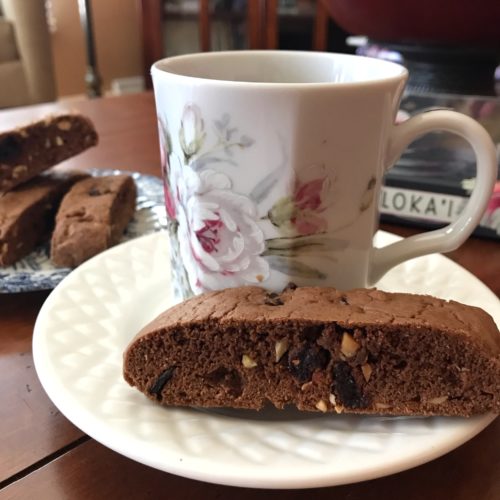 Chocolate Cherry Almond Biscotti
This chocolaty cookie has just the perfect amount of crunch, and is just right for dunking in tea or coffee. A nice afternoon treat! Once you try them you will probably want to keep your cookie jar filled with these!
Ingredients
2 ½

cups

flour

2

tsp.

baking powder

¼

tsp.

kosher salt

1

stick of butter

unsalted, room temperature

½

cup

granulated sugar

2

large eggs

½

tsp.

vanilla

4

oz.

bittersweet chocolate

melted (or semi sweet)

½

cup

dried cherries

½

cup

roughly chopped almonds
Instructions
Preheat oven to 325°F. Butter 2 large baking sheets and set aside.

In a medium bowl mix flour, baking soda and salt and set aside.

Place butter and sugar in a large bowl. Beat for about 2 minutes on medium speed until light and fluffy. (If you are out of shape your arm will start to feel it ☺). Scrape the sides of the bowl.

Add eggs, one at a time, mixing well after adding each one and scrape down the sides of the bowl.

Mix in melted chocolate and vanilla until thoroughly combined.

Gradually mix in flour, baking soda and salt. Add cherries and almonds and mix gently to distribute throughout.

Divide dough in half and form into a 10" x 3" log that is about ¾ of an inch thick on one side of one baking sheet. Repeat on the other half of the baking sheet with the second half of the dough. (Make sure they are the same size so the bake evenly.

Place in the middle of the preheated oven and bake for 25 – 30 minutes, until firm when you press lightly on the top.

Remove from oven (keep oven on) and let cool for about 10 minutes.

Place 1 log on a cutting board and slice crosswise in 1-inch pieces. Place each piece, cut side down, evenly on the second prepared baking sheet. Repeat with the second log.

Place back in oven and bake for 10 minutes. Remove and flip each cookie on to the other side and place back in the oven for 10 minutes until crisp.

Remove from oven and cool on a rack for 10 -15 minutes.