On long, cold winter weekend days I'm typically in the kitchen making soup or baking bread or some other hearty dish. Today it is snowy and cold outside but after coming in from shoveling I really wasn't in the mood for something heavy. What I really wanted was something light and fresh and a salad sounded like the perfect option.
This weekend my husband is away and I really didn't want to spend a lot of time cooking for myself anyway, so I scrounged through the refrigerator and found some leftover smoked salmon from one of the Christmas baskets, a grapefruit and an orange, some lemons and butter lettuce. A citrusy smoked salmon salad was just the easy light lunch I was looking for before heading out to spend the afternoon with my sister and niece.
Somehow oranges and grapefruit always gives me a boost in the winter. I feel a bit more energetic and ready to face the cold dreary world. Maybe it's the Vitamin C or maybe they just make me think of warm weather. (I think I mentally I take a mini vacation to the tropics!) Whatever it is, working them into this salad was the perfect way to go today.
I made a light and zesty dressing with walnut oil and a lemon balsamic vinegar from the Olive Tap in the Strip District. The walnut oil added just enough nuttiness to the dressing and was delicious combined with the vinegar. Plus, it's a great source of antioxidants and omega 3 fatty acids – another compliment to the citrus and salmon in the salad! I added some lemon just to bump up the zing a bit and a little dried basil. It complemented the smoked salmon and orange and grapefruit nicely. And better yet, a little goes a long way so you don't load up on calories with this dressing.
Perfect for a cold winter day! What is your go to lunch on a cold snowy Sunday afternoon?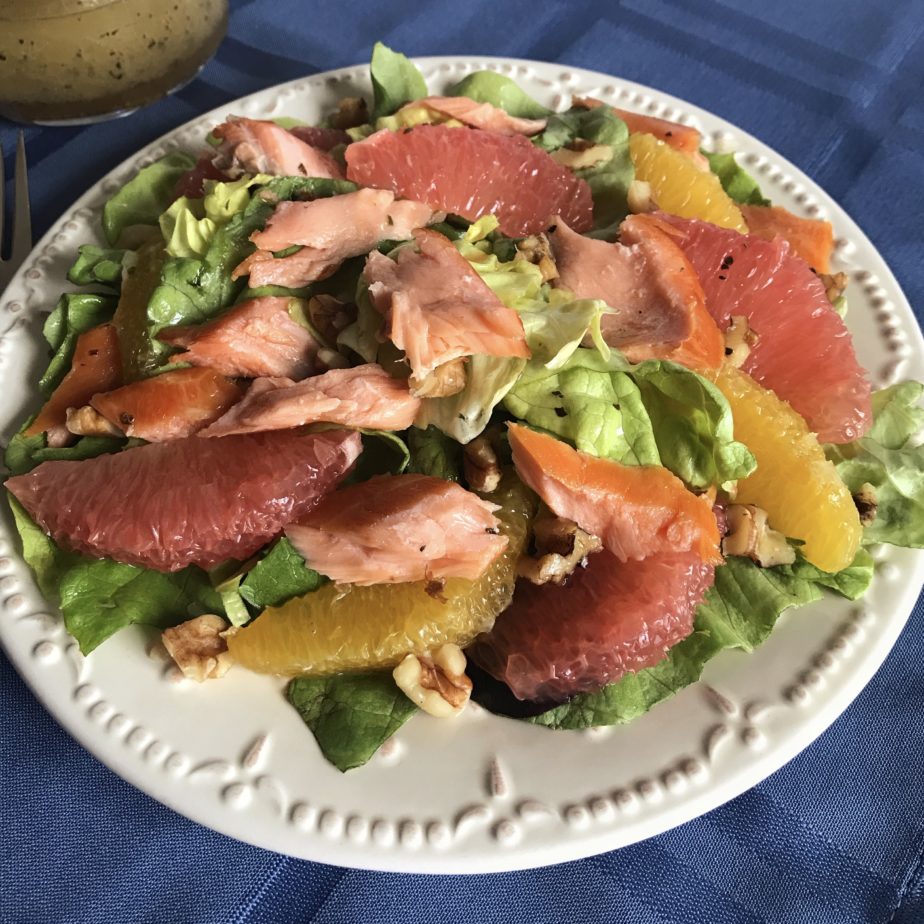 Smoked Salmon Citrus Salad
Ingredients
1

cup

butter lettuce

1/2

navel orange

segmented

1/2

pink grapefruit

segmented

1

Tbsp

chopped walnuts

2

oz.

smoked salmon

1

Tbsp.

Walnut Citrus Dressing
Walnut Citrus Dressing
6

Tbsp.

Walnut Oil

2

Tbsp.

Lemon Balsamic Vinegar

2

Tbsp.

Lemon Juice

1/4

tsp.

dried basil

salt and pepper
Instructions
Place lettuce on medium plate.

Top with orange and grapefruit sections, smoked salmon and chopped walnuts.

Drizzle with 1 Tbsp. dressing.

For the Dressing:

Place walnut oil in a small bowl.

Whisk in vinegar, lemon juice and basil. Add salt and pepper to taste.
Notes
A bright and zesty winter salad with a hint of smokiness.