This hearty shrimp pesto pasta salad recipe is honestly due to a happy accident. We had grilled shrimp one night with a pesto pasta salad on the side.
I decided to eat the leftovers for lunch the next day, along with a bit of leftover roasted broccoli from another meal. I was in a bit of a hurry so threw them all in the same bowl and viola! An easy and delicious pasta salad is an amazing dinner or lunch.
I loved the flavor of the grilled shrimp combined with the pesto and ended up brushing the shrimp with a bit of pesto before placing it on the grill for some added flavor, and it helped keep the shrimp from sticking to the grill. 
Disclosure: This post contains Amazon Affiliate Links. As an affiliate, I earn a small commission on qualifying purchases.
What You Will Need to Make It
This easy pasta salad uses a lot of pantry staples so it's a quick meal to pull together if you're stuck for something to make for dinner. It is also an easy recipe to cut in half for two servings or double up if you have a crowd to feed.
Here's a picture of everything you'll need to make this and more info about each one below.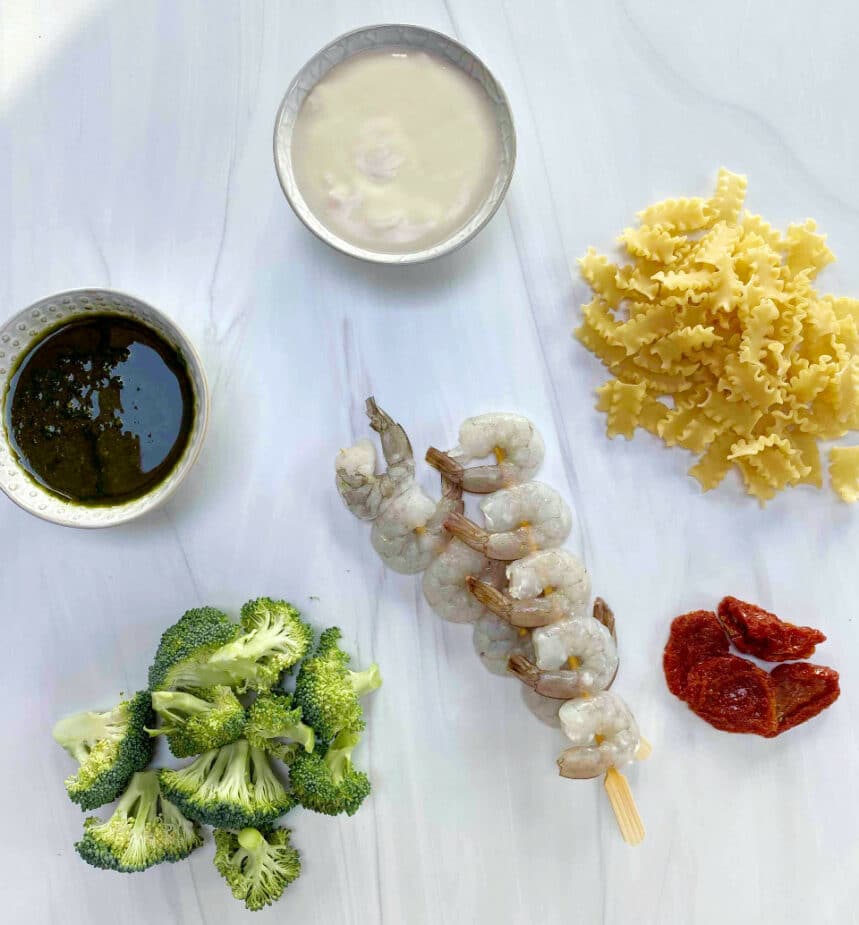 Shrimp
I always have a bag of shrimp in my freezer. Shrimp thaws quickly and is easy to prep so it's a great option when you have little time or forgot to thaw something ahead of time.
For this recipe, I use large shrimp (or 16 – 20 ct which just means you'll get 16 to 20 shrimp per pound.) I don't mind peeling the shrimp but you could also buy peeled and deveined to save yourself a bit of time.
To thaw them quickly, run them under cold water or place them in a bowl of cold water and let them sit for 15 to 20 minutes.
Shrimp is an excellent source of lean protein and contains the antioxidant astaxanthin. That antioxidant is what gives shrimp (and salmon) its pink color and helps decrease inflammation. It may help protect our hearts, brains, and other organs from oxidative damage.
Pasta
Any shape of pasta will work for this. Because it is a pasta salad and I wanted to get the sauce in a lot of nooks and crannies I tried 2 different kinds of pasta. The common bow tie pasta, or farfalle, and one called mufalda that I happened to find at Trader Joe's on a recent visit. The mufalda looks like baby lasagna noodles and is great with a creamy sauce.
Pesto
If you have a garden full of basil, or an extra bag of arugula a homemade pesto would be wonderful in this. But, keeping it simple, jarred pesto works just as well.
Alfredo Sauce
Okay, I know…really, Laura? Alfredo sauce? Isn't that too rich and creamy and full of fat? Well, typically I would say yes, but I use an Alfredo sauce that I've found to be pretty low in fat by Classico. ¼ cup has about 3.5g of fat and 2g of saturated fat. So really not terrible.
Because I'm blending it with pesto I don't need much as I'm just looking for something that will add a bit of richness to the pesto and help it adhere to the pasta.
Take a look at the nutritionals – it really doesn't add much. But if you prefer, you can always skip it and just use the pesto.
Broccoli
A bunch of broccoli cut into flowerets adds some crunch, texture, and tons of nutrition to this dish.
Sundried Tomatoes
Not only do these add a burst of color to the pasta salad but they also add a ton of flavor. Because they are dried that sweet tomato flavor is really concentrated in each little piece. I used oil-soaked tomatoes, but you could sub plain dried tomatoes that have been soaked in some hot water to soften them up a bit. 
How to Make this Grilled Shrimp Pesto Pasta Salad
Step 1: Soak the Skewers
Soaking the wood skewers will help prevent them from burning while on the grill. Put them in a bowl of warm water for a good 30 minutes. They can soak while you get everything else ready to go.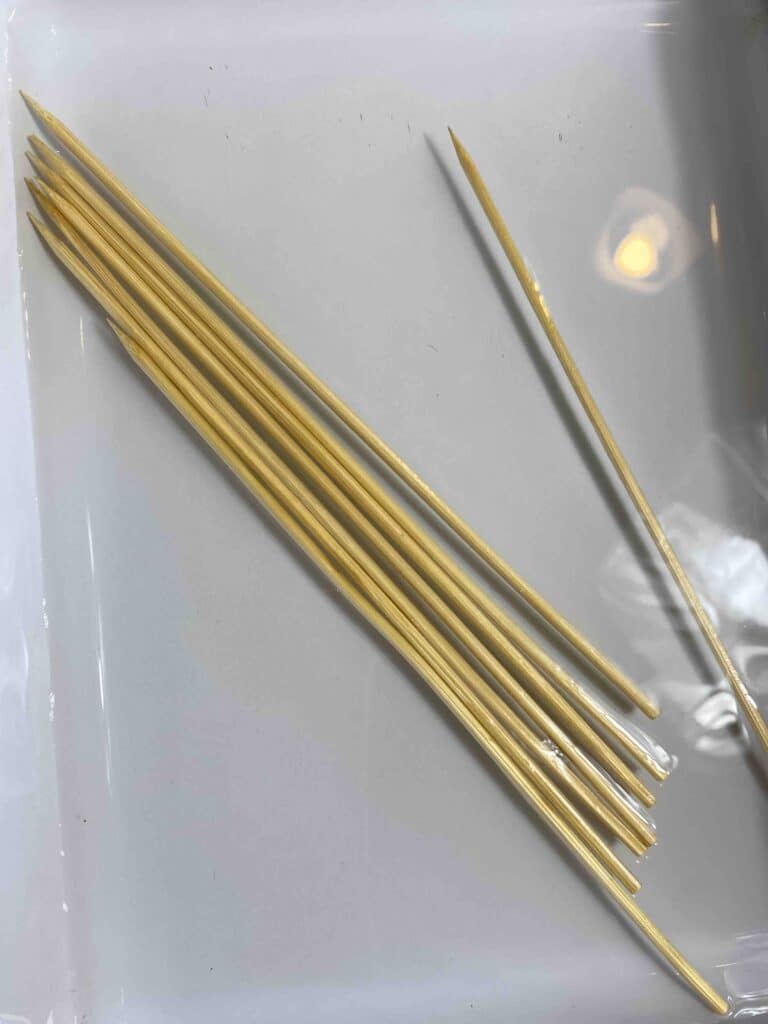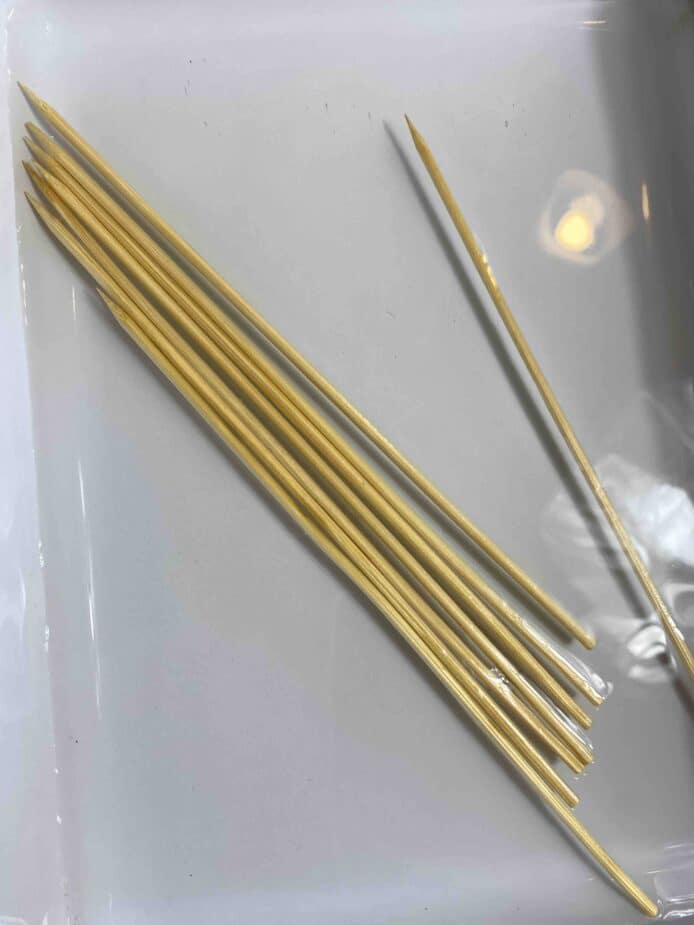 Step 2: Prep the Shrimp
Remove the shells from the shrimp. You can leave the tail on if you want to be fancy, or if you are like my husband and that makes you squeamish, remove those too. Make sure the vein is removed from the top of the shrimp. Most stores sell shrimp that is deveined but it's good to double-check and remove it if you need to.
Place the shrimp in a medium bowl and toss them with a bit of pesto. Alternatively, you can brush the pesto on after you thread the shrimp on the skewers in step 6.
Step 3: Mix the pesto sauce
In a small bowl mix the alfredo sauce with the pesto and set it aside.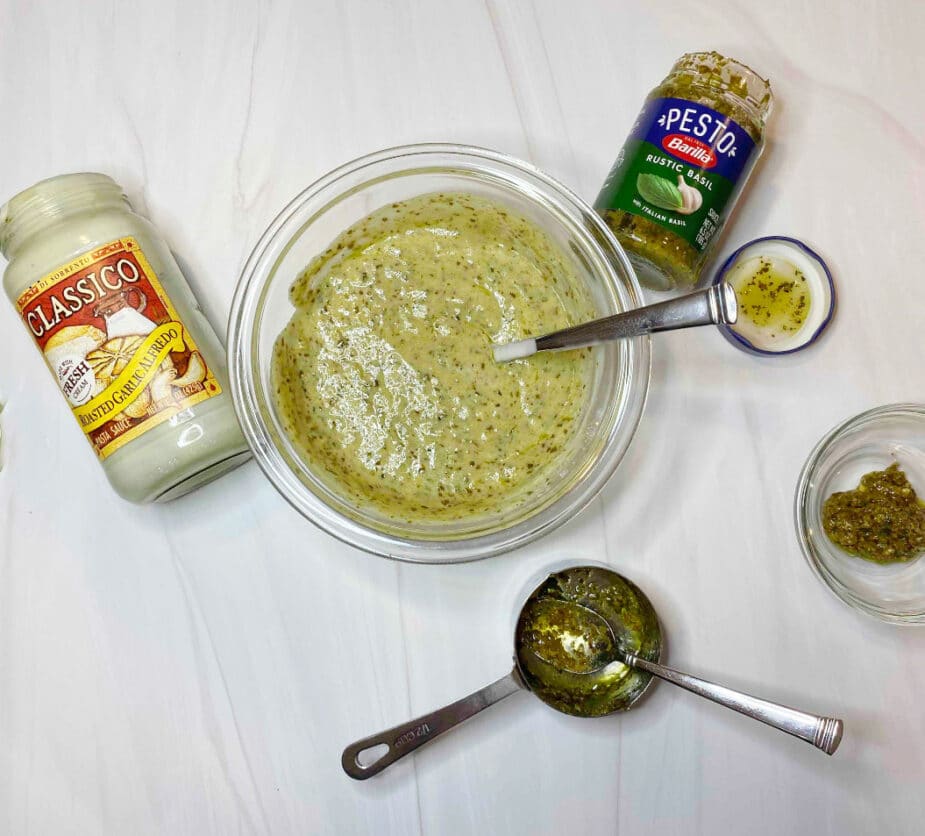 Step 4: Cook the Pasta and Broccoli
Heat a large pot of water that is seasoned with salt on high until boiling. Add the pasta and set a timer 2 minutes shy of how long the pasta takes to cook. Then add the broccoli to the boiling water and pasta for the last 2 minutes.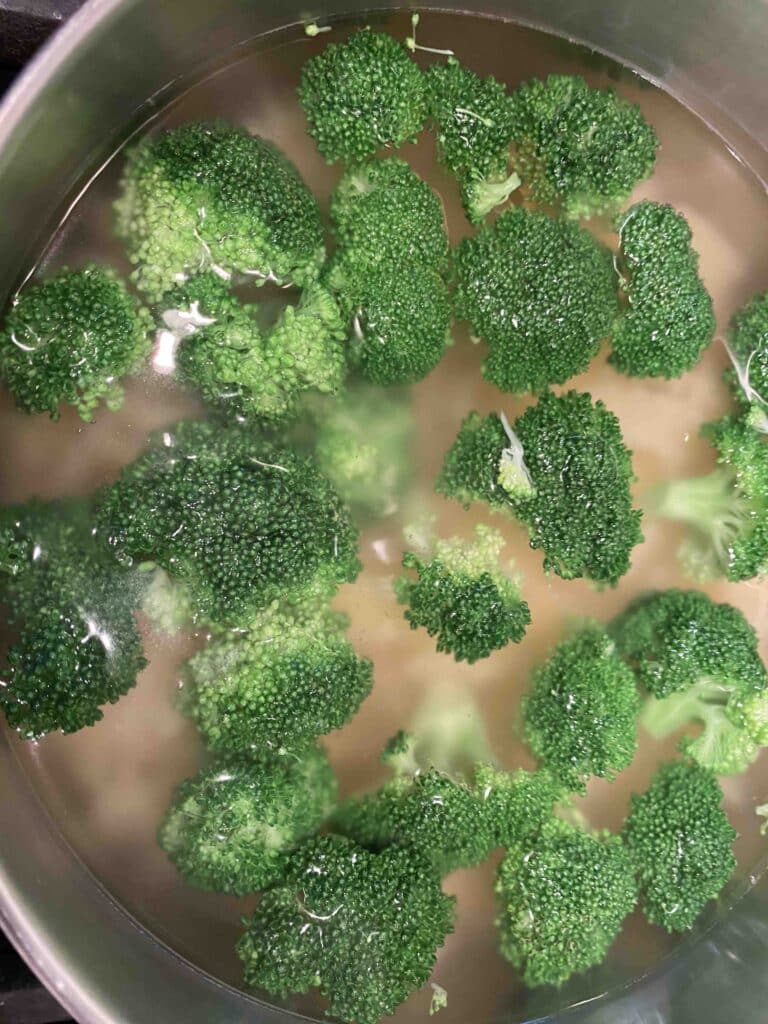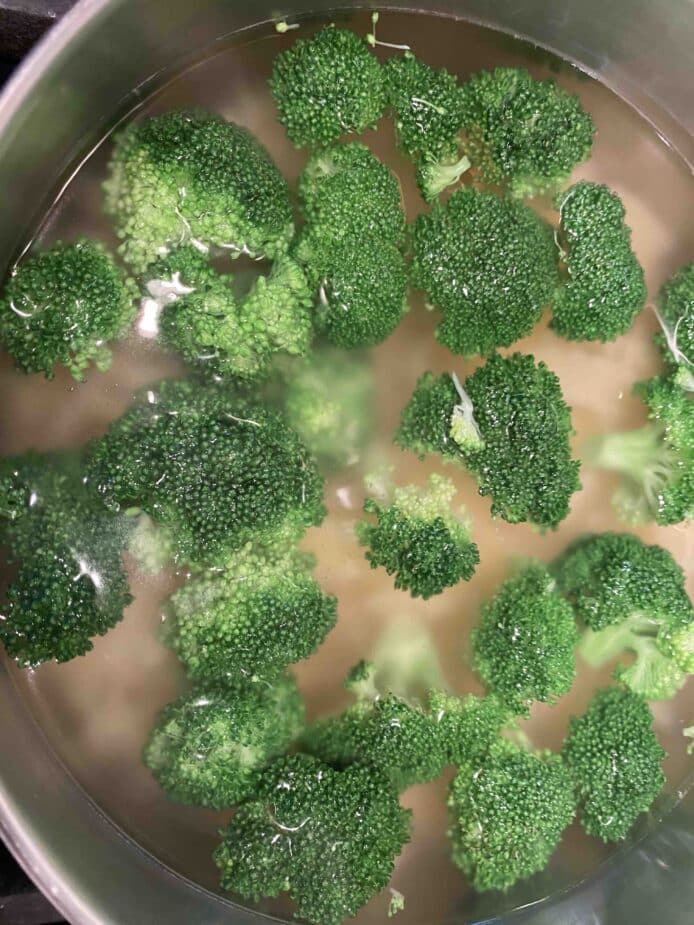 Drain both and place them in a large bowl.
Add the sundried tomatoes and gently mix those in.
Step 5: Assemble the Pasta Salad
Pour ¾ of the pesto and alfredo sauce over the pasta salad and mix thoroughly. Keep the remaining sauce in the fridge and mix it in just before serving.
You can serve this hot or cold but if you want it chilled then cover the pasta salad and place it in the fridge to cool for at least 2 – 3 hours.
Step 6: Grill the Shrimp
Spray the grill grates, or lightly brush them with oil to prevent the shrimp from sticking. Preheat the grill.
Thread the shrimp on the skewer. You can probably get 5 – 6 shrimp per skewer, depending on the length. Don't overcrowd them – let them breathe a little!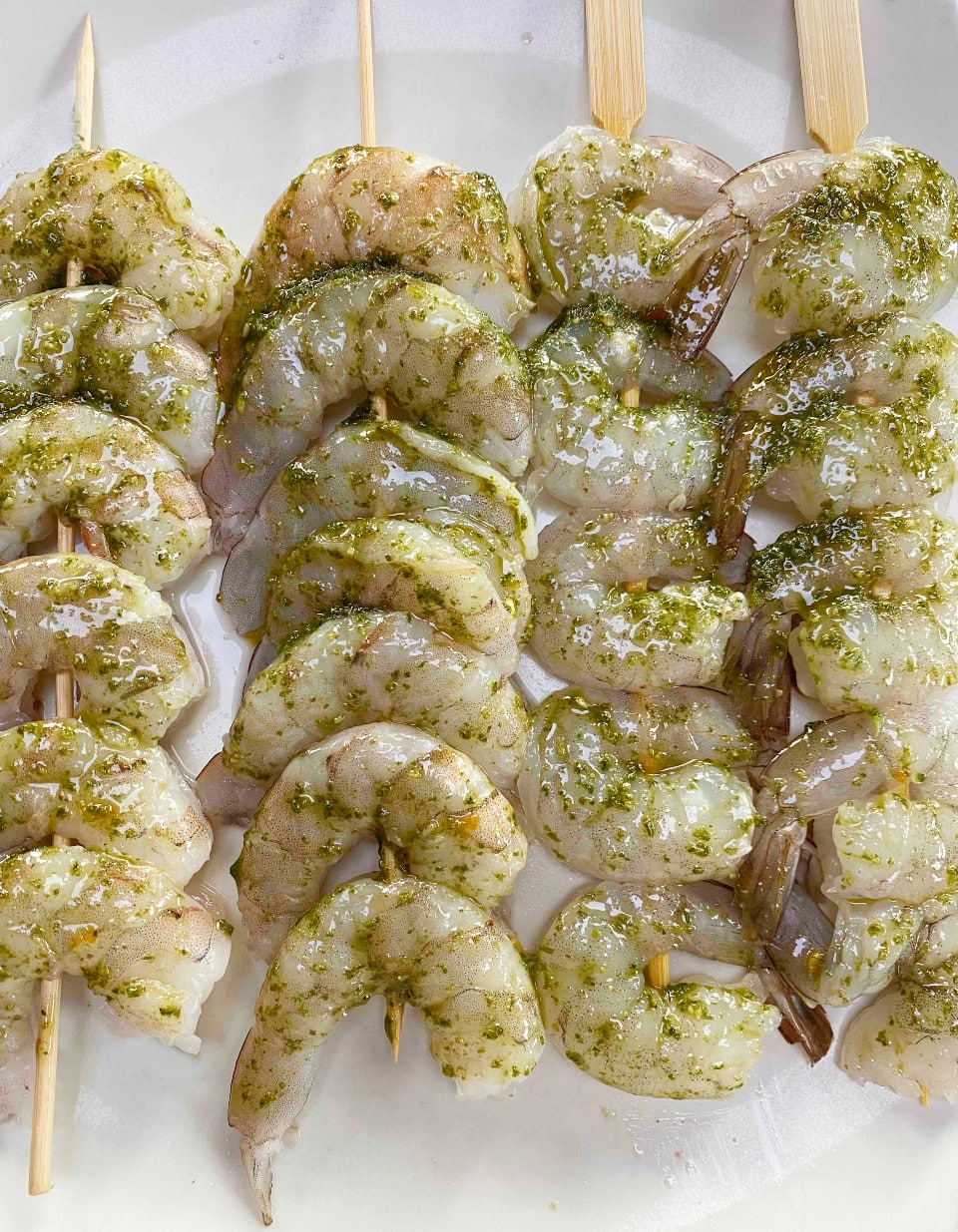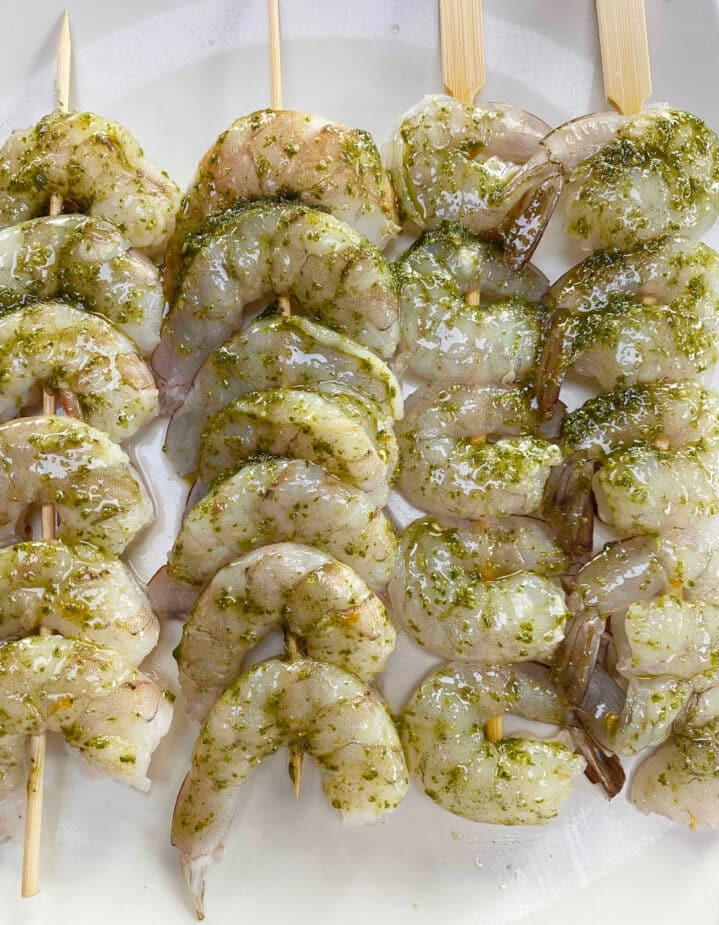 If you didn't toss them with pesto earlier, you can brush each side now with pesto, or if you prefer a bit of olive oil.
Place the skewers on the grill and grill them for 2- 3 minutes per side. Shrimp cooks quickly so you'll want to keep your eye on them and don't overcook them! Overcooked shrimp is tough and chewy and just not a pleasant experience.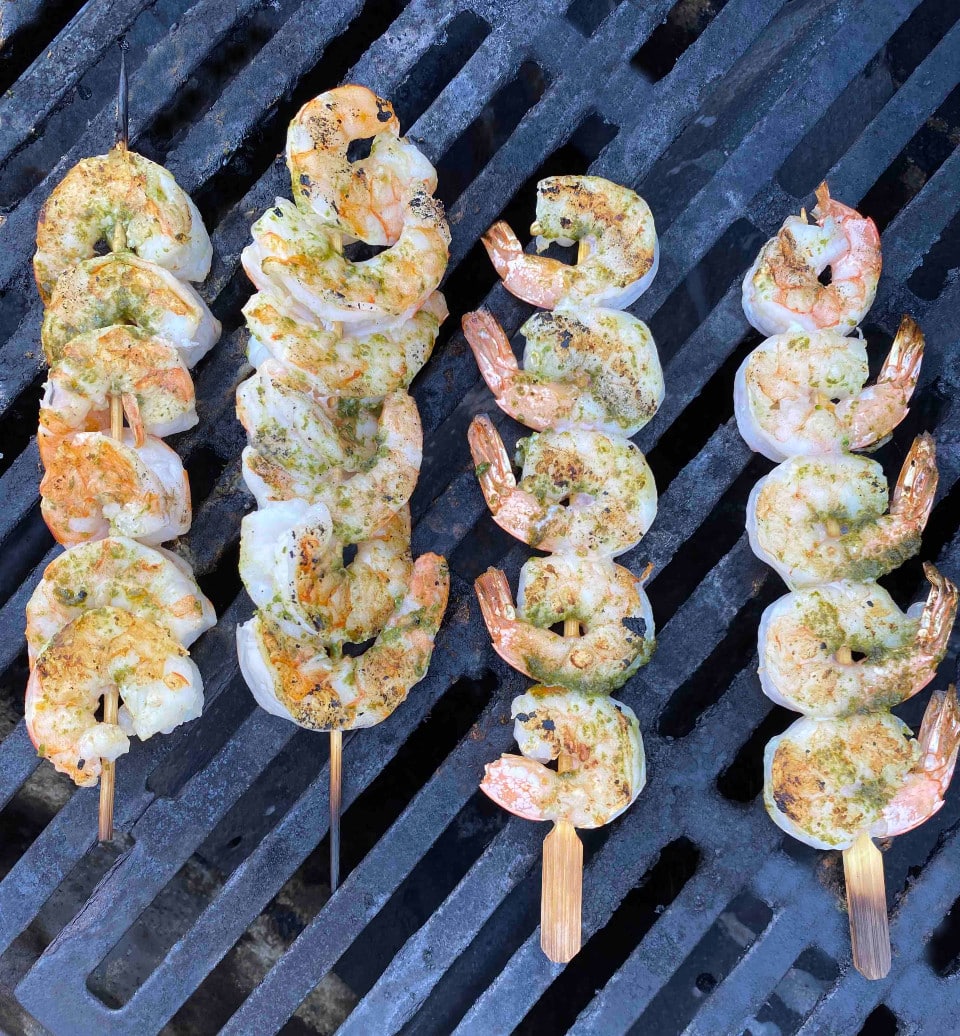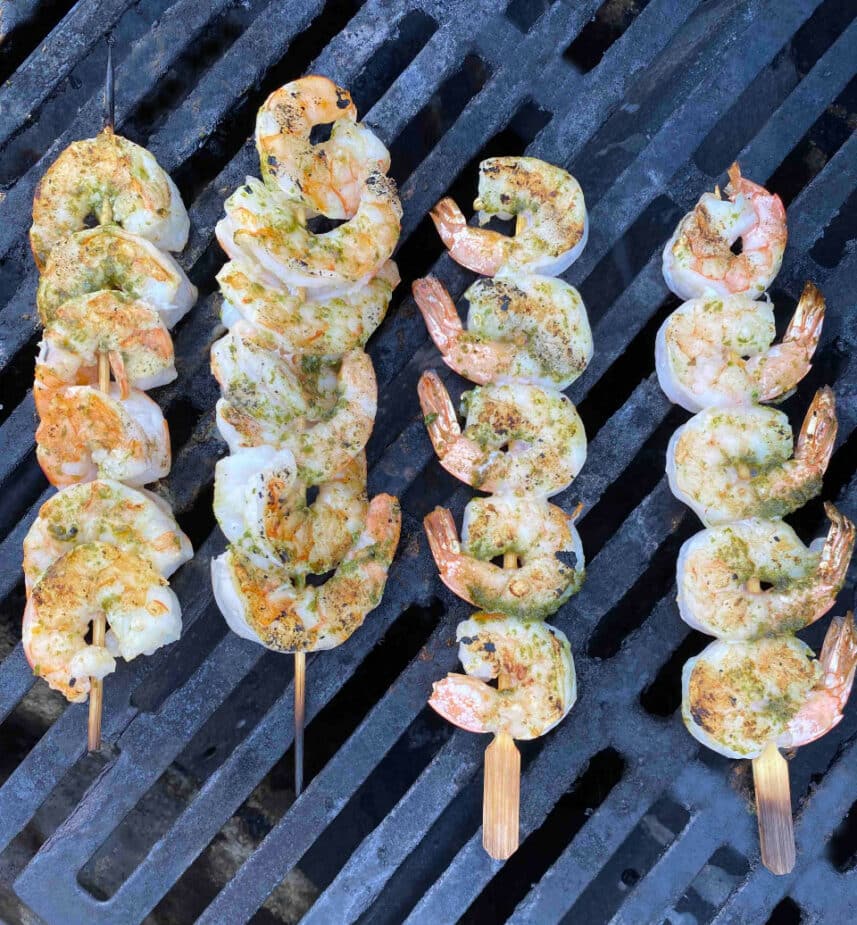 Now you're ready – scoop 2 cups of pasta salad in a bowl and place a skewer of shrimp on top!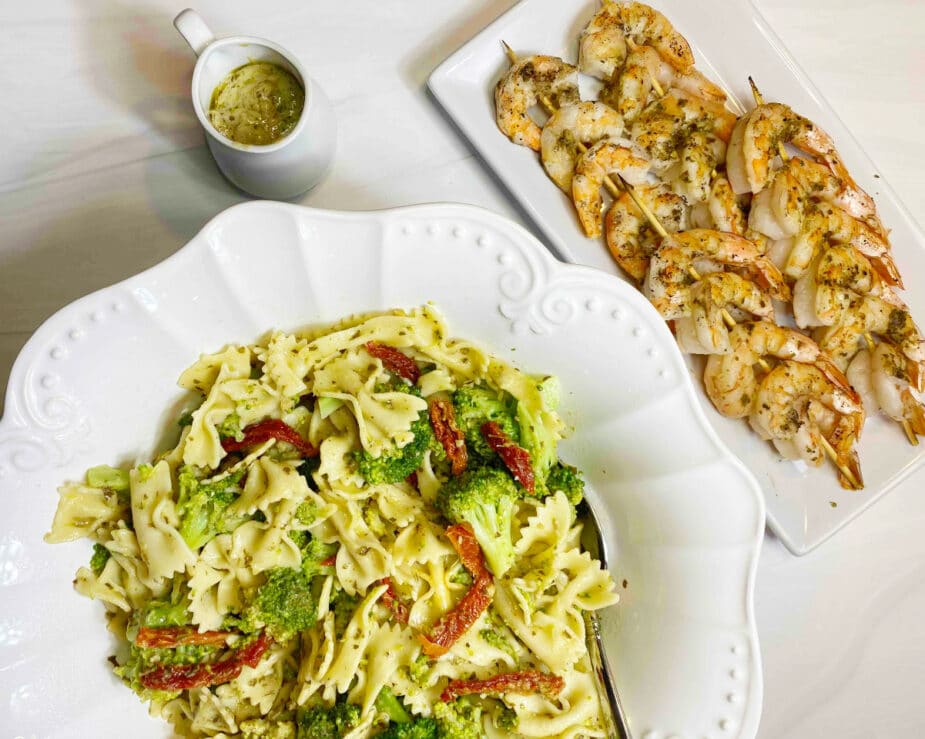 Variations
If you want to make your own pesto, it is a great way to use some of that extra basil hanging out in your herb garden, or try my Walnut Arugula Pesto for a change!
Not a fan of shrimp? Try grilled chicken strips with this instead.
The pasta salad alone makes a nice side dish too.
FAQ's
There are a couple of questions that might come up as you look through this recipe. I'll do my best to answer them below, but also feel free to leave me a comment below and I'll be sure to get back to you!
Can you use precooked shrimp?
You can use precooked shrimp in this recipe and it will save you a bit of time. Just keep in mind that you'll lose that smokey grilled flavor but go ahead and toss it with some pesto before you add it to the salad so you get that full pesto flavor!
Can you skip the Alfredo sauce if you need this to be dairy-free?
Yes, you can skip the alfredo sauce if you want. The pasta salad won't be as creamy but it will have a delicious pesto flavor!
Can you use gluten-free pasta?
Absolutely! Any gluten-free pasta, including pasta made with chickpeas or other beans, would work well in this. Just see if you can find a fun shape so the sauce adheres!
Can you freeze the pasta salad?
Pasta salad just doesn't freeze well so I recommend only making as much as you will eat in a couple of days. You can easily cut the recipe in half if you need to.
Isn't shrimp high in cholesterol?
Shrimp is high in cholesterol but it is very low in fat and research has shown it does not raise your bad (LDL) cholesterol level.
Does shrimp contain sodium?
Shrimp does live in salt water so it naturally contains some sodium. Some frozen shrimp have sodium tripolyphosphate added to help retain moisture during freezing. This can add a lot of sodium to your dish so when you can, look for shrimp that doesn't have this added.
Storage Tips
The pasta salad will keep in the fridge for a couple of days. Cooked shrimp is best used within a day of cooking.
Store the shrimp separately from the pasta for the best flavor. You can seal the shrimp in a resealable plastic bag and store it in your refrigerator.
Other Recipes you will love
If you love shrimp here are a couple of other recipes you might like too!
Shrimp in Tomato Sauce with Artichokes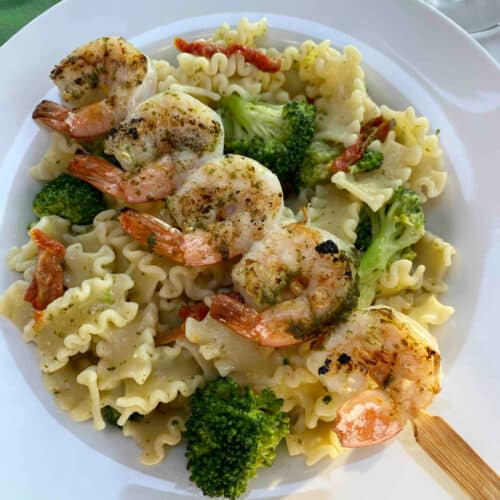 Grilled Shrimp with Pesto Pasta
A creamy pesto sauce mixed with pasta, broccoli and sundried tomatoes, and grilled shrimp on top. This easy dish is a perfect summer or early fall meal.
Ingredients
1

lb

medium shrimp

16-20 ct.

1

tbsp

pesto

1

cup

alfredo sauce

½

cup

pesto

½

lb

pasta

bowties or other fun shape

4

cups

broccoli florets

¼

cup

sliced sundried tomatoes

packed in olive oil
Instructions
Soak the wooden skewers in a pan of warm water for 30 minutes.

Peel and devein the shrimp if necessary. Toss with 1 tablespoon of pesto and allow to marinate while you prep the other ingredients.
Prepare the Pesto Pasta Salad
Mix the alfredo sauce and pesto together in a medium bowl.

Heat a large pot of salted water to the boiling point. Add the pasta and cook according to the package directions. During the last 2 minutes, add the broccoli and cook it with the pasta.

Drain the pasta and broccoli and add it to a large serving bowl. Gently stir in the sundried tomatoes.

Add 3/4 of the pesto and alfredo sauce, reserving some to mix in just before serving. Stir the pasta and vegetables with the sauce. Cover and place in the refrigerator to chill for about 3 hours if you want a cold pasta salad. (You can also serve it hot, once the shrimp is done.)
Grill the shrimp
Brush the grill grates with oil or spray with a grilling oil spray. Preheat the grill.

Thread 5 – 6 shrimp on each skewer. Brush with pesto if needed.

Place the shrimp on the grill and cook for 2 minutes, then flip the skewers and grill the other side for another 2 minutes or until they are pink and firm to touch. Be careful not to overcook them.
Nutrition
Serving:
2
cups
Calories:
510
kcal
Carbohydrates:
52
g
Protein:
28
g
Fat:
21
g
Saturated Fat:
5
g
Polyunsaturated Fat:
4
g
Monounsaturated Fat:
6
g
Cholesterol:
160
mg
Sodium:
980
mg
Potassium:
430
mg
Fiber:
3
g
Sugar:
5
g
Vitamin C:
66
mg
Calcium:
200
mg
Iron:
3
mg