With just a few simple ingredients and no more than 5 minutes in the kitchen, it's a cinch to amp up the flavor of almost any dish with pesto. Whether classic basil and pine nuts or my variation of a toasted walnut arugula pesto, this zesty condiment adds a fresh punch to pasta, salads, or roasted chicken or pork.
Classic pesto is made with basil, olive oil, pine nuts, and parmesan cheese. But, you can make pesto out of almost any leafy green vegetable and almost any tree nut.
This version of pesto is a great way to use up extra arugula. How often do you end up with a half-eaten bag of arugula just sitting in the fridge? Use a little on a Friday night pizza and toss some in with a salad, but more often than not, a lot goes unused.
This sauce comes together in no time! Just toss a few ingredients in your food processor and you have a delicious sauce ready to mix into pasta, add to a sandwich, or make into a dip.
What You Will Need to Make the Pesto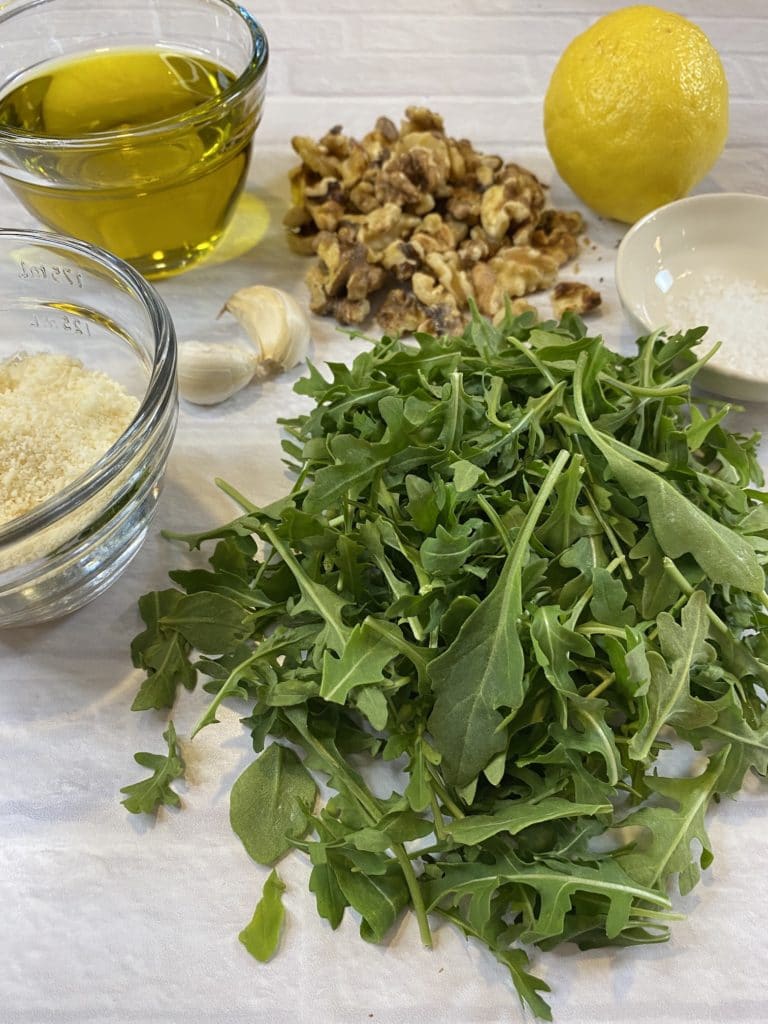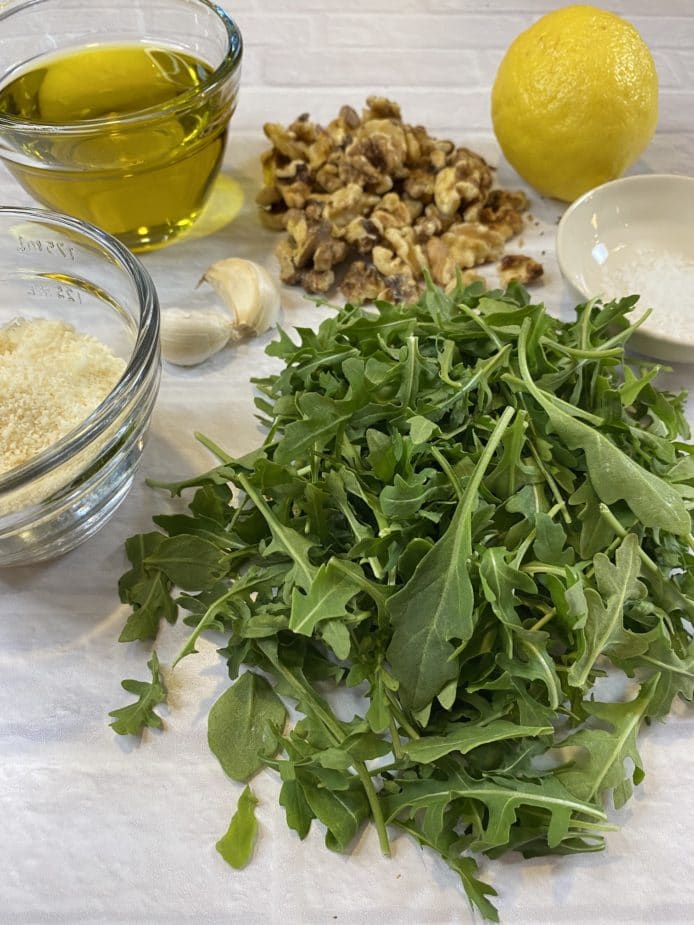 Arugula
If you've been following Stanley Tucci's "Searching for Italy" series you may have recently watched him traipsing through the grounds of an old castle in London on a quest for "rocket." I wish they had explained that better – he was looking for was arugula.
Arugula, or rocket, is actually an herb that is native to the Mediterranean. It is classified however as a cruciferous vegetable and has many of the same nutrients as other leafy greens like kale, spinach, and brussels sprouts. 
It is rich in vitamin K, vitamin C, potassium, beta-carotene, and the eye and brain supporting carotenoids, lutein, and zeaxanthin.
Walnuts
Walnuts pair nicely with arugula and are a delicious change of pace from the standard pine nuts. They are certainly less expensive, plus you can't beat the extra nutrition boost you get from them.
A 1 oz. serving of walnuts contains about 190 calories, 18g of fat, 4 grams of protein, and 2 grams of fiber. Walnuts are one of the richest plant sources of omega-3s and are known for their heart-protective benefits. And one of the reasons I always stock them in my pantry!
Olive Oil
For a dressing or sauce like this, it's best to go for the gold and use an extra virgin olive oil. It adds a mellow, earthy flavor to the pesto that you won't get from a more refined olive oil.
Another oil like grapeseed would be too bland and walnut oil would compete too much – although, you could add a tablespoon or two to bring out a little more walnut flavors. It's expensive, so I save that for dressings where I'll really be able to taste and appreciate it.
Garlic
Like other pestos, this one has a healthy dose of garlic. Fresh garlic is absolutely the best for making pesto. Garlic powder would just fade away and get lost. Also, make sure the garlic is really fresh and not starting to sprout. You don't want to add any unwanted bitterness to this.
I use a couple of cloves in this recipe, but you can add more or less depending on how garlicky you like your pesto. I find too much competition with the arugula isn't good though. Two cloves are just about right.
Lemon
For any pesto, I find both freshly squeezed lemon juice and lemon zest work best. If you only have bottled lemon juice you may just need a little extra for the lemony flavor to poke its way through. But be careful and don't overdo it or you'll end up with a watery pesto.
Parmesan Cheese
A classic pesto always has parmesan cheese added and I've done the same with this one. If you are following the MIND Diet for brain health, you can certainly skip the cheese. I have a pesto recipe without cheese in my book, MIND Diet for Two if you want to explore that!
Another option may be to just cut the amount of cheese in half. You get the flavor but not so much extra saturated fat.
Salt
While I don't use much salt, a little sea salt or kosher salt added to this will just help pull all the flavors together.
How to Make it
Wash and thoroughly dry the arugula. Even if the package says it has been washed, I don't take any chances and rewash it again. It takes just a couple of extra minutes and I use a salad spinner like this one from Oxo to dry the leaves. 
Toast the walnuts. You can skip this step, but won't want to. Toasting brings out a really nutty flavor and gives the pesto just a little smokey flavor. You can watch this video to see how I do it. 
Zest your lemon and squeeze out the juice.
Now just add everything but the olive oil to your food processor and turn it on.
Slowly add the olive oil through the feed tube until everything is chopped and combined. You may need to scrape it down part way through. 
Then just toss it with some freshly cooked pasta, or spread it over a roasted chicken breast or fish fillet for a flavorful dinner. Toasted Walnut Arugula Pesto – a quick and easy way to dress up a meal!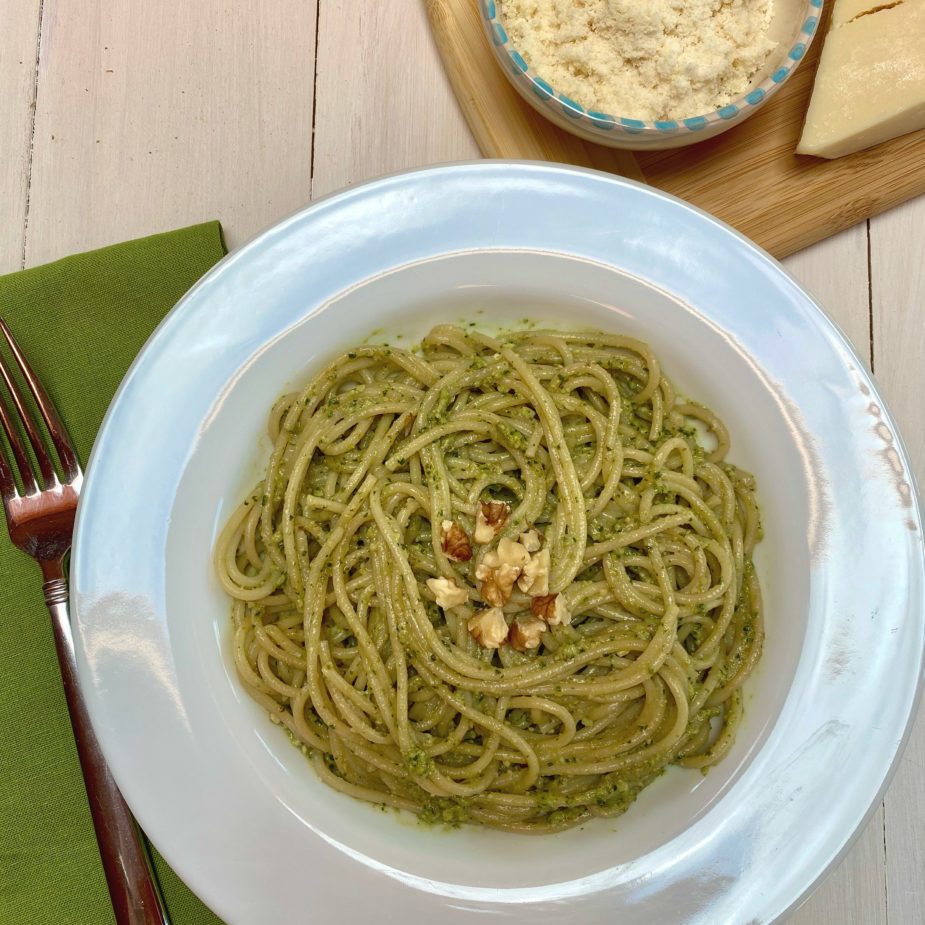 Storage Tips
You can store this in the refrigerator for a week. Keep it in a reusable, non-reactive container that is tightly sealed. I find covering the surface with a piece of wax paper helps preserve the beautiful green color!
You can also freeze pesto. Either in a container or place a couple of tablespoons in the individual sections of an ice cube tray. Freeze it and when frozen, pop them out into a resealable bag and store them in the freezer. This works great when you only need a tablespoon or two of pesto for a quick dish.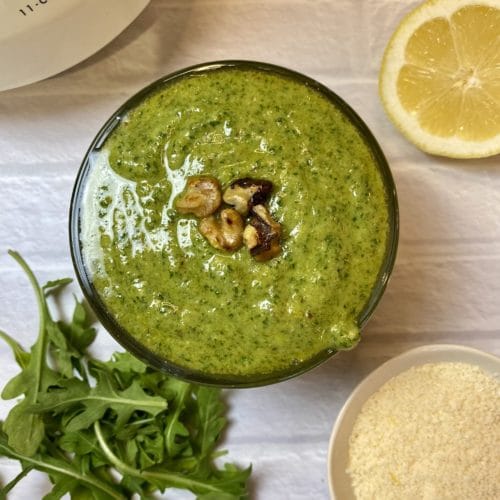 Toasted Walnut and Arugula Pesto
This variation on a classic pesto has a peppery bite from the arugula. It is perfect on roasted chicken or fish or tossed with pasta.
Ingredients
2

cups

arugula

2

cloves

garlic

1

cup

toasted walnuts

½

tbsp

lemon zest

1

tbsp

lemon juice

½

cup

extra virgin olive oil

⅓

cup

grated parmesan cheese

½

tsp

kosher salt
Instructions
Place arugula, garlic, walnuts, lemon zest, lemon juice, parmesan cheese, and salt in the bowl of a food processor.

With the processor running, slowly pour the olive oil through the feed tube and puree until thoroughly pureed and completely combined.
Nutrition
Serving:
2
tbsp.
Calories:
150
kcal
Carbohydrates:
2
g
Protein:
2
g
Fat:
16
g
Saturated Fat:
2.5
g
Polyunsaturated Fat:
6
g
Monounsaturated Fat:
8
g
Sodium:
130
mg
Potassium:
70
mg
Fiber:
1
g
Vitamin C:
2
mg
Calcium:
40
mg
Other Recipes you will love
This pesto is delicious on top of grilled salmon, tossed into pasta, or on top of crostini with a little goat cheese. Here are a few recipes you could use it in!
Creamy Pesto Pasta Salad – The arugula pesto adds a delicious bite!
Pesto Chicken Pasta – A super quick weeknight meal.
Sausage and Bean Soup – The pesto adds a ton of flavor to this hearty soup.