Updated February 4, 2023
There is nothing better to warm you up after a day on the slopes or shoveling the walk than a bowl of this Italian sausage and white bean soup.
With a rich chicken broth base, tomatoes, cannellini beans, spinach, and tortellini, it is a filling but healthy winter meal. It is a staple winter meal in our house! I love it because it is easy to make and I usually have everything on hand so I can whip it up in no time.
Even if you aren't much of a cook, I think soup is one of the easiest things you can make from scratch. You almost don't need a recipe! It's hard to go wrong with a variety of vegetables, a protein or two, and a broth of your choice.
What You Will Need to Make this Italian Sausage and Bean Soup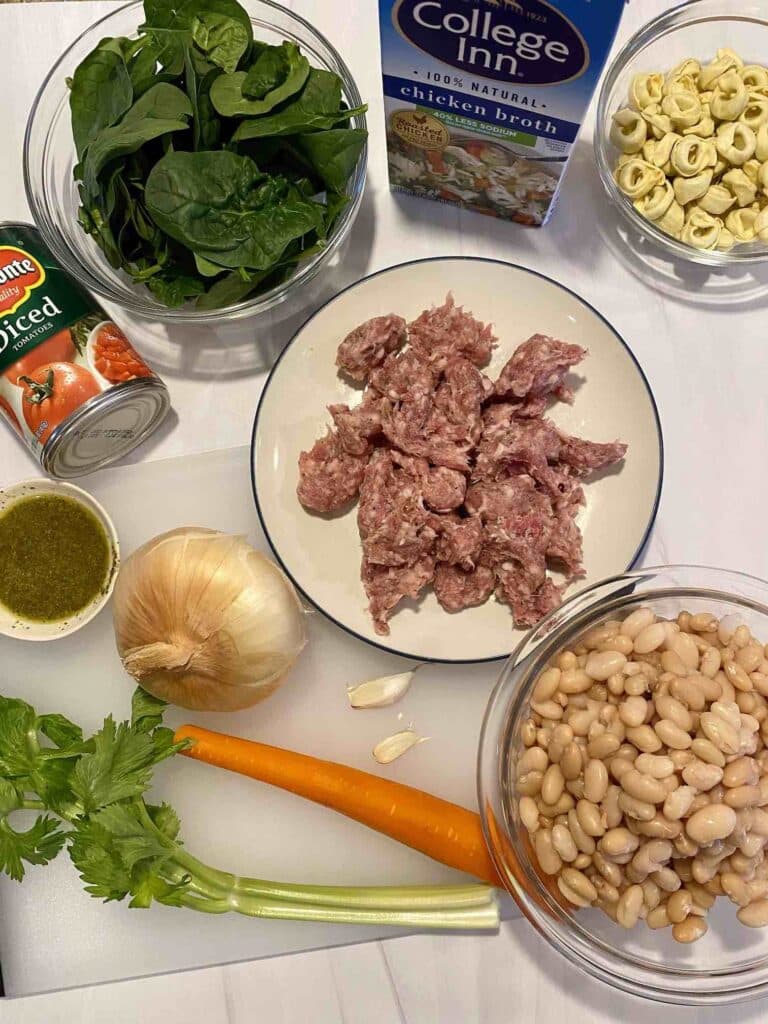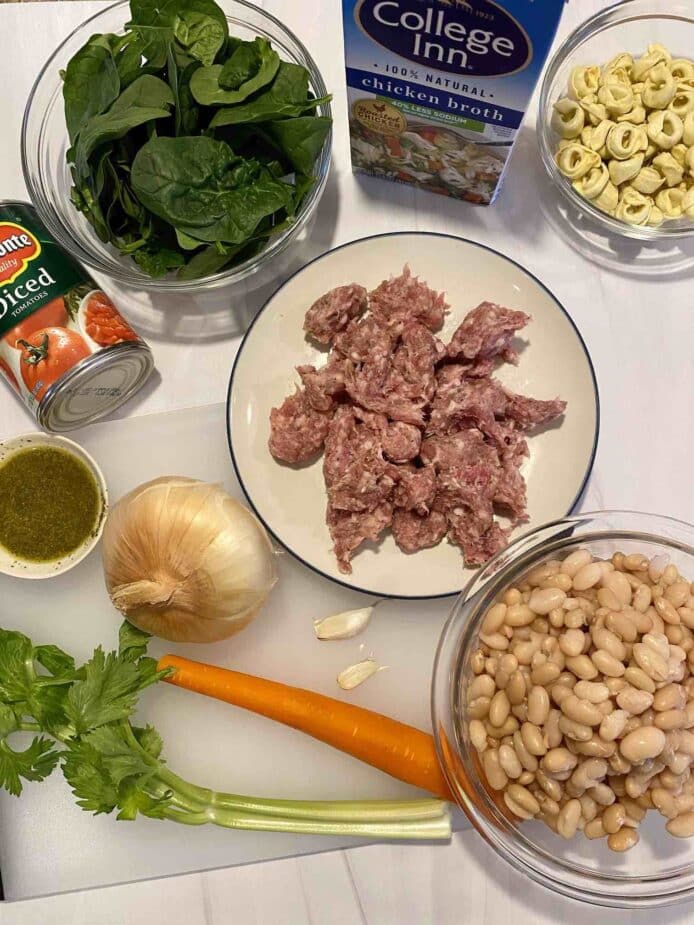 Italian Sausage: Sweet Italian sausage is best, but you could try spicy sausage if you like a kick. Remove the casing and crumble it into large pieces. I like to get my sausage from a local fresh Italian butcher in the Strip District in Pittsburgh, Parma Sausage. They make all of their sausage (and other products) onsite. Everything is always fresh and perfectly seasoned! But any good Italian sausage will add a delicious flavor.
Cannellini Beans: These are like white kidney beans and add some fiber and creaminess to the soup. I typically use canned beans but you can also use dried beans and rehydrate them and then add them to the soup. Use reduced-sodium beans and rinse and drain them before adding to cut back on the salt a bit.
Chicken Broth: Use homemade chicken broth or canned. If you use canned and are concerned about the sodium content, choose a reduced-sodium version. You'll get plenty of salt from the tomatoes, sausage, and beans.
Carrots, Celery, and Onions: A classic combination of vegetables for soup that has a fancy name, mirepoix. This means chopped vegetables sauteed in oil and added to a sauce or soup. I like to use sweet onions in this but white onions would be fine as well. They would just have a little more bite to them.
Pasta: You can use any pasta you'd like – I chose tortellini because I had some in the freezer I wanted to use up, but any medium size pasta will work.
Greens: Baby spinach or baby kale is ideal for this soup. Add it just before serving to let it wilt but not overcook.
Diced Tomatoes: A can of diced tomatoes or a bag of frozen tomatoes from your summer garden adds a burst of fresh flavor and good nutrition.
Fresh Baby Spinach: About a 1/2 bag is all you need but feel free to add more!
Pesto: The pesto is what seasons this soup. You get plenty of flavors between the pesto, vegetables, and sausage. You really don't need any other spices except a bit of salt and pepper.
How to Make It
You can make this soup in a large stockpot. It will need to be large enough to hold at least 12 cups of liquid. I use a 5-1/2 qt. Le Creuset Dutch oven (affiliate link) that I picked up at an outlet shop years ago and love. (Yes, they are expensive, but they will last a lifetime! I love that it can go from the stovetop to the oven and back and everything cooks evenly and stays hot.) But, any stockpot will work!
Start by heating the olive oil in the pot over medium heat. Add the carrots, onions, garlic, and celery and cook the until they just begin to soften, being careful not to brown them. (If you allow the onions and garlic to brown they will turn from sweet to slightly bitter so it's better to cook at a little lower temperature and not rush it!)
Then add the crumbled sausage and cook it until it is browned and cooked through.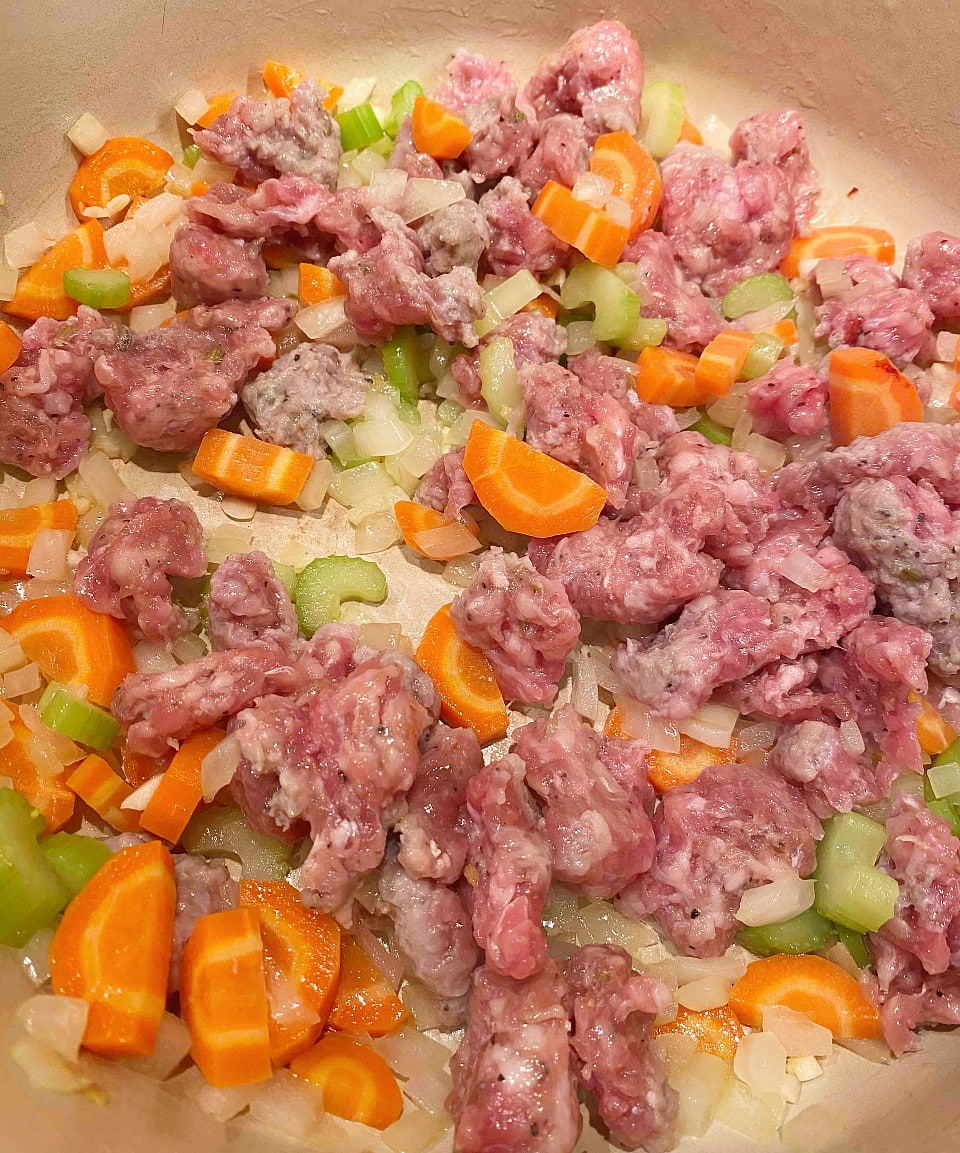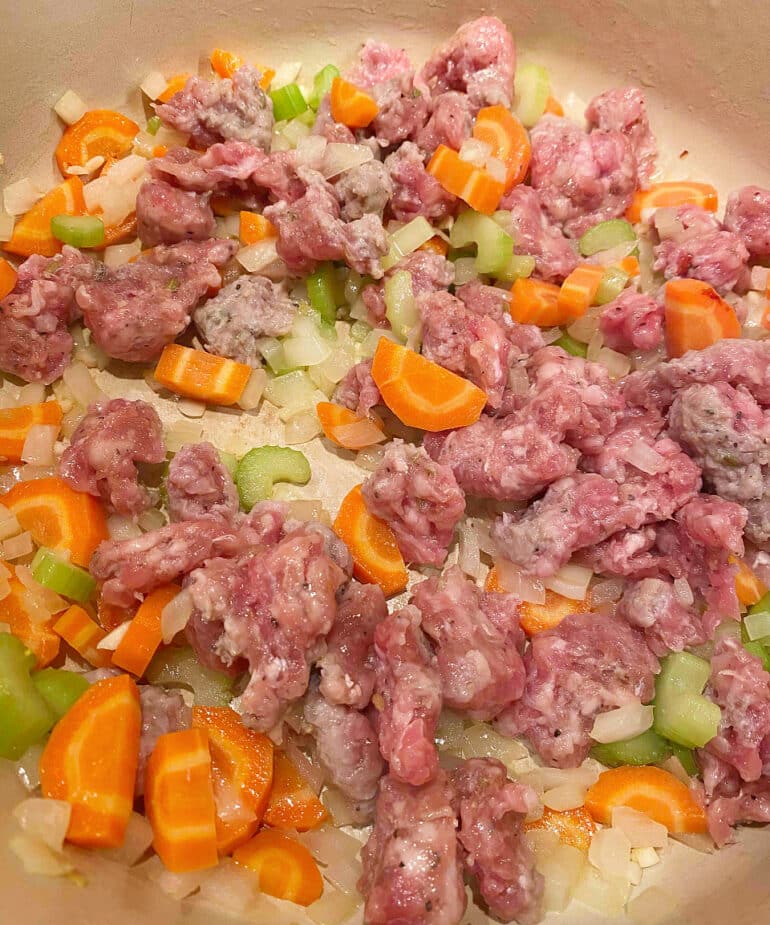 Once the sausage is cooked through, add the diced tomatoes and their juice and the beans and stir to combine.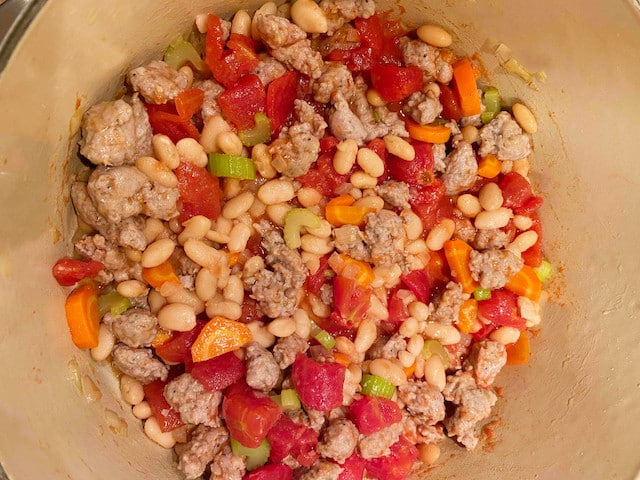 Next, stir in the pesto and combine it well to distribute it evenly. Then add the broth and turn the heat to medium-high. Cook it until it just begins to boil. Add the pasta and cook until the pasta is almost done.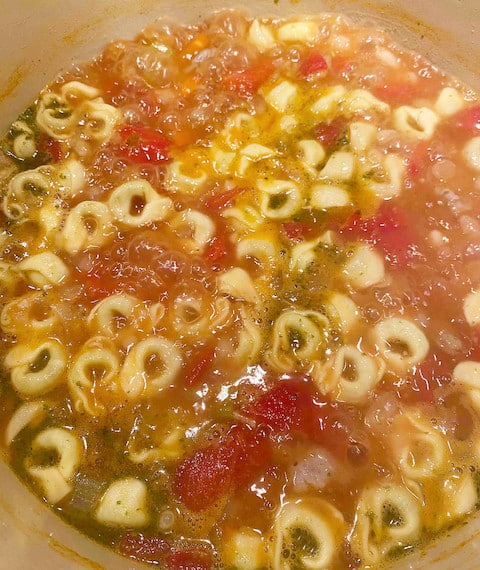 Then add the spinach and cook just long enough to wilt.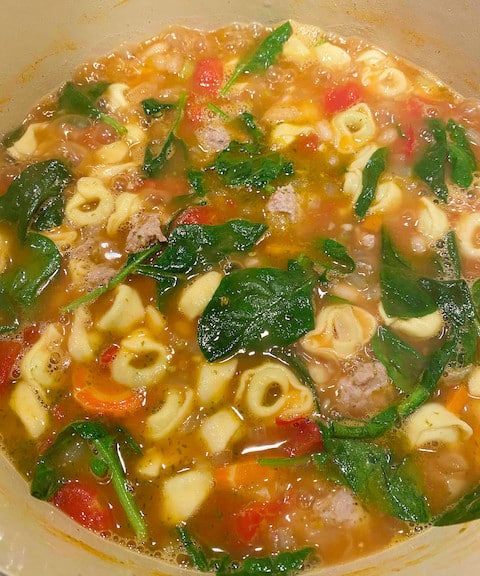 Enjoy a bowl of this hearty Italian Sausage and White Bean soup with a piece of crusty Italian bread or a hearty whole wheat roll.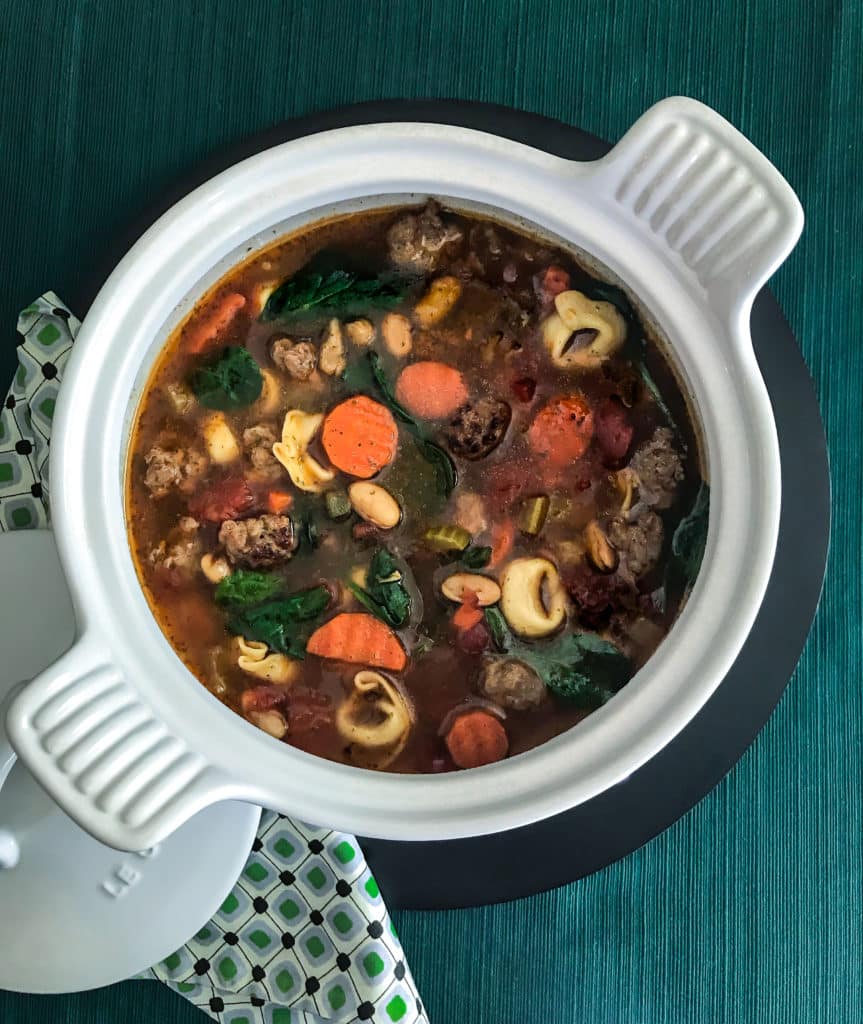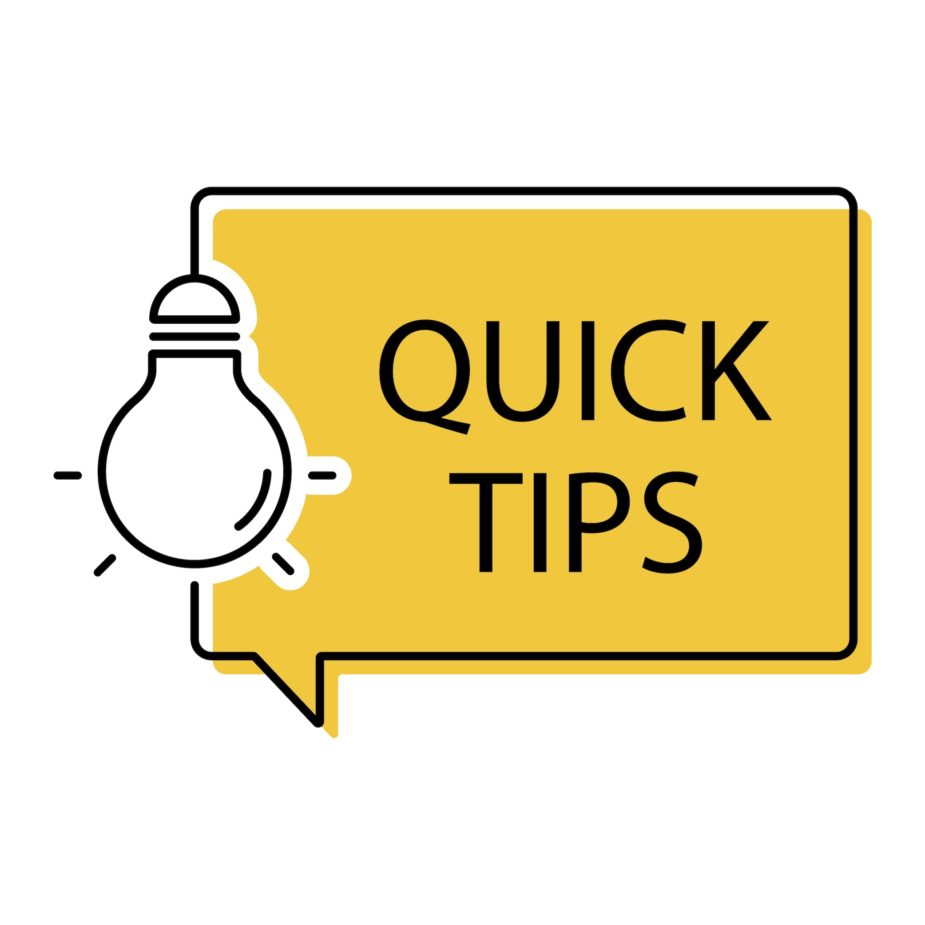 If you are making this ahead, hold off on adding the pasta until you are reheating the soup! If you add the pasta when you make it, it will continue to soak up the liquid and expand leaving very little broth and making the pasta mushy. If you are making this soup to freeze, hold off on adding the pasta until you reheat it, and then cook the pasta either in the soup or separately and add it just before you serve it.
Storage Tips
The soup will store in the refrigerator for 2 – 3 days, covered. If you are making the soup for later in the week, cook the pasta separately and toss it with some olive oil and place it in a resealable bag or container to store in the refrigerator. When you are ready to eat it, add the pasta and heat it on the stovetop.
You can freeze this soup in an airtight container for 2 – 3 months. Cook the pasta separately or as you are reheating the soup for the best texture and flavor!
Other Recipes You Will Love
If you love this Hearty Italian Sausage and White Bean Soup, you may want to also try these other delicious recipes!
Hearty Italian Sausage Pasta Bake
Italian Sausage, Spinach, and Artichoke Pasta Bake
If you enjoy this recipe and would like more delivered right to your inbox along with nutrition tips and news, be sure to sign up for my monthly newsletter here!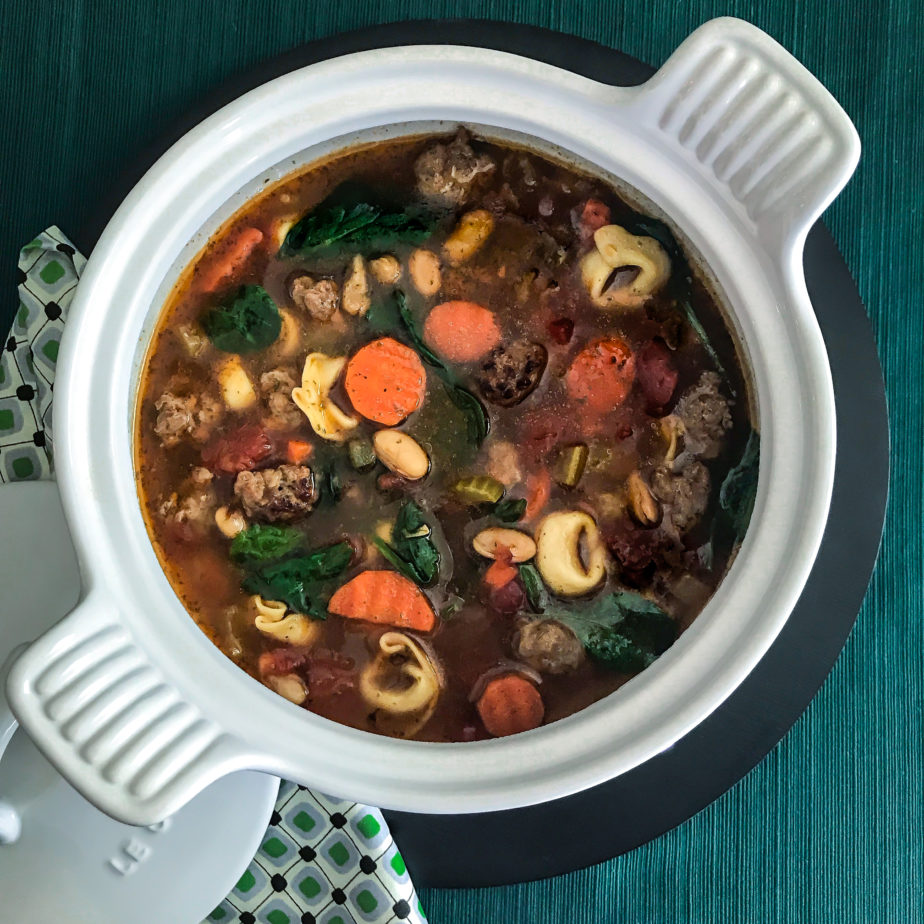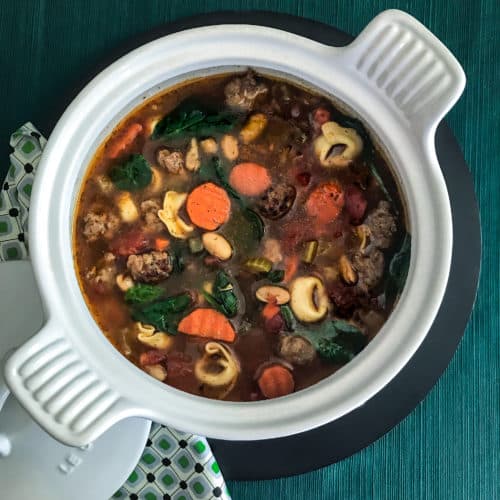 Sausage and Bean Soup
Italian Sausage and Cannellini Beans – a simple homemade soup that only takes about 30 minutes. You can use sweet or hot sausage and any type of pasta you like. It's perfect for warming up on a cold winter day!
Ingredients
1

Tbsp

Olive Oil

Extra Virgin

1/2

cup

diced sweet onion

about 1/2 onion

1

tsp

minced garlic

(2 cloves)

1/2

cup

diced carrot

about 1 carrot

1/2

cup

diced celery

about 2 stalks

3

Italian Sausage links

sweet or spicy

1

can (14.5 oz.)

diced tomatoes

not drained

2

cans (15 oz. each)

cannellini beans

drained and rinsed

1

Tbsp

prepared pesto

6

cups

chicken broth

1

cup

medium pasta (ditalini, tortellini, etc)

3

oz.

fresh baby spinach

(1/2 bag)
Instructions
Heat olive oil in a large saucepan over medium heat. Add onion, garlic, carrots, and celery and cook until just softened (about 5 minutes).

Remove sausage from casings and crumble (mini meatball-size pieces).  Add sausage pieces to the saucepan and cook until browned and cooked through.

Mix in tomatoes (and juice), beans, and pesto. Stir to combine well.

Add chicken broth and turn up the heat to medium-high. Heat until the broth is just starting to boil.

Add pasta and boil until pasta is al dente. 

Stir in spinach to wilt. Season with salt and pepper if needed.
Notes
If making this recipe ahead, don't add the pasta or spinach until just before serving.  Reheat the soup and then add the pasta and finish with the spinach.  This would be good with a little parmesan cheese sprinkled on top too!
Nutrition
Serving:
2
cups
Calories:
240
kcal
Carbohydrates:
27
g
Protein:
17
g
Fat:
8
g
Saturated Fat:
2.5
g
Polyunsaturated Fat:
1
g
Monounsaturated Fat:
3.5
g
Cholesterol:
25
mg
Sodium:
1110
mg
Potassium:
490
mg
Fiber:
7
g
Sugar:
4
g
Vitamin C:
17
mg
Calcium:
140
mg
Iron:
4
mg