I'll admit it – I must have been living under a rock not to know about baked oatmeal until this fall! We were on a mini vacation and I ordered it for breakfast one morning. Pure deliciousness! I knew I had to recreate it. I gussied it up a bit and came up with something that would make a delicious Valentine's day breakfast – a dark chocolate chip baked oats recipe.
This will be perfect on a chilly Valentine's Day morning!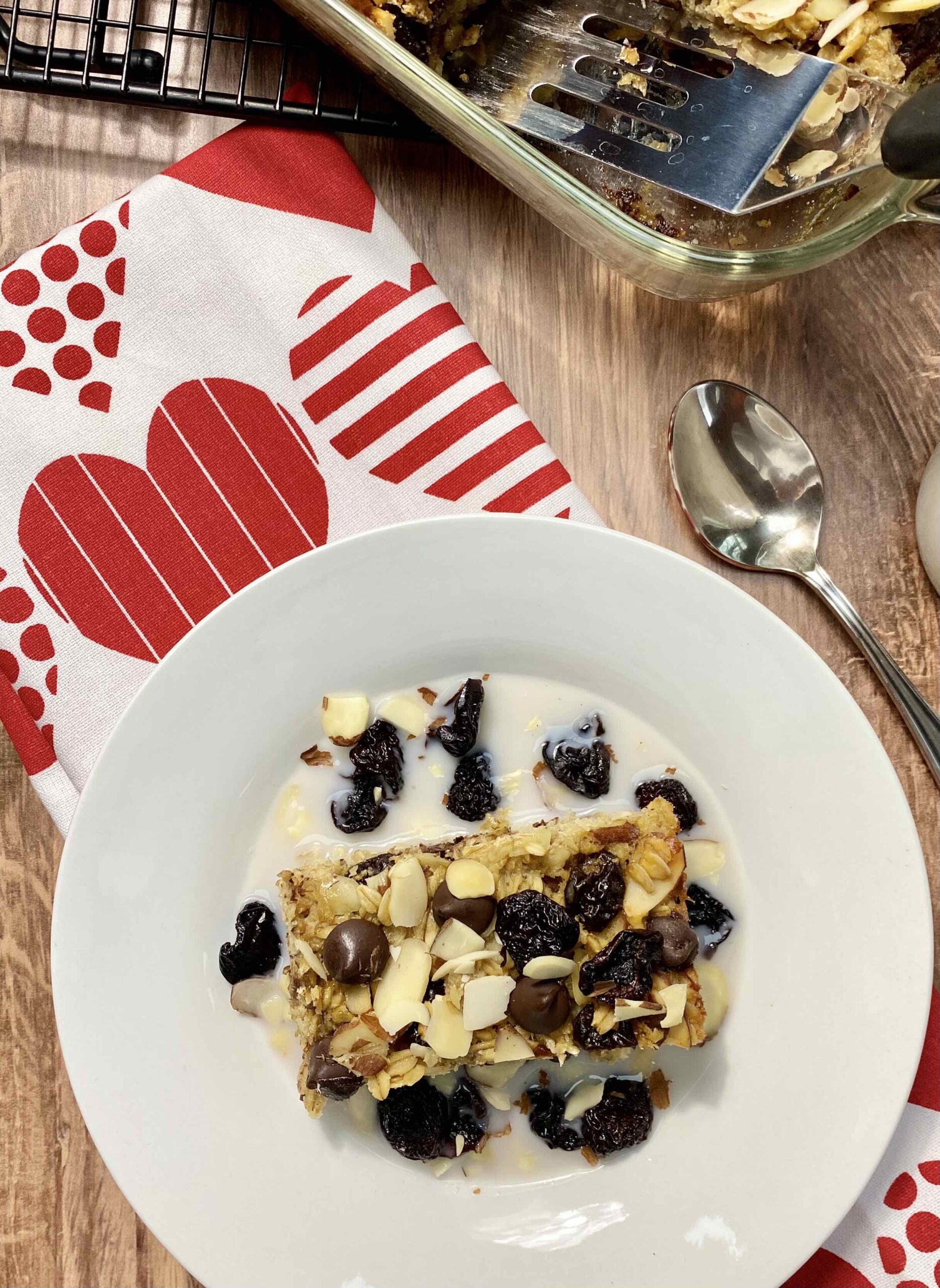 What's to Love about Baked Oats
What's not to love about oatmeal? It's hearty and filling and just what you need on a chilly winter morning. One thing I'm not a fan of is standing over the stove stirring them or cooking them in the microwave and watching them boil over. Yes, I've cleaned up my fair share of oatmeal overflows and I am not a fan!
What I love about baked oats is how easy they are to make! Just mix the ingredients, pour them into a pan, a pop it in the oven. You can go hop in the shower or prep other things for the week while it bakes. Once it's done, you'll have breakfast for a few days Oats
Now, I agree…dark chocolate chip baked oats do seem a bit decadent but hear me out on this one. With only 220 calories per serving and loads of nutrients, they are worth taking a look at.
Nutrition Benefits of Oats
Nutritionally, oats are an excellent choice for breakfast or a snack. They have about 6 grams of protein per serving. When you combine that with milk, you've got a good, protein-rich breakfast to start the day.
Another thing to love about oats is that they are rich in soluble fiber. Specifically a type of fiber called beta-glucan. I'll keep it short here but beta-glucan has been shown to help lower LDL cholesterol levels and helps stabilize blood glucose levels. (1)
Combined, the fiber and protein in oats also have a satiating effect, helping to keep you feeling full longer. This can be helpful if you are trying to manage your weight and keep your cholesterol levels in control.
Nutrition Benefits of Dark Chocolate
Yes, you do get some nutritional benefits from dark chocolate. No, I'm not trying to justify using them. Cocoa has flavonoids, which are plant compounds that have antioxidant and anti-inflammatory benefits. Some research has found dark chocolate helps prevent plaque buildup and improve blood flow. It may help with stress relief too. More research is needed, but a little dark chocolate may be good for your heart and your brain! A little goes a long way. Just a 1/2 to 1 ounce a day is all you need.
Look for chips with the highest % cocoa to get the most benefit and flavor. I used Ghiradelli 72% cocoa dark chocolate chips.
Nutrition Benefits of Dried Cherries
Dried cherries add fiber, vitamin A, vitamin C, beta-carotene, and potassium to this dish. Plus, dried cherries are full of antioxidants that appear to have some anti-inflammatory effects that may help reduce your risk of heart disease. (2) Tart cherries may also help reduce inflammation after exercise, helping with muscle recovery and decreasing joint pain. (3)
What You Need to Make Dark Chocolate Chip Baked Oats
You'll notice these baked oats are made without bananas. Yes, mashed bananas can be a substitute for butter or an egg, but it isn't necessary for this recipe. I only use 2 tablespoons of butter, which ends up being 1 teaspoon per serving and the egg adds a bit of protein which makes this recipe a bit more filling. Plus, mashed bananas just do change the flavor and they really wouldn't work in this recipe.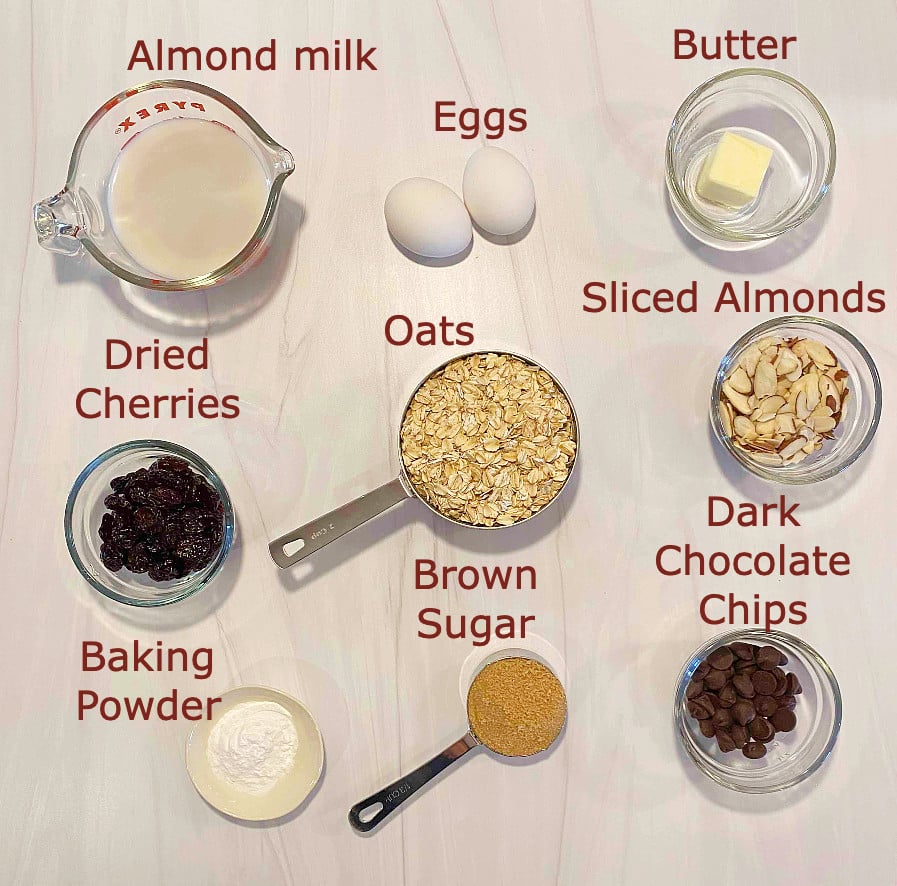 Oats – I used old-fashioned oats. Quick oats become mushy and steel-cut oats stay a bit too tough for my taste. Old fashioned soak up the liquid but their texture holds up.
Brown Sugar – Oats need a little sweetness and the hint of molasses from the brown sugar gives these oats a bit of a richer flavor. You could use granulated sugar in a pinch but you won't get the same flavor.
Baking Powder – Yes, 1 tablespoon seems like a lot! But I tried it with less and ended up with a pretty dense piece of oatmeal. 1 tablespoon was the sweet spot, so trust me on this one!
Eggs – 2 large eggs, beaten
Almond Milk – I used almond milk for this to get a little extra almond flavor but you can use any type of milk you prefer.
Butter – Butter adds a bit of silkiness, moisture, and flavor to these oats. Melting it before mixing it into the eggs and milk means that it will be distributed evenly throughout the oats.
Dried Cherries – Now here is where the flavor starts coming in. The sweetness from the dried cherries works with dark chocolate chips and almonds to make this an extra special breakfast treat.
Sliced Almonds – Almonds and cherries just go together, right? Plus, they add healthy, unsaturated fats, fiber, and protein to this breakfast.
Dark Chocolate Chips – Yes, the chocolate is a bit decadent, but a little goes a long way! Just ¼ cup in the entire recipe. Make sure to look at the % cocoa in the chips. I used the highest I could find at 72% cocoa.
How To Make Baked Oatmeal
While the time on this recipe says it takes 1 hour, keep in mind that the majority of that is baking time. The active time is only 10 – 15 minutes! It is an easy dish to make on a Sunday afternoon. Once it is cool, store it in the fridge then just slice it up and reheat it in the microwave in the morning.
Start by mixing the oats with brown sugar and baking powder. You may need to get in there with your hands (washed, please) and really break up and mix in the brown sugar. You don't want any big clumps in the mix.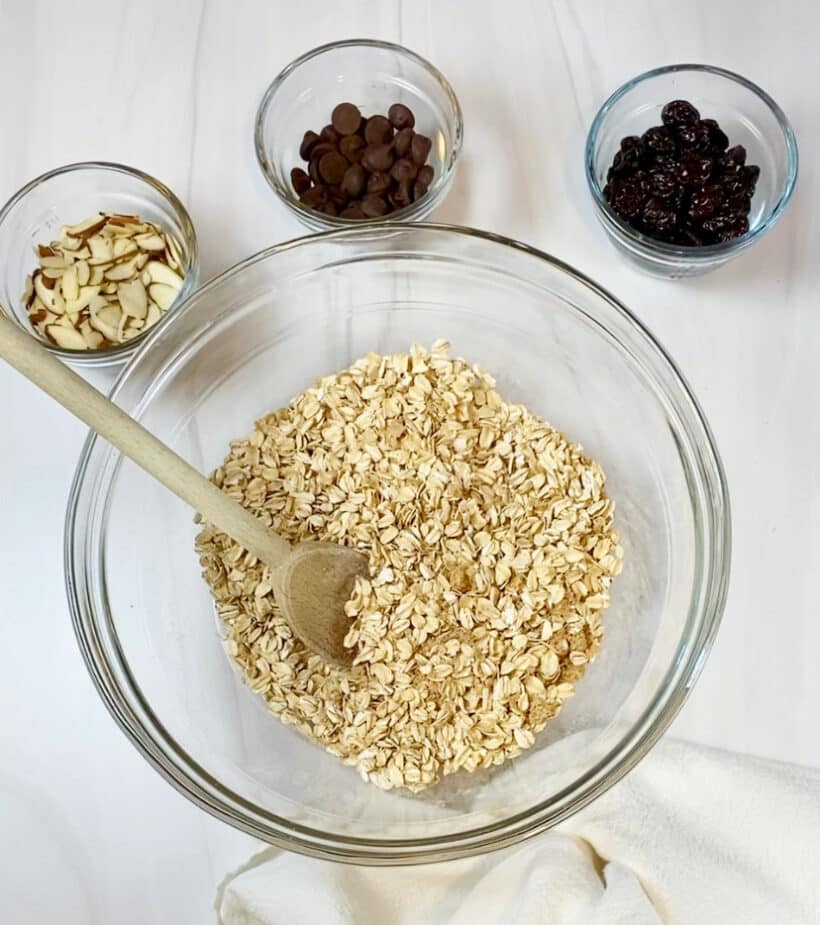 Then, toss in the cherries, almonds, and chocolate chips and get them coated with some of the oat "dust." This will prevent them from sinking to the bottom of the dish while it is baking.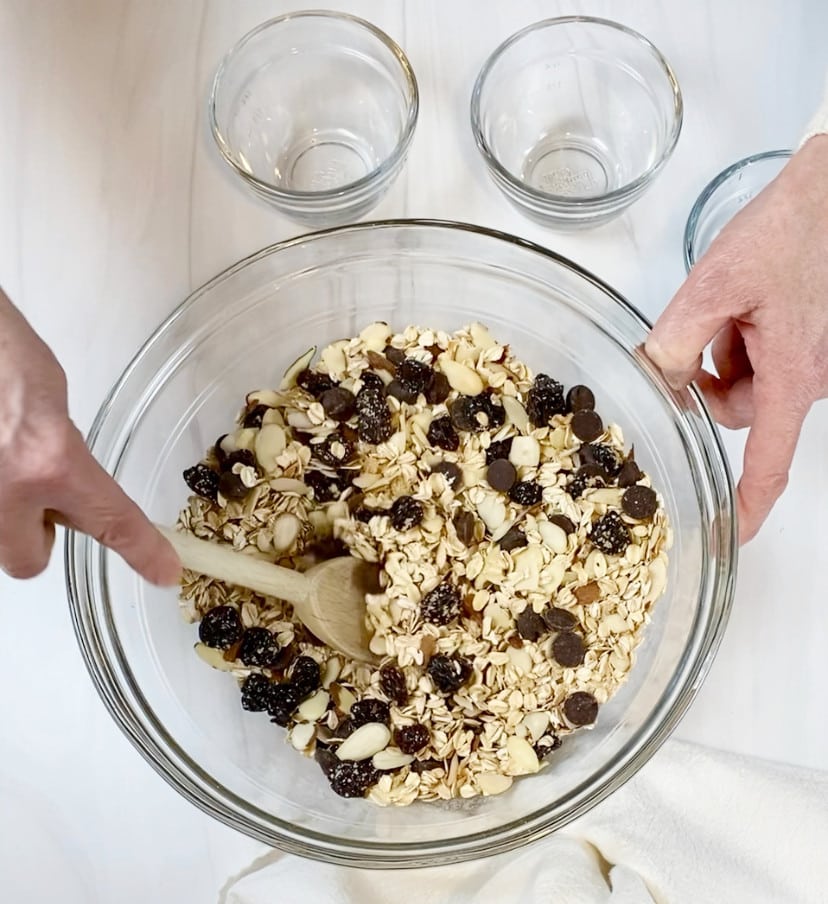 In a separate bowl, whisk the eggs to blend them. Then whisk in the milk and melted butter.
Gradually mix the liquid ingredients into the dry and combine them thoroughly. As soon as they are mixed together, pour the batter into a greased pan and spread them to an even thickness, making sure to get it into all the corners.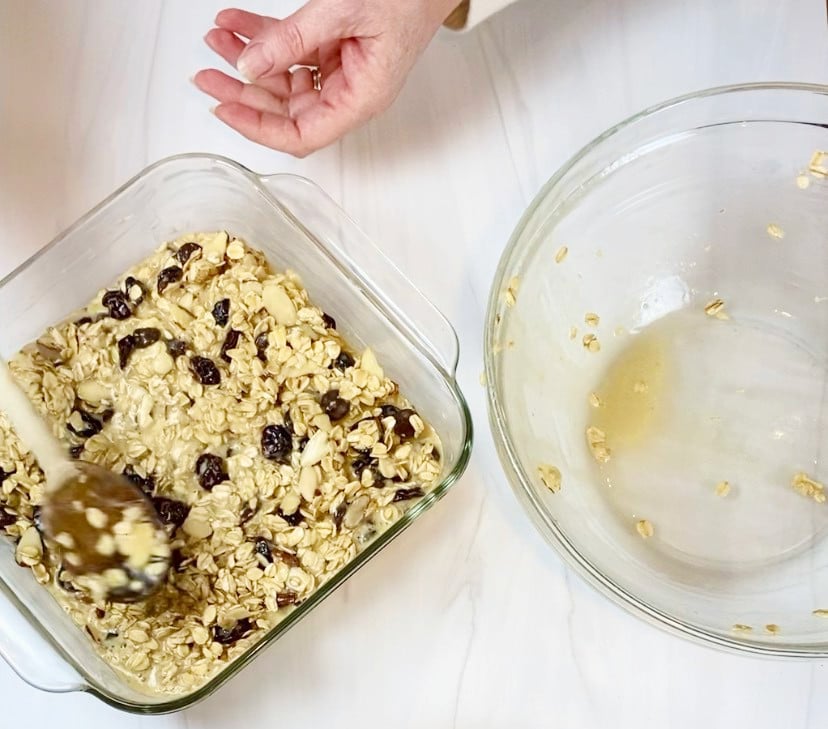 Place the pan in the middle of a preheated oven and bake them for about 45 minutes at 350°F if you are using a glass dish. Raise the heat to 375°f if you are using a ceramic or metal pan.
The baked oats are done when they are firm to the touch, a toothpick comes out clean, and it is slightly brown around the edges.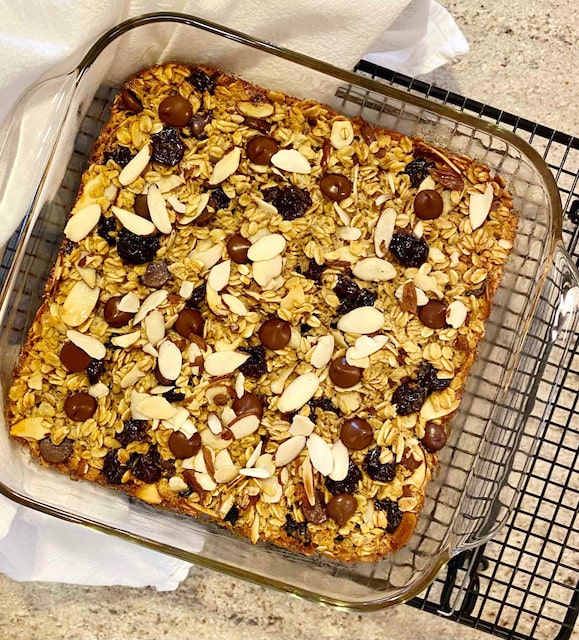 Variations
Here is where you can go crazy! There are hundreds of variations you can make using the base recipe.
Add some apples, walnuts, and cinnamon for a warm and cozy fall flavor.
Try mixing frozen blueberries with chopped pecans and tossing them into the mix for an antioxidant-rich, brain-boosting breakfast.
Mix in peanut butter or almond butter in place of the melted butter for a nutty and protein-rich breakfast. (The dark chocolate chips would still be delicious here!)
Try adding ¼ cup of pumpkin puree in place of 1 egg for something completely different and get some extra healthy antioxidants in. Dried apples and cinnamon and nutmeg would be delicious in this!
I'll work on adding a few more baked oatmeal recipes down the road but if you try any different variations let me know what your favorite is in the comments below!
Storage Tips
Store baked oatmeal in the refrigerator for up to 5 days.
You can also freeze this baked oatmeal. I'd suggest cutting it into 8 slices and then wrapping them individually so you can pull one or two out when you are ready. Thaw them overnight in the refrigerator and then enjoy them cold or reheat them in the oven.
Other Recipes You Will Love
If you're a fan of dark chocolate and cherries you'll love these Chocolate Cherry Biscotti
Need another make-ahead breakfast that is delicious for Valentine's Day (or any day!) then give these Dried Cherry and Almond Scones a try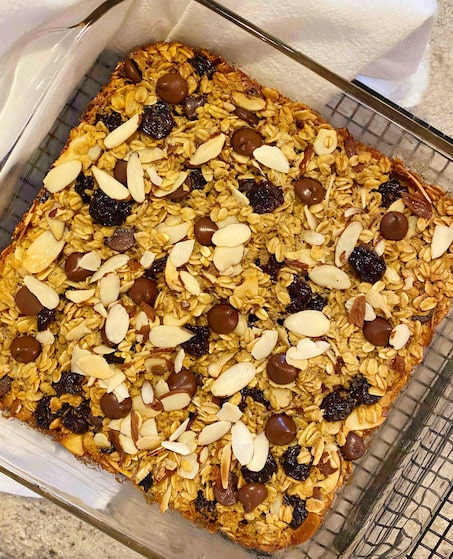 Dark Chocolate Baked Oatmeal with Cherries and Almonds
An easy make ahead breakfast
Ingredients
2

cups

old fashioned oats

⅓

cup

light brown sugar

packed

1

tbsp

baking powder

2

large

eggs

1

cup

almond milk

unsweetened

2

tbsp

unsalted butter

melted

½

cup

sliced almonds

½

cup

dried cherries

¼

cup

dark chocolate chips

at least 62% cacoa
Instructions
Preheat the oven to 350°F for a glass pan or 375°F for a metal or ceramic pan.

Grease an 8 x8 baking pan.

Place oats, brown sugar, and baking powder in a bowl and mix to combine the dry ingredients. Make sure there are no clumps of brown sugar in the mixture.

Add the cherries, almonds, and chocolate chips to the oat and sugar mixture and toss to coat with the oats. This will prevent them from sinking to the bottom while cooking.

In a separate bowl, whisk the eggs and add the milk and melted butter.

Add the milk and egg mixture to the oats and mix well. Pour the mixture into the prepared pan. Make sure the mixture is evenly distributed and gets into the corners. Smooth the top with a spoon.

Place the pan in the middle of the oven and bake for approximately 45 minutes, or until it is firm and a toothpick comes out clean.

Cool on a rack and then cut into pieces.
Nutrition
Serving:
91
g
Calories:
220
kcal
Carbohydrates:
28
g
Protein:
6
g
Fat:
11
g
Saturated Fat:
4.4
g
Polyunsaturated Fat:
1.5
g
Monounsaturated Fat:
4
g
Cholesterol:
55
mg
Sodium:
40
mg
Potassium:
230
mg
Fiber:
4
g
Sugar:
10
g
Vitamin D:
1
µg
Calcium:
100
mg
Iron:
2
mg