It doesn't matter what time of the year it is, stress just seems to be a constant part of our lives. And while there are many tips to alleviate or reduce stress, did you know that there are foods that can reduce stress?
Let's take a look at some of the top foods that can help with stress and why they work. Then we'll tie it all up with a bow with an easy recipe and a festive recipe. You'll be able to start off the new year on a delicious and low-stress foot!
How Foods Help Reduce Stress
Food can play a big role in our moods and some foods can actually help reduce feelings of stress and anxiety. Different foods and nutrients work with some of the hormones in our gastrointestinal (GI) tract and brain that impact how we feel, and how we respond to different situations. What we eat may even help improve our sleep.
Cortisol is a hormone that is important in the fight or flight response but can make us feel more stressed. There are some foods that reduce cortisol or slow its release. Fermented foods like kefir, sauerkraut, and miso help suppress cortisol as do foods that are rich in polyphenols like pomegranates, grape juice, and green tea.
Those same foods can also increase the release of serotonin, a hormone that helps us feel calm and content. Foods that are rich in probiotics, like yogurt and kefir, are good examples of serotonin-releasing foods. Fiber-rich foods, like beans, legumes, and whole grains also have an impact on serotonin levels and we'll talk more about those in a minute.
How about fast food, high-fat, surgery, or carb-heavy foods? Sure, they taste good at the time, and don't get me wrong, sometimes hit the spot, but afterward can make you feel a bit down, tired, and worn out.
And then those times when you feel like you are so busy that you skip a meal. You may notice that you're low on energy, tense, and a bit short-tempered.
Your body is like a car – it needs constant fueling, with the right foods or it will just sputter and struggle along.
What Foods Are Stress Reducers?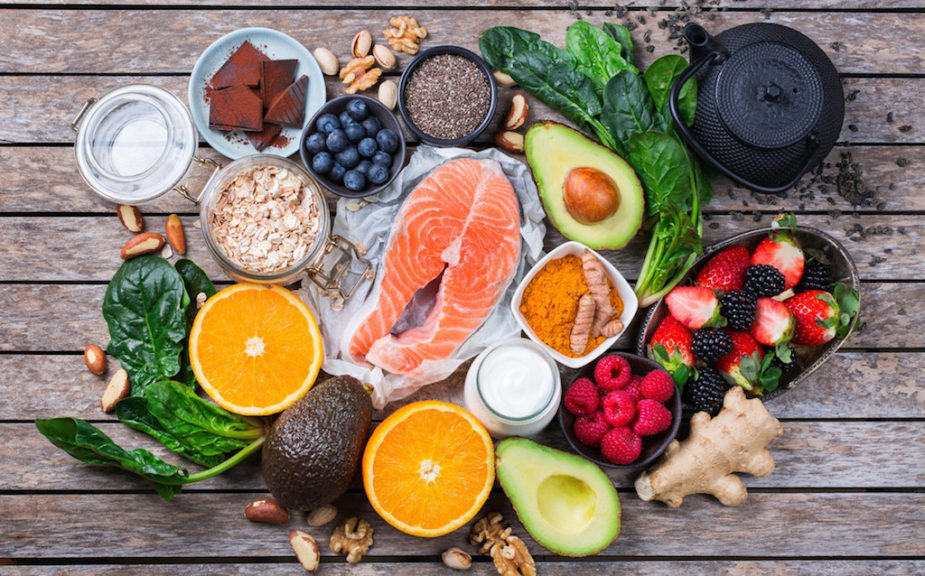 While there are many behavioral approaches you can take to reducing stress, choosing the right foods can also go a long way too. Many of the nutrients found in food work in a variety of ways to help reduce stress. Here are eight foods that you should incorporate this holiday season.
Tea
Green tea, black tea, herbal teas, and a newer to the market, Matcha tea all have properties that can help relax the mind. Every afternoon I treat myself to a cup of tea and curl up with a book or magazine for a half hour. It's just the break I need and rejuvenates me so I can get back to work with a clear mind.
Probiotics
Probiotics work in our gut and feed the healthy bacteria found there. But there is also a brain: gut connection. Probiotics from fermented foods, like kefir, miso, sauerkraut, and kimchi work on the bacteria in your gi tract and improve your mood, calm you and reduce anxiety. Mixing up a smoothie with kefir and berries is a delicious way to start the morning and I love using miso in a dressing or marinade for a little umami flavor boost.
Beans
In addition to being a good source of protein and fiber, beans are rich in magnesium and the amino acid L-tryptophan which is important for controlling our mood.
Eating beans doesn't have to mean just chili! There are so many ways to add beans to your meals and snacks. Adding a can of beans to a vegetable soup like minestrone or my Italian Sausage and Bean soup is a great way to start. They make an excellent addition to salads, added to pasta for a protein boost, or are a good base for hummus or a bean spread or dip. 
Dark Chocolate
Okay, so maybe I said hitting the candy dish for a snack wasn't such a great choice but, there is something to a piece of dark chocolate that can help with your mood. Dark chocolate is rich in flavonoids, antioxidants found in plants that help improve blood flow to your brain.
The more the better, right :)? Seriously though, just a small piece every day will do the trick! Enjoy a little piece after dinner for a treat or add a few dark chocolate chips to some nuts and dried fruit for an afternoon treat.
Nuts
Rich in protein, fiber, vitamin E, magnesium, and polyunsaturated fats, these nutrients may help lower inflammation, protect against stress, and may have a role in reducing anxiety and depression.
I love the way nuts add a delicious "crunch" to salads and love to add them to quick bread and muffins to give them a bit more "oomph" and a little crunch.
Sesame Seeds
Sesame seeds contain tryptophan – the amino acid found in turkey that so many people associate with sleepiness! Tryptophan works with the communication system in our brains to help relax us and boost our mood. Tahini is a paste made from sesame seeds and often used to make hummus which is a great snack that incorporates both brain-healthy beans and sesame seeds and fills you up by providing protein and fiber so it is a win-win and easy snack.
Leafy Greens
Packed with antioxidants that help reduce inflammation, leafy greens are also a good source of magnesium. People who have lower levels of magnesium have higher rates of anxiety. In addition, continued high-stress levels can reduce the amount of magnesium your body stores so adding some spinach, kale, and swiss chard to your meals can replace some of the magnesium that is lost due to stress and get you back to feeling calmer.
Seafood
A central component of the Mediterranean diet (that has been associated with a reduced risk of depression) omega-3 polyunsaturated fats that are found in seafood have been shown to be critical for brain development in infants and some research suggests they may have a role in regulating mood and anxiety. Seafood also tends to be a good source of vitamin B12 and selenium, two nutrients that are important for reducing the risk of depression.
If you are intimidated by preparing seafood at home, check your prepared foods section of the grocery store for cooked salmon filets or crab cakes or just add some tuna or canned salmon to a salad or stir it into pasta for dinner.
Whole Grains
Whole grains are foods like brown rice, whole-grain pasta, quinoa, barley, and oats. Because they are a good source of fiber, they give those probiotics from the kefir and other fermented foods something to work on, helping to calm you and improve your mood. And who doesn't think a big bowl of pasta isn't just the ultimate comfort food? It always puts me in a better mood!
A Holiday Recipe for Stress Reduction
I promised a quick and delicious recipe using some of the foods I mentioned to help reduce stress. While there are many to choose from this one is perfect for getting your morning off to a great start and has probiotics, antioxidant-rich berries, and omega-3s. And for even greater stress relief can be made ahead of time so you can just grab it and go in the morning!
So, if you do nothing else for yourself this week, make this berry smoothie for breakfast and get your day off to a good start.
And don't forget to sign up for my email list for more helpful tips in the new year and be the first to hear about my new cooking classes!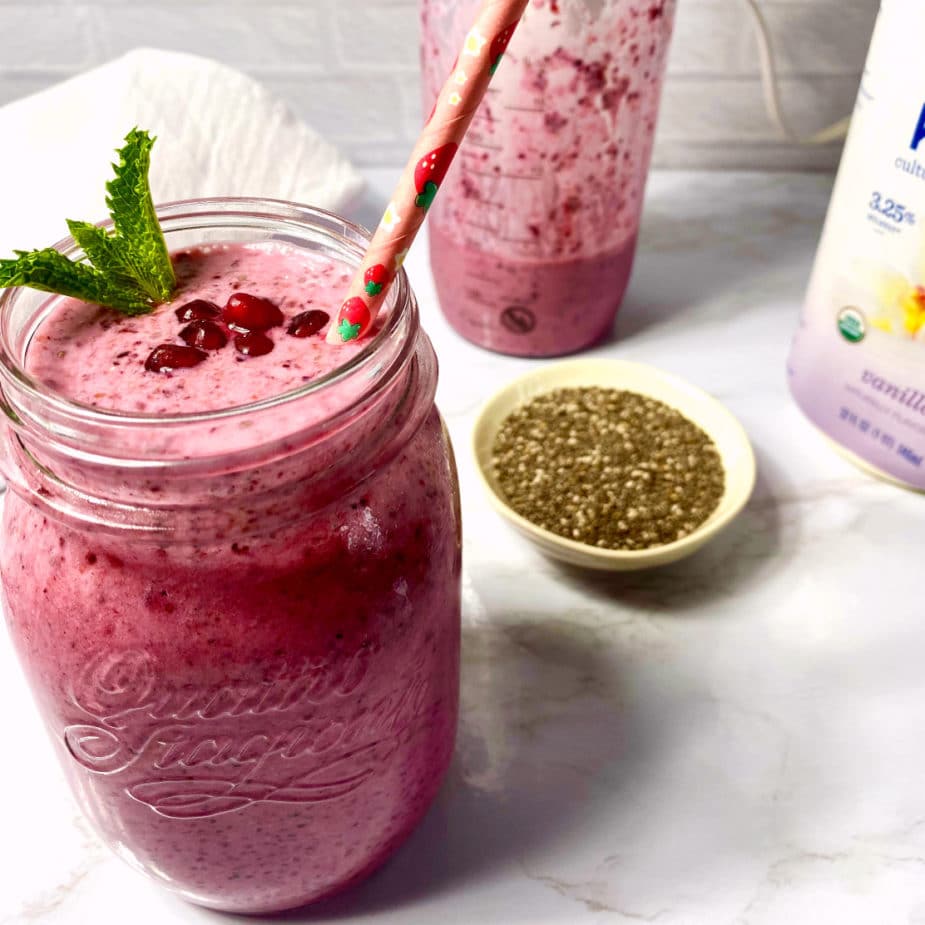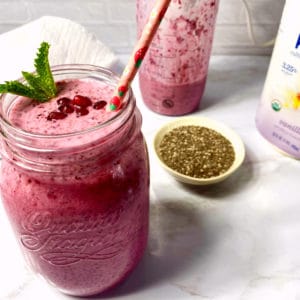 Berry Breakfast Smoothie
This easy smoothie is best made the night before. The kefir and chia seeds keep it perfectly thick!
Equipment
Food Processor or Blender
Ingredients
1

cup

kefir

low fat, vanilla or plain

1

cup

frozen berries

a mix of blueberries, strawberries, raspberries work well

1

tsp

honey or agave syrup

1

tbsp

chia seeds

1

tbsp

pomegranate seeds

for a garnish
Instructions
Place kefir and berries in the bowl of a blender or food processor. (If the berries are frozen solid, allow them to sit for 5 minutes before starting)

Pulse the blender to break up and soften the berries.

Turn the blender on high and blend until the mixture begins to turn pink in color.

Add the agave syrup or honey and chia seeds and blend quickly.

Let it sit for at least 10 minutes to allow the chia seeds to hydrate.

If you aren't enjoying it right away, cover it tightly and store it in the refrigerator. Top with pomegranate seeds before serving.
Nutrition
Serving:
10
oz.
Calories:
320
kcal
Carbohydrates:
56
g
Protein:
10
g
Fat:
8
g
Saturated Fat:
1.5
g
Cholesterol:
15
mg
Sodium:
210
mg
Potassium:
26
mg
Fiber:
13
g
Sugar:
38
g
Vitamin C:
20
mg
Calcium:
360
mg
Iron:
1.5
mg