Can't you just feel it? You know it's coming – warm, carefree summer days. I don't know where you are, but here in the northeast there was a chill in the air and frost warnings almost every other night until just recently! It finally feels like summer is here!
This Italian Bean Salad is the perfect lead into the summer. It's hearty enough for a chilly night, but light enough for a picnic at the beach! This salad will become a regular part of your summer routine.
Honestly though, this hearty, protein packed salad brings me back to a trip we took to Italy and through Tuscany. Why? In Tuscany, meals are based on fresh ingredients like pasta, beans, bread, tomatoes, vegetables and cured meats but prepared simply without a lot of "fuss".
This Italian Bean Salad illustrates this perfectly: hearty and filling but uses fresh, beautiful ingredients like peppers and cannellini beans
You can use it as a base and add cubes of provolone cheese and salami or keep it vegetarian and just enjoy the beans and vegetables – the choice is yours! I've made it both ways!
What are Italian Beans?
The beans I used are cannellini beans. They really are my "go-to" bean and are traditional to many Italian dishes. They are standard fare in Tuscan and southern Italian dishes and are also known as white kidney beans.
I like them because they are easy to work with, relatively bland, and combine with many flavors. They are also "meaty" while remaining nice and tender, so they are easy to eat. They are a key part of any Mediterranean diet: they work well in everything from salads to soups and pureed into creamy sauces because they are so tender.
What is the Mediterranean Diet?
It is not so much a diet as a lifestyle. Research has consistently shown us that people who live in the Mediterranean countries live longer and are generally healthier than western populations. Why? Well, it has to do with both what they eat and how they live.
The Mediterranean diet focuses on fruits, vegetables, legumes, and whole grains along with seafood, olive oil and red wine. Well, who wouldn't love eating all those things? (As I sit here enjoying a glass of red wine while I write away!)
Seriously though, this lifestyle is something we can all benefit from. The research shows that those following the Mediterranean diet have lowered risk of heart disease, high blood pressure, type 2 diabetes, and many types of cancer and contribute to healthy aging. (1) The best part is, it isn't complicated! It really is easy to adopt many of the habits.
This salad is just one easy way to start! With fresh vegetables and protein from the beans and an extra virgin olive oil dressing, it's a delicious plant-based meal that is light enough for a summer dinner but hearty enough to fill you up.
Making an Italian Bean Salad
This must be one of the easiest salads you'll ever make. I used canned beans, well, because it's easy, I always have them in my pantry and once you rinse and drain them, they are ready to go. I usually buy the reduced sodium can and then rinsing them you wash off more of the salt which helps too.
Then, it's as simple as chopping some peppers and red onion and mixing them into the beans.
Add some balsamic vinegar, EVOO, basil, oregano and garlic powder and if you want a kick, some crushed red pepper flakes. I also add a little salt and pepper to help bring all the flavors to life! Store it in the fridge until you are ready to serve it.
Feeling like you want it to be a bit heartier? Just toss in some cubed provolone cheese or salami. Use this as a guide and add what you like!
I added it on top of mixed greens but you could eat it by itself. It's so good!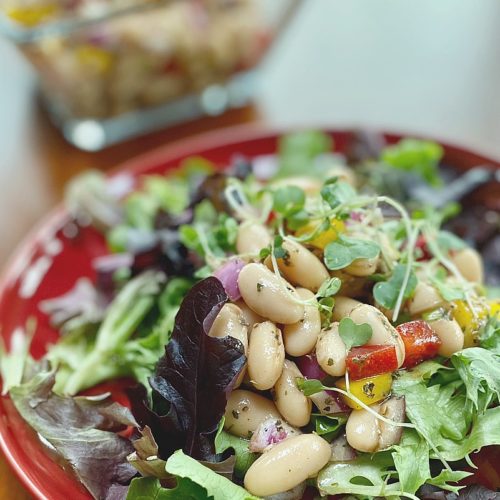 Italian Bean Salad
Picture yourself sitting on a terrace overlooking Tuscan Vineyards as you dive into this classic Italian Bean Salad. With tender cannellini beans, peppers and onions in a light balsamic vinagrette, it will be a delicious addition to your summer salad routine
Ingredients
Salad Mix
1

15 oz.

can cannellini beans

rinsed and drained

1/4

cup

diced red onion

soaked for 10 minutes in cool water

3/4

cup

diced red pepper

3/4

cup

diced yellow pepper

1/2

cup

diced tomato
Balsamic and EVOO Dressing
2

tbsp

white balsamic vinegar

1/4

cup

extra virgin olive oil

1/2

tsp

dry basil

1/4

tsp

dry oregano

1/8

tsp.

red pepper flakes

1/4

tsp

garlic powder

1/4

tsp

salt

1/4

tsp

ground black pepper

5

cups

salad
Instructions
Place beans, onions and peppers in a medium bowl.

Whisk dressing ingredients together in a separate medium bowl.

Drizzle dressing over bean mix. (Use about 1/2 – reserve the rest to toss with the lettuce if you desire)
Nutrition
Serving:
1
cup
Calories:
250
kcal
Carbohydrates:
24
g
Protein:
8
g
Fat:
14
g
Saturated Fat:
2
g
Sodium:
280
mg
Potassium:
630
mg
Fiber:
3
g
Sugar:
4
g
Vitamin C:
90
mg
Calcium:
120
mg
Iron:
4
mg