One of my favorite things about spring is all the fresh produce that lines the grocery store shelves and looks so lush, fresh and appealing. This time of year it's pineapples, mangos, asparagus, and baby greens that are calling my name! More than ever I'm looking for ways to lighten up my meals and adding a fruit salsa like this spring mango salsa recipe is one of the most delicious ways to lighten things up. It is perfect on fish, roasted or grilled chicken and tacos – or just as a quick snack with some homemade chips!
Why Mangos?
Today you can usually find mangos anytime of the year in most grocery stores, but in the spring, they are more often ripe when you buy them and juicy and ready to eat. I love their citrusy and sweet flavor and can eat them just as they are, mixed in a salsa like this or for breakfast, topped with yogurt and a bit of granola.
They are grown in warmer climates and while native to India and Asia, they are also grown in California, Florida and Hawaii so we can typically find them throughout the year.
Mangos are loaded with vitamins and minerals and a 3/4 cup serving has only 70 calories. 50% of the daily value of Vitamin C and are a good source of folate and fiber . A mango's bright yellow/orange color lets us know that it is full of beta-carotene, lutein and other carotenoids.
How to Choose and Ripen a Mango
There are different types of mangos from a delicate and sweet champagne mango to the more common Hayden and Tommy Atkins mangos that are available in early spring. These have a greenish-yellow skin with a hint of red in some varieties. Contrary to popular belief, the red skin is not indicative of ripeness! In the summer months, you may see greener varieties of mangos called Kent or Keitt mangos. They are all fairly sweet and citrusy but my favorite are the types that are available in the Spring. Maybe because I'm just ready for any sign of warm weather I can find!
A ripe mango will have a slight give when pressed lightly. Sometimes the stem end will have a slightly sweet smell but the feel is the best way to know if they are ripe. If you buy a firm mango and you want to use it within a day or two, put it in a paper bag and leave it on your kitchen counter for a day or two. Mangos are strong ethylene producers and the bag traps ethylene gas and will help ripen it more quickly.
How to Cut a Mango
If you have ever tried to cut through a mango you may have hit a hard seed in the middle and, if you are like me, have gotten frustrated and just cut it the best you could but ended up with a mushy mess. And thought – how in the world do people get those beautiful mango dices or slices in their dish? Honestly, once you learn this trick you'll be amazed at how easy it is. You can click on this video to watch me demonstrate it or follow the steps below:
A mango has 2 sides, called "cheeks". In the middle of the mango is a long narrow seed, that is hard as a rock! You need to cut the cheeks off, leaving the center.
I cut in about 1/3 of the way in and slice each cheek off. You should avoid the seed this way.
Take one side and score it with your knife. Make long slices down the cheek but being careful to not cut through the skin. Then score it the other way so you have a crosshatch pattern.
Once it is scored, take a spoon and work your way around the mango. Gently work the skin away from the fruit. The sections should fall away into nice clean dices. You may need to do a little trim work if you didn't cut close enough to the skin, but that is the easy part.
Now you have beautifully cut pieces of mango. They are ready for salsa, fruit cup or to toss on top of cereal or a salad.
Mangos are ancient symbols of life, love and happiness! I'll buy that – I certainly feel full of life, happiness and, well yes, love when I eat them! If you aren't familiar with mangos, this spring mango salsa recipe is a great introduction!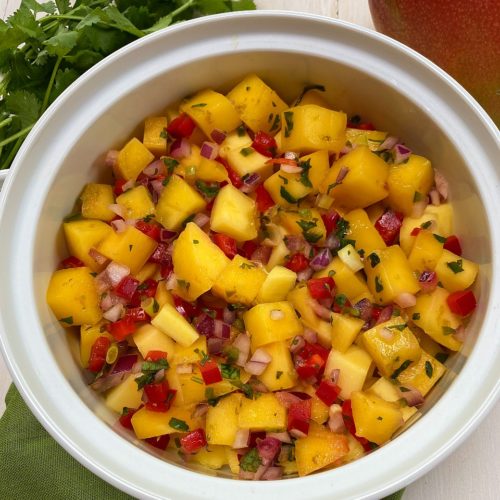 Spring Mango Salsa Recipe
A zesty salsa that is perfect for grilled fish or chicken
Ingredients
1

each

mango, diced

(about 2 cups)

1/4

cup

diced red bell pepper

1/4

cup

small diced red onion

1

tbsp

minced jalapeno

1

tsp.

chopped scallion

(light green part)

2

tsp.

lime juice

1

tsp.

lime zest

1

tbsp

chopped, fresh cilantro

1

tsp

honey

optional

1/4

tsp.

salt
Instructions
Place all chopped vegetables in a medium bowl adn toss to combine.

Stir in lime zest, lime juice, cilantro and honey (if using) and mix thoroughly.

Add more cilantro, jalapeno and salt to taste.
Nutrition
Calories:
20
kcal
Carbohydrates:
5
g
Sodium:
60
mg
Potassium:
20
mg
Fiber:
0.5
g
Sugar:
4
g
Vitamin C:
8.5
mg