I love the slow pace of a weekend morning and having Valentine's Day fall on a weekend this year is a treat! It means I can make a special breakfast as well as having a nice dinner at home. That is where these dried cherry almond scones come in.
One of my treats to myself every week was to stop at one of my favorite coffee shops on my way into work every Thursday morning. Why Thursday? I couldn't wait until Friday LOL! Honestly, it was a good day for me to stop, and a nice reward for getting most of the way through a week at work! It wasn't just a really good cup of coffee I treated myself to on those mornings, but a scone was usually part of my order. Typically blueberry, but if they had something special, I'd mix it up. That started my love affair with scones.
Now, I make my own and use whatever dried fruit and nuts I have in my pantry. This combination has become one of our hands down favorites! Cherry's and almonds with a hint of orange in the sweet drizzle on top. And they will be perfect on Valentines day morning.
They are pretty easy to make, light and a little sweet. I use milk in place of cream and added some whole wheat flour and think they turned out perfectly! The whole wheat flour adds a bit of texture to them, and probably a little extra fiber and nutrition. The milk instead of heavy cream cuts the saturated fat down and makes them a bit lighter and more nutritious. The cherries add some sweetness so you don't use a lot of sugar in these.
Making substitutions to "healthify" a recipe
So, here are my thoughts for making healthier substitutions when I cook. I will substitute what I can to make foods healthier, but not so much that it takes away from the flavor or texture of the food. I mean, you want to enjoy what you are eating right? Food should be delicious and you should enjoy every bite.
For baked goods, I usually take a regular recipe and change one ingredient and see how it works. I started with just a basic scone recipe and modified it a little each time I made it. I started with using milk in place of heavy cream. The milk works just fine in place of the cream. Honestly, the butter provides all the flakiness the scones need. Cream would make them a bit moister, but they don't need it.
If I like it and think there is room to adjust something else, I'll give that a try. The next round I tried using some whole wheat flour in place of some of the all-purpose flour. Whole wheat flour adds some texture and flavor. You really can't go "all-out" whole wheat flour, though. You would end up with a terribly dense, heavy, and dry scone. Substituting 1/4 to 1/3 of the all-purpose flour with whole wheat is about as far as I'll go.
So, while not overly "healthy", I've worked some nutritious tricks into these dried cherry and almond scones so that they aren't too bad and are still absolutely delicious!
Making the Scones
This is honestly a pretty simple recipe and easy to throw together on a lazy weekend morning. First, put all of the dry ingredients in a large bowl and whisk them together well. Why whisk them? You want to make sure the baking powder, salt and sugar combine with the flours so everything distributes evenly when you add the other ingredients.
Next, add the butter in pieces and either "cut" it in with a pastry cutter or use 2 forks and mash it in. You can also use your fingers if you find the forks to be cumbersome but keep your hands cold. If they are warm they'll melt the butter and you won't end up with flaky scones! I've run mine under cold water a few times during the mixing if I need to mix it that way to keep them cold. You want to have "pea-size" pieces of butter throughout the flour.
Then, add your dried fruit and nuts and toss those well with the flour mix. Why? Coating the fruit and nuts with the flour helps them "stay afloat" – they won't sink to the bottom of the scone when they start baking.
Next, beat the eggs, milk, and almond extract in a medium bowl and then add it to the flour mixture and mix it until combined. You should still see little pieces of butter throughout the dough. The butter is what gives the scone its flaky layers so you want to make sure you can see the pieces.
Once the ingredients are combined, break the dough into 2 balls and place them on a baking pan lined with parchment paper and flatten them to ~ 6-inch circles. Cut each into 6 triangles and gently separate the triangles slightly so they have room to "grow".
How to get scones to rise
Now, head over to the oven and preheat it. Yes, this is contrary to most other recipes! You want to give your scones some time to rest. You've worked them hard! Seriously, allowing them to rest on the counter for a good 15 minutes, before putting them in the oven will allow the flour time to relax and hydrate a bit and which helps make them more tender and allows them to rise a little more.
Once the oven is at the right temperature, pop them in the oven and wait! They will be done in about 15 minutes. They should be light brown and firm to touch. Remove from the oven and place on a rack to cool.
Once cooled, drizzle with the powdered sugar, orange glaze and sit back and enjoy these dried cherry and almond scones with a hot cup of coffee or tea.
Don't like or have cherries or almonds? Just substitute what you do have! Any type of dried fruit, nut, or even chocolate pieces will work deliciously in these! Happy Valentine's Day! What are you doing to make it a special day?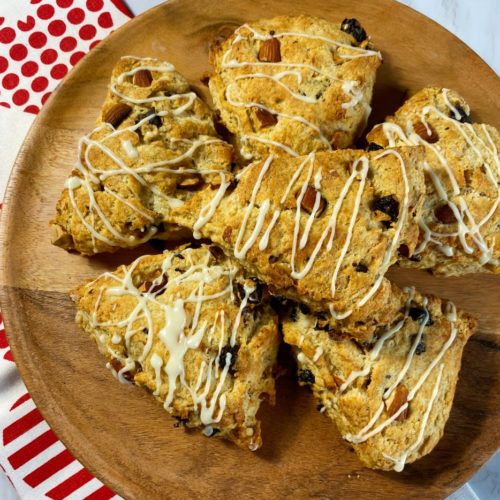 Cherry Almond Scones
Light and almondy, these can be a perfect part of a delicious Valentine's Day breakfast – or any day of the week!
Ingredients
2

cups

all purpose flour

3/4

cup

whole wheat flour

1/4

cup

sugar

1/2

tsp

salt

1

Tbsp

baking powder

1/2

cup

unsalted butter

1/2

cup

chopped, dried cherries

1/2

cup

chopped almonds

2

eggs

1/2

cup

milk

2%

1-1/2

tsp.

almond extract
Icing Drizzle
1/4

cup

powdered sugar

1

Tbsp

orange juice
Instructions
Whisk together all-purpose flour, whole wheat flour, sugar, salt and baking powder.

Cut butter into the flour mixture with a pastry cutter or two forks and work it until the butter is mixed in and in small pea size pieces.

Toss in chopped cherries and almonds and coat thoroughly with the flour mixture.

In a small bowl, whisk eggs, milk and almond extract together until well combined.

Add milk and egg mixture to the flour mixture and stir until just combined and the dough can be formed into 2 balls.

Line a baking sheet with a piece of parchment paper and sprinkle with a little flour.

Place each ball of dough on opposite ends of the baking sheet and pat into a ~6 inch circle. Cut each circle into 6 triangluar pieces and separate slightly on the baking sheet.

Set the baking sheet aside and begin preheating the oven to 425F. This will give the scones ~15 minutes to rest which will help them rise.

Once the oven is preheated, place the scones in the middle and bake for ~15 minutes, or until browned. Remove from oven and cool on a rack.

Once cooled, drizzle with the icing.
Nutrition
Serving:
1
scone
Calories:
280
kcal
Carbohydrates:
35
g
Protein:
6
g
Fat:
13
g
Saturated Fat:
5
g
Cholesterol:
50
mg
Sodium:
250
mg
Potassium:
140
mg
Fiber:
3
g
Sugar:
11
g
Calcium:
70
mg
Iron:
2
mg