I know, it's freezing outside…so why am I talking about salad dressing? While I love light summer salad, there is something about the hearty vegetables and fruits in a winter salad that are just so good. Then, when you add a zesty and rich vinaigrette dressing and you have a bold and healthy addition to a winter meal. While the grocery store is full of a variety of dressings (and I always have some store-bought dressing in the fridge) I love to make my own vinaigrette dressing, like this Cranberry Orange Walnut Vinaigrette.
I guarantee you won't find this dressing on any grocery store shelf and it is delicious on this beet and goat cheese salad. I think I've mentioned at least once how much I love Beet and Goat Cheese salads! So, after making my roasted beets a few weeks ago, I had plenty leftover to whip together a few of these salads and came up with this dressing to go with it.
Making A Vinaigrette Dressing
First things first, how to make the dressing. Making your own vinaigrette is probably one of the easiest things you can make from scratch. Just remember this ratio: 3:1. That is 3 parts oil to 1 part acid. Now, with that said, you can vary it if you like a little less oil and more of a bite or vice a versa. I tend to go more toward a 2:1 ratio because I like less oil and a little more "bite", so there really aren't hard and fast rules.
You can use any type of oil but the most common is extra virgin olive oil or a lightly flavored oil like pure vegetable oil or grapeseed oil.
The acid is typically vinegar, like red wine, balsamic, or cider vinegar. But other types of acid work well too. Citrus juices are my favorite in a vinaigrette dressing and are delicious on a winter salad like this beet and goat cheese salad.
Then, it's just a matter of adding a little sweetness to balance or tone down the acidity, some salt and pepper, and other spices and herbs. You could also add minced garlic, minced shallots, or even finely chopped nuts to a vinaigrette.
Vinaigrettes are honestly one of the easiest recipes to experiment with and make your own. Scroll down to read how I made this dressing , or watch the video to see it in action!
Walnut Oil
I've used walnut oil in dressings before and I really love the rich, nutty flavor it brings to a dressing. Walnut oil is also rich in polyunsaturated fats and high in the Omega 3 fatty acid, ALA which has heart-protective and anti-inflammatory benefits, so I love working it in when I can.
Walnut oil is a perfect oil for a salad dressing because it is so flavorful but also because it has a low smoke point so it doesn't work well when heated. I use the La Tourangelle Walnut Oil, which is my favorite. They roast their walnuts before pressing so you get an almost smokey, nutty walnut flavor.
It also complements orange and cranberry flavors in this vinaigrette nicely and doesn't overpower them. I did split it with olive oil and used 1 part walnut oil and 1 part extra virgin olive oil for 2 reasons: 1) walnut oil is expensive and 2) I wanted to just have a hint of the rich walnut flavor.
Cranberry and Orange Juice
For this dressing, you'll notice I did not use any vinegar. I felt the cranberry juice – note it is 100% pure cranberry juice, not cranberry juice cocktail – and the orange juice provided enough acidity that I didn't need any additional vinegar. If I had used any, I would have used a white balsamic vinegar so as not to overpower the dressing, but honestly, it didn't need it.
Seasonings
I added a little orange zest to bump up the orange flavor, a little salt and pepper, and 1 tsp. of agave syrup to balance the flavors a bit. If you don't have agave syrup, a little honey or 1/2 tsp of granulated sugar mixed in would work too.
Making the vinaigrette
This is the hardest part, and it's really pretty simple. Put your two oils in a medium bowl. In a small measuring cup mix the cranberry juice, orange juice, and orange zest. Start whisking the oil and slowly pour the juice into the oil, continuing to whisk. You want the juice to blend in with the oil, or emulsify, which just means the oil and juice are suspended together and don't separate.
There you have it! It is ready to drizzle over this hearty beet and goat cheese salad. Have you made your own vinaigrette? Tell me how you make yours in the comments below!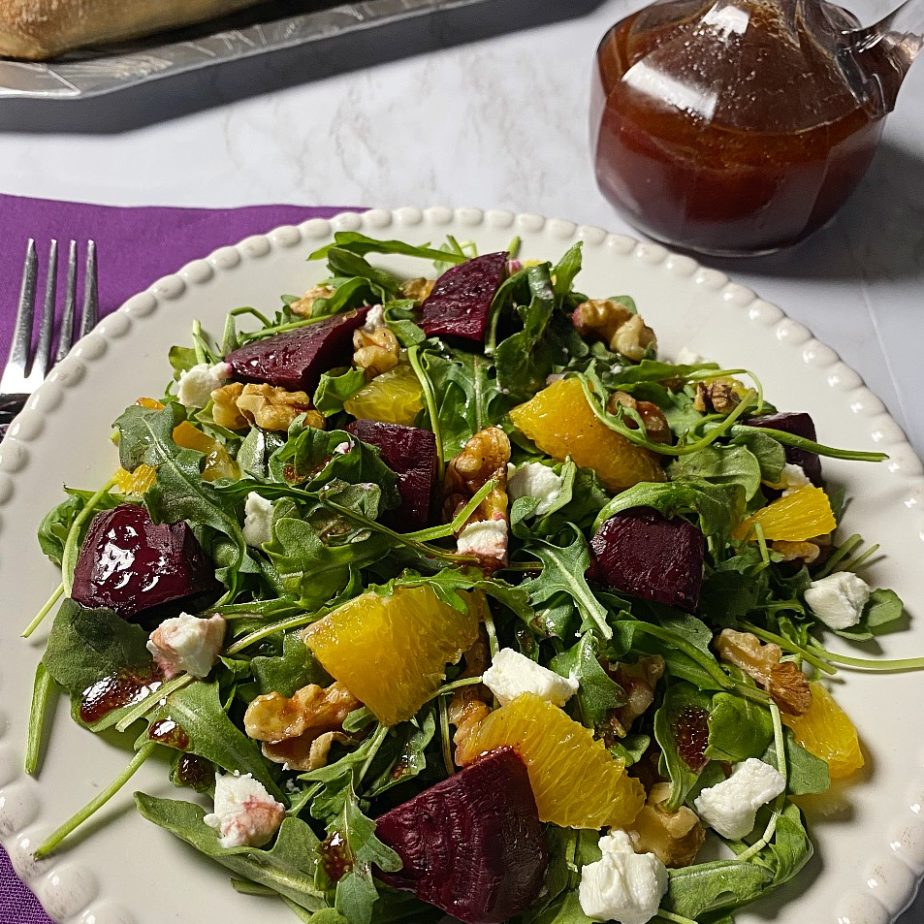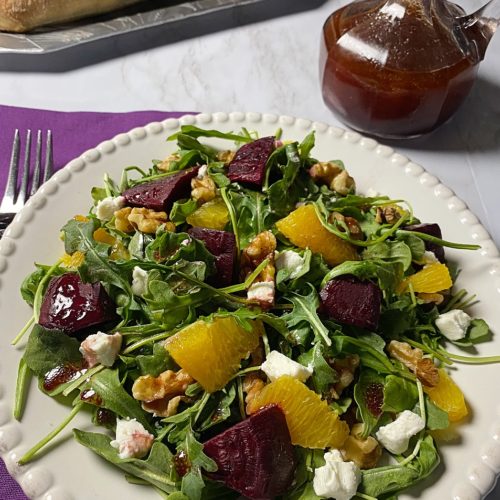 Beet and Goat Cheese Salad with a Cranberry Orange Walnut Vinaigrette
A hearty winter salad with a zesty cranberry dressing.
Ingredients
Cranberry Orange Walnut Vinaigrette
1/4

cup

Extra Virgin Olive Oil

1/4

cup

Walnut Oil

1/4

cup

100% cranberry juice

(a shy 1/4 cup)

2

tbsp

orange juice

1

tsp

orange zest

1

tsp

agave syrup

1/8

tsp

black pepper

1/8

tsp

salt
Beet and Goat Cheese Salad
4

cups

salad greens

1

cup

roasted, sliced beets

2

oz.

goat cheese

crumbled

1

orange

segmented

2

tbsp

walnuts

toasted
Instructions
Make the Vinaigrette
Place the oils in a medium bowl.

In a small measuring cup, mix the cranberry and orange juice and orange zest. Gradually start whisking the oils and slowly add the juice to the oils while continuing to whisk. Whisk until the dressing is a light pick color and the oil and juices are emulsified, or thoroughly combined.

Add the syrup, salt, and pepper, and whisk. Set aside.
Salad
Place lettuce greens on a large platter. Add the beets and orange segments throughout the salad. Top with walnuts and crumbled goat cheese.

Drizzle the dressing over the salad and serve.
Nutrition
Calories:
200
kcal
Carbohydrates:
11
g
Protein:
5
g
Fat:
16
g
Saturated Fat:
4
g
Cholesterol:
10
mg
Sodium:
130
mg
Potassium:
325
mg
Fiber:
3
g
Sugar:
8
g
Calcium:
100
mg
Iron:
1
mg