Cold snowy days are the perfect days for a cozy bowl of soup. The more veggies and beans the better and that is why Pasta Fagioli is one of my favorite winter soups. Making it in the InstaPot means I can use regular dry beans, which are one of my pantry staples, but also means I don't need to deal with all the soaking and long day of cooking the beans before they are ready to use. I love cooking with dried beans but rarely did. Now, I love to experiment with them!
Cooking in an Insta Pot is a bit of a misnomer. Food doesn't always cook in an "instant". It definitely depends on the ingredients you are using and what you are making. I love using dried beans but usually used canned beans as a way to save time, and still do most of the time. But, the InstaPot does is allow me to use regular dried beans with none of the hassle of soaking them overnight. Plus, they always turn out perfectly…as long as you know a few tricks.
Cooking Dried Beans
So, you don't need to soak these babies if you pressure cook them, but they are still finicky. If you have an acidic ingredient, like tomatoes in this recipe, you still need to add them at the end of the cooking. Sorry, you can't dump everything in the pot and cook it! The acid in the tomatoes interferes with the softening of the bean leading to tough beans. So…word of warning. Just be patient – add the tomatoes and spices at the end!
I don't add any extra salt to this recipe. The stock and the tomatoes have enough and, I've heard that salt can also interfere with the tenderness of the beans. If you need to add a little extra – add it at the end. Honestly though, a sprinkle of parmesan cheese on the top and I think you'll find it's just perfect as is.
Tips for making the soup
For the broth, I either use homemade stock or I use a lower salt canned broth. It's a personal preference, but I like to season my soup myself and would rather add some salt if needed later than have it too salty!
If you aren't going to serve this right away, cook the pasta separately and add it just before serving. It won't soak up all those delicious flavors, but if the pasta sits in the broth too long it just gets mushy and well, no one likes mushy pasta!
The soup freezes nicely, but if you know ahead of time you are going to freeze it, hold off on the pasta and cook some right before serving and ladle the soup over top. Trust me, you will thank me for that!
Well, I've had fun playing with my InstaPot and trying old recipes in new ways. This easy Pasta Fagioli is one of our favorites! Yes, you could make it on the stove with canned beans, but here, the beans soak up all that good pancetta and onion flavor and I think make it that much better!
What is your favorite InstaPot meal? Let me know in the comments – I'd love to hear and try new things!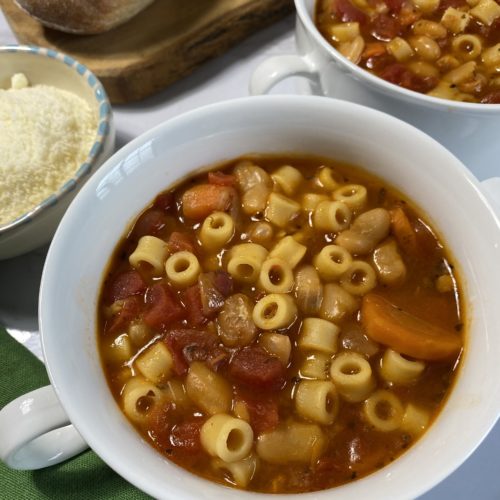 InstaPot Pasta Fagioli
A classic hearty Italian bean soup is made with dried cannellini beans in an Instapot
Ingredients
4

oz.

diced pancetta

or bacon

1/2

cup

chopped yellow onion

1

cup

sliced carrots

about 3 medium carrots

1

tsp.

minced garlic

1

cup

dried cannellini beans

1, 14.5

oz.

can diced tomatoes

5

cups

chicken broth

1

cup

small pasta, like ditilini

1/2

tsp.

dried basil

1/4

tsp.

dried oregano
Instructions
Wash your hands and all produce before preparing.

Set the Instapot to saute mode for 8 minutes and add the pancetta. Brown on all sides, turning occasionally. Remove it from the pot to a paper towel-lined plate. Drain off all but ~ 1 Tbsp. of the fat.

While the pot is still hot, add the onions, carrot, and garlic and saute for an additional 2 minutes.

Add the beans and chicken broth. Seal the InstaPot and set it to the soup/stew setting on high pressure for 40 minutes. Make sure the release valve is set to "sealed"

Once it is done, allow the steam to release naturally. This will take an additional ~30 minutes.

Once the steam is fully released, open and add the tomatoes, pasta, basil, and oregano and set it on the "rice mode for 12 minutes. Once it is done you can either allow the steam to release naturally or manually express it.

Serve with sliced bread and parmesan cheese.
Nutrition
Serving:
1.25
cups
Calories:
220
kcal
Carbohydrates:
32
g
Protein:
11
g
Fat:
5
g
Saturated Fat:
2.5
g
Cholesterol:
10
mg
Sodium:
770
mg
Potassium:
470
mg
Fiber:
10
g
Sugar:
3
g
Vitamin C:
8
mg
Calcium:
70
mg
Iron:
3
mg