Beets Cooked in 100% Cranberry Juice with Sliced Oranges
By posting this recipe I am entering a recipe contest sponsored by Juice Products Association and am eligible to win prizes associated with the contest. I was not compensated for my time.
Winter is a great time of the year for hearty root vegetables and one of my favorites is beets. They have always been a favorite of mine, but mostly reserved for when we are eating out. It is even kind of a joke for us. When we look through menus to either see where we want to eat, or more recently, what restaurant we want to order out from, Mark will see an arugula salad with roasted beets and say, "well, I know you'll like this one…they have a salad with beets!"
But, honestly, for as much as I love roasted beets, I rarely cooked them at home. Why? Well, they can be kind of intimidating. Everything from buying them to prepping them to cooking. The first time I cooked them I was a bit overwhelmed. But honestly, once you've cooked them once, you will wonder why you never tried them before! They really are easy to prep and cook and they are so much better prepared at home than buying them canned or pickled. Beets are pretty versatile and mix well with a lot of other foods.
I've always roasted my beets on a sheet pan with a few slices of orange for a little flavor, but I had some 100% Cranberry Juice in the fridge and decided to try cooking them in the juice. I have to say, the juice added a brightness to the beets. Beets are naturally pretty sweet, so the tart cranberry juice really brought them to life.
Okay, so the beets are naturally sweet and full of beta-carotene and vitamin C, why add juice on top of them? Well, cranberry juice has additional benefits. It's also high in Vitamin C, along with Vitamin E, along with something called proanthocyanidins, a type of antioxidant. These antioxidants are what give the cranberry its tannic flavor, but also have potential health benefits including reducing the risk of heart disease, cancer, and possibly the risk of recurring urinary tract infections. More research is needed, but one thing is for sure, including juice in various ways in your diet is healthy.
As a matter of fact, according to the Dietary Guidelines for Americans, one cup of 100% fruit juice (like this Cranberry Juice) is equivalent to one cup of fruit and contains similar nutrients to the fruit it is squeezed from. Juice complements fruit and when consumed in appropriate amounts, is an easy and affordable way for both children and adults to meet their daily fruit goals.
Adding cranberry juice to this recipe not only boosts our fruit intake but makes these beets that much more versatile! 100% Cranberry juice adds a crisp, tartness to the beets making them delicious by themselves, pureed in a smoothie, or mixed into a farro or arugula salad. And if you decide to puree them, make sure you add the juice to the puree to get that tart cranberry flavor!
So, back to beets. Here are a few tips for buying, storing and cooking beets.
How to Buy Beets
Always, always, always, buy them with the greens attached. First, you know they are fresh (unless the leafs are wilted, in which case look for others). Second, you get two vegetables out of it. The greens are delicious cooked on their own or added to a salad. They have a bit of a bitter flavor, but sautéed with garlic in olive oil, they are delicious!
When you are looking at them, make sure the root or bulb is firm. If it is the least bit soft, put it back or know that you will need to cook it right away. Make sure the greens are fresh and bright. If they are wilted, put them back.
Storing Fresh Beets
Once you get them home from the store or farmers market, wash them well, greens and bulb. Cut the greens off , leaving about 2 – inches of the stem on. Dry both the greens and the bulb well. Wrap the greens in a damp paper towel and place them in a Ziploc bag, making sure to get all the air out. The greens will keep this way for a day or two so be sure to have plans to use them! For the beet "bulb", let them air dry and make sure they are completely dry before storing in the crisper drawer of your refrigerator. They should keep for 2 – 3 weeks this way, but check them often and use them as soon as you can. If they start to feel a little soft, use them right away.
Prepping Beets for Cooking
This is when I started to get intimidated…I know how bright purple they are and was always worried about staining anything they touched! I read about how you should wear gloves to peel them so you didn't stain your hands, and then there was always the worry about the cutting board and counters. Well, honestly, as long as you work quickly and wash everything right away, it really isn't an issue! So, here is what I do:
Cut the stem and bottom of the beet off.
Peel the beet quickly.
Cut into quarters or eighths.
Place in a baking dish.
Roasting Beets
This is the really easy part! Once they are in the dish, I add a 1/2 an orange, sliced and quartered. Then pour 1 cup of 100% Cranberry juice over top. I add 1 tsp of fennel seeds, 1/4 teaspoon of salt and about 1/4 teaspoon of freshly cracked black pepper. Then cover the dish with aluminum foil and place in a preheated 350F oven and "roast" for 30 – 45 minutes. You'll know they are done when a knife pierces the beet without resistance.
There you have it! Simple roasted beets in cranberry juice. Or really, oven poached beets in cranberry juice, but you get the idea. This recipe makes 4 servings and with 90 calories per serving, it has 20 grams of carbohydrates, 3 grams of fiber, and 2 grams of protein per serving. It is an easy side dish or add the beets to a an arugula salad or puree them with the juice and mix the puree into rice or risotto, or use it as a bed for sliced pork tenderloin or roasted chicken.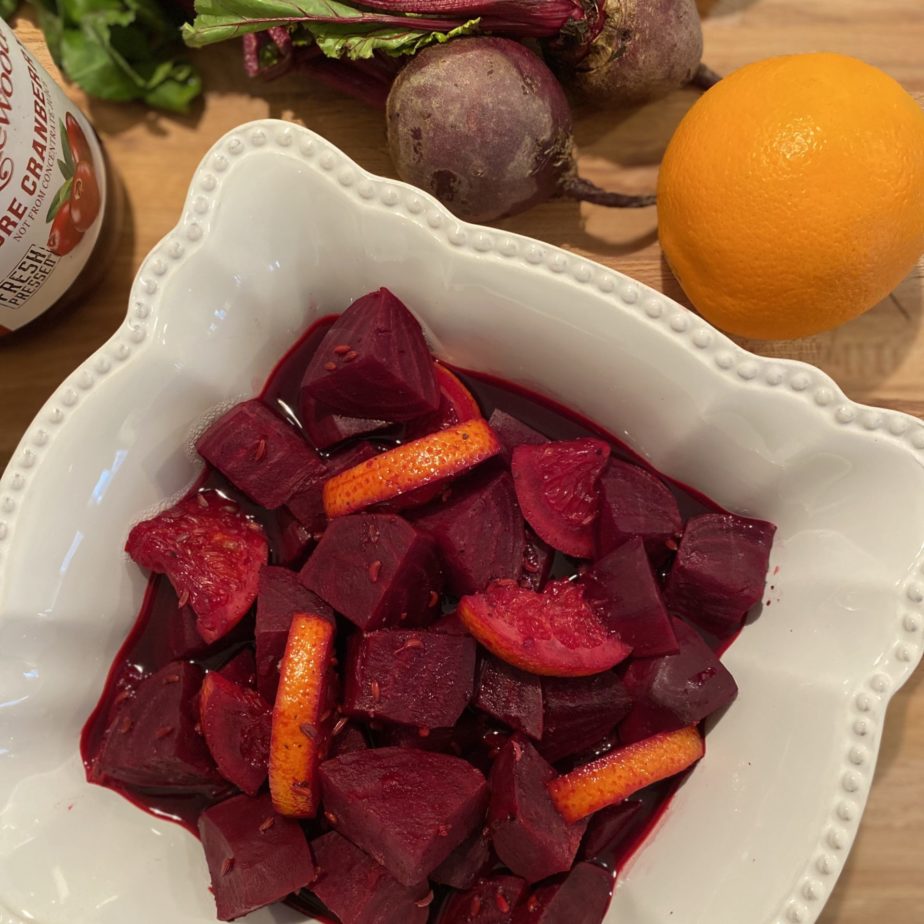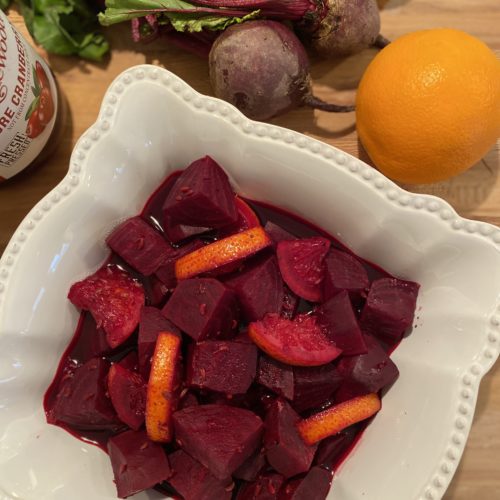 Roasted Beets in Cranberry Juice
Beets roasted with cranberry juice and orange slices
Ingredients
1

lb

fresh beets

washed, tops removed, peeled, and diced

1

cup

100% cranberry juice

1/2

orange

sliced and quartered

1

tsp

fennel seeds

optional

1/4

tsp

salt

1/4

tsp

groudn black pepper
Instructions
Place beets, orange slices in a 13 x 9 baking pan.

Pour cranberry juice over top the beets and oranges and sprinkle with fennel seeds, salt and pepper.

Cover the baking pan tightly with aluminum foil and place in the center of the preheated oven.

Bake for 30 – 45 minutes, until the beets are tender. A knife pierced in the center of a beet will not meet any resistance.

Serve with the reduced cranberry juice drizzled over top.
Nutrition
Abdur Rauf, Muhammad Imran, Tareq Abu-Izneid, Iahtisham-Ul-Haq, Seema Patel, Xiandao Pan, Saima Naz, Ana Sanches Silva, Farhan Saeed, Hafiz Ansar Rasul Suleria. Proanthocyanidins: A comprehensive review,
Biomedicine & Pharmacotherapy, Volume 116, 2019, 108999, https://doi.org/10.1016/j.biopha.2019.108999.