Updated: August 29, 2022
Growing up we didn't eat a lot of desserts or sweet snacks in our house. When we did they were often fruit-based and they were always a special treat. One of my favorites was Fig Newtons – remember those? Soft and chewy and oh so yummy! Here's my homemade take on them – a spiced oatmeal fig bar recipe!
When I discovered dried figs as an adult, memories of those after-school treats came rushing back! I recently found some dried figs in my pantry and what better way to use them than in a soft and chewy cookie?
These are the perfect treat with a cup of tea on a chilly fall afternoon!
Another reason for this recipe is that I was reading about figs in a new cookbook from the California Fig Advisory Board. It is packed full of recipes and information on figs and I thought I'd share some of what I learned and experiment in the kitchen with them too.
Let's take a look at figs and then jump into the recipe.
Types of Figs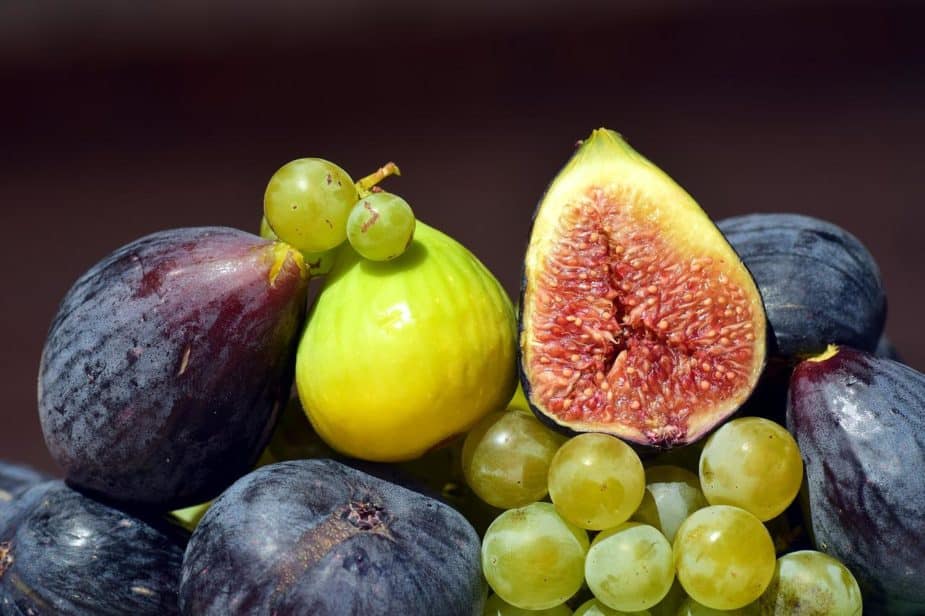 I knew figs were grown in the US but honestly thought most of the figs we can get in our grocery stores were grown in the Mediterranean area. Nope – guess again! The vast majority of figs that we can purchase are grown in California!
There are 6 main varieties of figs found in the US:
Mission

– This is the type I see in our stores most often and the kind that I buy dried. They are deep purple in color – almost black on the outside and light pink on the inside. They are rich, sweet, and savory. I love to eat them fresh or chopped and added to a salad.

Kadota

– These figs have a light green color on the outside but are a rich, dark pink hue on the inside. They are supposed to have a much milder, almost bright flavor. I've only ever found these dried in our local stores.

Brown Turkey

– These are a lighter purple color on the outside, with the tip (stem end) a light green. I did find these last fall at our local Whole Foods. I would describe them as a little milder flavor than the Mission Fig, but still rich and flavorful.

Sierra

– These are also light green in color similar to the Kadota fig, but have a very pale interior. They are often dried as well and dry to a light brown color.

Tena

– These figs are grown to be dried. They are a light brown color and dry to a light brown color and have a rich smooth flavor.

Tiger

– A rich green color on the outside, with stripes from the stem to the end. They are described as having a bright, citrusy flavor. I'm anxious to find these next summer because they sound delicious! They have a shorter season and are only available July – November.
Dried Figs
Dried figs are available year-round and also come from California.
When figs are grown for dried fruit processing, they are already partially dried when picked. To finish the drying process they are laid out in the sun and dried in only 4 – 5 days. Even dried, they are chewy but not "wet". They can be stored for 6-8 months in your pantry in an air-tight container.
The most common type of dried figs are either Mission or "Golden". The Golden variety could be a Tena, Kodata, or Sierra fig. Dried Mission figs are dark and have a rich, intensely sweet, and savory flavor. Golden figs have a lighter flavor. I honestly prefer the deeper, rich flavor of a Mission fig. They are delicious tossed into a salad or rice pilaf.
Chewy, slightly sweet, and deliciously fruity, dried figs are amazing in sweet and savory recipes. My all-time favorite way to enjoy them though is in a sweet treat like a cookie. They just bring me back to my childhood and comforting times, which is why I came up with this Spiced Oatmeal Fig Bar recipe.
Fig Nutrition
Figs really are a powerhouse when it comes to nutrition. In a serving of figs (3 – 5 figs, depending on the size) you'll get a whopping 5 grams of fiber – that is 20% of what you need in a day.
They also have more calcium, potassium, magnesium, and iron than many other fruits. 1/2 cup of figs has as much calcium as 1/2 cup of milk! They also have more antioxidants per serving than even a glass of red wine. Don't get me wrong…I won't substitute them for my wine in the evening, but they pair nicely with it and I get the added benefit of even more antioxidants!
Okay, enough about that – dried figs are delicious, easy to add to many dishes, and the fact that you get a nutritious boost, well that is just an added benefit in my book.
How to Make Spiced Oatmeal Fig Bars
This spiced oatmeal fig bar recipe is super easy to make. Because it is a bar recipe – it's really just mixing the ingredients together, putting them in a pan, and baking! How easy is that?
So let's dive right in!
Start with softened butter and gradually beat in the sugar. Beat the butter and sugar together until they are light and fluffy. This makes the cookie nice and airy and gives the leavening agents (in this case a little baking powder) a better ability to rise in the oven.
Add the eggs and beat the mixture well.
In a separate bowl, mix all the dry ingredients together.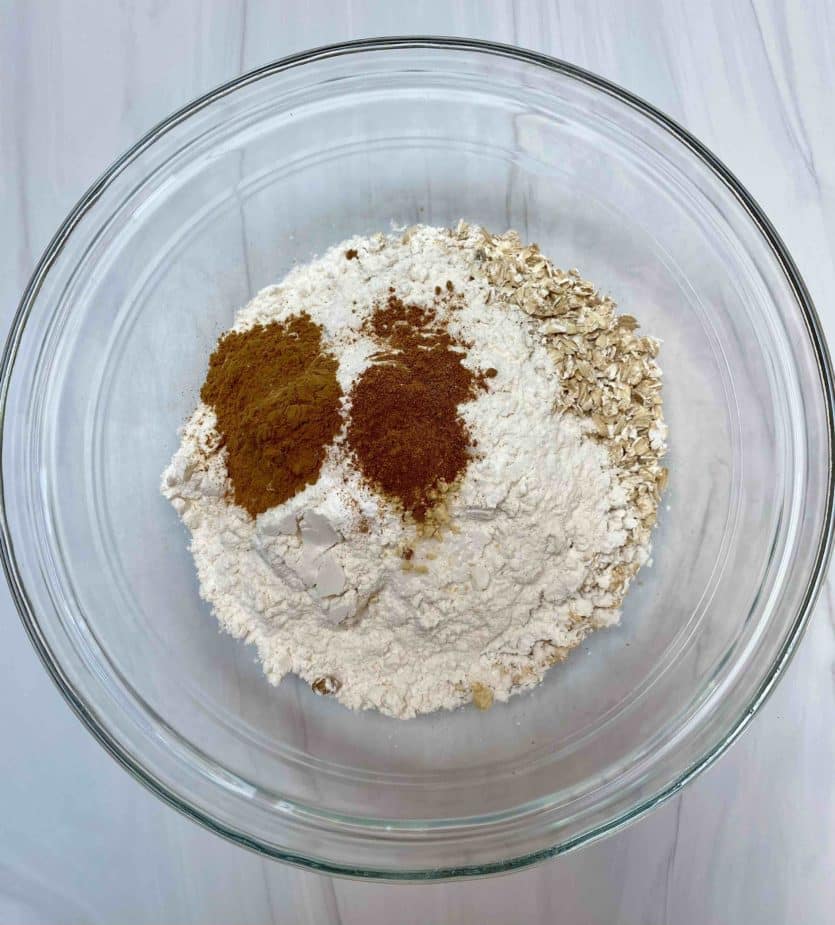 Then toss the figs and walnuts in with them to coat. Why? Coating heavier ingredients like the figs and nuts with flour will keep the figs from sticking together, allowing them to distribute more evenly through the dough.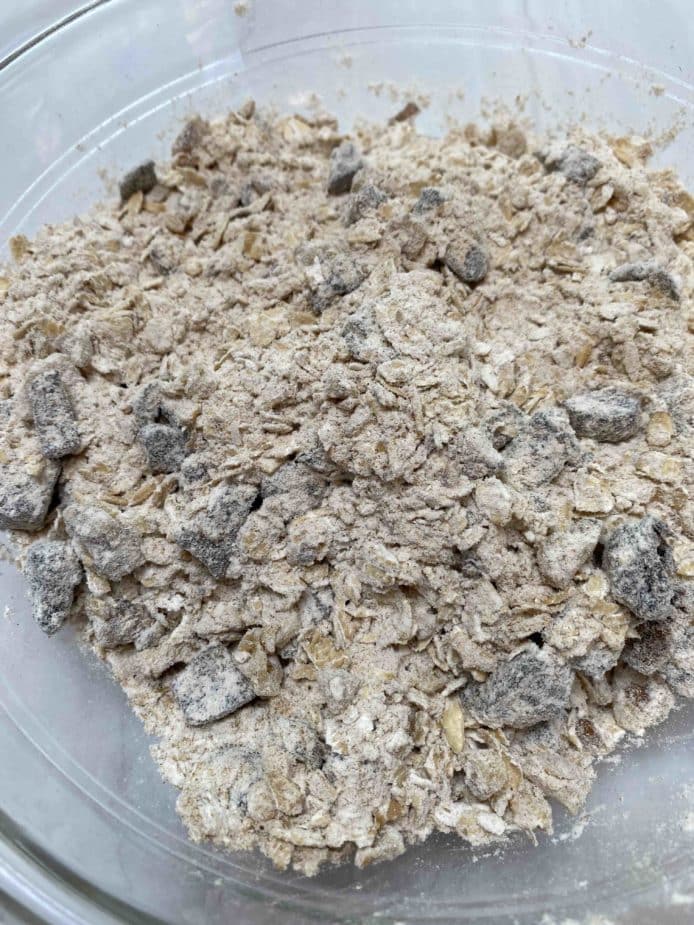 This is important – just before you are ready to combine the dry ingredients with the wet, grate the apple and squeeze it so it is dry. I grate the apple by hand with a cheese grater and then squeeze the shredded apple with a paper towel, reserving the juice to enjoy later!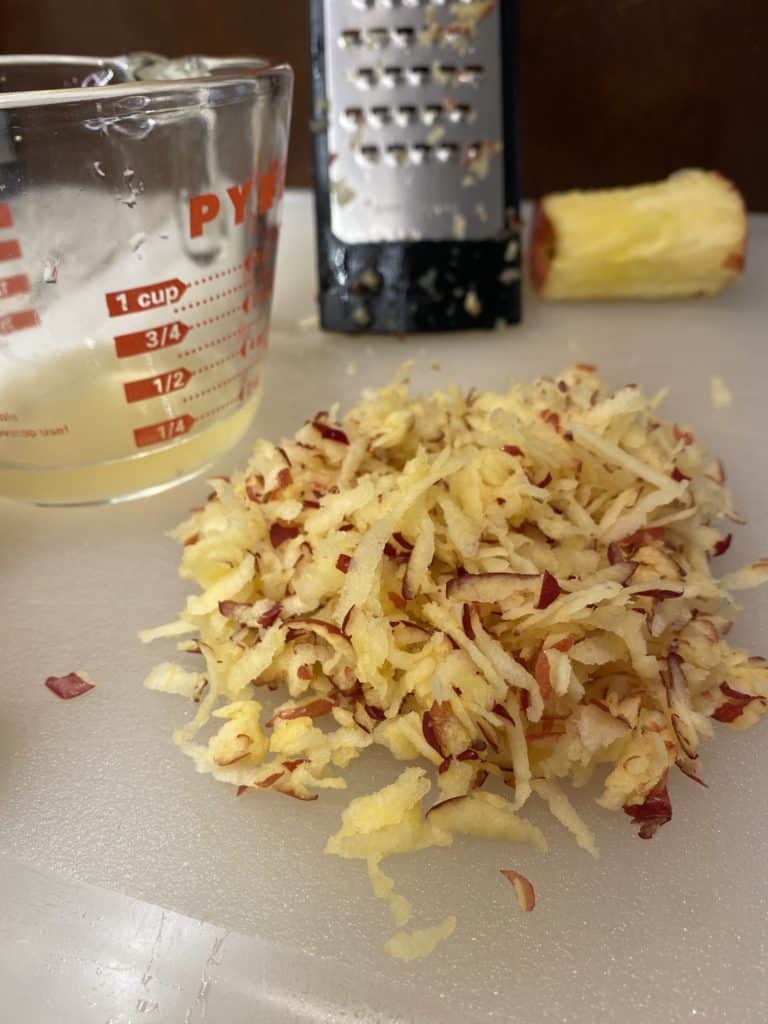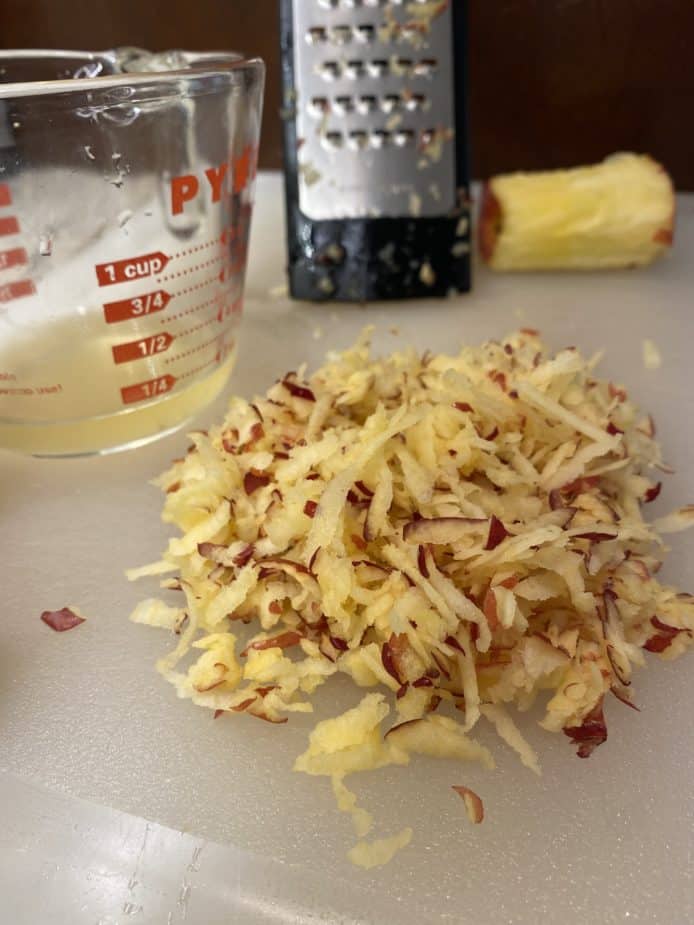 Then, mix it into the butter and egg mixture. This keeps it from turning brown on you!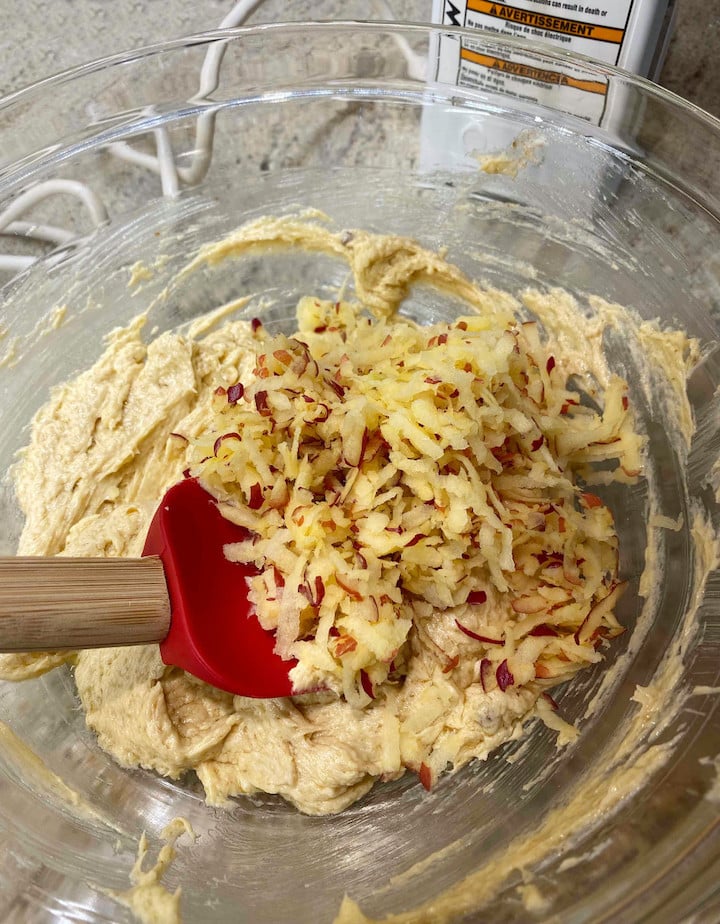 Mix the dry ingredients into the wet.
Pat the mixture into your prepared pan and bake!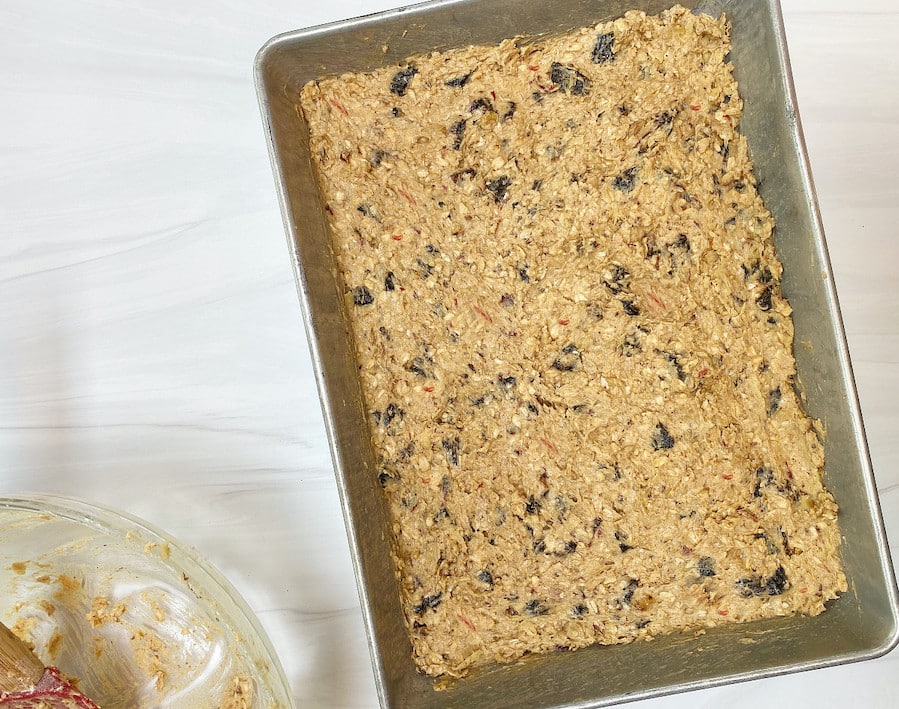 Just 30 minutes in the oven and your house will smell amazing!
Once they are finished, cool for 10 – 15 minutes before you cut them – this gives them time to set up! (I know…they smell so good it's hard to wait! They are a soft and chewy, and perfect with a cup of tea!
I love these spiced oatmeal fig bars because they are a bit healthier than other cookie recipes. Each bar has about 230 calories, 2.5 grams of fiber, and 3.5 grams of monounsaturated fat. They are relatively low in sodium. So, a bit better than a normal cookie, plus they are filling!
Other Recipes You Might Like
If you like just slightly sweet treats, you will love these other recipes!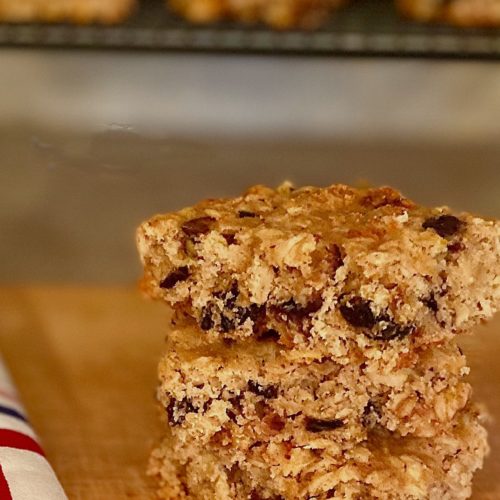 Spiced Oatmeal Fig Bars
Warm winter spices mixed with apples, oatmeal and dried figs in a soft, chewy cookie bar.
Ingredients
1

cup

butter

softened

1/4

cup

light brown sugar

packed

1/4

cup

granulated sugar

2

eggs

2

cups

regular oatmeal

1

cup

all purpose flour

1/2

tsp.

baking powder

1/4

tsp.

salt

1

tsp.

ground cinnamon

1/2

tsp.

nutmeg

1/4

tsp.

ground ginger

1

cup

dried figs

chopped

1/2

cup

chopped walnuts

toasted

1

Honeycrisp apple

grated and squeezed dry (~1/2 cup)
Instructions
Wash your hands and make sure all the equipment is clean and dry.

Preheat oven to 350F. Butter a 13 x 9 baking pan and line with parchment paper.

Cream butter and sugar for ~ 2 minutes, until light and fluffy.

Add eggs to butter and sugar mixture, one at a time and beat until thoroughly combined.

In a separate bowl, mix oatmeal, flour, baking powder, salt, and spices together. Toss chopped figs and walnuts in and mix thoroughly to coat them well. (this will help prevent them from sticking together and will distribute them more evenly throughout the finished bar.)

Add grated apples to the butter, sugar and egg mixture and mix well.

Gradually add the oatmeal and flour mixture and mix well to combine.

Spread dough evenly in prepared baking pan.

Bake in the middle of the preheated oven for 30 minutes or until browned and a toothpick pierced in the center comes out clean.
Nutrition
Serving:
1
bar
Calories:
230
kcal
Carbohydrates:
28
g
Protein:
3
g
Fat:
12
g
Saturated Fat:
7
g
Cholesterol:
50
mg
Sodium:
60
mg
Potassium:
140
mg
Fiber:
2
g
Sugar:
12
g
Calcium:
40
mg
Iron:
1
mg