Making your own granola is an easy endeavor and usually a healthier option. Okay, Dark Chocolate Hazelnut Granola? Dark chocolate in granola really? I know it sounds decadent, but hear me out!
I thought when I came up with the idea that it might be too much, but I did some quick calculations and found out that my version is lower in fat and added sugar – plus, it is just plain amazing! But you'll have to try it to find out 🙂
What makes it so amazing? I think it has just enough chocolate flavor and a perfect balance of sweetness. You can still taste the nuts too, despite the chocolate coating.
This is an easy breakfast treat and it would make a fun homemade Christmas gift for friends!
Let's dive in and I'll show you how easy it is to make.
What You Will Need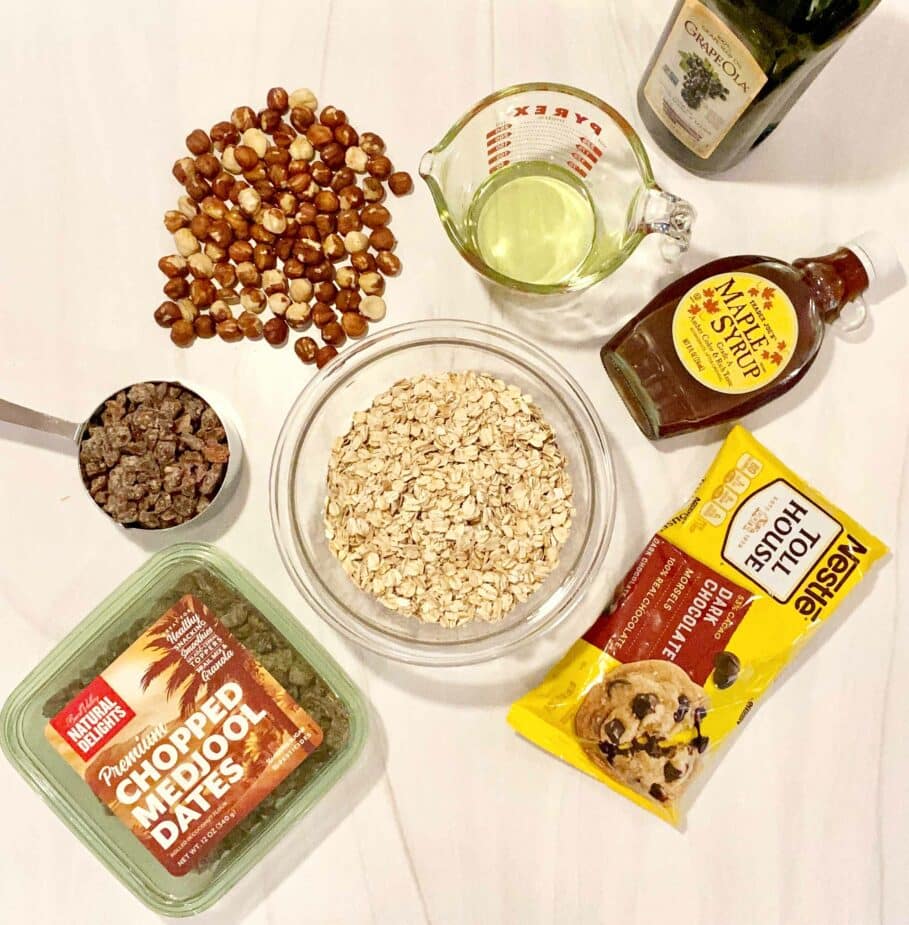 Oats
Old-fashioned oats work best here. You could also use steel cut but just don't try quick cooking or instant. They won't crisp up as well.
Hazelnuts
Hazelnuts (also called filberts) probably aren't a staple in most of our pantries but they should be! These round little guys are native to the Mediterranean and are commonly paired with dark chocolate. Nutella® anyone? That is honestly probably why I decided to use them in this recipe!
Dark Chocolate
As I've said before, a little dark chocolate goes a long way! You really don't need much to get a rich chocolatey flavor. I used dark chocolate chips in this recipe, but you could also use a bar of dark chocolate chopped roughly as well.
Dates
Dates bring a natural sweetness to this recipe which allowed me to cut way down on the amount of syrup I added. Prechopped dates are easy to find and the brand I used had a coconut flour coating which kept them from clumping together. You could certainly chop them yourself and toss them in a little almond flour if you want.
Maple Syrup
You get just a hint of maple flavor in the granola but I think you'd miss it if you swapped it with honey or agave syrup. I love how it pairs with the dates and hazelnuts. You don't need much, just ¼ cup.
Oil
For this version, I used a mild, almost flavorless grapeseed oil. I didn't want the oil to compete with the other flavors. You need a little oil to help crisp up the granola but I found ¼ cup is enough. Any more and I think it would be too greasy.
Vanilla Extract
I added this at the last minute and I think you'd miss it if you didn't add it. You don't need any other spices or other strong flavors but the vanilla helps tone down the chocolate a bit, at least in my mind it does.
How to Make Dark Chocolate Hazelnut Granola
Start by lining a sheet pan with parchment paper. This makes clean-up so much easier!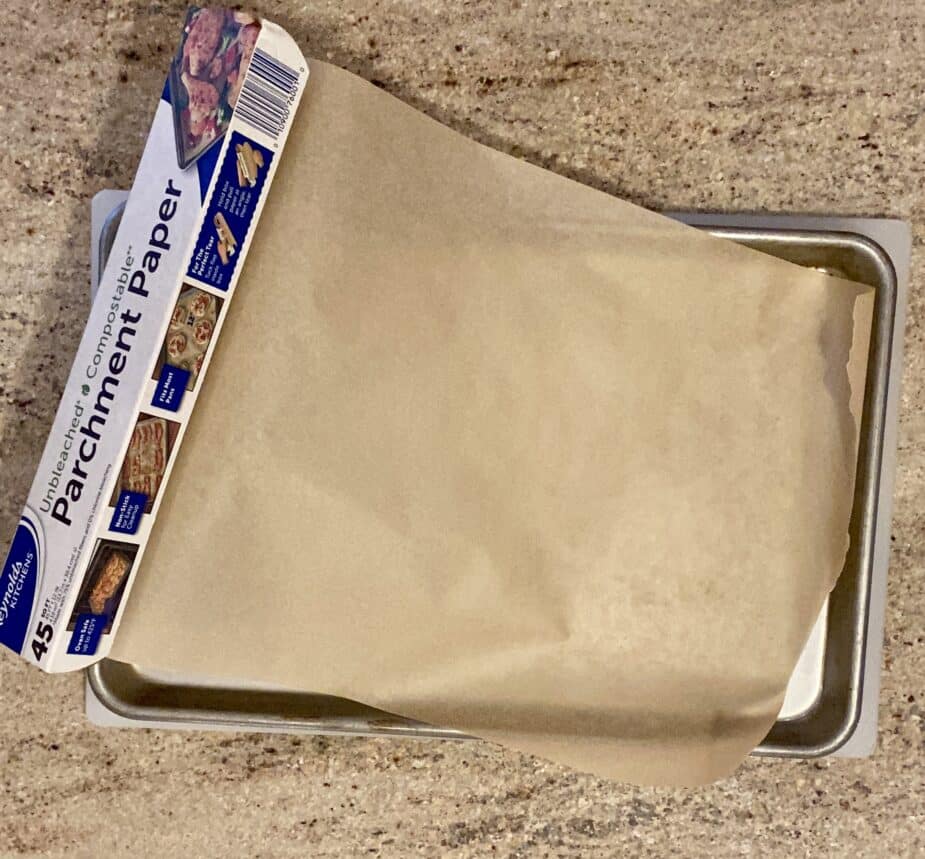 Then, combine the oil, syrup, and vanilla in a large bowl.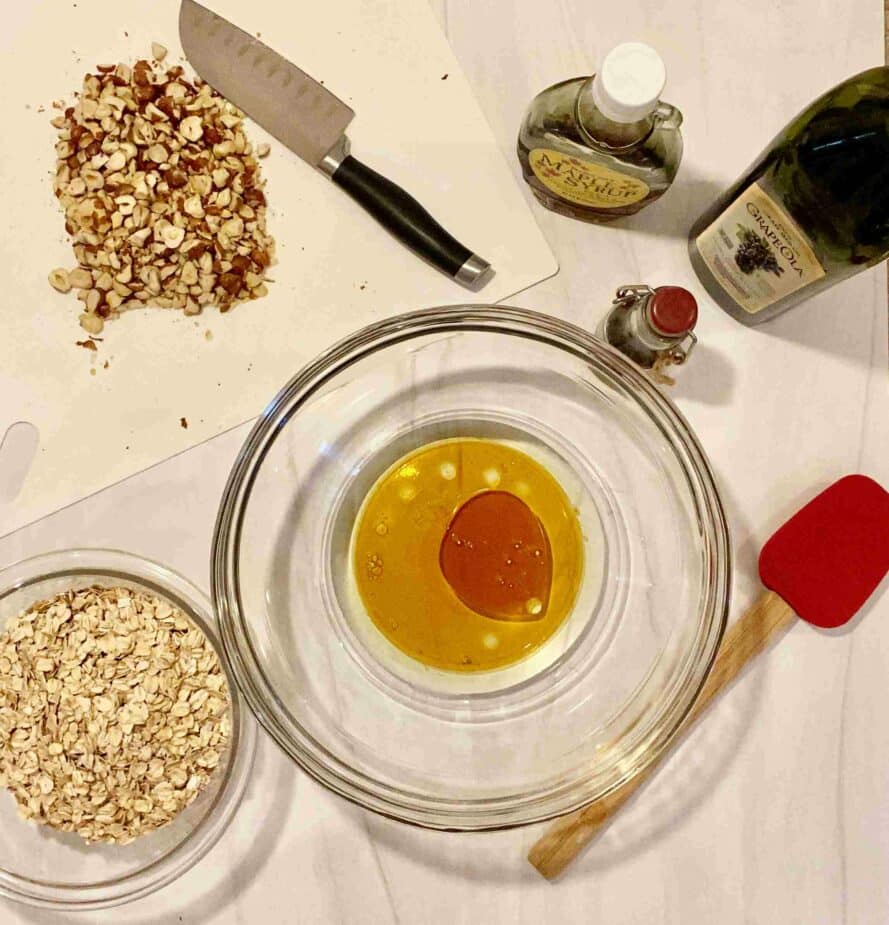 Next, spread them in the prepared pan and pat them down in an even layer.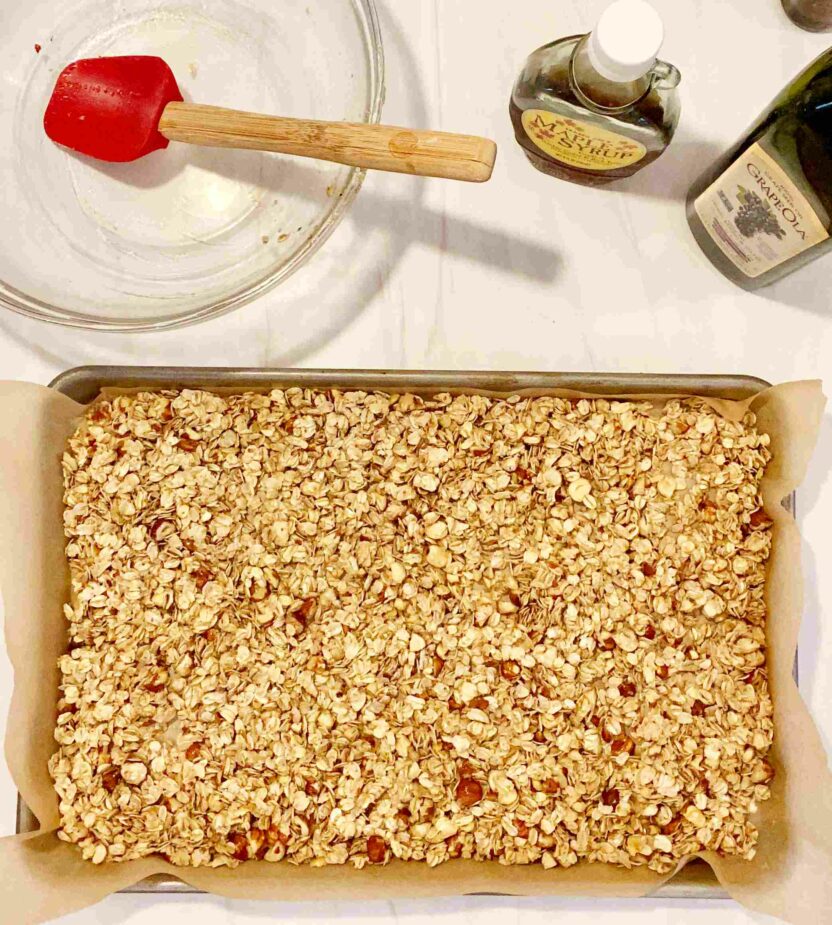 Place them in the center of the oven and bake them for 20 – 30 minutes. You'll need to stir them every 10 minutes to allow them to cook evenly.
Then remove them from the oven and let the cool in the pan for 5 minutes. Then stir in the dates and chocolate chips.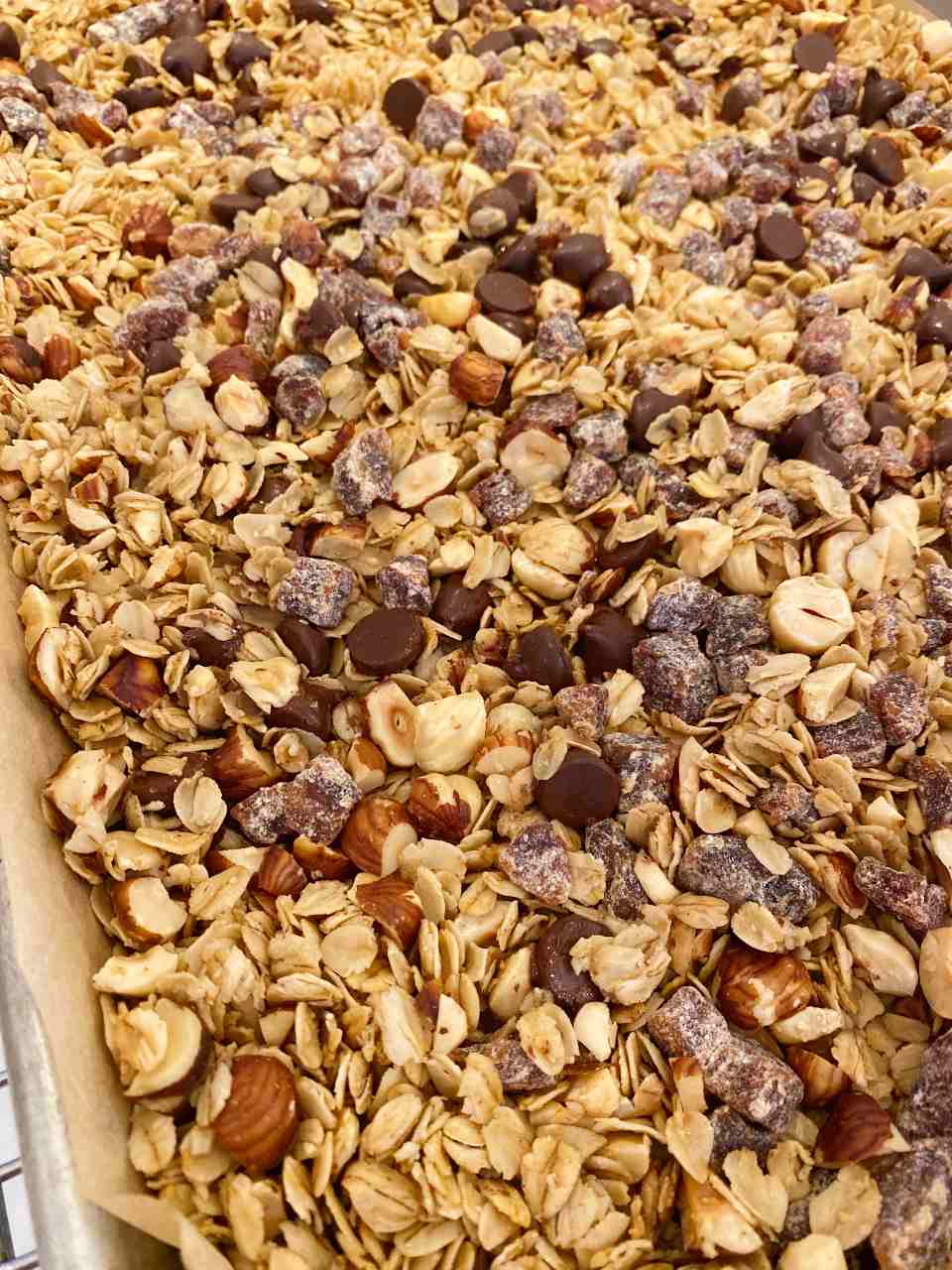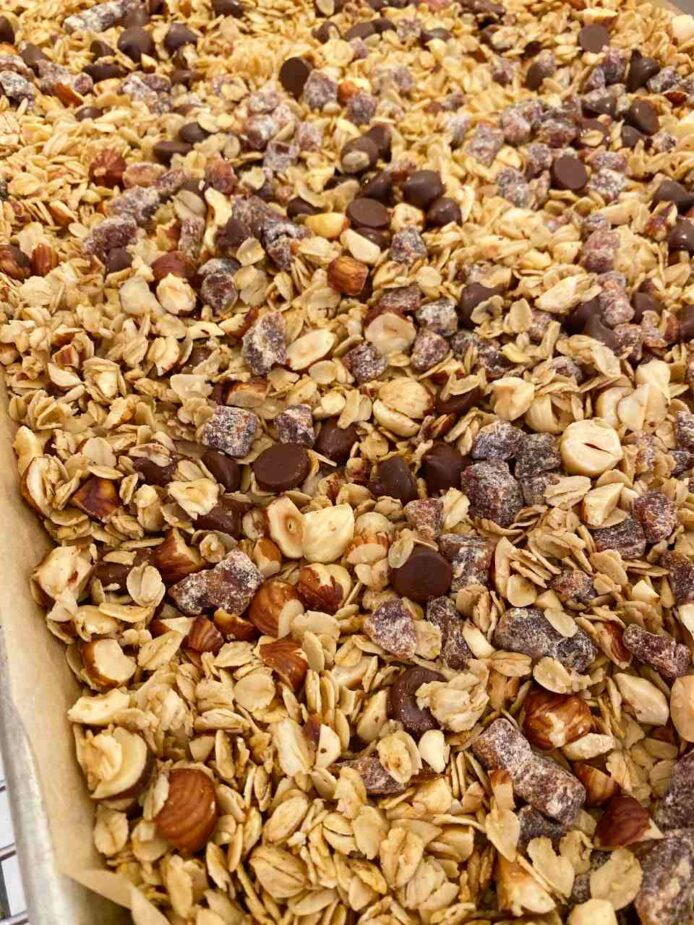 Mix them together well. The chocolate will start to melt and coat the oats and nuts.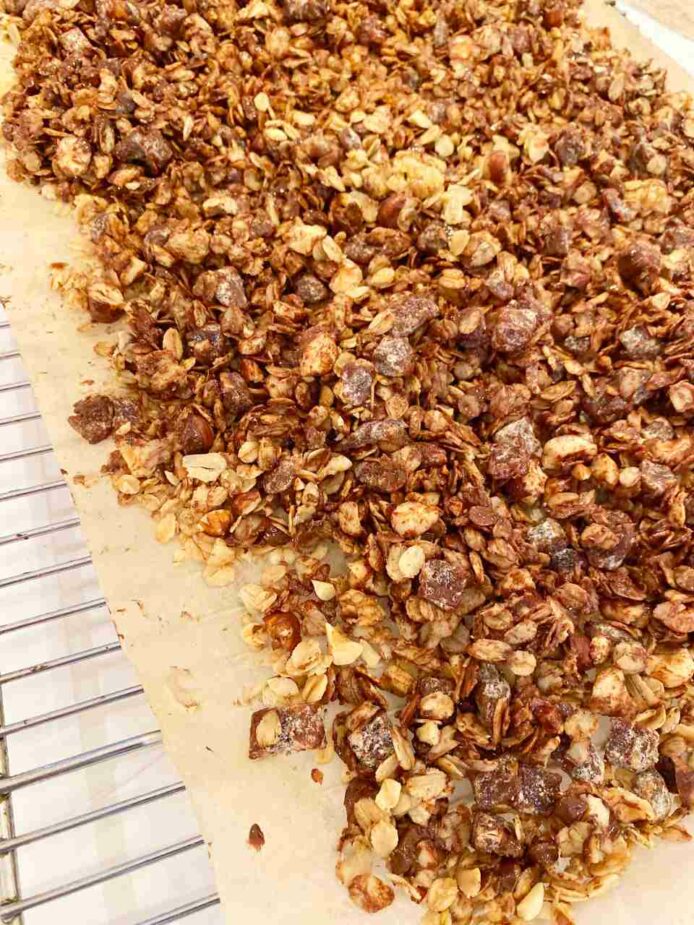 You may want to remove them from the sheet pan at this point so they cool faster. Just slide the parchment paper onto a wire rack and allow them to cool for about 30 minutes. Then place them in a bowl covered with wax paper to chill overnight.
Pack them up into glass jars or resealable containers the next day.
Storage Tips
Store your granola in a resealable glass jar or in resealable plastic bags.
Keeping your granola in the fridge will keep it fresh for a couple of weeks as long as it is sealed tightly to keep as much air out as possible.
This granola makes an excellent homemade Christmas gift for friends! Get some pretty jars and tie it up with a fancy bow. Add a card with ideas for how to use it.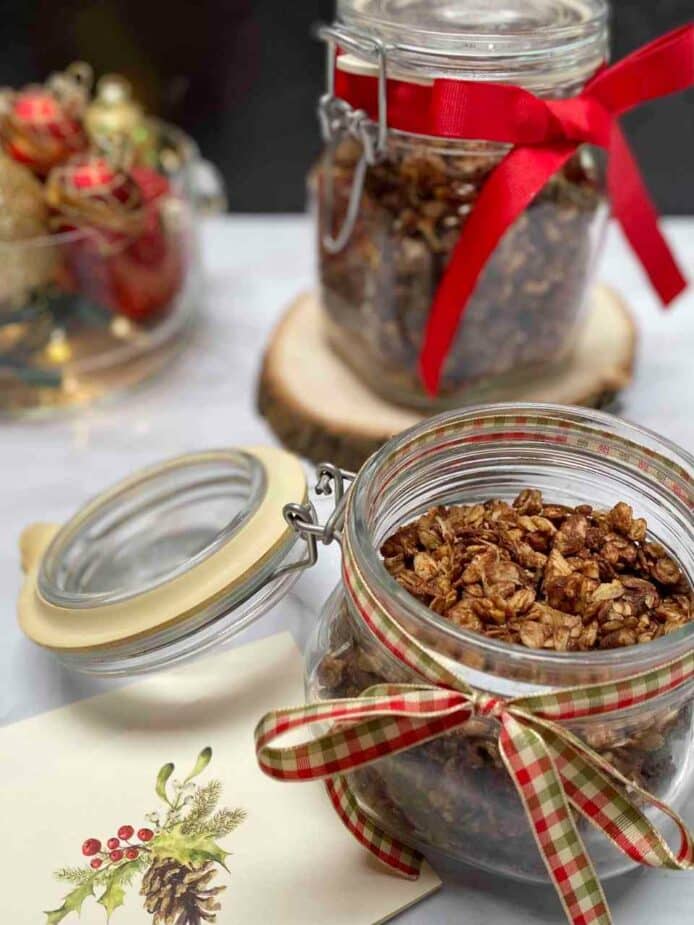 How to Use Dark Chocolate Hazelnut Granola
Yes, while may seem a bit decadent for breakfast, this granola is pretty amazing when mixed with strawberries and plain Greek yogurt! A little goes a long way and while the serving size is 1/4 cup, half that will do nicely.
This granola is also delicious over vanilla ice cream or frozen yogurt for a fun after-dinner treat.
Try it as a topping on a raspberry tart or strawberry pie. It will take them to a whole new level!
If you love this recipe check out some of my other favorite breakfast ideas and sign up for my email list to get alerted when I add new recipes and to keep up with the latest nutrition information!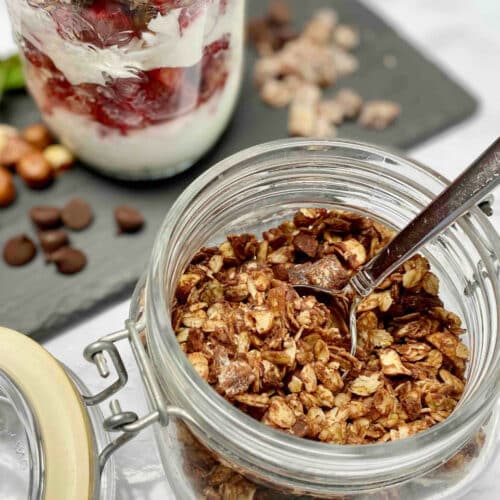 Dark Chocolate Hazelnut Granola
Ingredients
3

cups

old fashioned oatmeal

1 ½

cups

chopped hazelnuts

¼

cup

grapeseed oil

¼

cup

maple syrup

1

tsp

vanilla extract

½

cup

chopped dates

½

cup

dark chocolate chips
Instructions
Preheat the oven to 300°F. Line a sheet pan with parchment paper.

Mix oil, syrup, and vanilla in a large bowl. Stir in the oats and hazelnuts and toss to coat well.

Spread the oat and hazelnut mixture onto the sheet pan and pat down into an even layer.

Place in the middle of the preheated oven and bake for 20 – 30 minutes, stirring every 10 minutes to toast it evenly.

Remove it from the oven as soon as the nuts and oats just start to brown. Do NOT overcook this. The trick is to take it out of the oven before it gets crisp. It will crisp up as it cools.

Let it cool for about 5 minutes and then mix in the dates and the chocolate and stir it well to allow the chocolate to melt and coat everything lightly.

Once completely cool, place it in jars or a large bowl and place it in the fridge for an hour or two for the chocolate to firm up.
Nutrition
Calories:
150
kcal
Carbohydrates:
15
g
Protein:
3
g
Fat:
9
g
Saturated Fat:
2
g
Polyunsaturated Fat:
2.5
g
Monounsaturated Fat:
4
g
Potassium:
140
mg
Fiber:
2
g
Sugar:
6
g
Calcium:
20
mg
Iron:
1
mg