Having a quick, but fancy vegetable side dish is a great way to dress up an otherwise average dinner. I mean really, a baked or grilled chicken breast with rice and asparagus is certainly okay, but why not give that asparagus a little love, right?
While the chicken is baking and the rice is cooking, you can easily pull this dressed-up side dish together and have time left over to wash the dishes, set the table and pour yourself a lovely glass of Sauvignon Blanc or Chardonnay. Just a thought… 🙂
What You Will Need to Make an Asparagus Mushroom Saute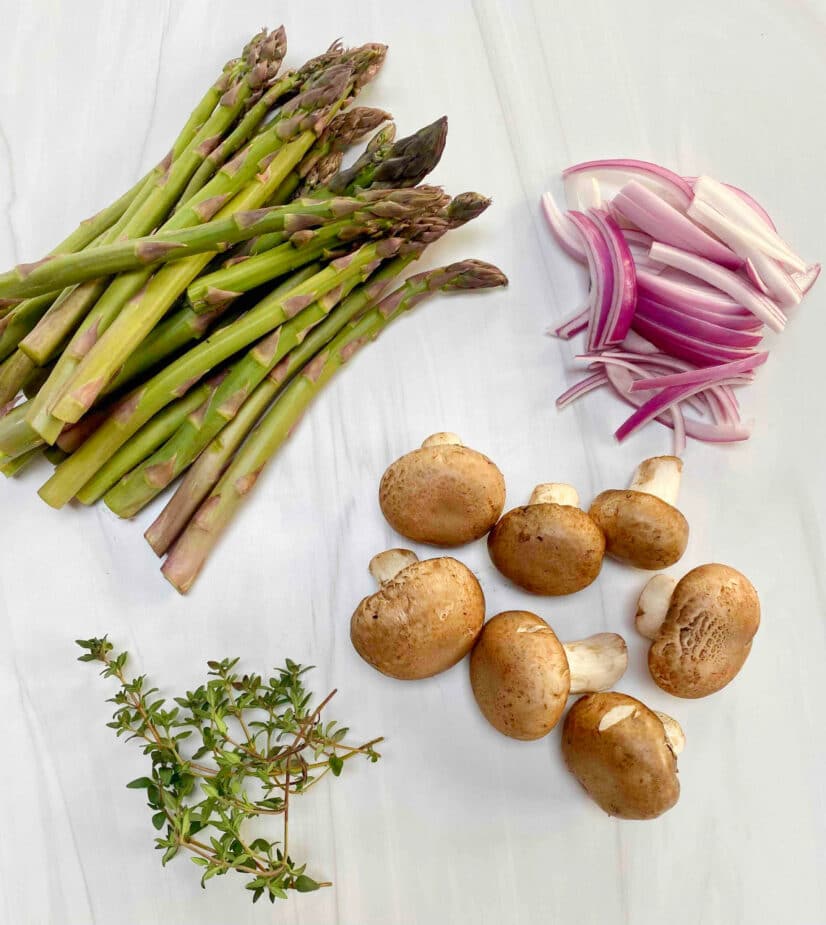 Here's the incredible part – you just need 4 ingredients! Asparagus, mushrooms, red onion, and some thyme. Okay, a little olive oil and salt and pepper, but I consider those kitchen staples and don't think they really count.
Asparagus
Mushrooms
For this recipe, I used cremini mushrooms, but a white button mushroom would work well too. You need a mushroom that will hold up to high heat and that is somewhat "meaty." While the cremini has a firm texture and the shiitake mushroom is more delicate, either would work well in this dish.
Mushrooms add an earthy flavor and a rich texture to this dish. If you aren't sure which mushroom to use for what type of dish, be sure to read my post about the top 8 grocery store mushrooms.
Red Onions
Using red onions adds a mild onion flavor to the dish and a nice hint of a light purple color. Cooking them does tone down their color but it also cuts the sharp flavor down and they become slightly sweet. I loved the combination of the sauteed onions with the earthiness of the mushrooms and the slight bitterness from the asparagus.
Thyme
In addition to adding flavor a fresh herb, like thyme, can help cut back on added salt in many recipes. I always have fresh thyme growing in my little herb garden (which honestly is just a bunch of pots on an old fireplace in my backyard!). But I snip a bunch at least a few thymes (see what I did there 🙂) a week.
Thyme pairs nicely with mushrooms and really brings out and compliments their earthy, rich flavor.
How to Make it
Here's a quick video showing how quickly you can pull this asparagus mushroom saute together.
First, cut the asparagus into 2-inch pieces, slice 1/4 of a red onion into strips, and slice 6-8 cremini mushrooms.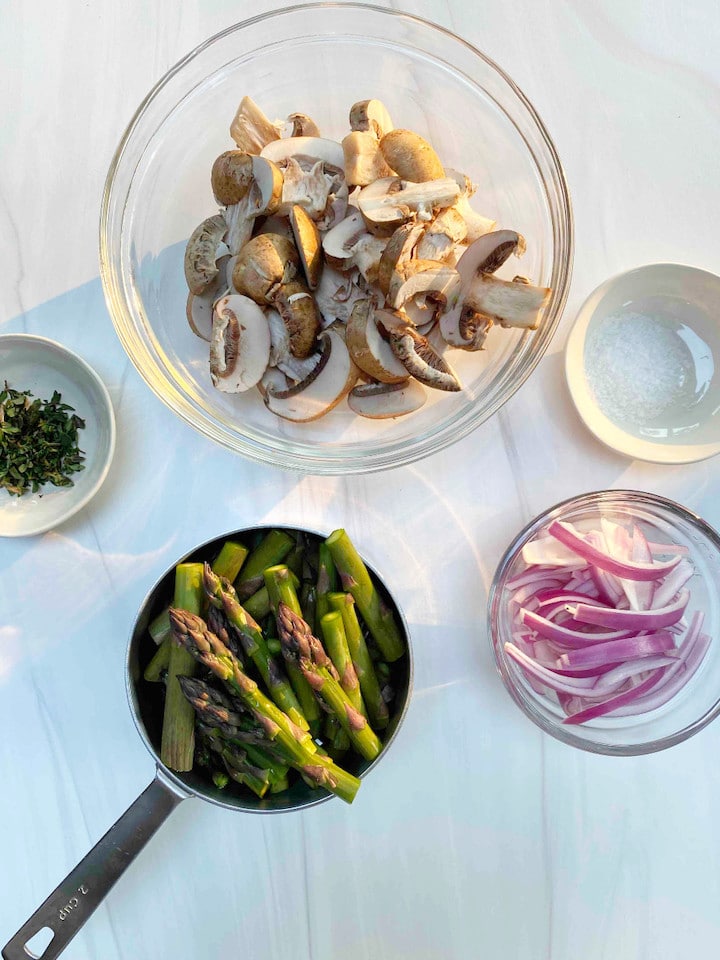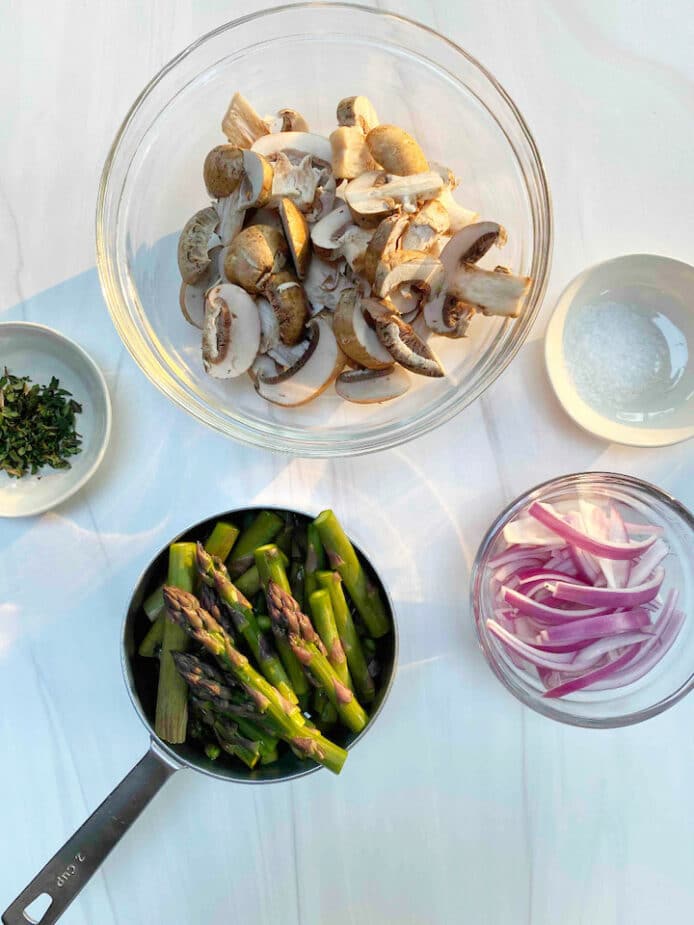 Heat a little olive oil in a medium skillet, making sure it is nice and hot.
Add the onions to the oil and cook for a minute or two and then add the mushrooms.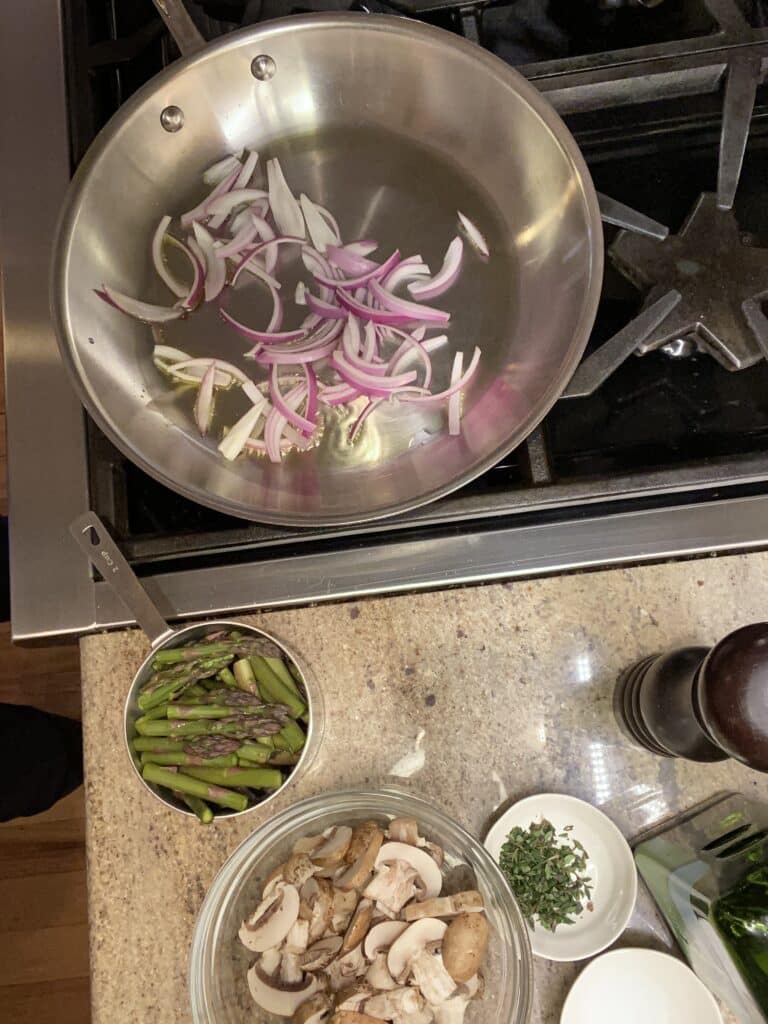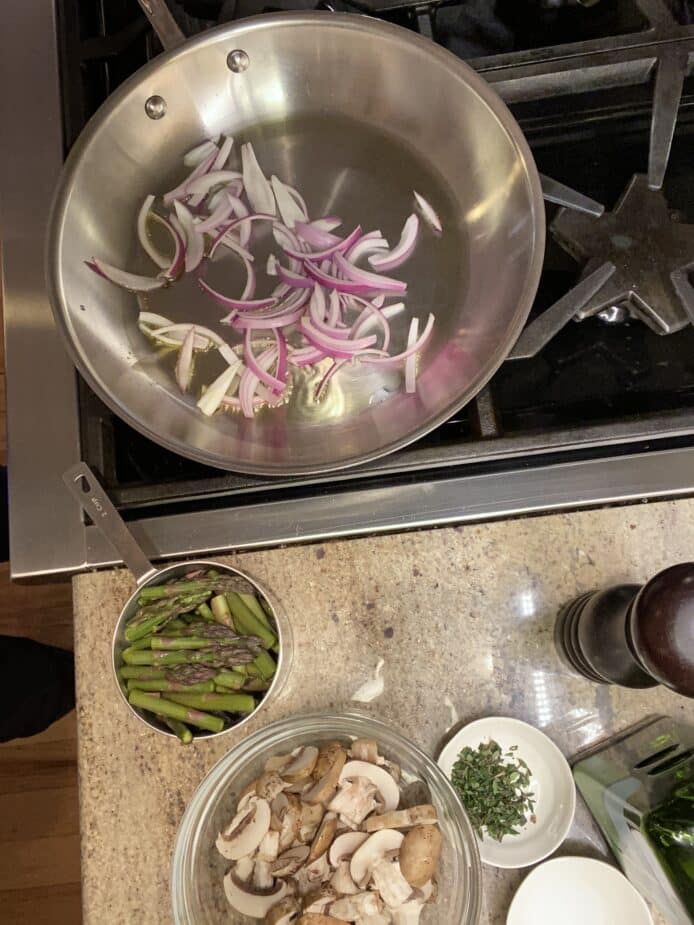 Cook the mushrooms over medium-high heat until they start to brown and soften. You may have a little moisture in the pan and this is okay. It will help the asparagus cook. Add a bit of ground black pepper here.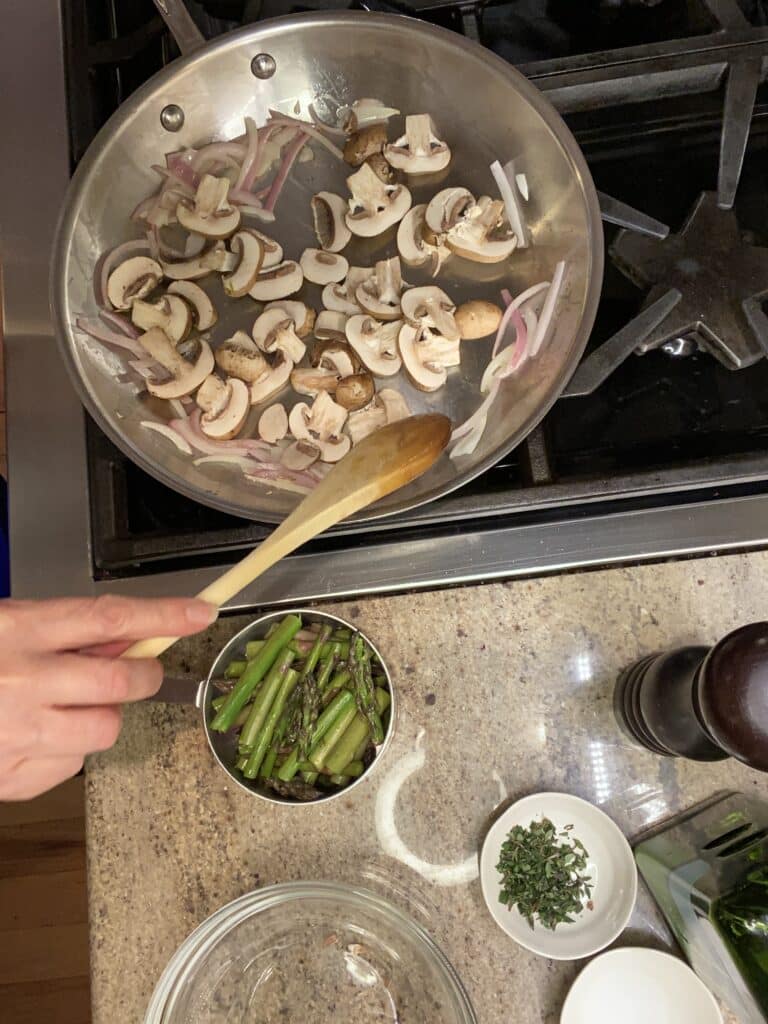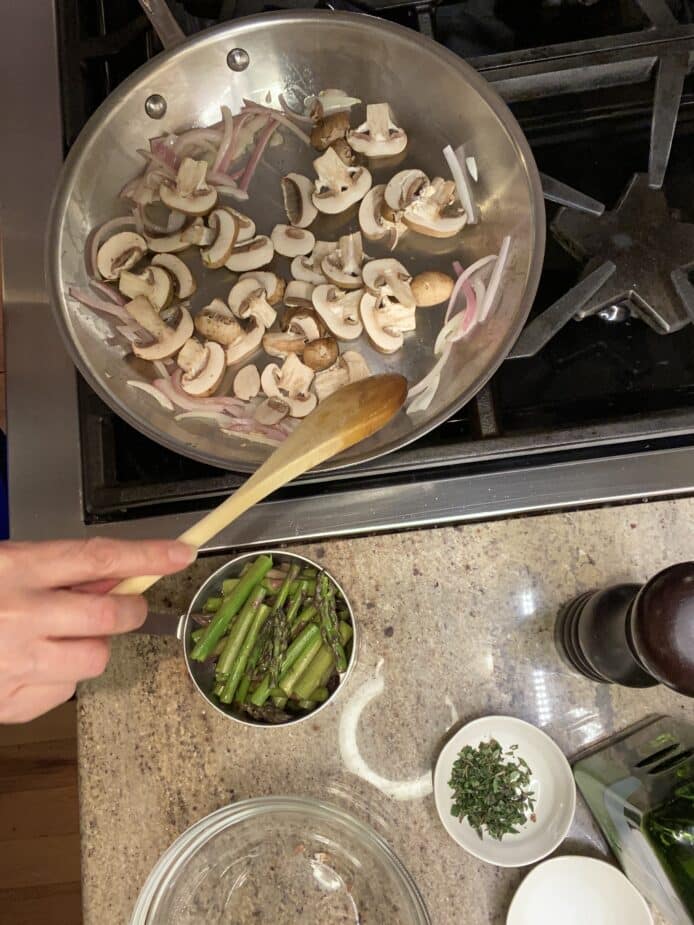 Add the asparagus pieces and cook, stirring constantly until they start turning a bright green and are just slightly soft when pierced with the tip of a knife. This should take no more than 4 – 5 minutes.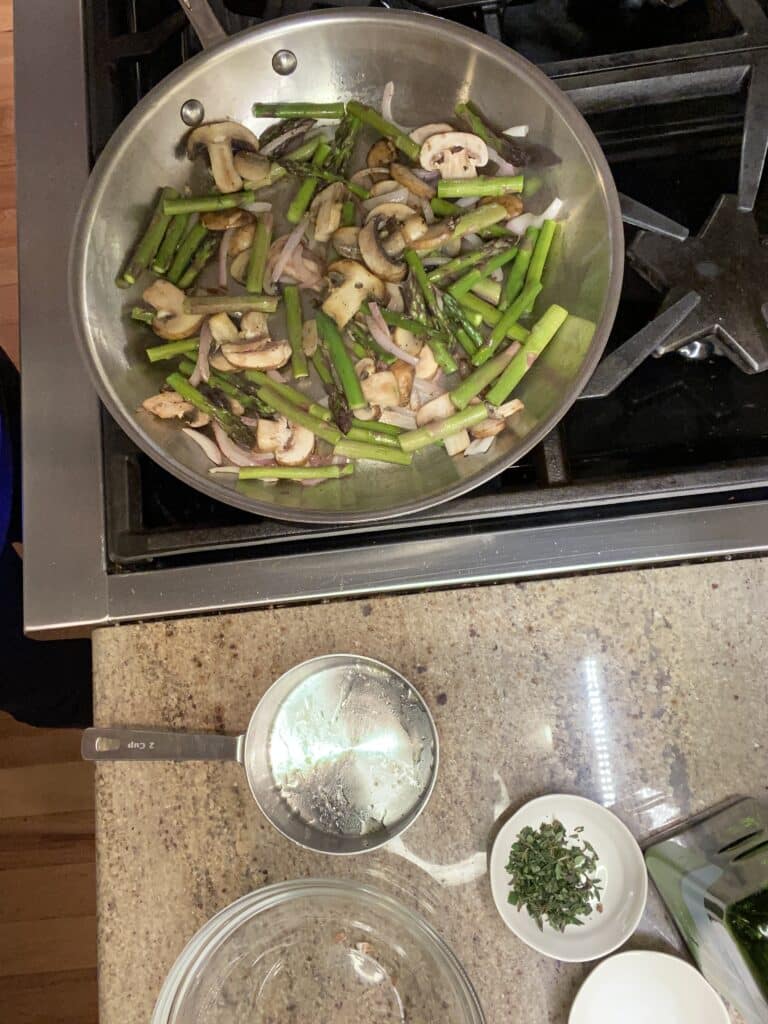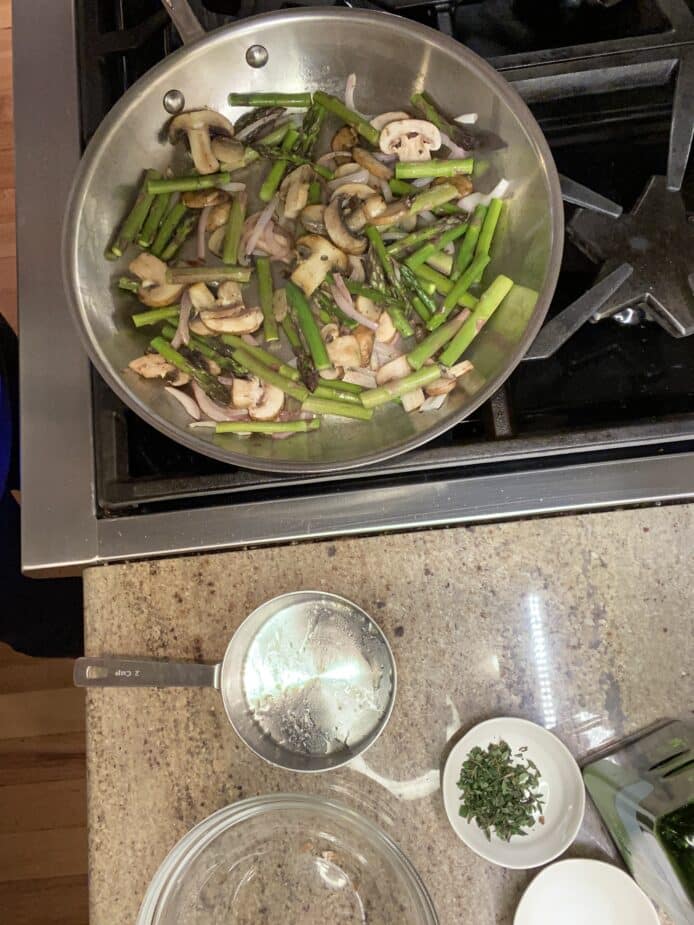 Stir in the thyme and sprinkle with a little kosher salt if you'd like.
Variations
You can swap the mushrooms and use a white button mushroom in place of the baby bellas or chop a portabella mushroom in this asparagus mushroom saute.
If you aren't a fan of asparagus, well, I'd probably tell you to skip this recipe but you could certainly use green beans in place of the asparagus. You'll end up with a much different flavor, but I bet it would be just as good!
Storage Tips
This will keep in the refrigerator for a couple of days. You can freeze it after it is cooled too and just reheat it quickly in the microwave.
Other Recipes you will love
Having easy but different side dishes in your repertoire is a great way to dress up an otherwise "plain Jane" dinner so I like to have a few I can pull from. If you like this recipe some of my other favorite side dishes are:
Roasted Maple Balsamic Brussel Sprouts
Roasted Beets in Cranberry Juice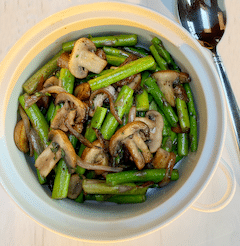 Asparagus Mushroom Saute
This easy side dish uses just 4 ingredients. It is a nice side for burgers, steak or roasted chicken.
Ingredients
1

tbsp

olive oil

1

lb

asparagus

trimmed and cut into 2-inch pieces

¼

red onion

thinly sliced

4

oz

cremini mushrooms

thinly sliced

2

tsp

fresh thyme

stripped from the stem
Nutrition
Calories:
50
kcal
Carbohydrates:
4
g
Protein:
2
g
Fat:
3.5
g
Saturated Fat:
0.5
g
Polyunsaturated Fat:
0.5
g
Monounsaturated Fat:
2.5
g
Sodium:
10
mg
Potassium:
265
mg
Fiber:
1
g
Sugar:
2
g
Vitamin C:
50
mg
Calcium:
21
mg
Iron:
1
mg