Did you ever notice how a super flavorful side dish can really make a dinner? I mean, there is nothing wrong with a broiled or grilled pork chop or chicken breast for a quick weeknight dinner, but something super flavorful and easy on the side? That just takes dinner to a whole new level! Enter, my simple roasted maple balsamic Brussel sprouts.
Honestly, these really take about 15 minutes of active time – max – and you have a side dish that will dress up any weeknight dinner.
An added bonus for this recipe is that you can cook them on a sheet pan with your chicken or pork chop. While everything is roasting away you have time to get the kitchen cleaned up, set the table, and pour that glass of wine you've been looking forward to all day!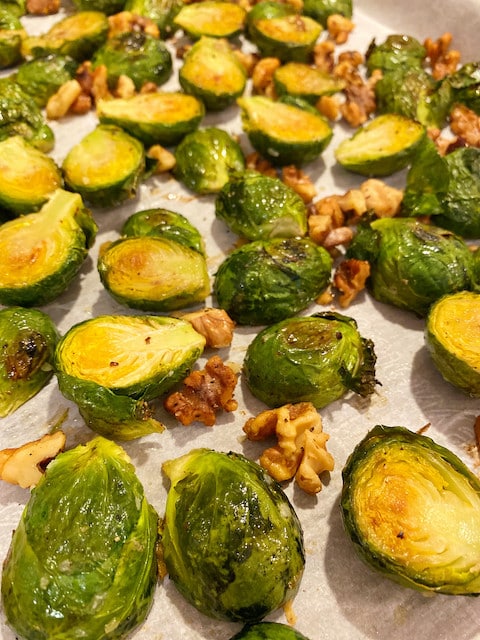 Why You Should Love Brussels Sprouts
Yes, they are trendy and have been popping up on restaurant menus for the last few years as appetizers and sharable sides, but they are so much more than just a trendy vegetable. These little veggies are packed full of nutrition that helps support your heart, brain, GI system, and your eyes.
Brussels sprouts are rich in vitamin C (yes, you'll get over 100% of what you need for a day in just a cup of these roasted veggies), vitamin K and antioxidants that help support your immune system, and may help reduce inflammation.
They are a good source of folate and the antioxidant kaempferol which helps support brain health.
They are rich in fiber that is good for your GI tract and heart, as well as helping to keep your blood sugar and weight under control.
They contain potassium and magnesium both important for blood pressure and bone health.
Like other dark green leafy vegetables, they contain both lutein and zeaxanthin, carotenoids that give them their rich green color and help support your vision. 
So, as you can see, there is a LOT to love about Brussels sprouts! And finding a recipe or two that makes them flavorful and delicious may help make them a regular part of your fall and winter meals.
What You Will Need to Make Maple Balsamic Brussel Sprouts
This is the best part – just 5 ingredients to make this super simple dish.
Brussels sprouts – You can buy these loose, in a bag, or on a stalk as I have pictured below. Any of these are just fine, but I've found buying them while they are still on the stalk keeps them fresher longer. I can only find them on the stalk around the holidays and picked this one up at Trader Joe's.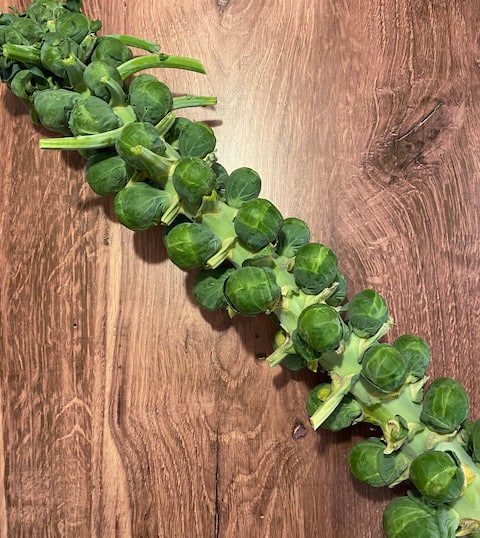 One stalk, which is about 24 inches long will give you 7 – 8 cups of halved sprouts. That is a lot, but you can freeze the extras if you aren't going to use them or if you shred them to make a salad you'll need a lot of sprouts so buying a whole stalk will work well.
If you are making a smaller portion, a bag or a couple of cups of loose sprouts will work. Look for sprouts that are firm and have a bright green color. Avoid sprouts that have yellowing leaves and brown spots if you can help it.
Walnuts – I love the crunch that walnuts add to this dish. They toast alongside the sprouts in the oven and add a savory note alongside the sweetness of the maple syrup and balsamic vinegar.
Oil – A mild oil like grapeseed or canola oil, that can withstand the higher temperature needed for roasting works well. Olive oil will work if it's all you have but it may add an unwanted flavor so I prefer something milder.
Maple Syrup – A cruciferous vegetable like Brussels sprouts can be a bit bitter on its own. Adding just a bit of maple syrup takes away some of the bitterness but doesn't overpower them.
White Balsamic Vinegar – You may not think of balsamic vinegar as having a sweet flavor, but along with its bite, it also adds a hint of sweetness to this dish. I use white balsamic vinegar to avoid adding a reddish tint to the sprouts, but if you only have regular balsamic, it will work too.
How to Make Them
Start by lining a baking sheet with parchment paper and preheating the oven to 425°F. The parchment paper will make clean-up easy so don't skip this step!
Then wash the sprouts and then cut them from the stalk. If you purchased them loose, trim the ends off each sprout so you have a fresh cut.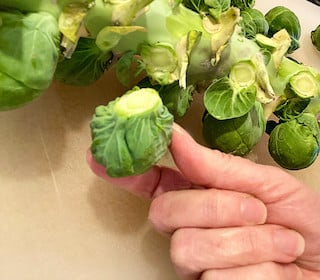 Cut each sprout in half lengthwise and place them in a bowl.
Chop the walnuts coarsely, so you have pieces that are about ¼ inch big. You don't want the walnuts to be too small, but also want them to be easy to eat. Add them to the bowl with the sprouts.
Add the oil, syrup, and vinegar to the bowl with the sprouts and walnuts and toss well.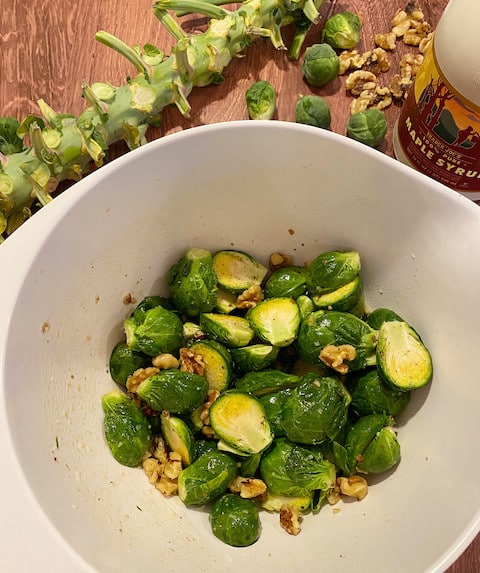 Place them on a parchment-lined baking sheet and spread them out evenly, avoiding any overlap if possible.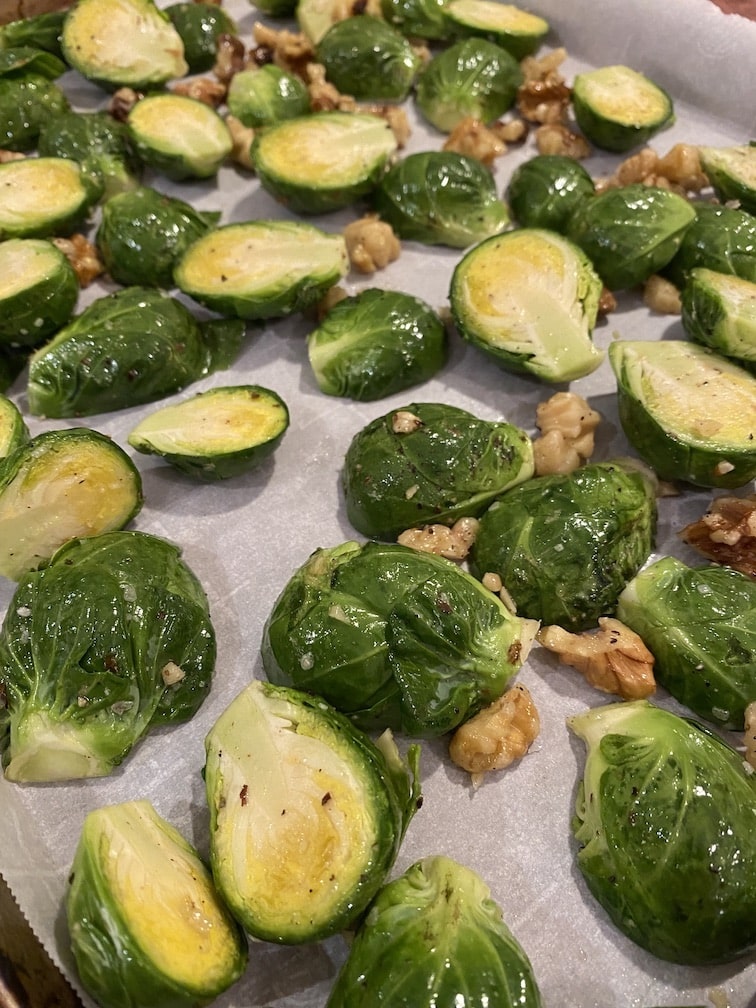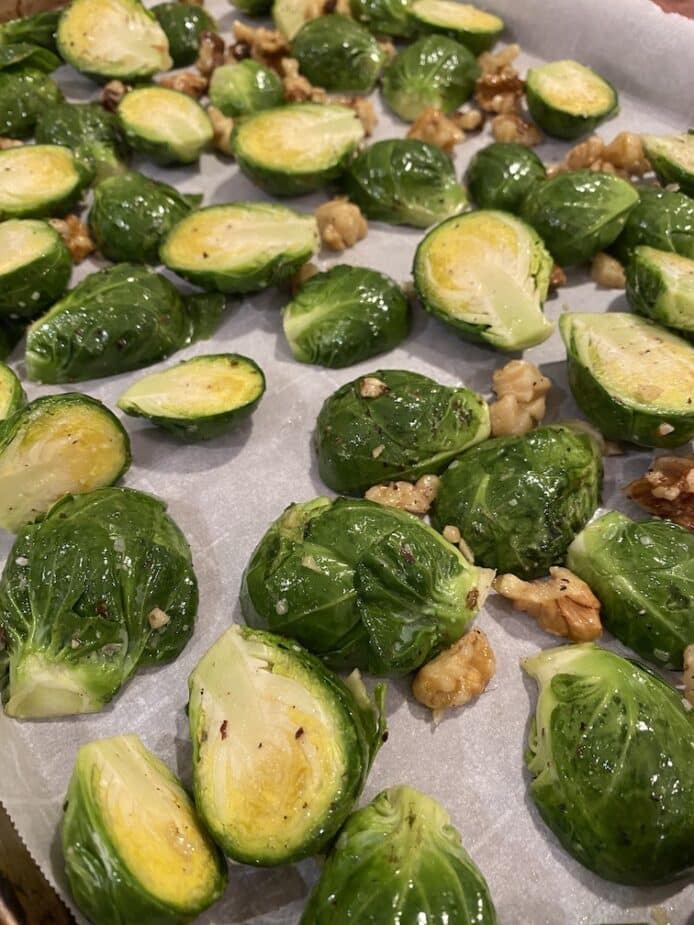 Put them in the oven and roast them for 15 – 20 minutes, tossing them halfway through to brown on all sides. They are done when a knife goes into the end of a sprout easily, with just a little resistance.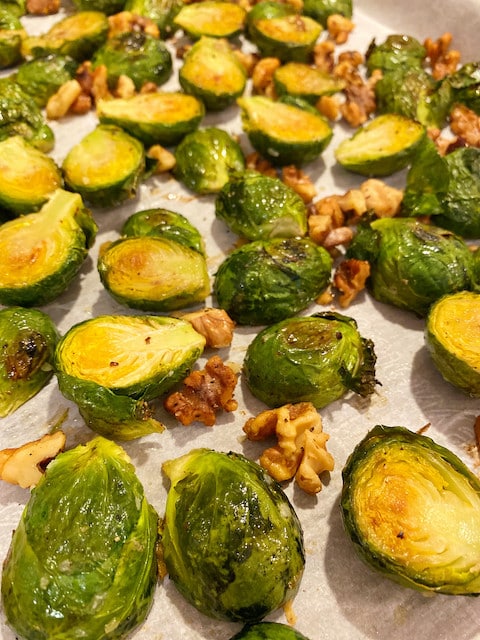 FAQs
Can you make these ahead?
Yes, you can make these ahead and then reheat them in the oven at 350°F for about 10 minutes. They won't be as crisp as when they are first made but will still be great!
Can you cook Brussel sprouts in an air fryer?
Yes, Absolutely!
– Preheat the air fryer to 375°F.
– Cut the Brussel sprouts in half, lengthwise. Toss them with some oil and seasoning.
– Then lay them in a single layer in your air-fryer.
-Cook them for 10 – 12 minutes, depending on your air-fryer, tossing them 1/2 way through the cooking time.
– To test them, insert the tip of a knife into the stem end and if it is mostly tender but meets a little resistance they are done.
Can you use honey or agave syrup instead of maple syrup?
You can but you'll end up with a different flavor. Maple syrup adds a distinct flavor, which is why I like using it in this recipe.
Can you double the recipe?
Of course! You'll need a larger sheet pan to make sure the sprouts lay in a single layer on the pan to get that nice browned color on all sides.
Can you use regular balsamic vinegar instead of white balsamic vinegar?
You can and I have done this! Regular balsamic vinegar is a bit sharper and will give the sprouts a red color – the vinegar will be noticeable but they are delicious too!
Can you use white wine vinegar instead of balsamic?
You can but you will lose some of the sweetness and you may find them to have a bit more of a bite than if you used white balsamic vinegar.
What is the difference between white balsamic vinegar and white wine vinegar?
White balsamic vinegar is sweeter than white wine vinegar and white wine vinegar is a bit more acidic. Both are lightly flavored so you can swap them for each other, but you may need to add a little more sugar to your recipe if you are using white wine vinegar as a replacement.
Other Recipes You Might Like
Spinach, Kale, and Pomegranate Salad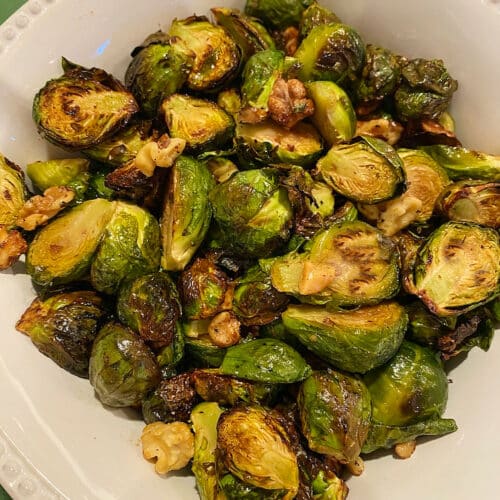 Roasted Maple Balsamic Brussel Sprouts
Ingredients
4

cups

halved Brussel sprouts

1

tbsp

olive oil

2

tsp

maple syrup

2

tsp

white balsamic vinegar

1/4

tsp

kosher salt

1/4

tsp

black pepper

1/4

cup

chopped walnuts
Instructions
Preheat oven to 425°F. Line a sheet pan with parchment paper.

Place Brussels sprouts in a bowl and toss with olive oil, maple syrup, balsamic vinegar, salt, pepper, and walnuts.

Spread Brussels sprouts and walnuts in a single layer on the parchment-lined sheet pan and place in the middle of the preheated oven.

Roast for 20 minutes, tossing 1/2 way through. When browned on all sides they are ready.
Nutrition
Calories:
145
kcal
Carbohydrates:
15
g
Protein:
6
g
Fat:
8.5
g
Saturated Fat:
1
g
Sodium:
180
mg
Potassium:
560
mg
Fiber:
5
g
Sugar:
5
g
Calcium:
50
mg
Iron:
2
mg