Updated: January 14, 2023
Roasted southwestern acorn squash is stuffed with ground bison and southwestern seasonings. This smokey and spicy recipe is a delicious hearty fall or winter meal.
This was one of the very first recipes to appear on my blog and I decided it was time to do a quick update. You'll find a bit more about what's to love about acorn squash and some of the other ingredients, how simple it is to make, and tricks for prepping ahead if you are short on time.
About Acorn Squash
One of our favorite fall and winter vegetables (aside from Brussels spouts) is winter squash. Whether I make a hearty bowl of butternut squash soup or roast some delicata squash to add to a salad, there is something comforting about winter squash.
Most winter squash has a beautiful orange color. They are classified as a "gourd" and grow on a vine, like pumpkins and zucchini.
Acorn squash is a starchy veggie that is full of antioxidants, including carotenoids like beta-carotene and zeaxanthin that help protect against heart disease, and support brain health, and eye health.
One cup of acorn squash is packed with nutrition. It is rich in fiber, containing a whopping 9 grams in a cup, has over 35% of the vitamin C you need in a day, and is rich in potassium and magnesium1, minerals that are important for heart and bone health.
But even more than the nutritional benefits, I love the versatility of acorn squash. It is delicious roasted and the shape makes them perfect for stuffing. It can be cubed and sauteed with other veggies and then cooked into a thick soup, or pureed up for a creamy side dish.
The rich squash flavor works well with savory spices like paprika and chipotle that I use in this dish, or it also works with sweeter seasonings like cinnamon and maple.
I love this one-dish dinner so let's get to it!
What You Need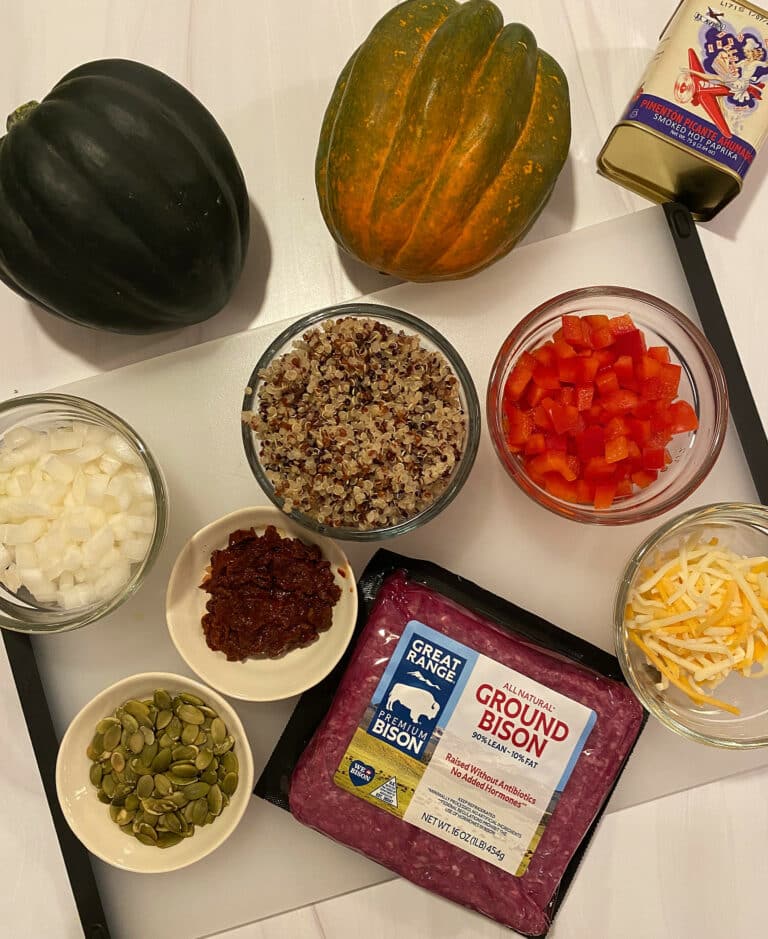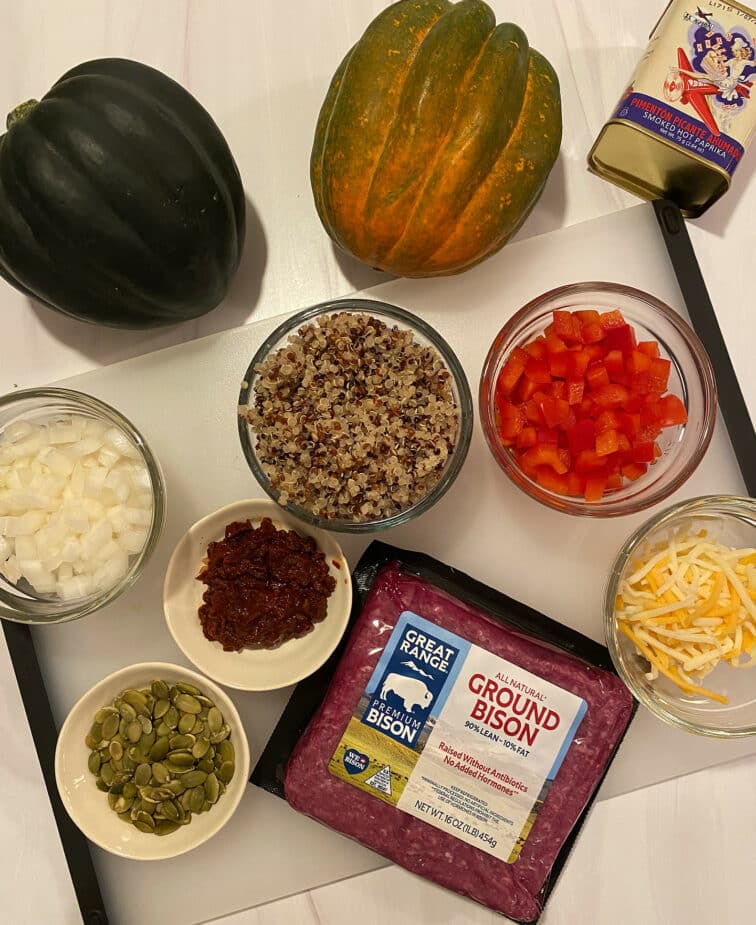 Here is what you need to make the southwestern stuffed acorn squash:
Acorn Squash: 2, medium-sized acorn squash, about 2 to 2- ½ pounds. Don't go for the biggest acorn squash you can find! According to the experts, a large squash (over 3 pounds) means it stayed on the vine too long and is over-ripe. It may be stringy and dry.
Ground Bison: Ground bison is a very lean meat that is lower in calories, fat, saturated fat, and cholesterol than ground beef. The flavor is similar to ground beef, but it is a little more tender. Ground bison is available in many grocery stores today but you can also substitute 93% lean ground beef if you prefer.
Cooked Quinoa: This South American grain has become a staple in many of our diets. It is high in protein and gluten-free. It helps bulk up the filling in this recipe and goes well with the seasonings. Cook up a batch of this on your day off and then use it in this recipe, grain bowls, or as a side dish throughout the week.
Chipotle Peppers in Adobo Sauce: These peppers come in a small can in a spicy and rich tomato sauce. Remove one or two peppers from the can and chop them with a knife. You can remove the seeds if you want, or leave them in. Make sure you mix in some of the sauce from the can. It will add a nice bit of moisture and heat. You can freeze the extra peppers and sauce or use them to make a spicy dip or spread to use throughout the week. 
Onions and Peppers: Sweet onions and sweet red bell peppers complement the spicy flavor of the rest of this dish. Dice them into small pieces and cook them with the bison and spices so they just softened but still have a little bite.
Seasonings: Smoked paprika, ground black pepper, and some kosher salt.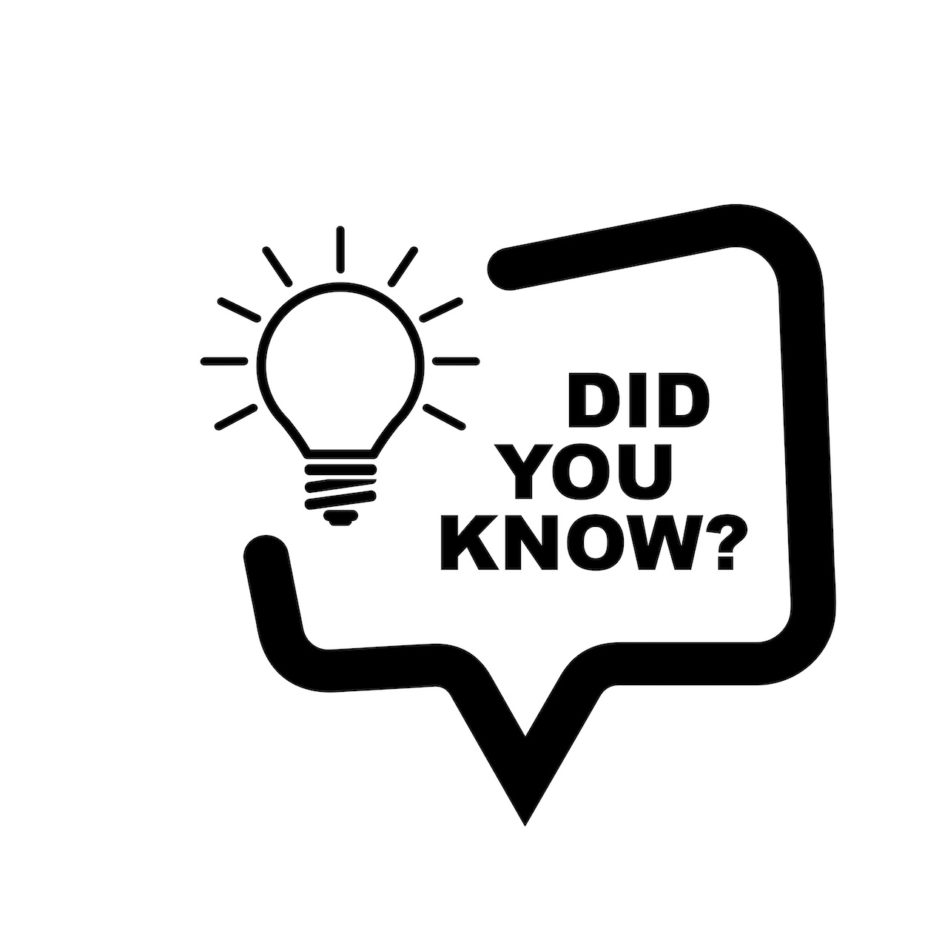 The best acorn squash should have a dull (not glossy) rind and feel heavy. It is probably dry, stringy, and flavorless if it is too lightweight!
How to Make Southwestern Stuffed Acorn Squash
Prep the Acorn Squash
Start by cutting the squash in half. I cut them from the top, leaving the stem in place. Because the rind is tough, you want to use a sharp knife and a sturdy cutting board. (affiliate links) A damp dish towel under your board will keep it from sliding around your counter.
Then clean out the seeds and rub the cut surface and hollowed area with the oil and place each half, cut-side down on a parchment-lined baking sheet.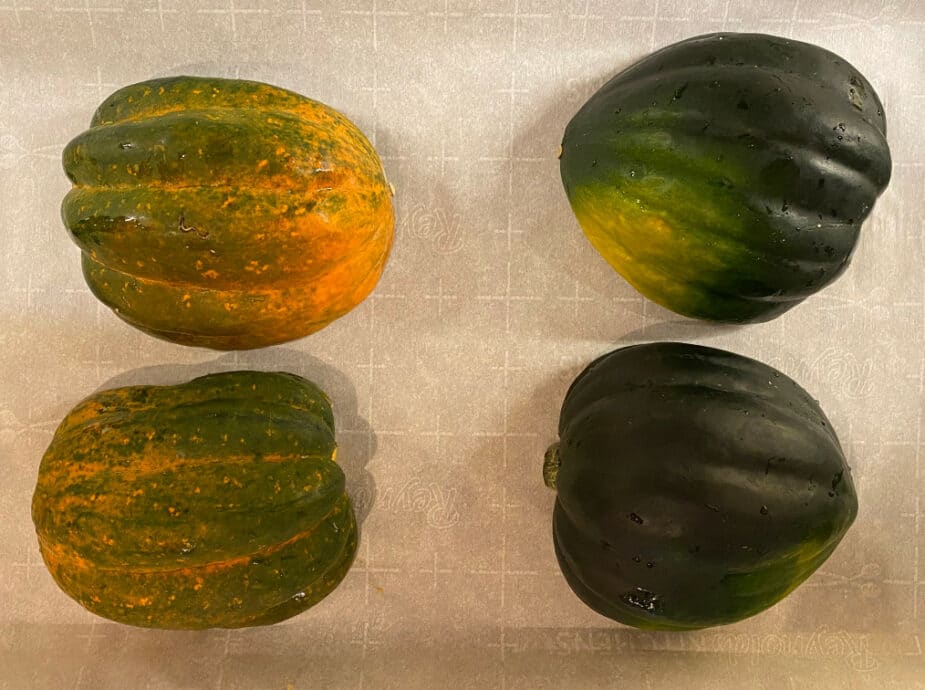 Roast the squash in the middle of a preheated oven until the squash is tender. If you pierce the skin with a fork or the tip of a knife, it should go in without much resistance. It takes about 30 – 40 minutes, depending on the size of your squash.
Cook the stuffing mixture
While the squash is roasting, cook up the vegetables and meat. Saute the onions and peppers in a large skillet until just slightly tender. Add the ground bison, paprika, and pepper and cook until the beef is cooked through.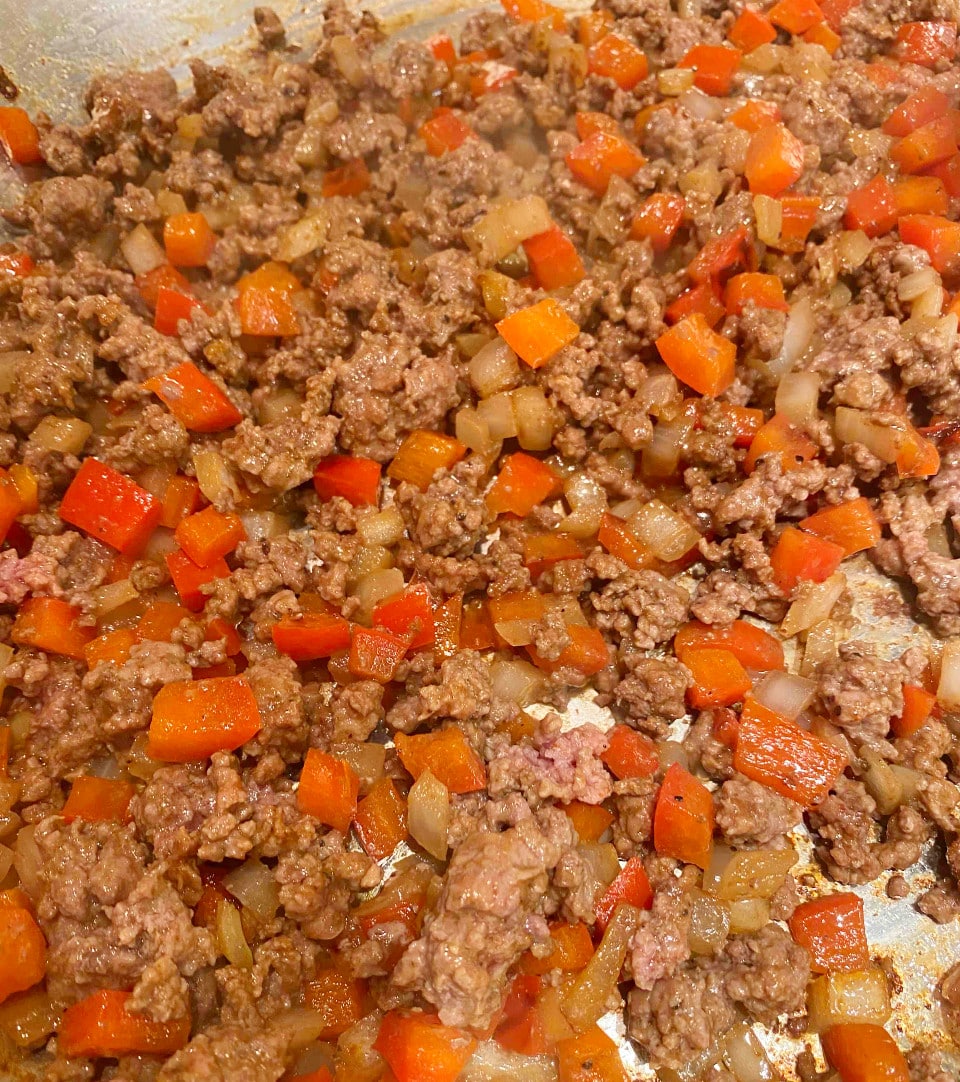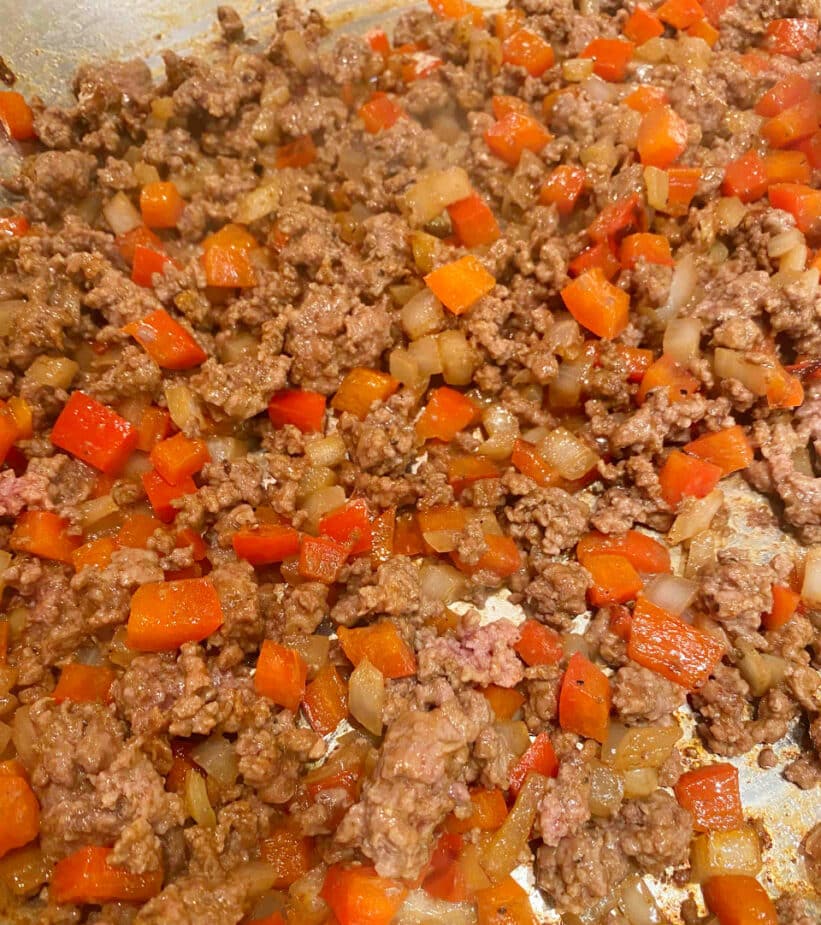 Mix the quinoa and chipotle pepper into the bison and vegetables. Cover it to keep it warm.
When the squash is tender, remove the pan from the oven and turn each half over. You should see these nice caramelized/brown edges.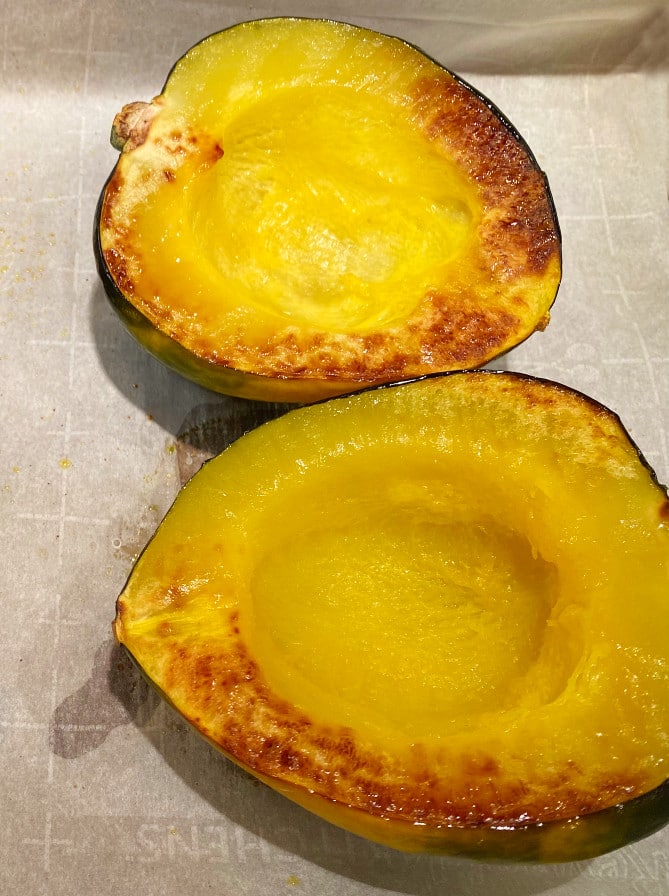 Fill each cavity with the bison and quinoa mixture and top with a little shredded cheese.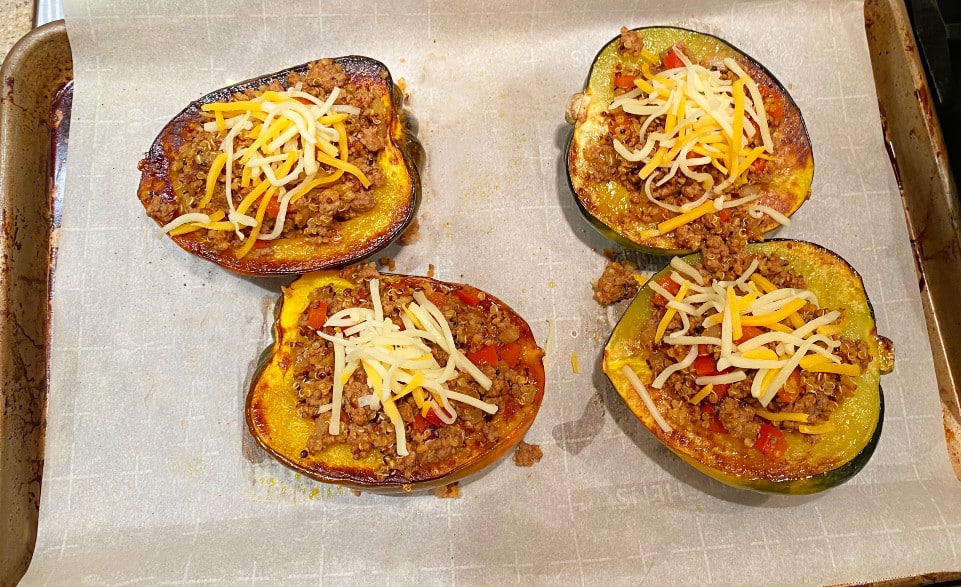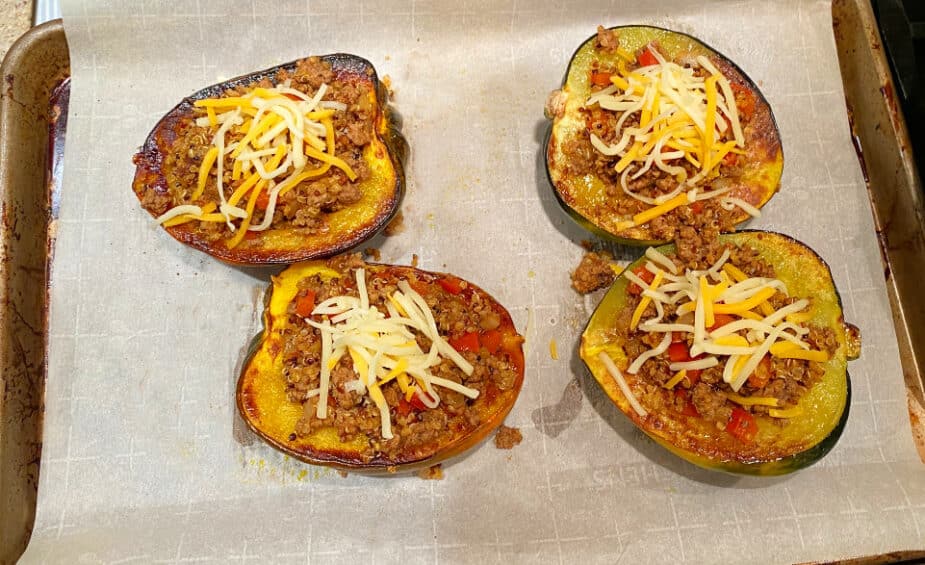 Place the squash back in the oven and bake it for about 5 minutes, until the cheese melts. Your southwestern stuffed acorn squash is ready to go! Serve them sprinkled with pumpkin seeds and some sliced avocado on the side. A perfect Saturday night supper on a cold winter evening.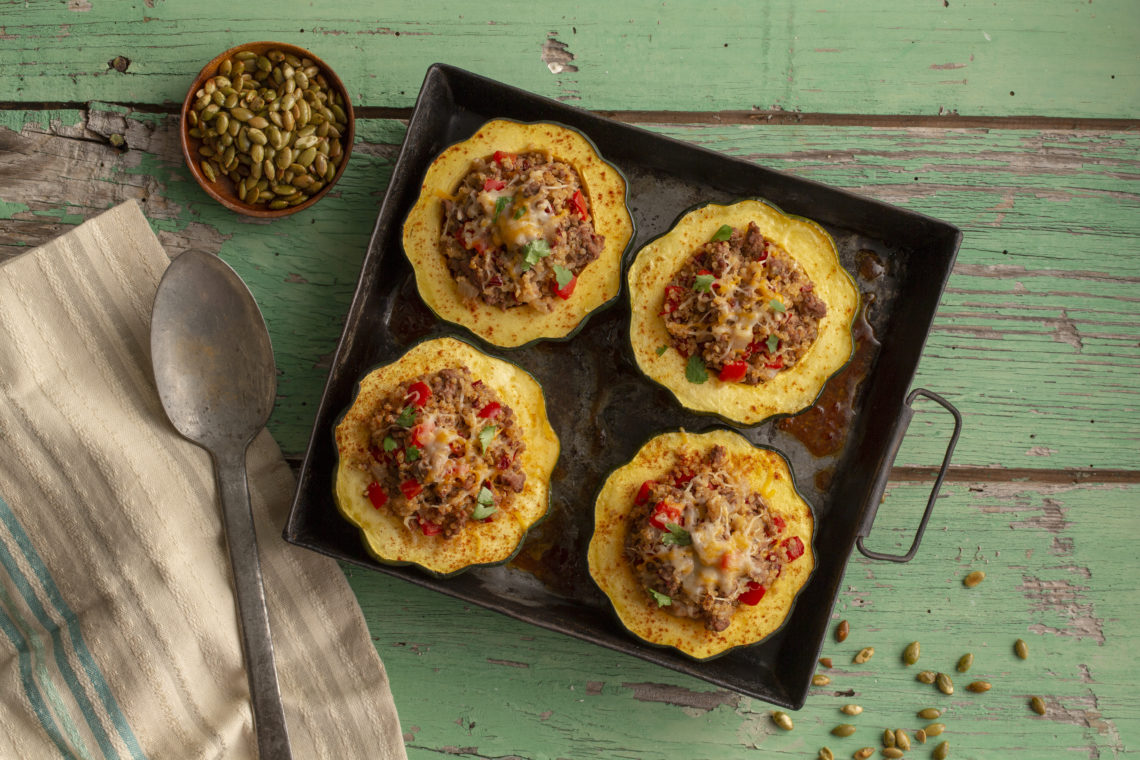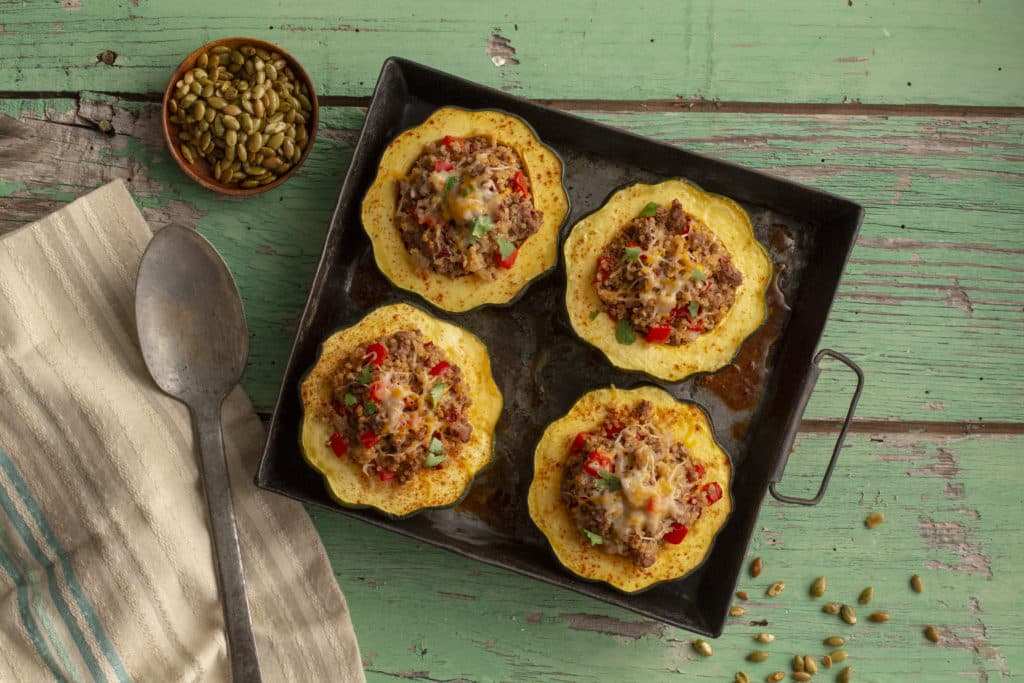 FAQs
How long can you store acorn squash before cooking?
You can store acorn squash in a cool (50 – 60°F), dark place for up to 3 months. 
How can you tell if an acorn squash is ripe or past its prime?
A ripe acorn squash will have a dull appearance (the rind should not be shiny) and it will feel heavy. If it is light, it's probably passed its prime and dried out.
What temperature is best to roast acorn squash?
Most people recommend roasting vegetables at 400°F to 425°F. I've found 425°F is right for tender squash that also has brown, caramelized edges.
What else can you do with acorn squash?
You can cook it in broth and make a rich soup, or cook it and puree it with a little maple syrup or sour cream for a side dish. Or dice it and roast it with other winter veggies!
Can you save the seeds and plant them in the spring?
Yes, you can save teh seeds for planting. Remove all the strings and pulp and spread them on a paper towel or paper plate to dry. Move them around every day to expose different surfaces and get them completely dry. Then store them in an envelope in a cool dry area until you are ready to plant them.
Can you roast squash seeds?
Yes, similar to pumpkin seeds, squash seeds are delicious roasted! You can follow my recipe for roasted pumpkin seeds and just substitute the squash seeds for pumpkin seeds.
Can you eat the skin of an acorn squash?
Yes! Once the squash is roasted, the skin of the acorn squash becomes much more tender and pleasant to eat. It is also packed with healthy insoluble fiber that helps fill you up and keeps your blood sugar under control. Keep in mind, this is not the case for all winter squash. The skin on pumpkin, butternut and other tough squash aren't very good, but go ahead and enjoy the skin of an acorn squash!
Storage Tips
These squash are best enjoyed fresh out of the oven. You can make the meat mixture ahead and freeze it. It will last in the freezer for a month or two. Or refrigerate it for a couple of days.
The squash is best roasted the day you want to eat it. But, you can prep it ahead so it's ready to pop in the oven when you are ready. After you wash cut, clean and scrape the squash, wrap each half tightly with plastic wrap and store in the refrigerator until you're ready to cook them.
When you are ready, roast the squash and add the meat and cook it until the meat is hot. You may need to cook it a little longer to make sure the meat gets to 165°F.
I have not tried freezing this or reheating it in the microwave. It may work and when I try that I'll update this! If you've tried it, let us know how it works in the comments below!
If you try this recipe and love it, please leave a rating below. Also, I'd love it if you let me know what you loved (or didn't like) in the comments below! It helps me get better and gives you more recipes that you'll love!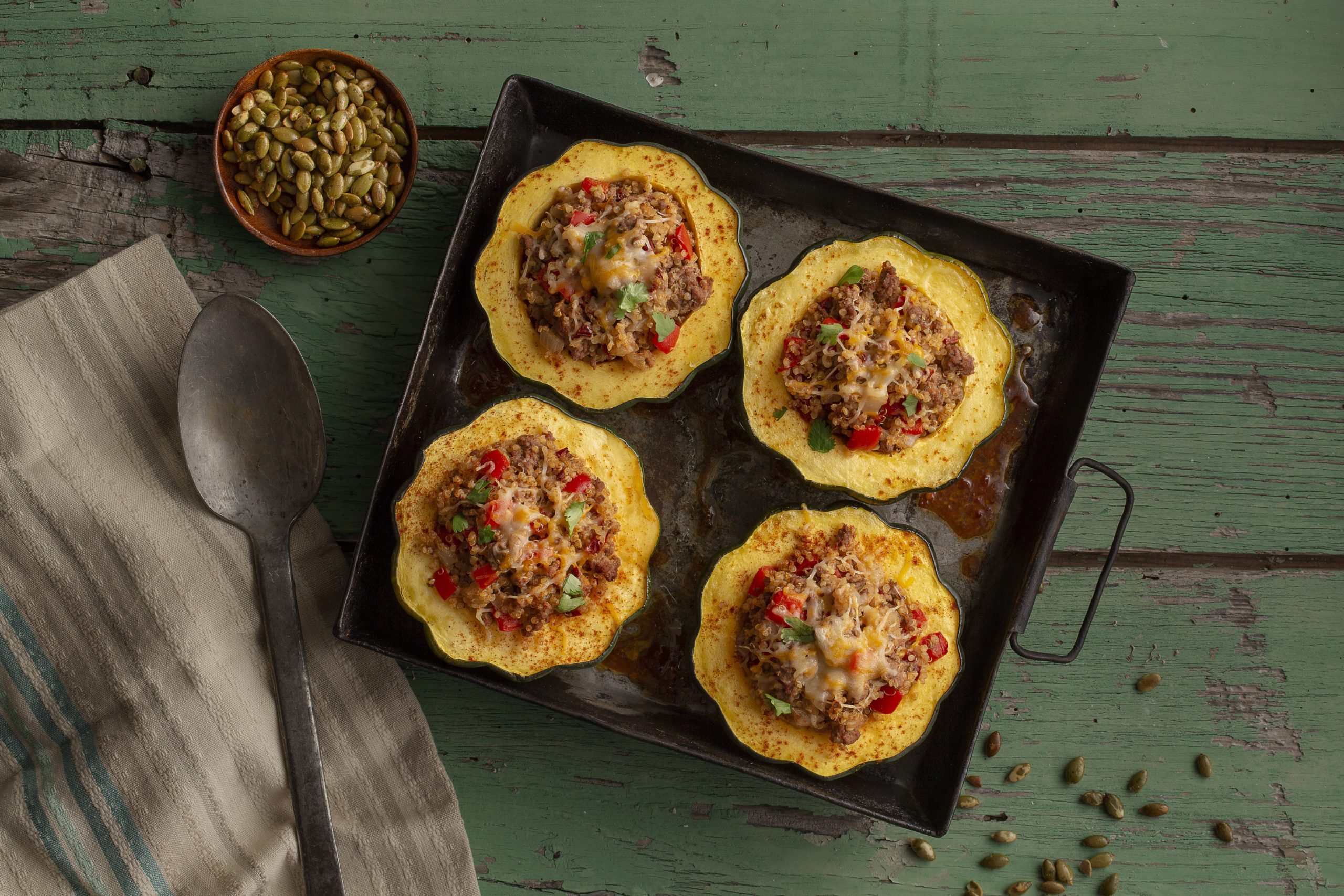 Southwestern Style Bison Stuffed Acorn Squash
With just a little heat and a hint of smokiness from the chipotle peppers the ground bison filling pairs deliciously with roasted acorn squash.  Perfect after a day of raking leaves or shoveling snow!
Ingredients
2

each

acorn squash

about 1-1/2 lbs. each, cut in half and seeds removed.

1

tbsp.

canola or grapeseed oil

divided

½

cup

diced sweet onion

½

cup

diced red bell pepper

½

lb.

ground bison

lean ground beef will work if you can't find bison meat

1

tsp.

smoked paprika

¼

tsp.

ground black pepper

1-½

tbsp.

diced chipotle pepper in adobo sauce

seeds removed

1

cup

cooked quinoa

¼

cup

shredded Mexican cheese blend

2

tbsp.

pumpkin seeds

½

avocado

sliced
Instructions
Preheat oven to 425° F. Brush cut edges of the squash with 1 tsp. oil and place squash, cut side down on parchment lined sheet pan.

Roast squash for 25 -30 minutes, until a knife pierces the skin without resistance.

While squash is roasting, heat the remaining oil in a large sauté pan over medium heat.

Add onions and bell pepper to the pan and cook until just soft (~5 minutes).

Add ground bison, paprika, and ground pepper, and cook until the meat is cooked.

Mix in chipotle peppers and quinoa.

Take squash from the oven and turn each half over. The edges should be golden brown. Add ¼ of the bison mixture to each squash half. Top with 1 Tbsp. shredded cheese and place back in the oven for 5 minutes, or until cheese melts.

Top each stuffed squash half with pumpkin seeds and garnish with avocado slices.
Notes
If you can't find ground bison, ground beef will work just as well. Choose a 90 – 95% lean ground beef to keep the fat content comparable to the bison.
Nutrition
Calories:
330
kcal
Carbohydrates:
37
g
Protein:
21
g
Fat:
12
g
Saturated Fat:
4
g
Polyunsaturated Fat:
3.5
g
Monounsaturated Fat:
3
g
Cholesterol:
45
mg
Sodium:
150
mg
Potassium:
1140
mg
Fiber:
6
g
Sugar:
2
g
Vitamin C:
50
mg
Calcium:
150
mg
Iron:
5
mg