If you think of salads as only a summertime food, this easy homemade pomegranate dressing will certainly change your mind! Honestly, I think this dressing "makes" this salad, and it adds a festive vibe as well. That, and it takes all of 5 minutes and a few ingredients to pull together. No need to add any extra stress to your holidays, right?
First though, a little bit about pomegranates and why I decided to make this dressing.
What are Pomegranates?
Pomegranates are thought to be one of the oldest fruits and have an origin in the Mediterranean area as well as Asia and Persia. The fruit is found in many religious symbols and has been a symbol of sanctity, abundance, fertility. The fruit was so important to ancient cultures that they were included in drawings, sculptures, and the robes of prominent citizens and priests.
The brilliant deep red fruit has a tough outer skin and when cut in half is full of juicy little seeds called arils that are encased in a bitter white pith. Extracting the seeds from the pith can be a bit intimidating and a lot of work unless you know a few tricks. No, there isn't a pomegranate deseeder – at least not that I've found yet, but I do have a fun way to get those juicy seeds out.
You can watch my video here for a fun, stress-relieving way to get them out.
Health Benefits of Pomegranates
It's easy to be a bit overwhelmed this time of year and stress can creep into most of our lives without even realizing it. What I love about pomegranate juice and these little arils (seeds) are all the health benefits you get from them, and that includes stress reduction. Well, first and foremost they are delicious, so the health benefits are just an added bonus from my perspective.
½ cup of pomegranate seeds contains:
Vitamin C – 15% of the Recommended Daily Value
Vitamin K – 18% of the Recommended Daily Value
Potassium – 8% of the Recommended Daily Value
Fiber – 12% of the Recommended Daily Value
They are also rich in antioxidants – the compounds that give them their brilliant red color. These are thought to contribute to reducing inflammation, reducing the risk of certain cancers and heart disease.
There is some evidence that they can also help reduce cortisol levels. Cortisol is a stress-related hormone that kicks into gear when we are stressed – it is that fight or flight response and cortisol is responsible for that.
While it decreases cortisol, it also helps increase serotonin, a hormone that helps calm us, and gives us that content feeling. I don't know about you, but a little more serotonin this time of year is not a bad thing!
Now, all of this is not at all why I came up with this dressing and salad! I just wanted a dressing that would complement this beautiful spinach and kale salad and I wanted to use some seasonal ingredients.
So let's make the pomegranate dressing!
How to Make Pomegranate Dressing
The pomegranate dressing is really a classic vinaigrette with some dijon mustard added to give it extra flavor and help emulsify it. Basically, it helps prevent it from separating. I use it a lot in my homemade dressings for the flavor and its function!
This is so simple it's almost silly. Honestly, all you do is put all the ingredients in a bowl and whisk!
I store the dressing in a small mason jar in the fridge so it is easy to shake if it does separate. It will last for 2 – 3 weeks in the refrigerator, but I guarantee you'll go through it much faster!
The Spinach and Kale Salad
For the salad, I use baby spinach and baby kale. I find the younger leaves a bit sweeter and tastier than the more mature versions and are delicious in a salad. You're still getting all the nutrition that you would from the mature vegetables too!
Put the greens on a plate or platter and top it with crumbled goat cheese, toasted walnuts, pomegranate seeds, and some slivered shallots. Then drizzle with the dressing and you have a gorgeous salad that will be perfect on any holiday table.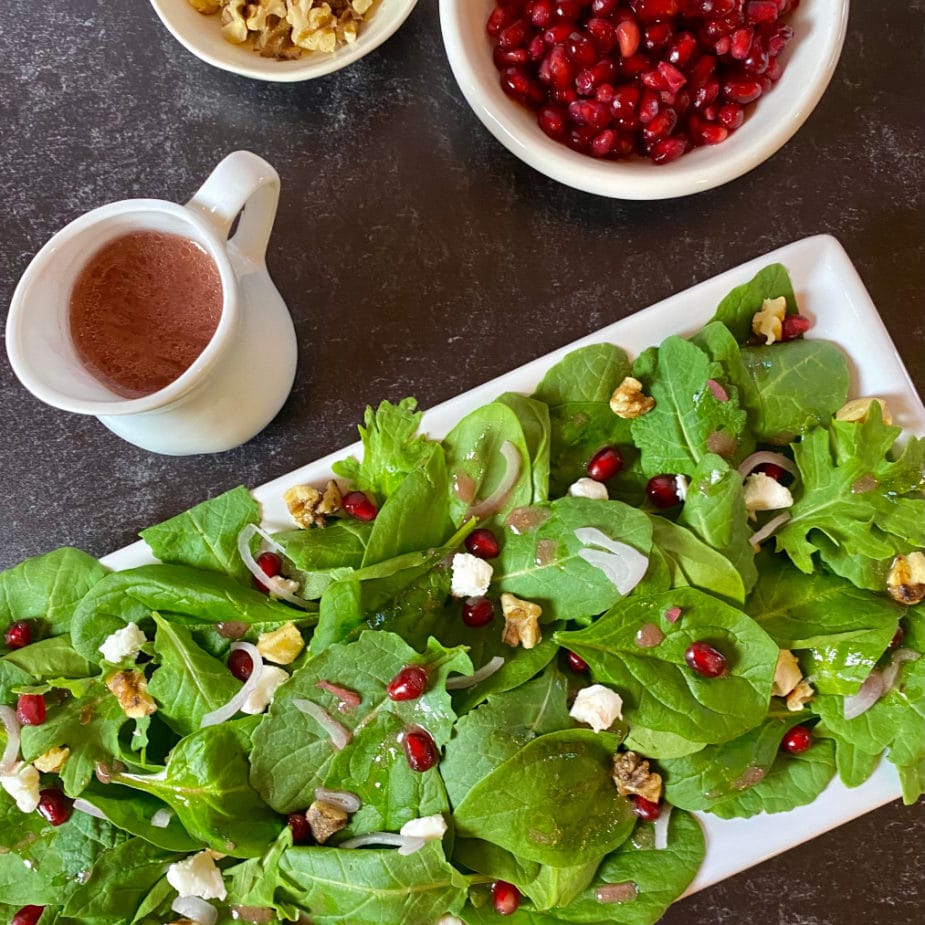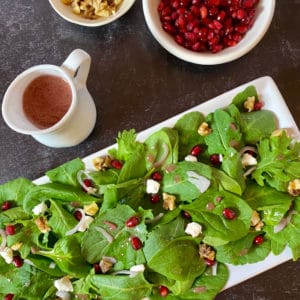 Spinach and Kale Salad with Pomegranate Mustard Dressing
Ingredients
Pomegranate Mustard Dressing
1/2

cup

extra virgin olive oil

2

tbsp

walnut oil

1/4

cup

pomegranate juice

2

tbsp

white balsamic vinegar

1

tsp

agave syrup or honey

1//4

tsp

kosher salt

1

tbsp

dijon mustard
Spinach and Kale Salad
4

cups

baby spinach and kale blend

1/4

cup

pomegranate seeds (or arils)

1/4

cup

chopped walnuts

toasted

2

oz.

goat cheese

crumbled

2

tbsp.

thinly sliced shallots
Instructions
To make the dressing
Place olive oil, walnut oil, pomegranate juice, syrup, vinegar, salt, and mustard in a medium bowl and whisk until well combined and emulsified.

If you aren't using it right away, store it in an air-tight, non-reactive container like a mason jar in the refrigerator.
To assemble the salad
Place the baby kale and baby spinach on a medium platter.

Top with pomegranate seeds, walnuts, goat cheese, and shallots.

Drizzle with dressing right before serving.
Nutrition
Serving:
1
cup
Calories:
200
kcal
Carbohydrates:
7
g
Protein:
6
g
Fat:
18
g
Saturated Fat:
4.5
g
Polyunsaturated Fat:
7
g
Monounsaturated Fat:
6
g
Cholesterol:
10
mg
Sodium:
140
mg
Potassium:
170
mg
Fiber:
2
g
Sugar:
3
g
Vitamin C:
13
mg