January – This is probably the one month of the year I like the least. Here in the Northeast, it is pretty cold and dreary. If we are lucky, that's it, but when there is snow and ice on top of it – well, I'm in for the month. On the bright side, that means you can often find me cooking up a hearty pot of soup.
No wonder January is officially National Soup Month!
A piping hot bowl of soup really warms the body and soul and I'm sure you've heard that chicken soup is good for you and that includes this one! Chicken tortilla soup is a healthy, light, broth-based soup, packed with vegetables like corn and tomatoes, beans, and lean chicken. The lime juice adds a bright fresh flavor too. Perfect for a cold, chilly January night!
The other day I made this spicy chicken tortilla soup and it really hit the spot. Spicy and piping hot, it was just what we needed after a chilly day taking down our Christmas decorations and packing everything up until next year.
What You'll Need
Shredded Chicken – This is a great way to use up leftover roast chicken or an easy way to use rotisserie chicken.
Corn – I had some corn from this summer in the freezer that I used for this but canned (I look for no salt added) or frozen would be perfect.
Black beans – Canned black beans that are rinsed and drained. I always look for the reduced sodium version and still make sure they are well-rinsed to minimize the amount of salt added.
Onion and garlic – aromatic vegetables to add flavor.
Diced tomatoes and their juice – I love using canned tomatoes because they are so flavorful. They are always packed when they are perfectly ripe and add the most flavor. If you can find fire-roasted, these add an extra depth of flavor that really makes this soup special. 
Chicken broth – You can use canned chicken broth (I like College Inn, reduced sodium version*) or make your own homemade chicken stock, which is what I used in this one.
Chilis – either fresh, minced jalapenos or canned chilis are perfect in this soup.
Lime juice and zest – citrus adds flavor and helps cut down on the need for extra salt in this soup.
How to Make It
This soup is really easy to make. I used leftover "roast" instapot chicken because it shreds so nicely and I had some ready to go in my freezer. But, this is also a good way to use leftover rotisserie chicken or baked chicken.
To start, saute some yellow onions over medium heat in a large stockpot with a little grapeseed or canola oil. This just softens the onions and mellows their bite. Add the minced garlic and saute for a minute or two. 
Then, add the beans and corn and saute for a minute or two to coat with the oil and heat.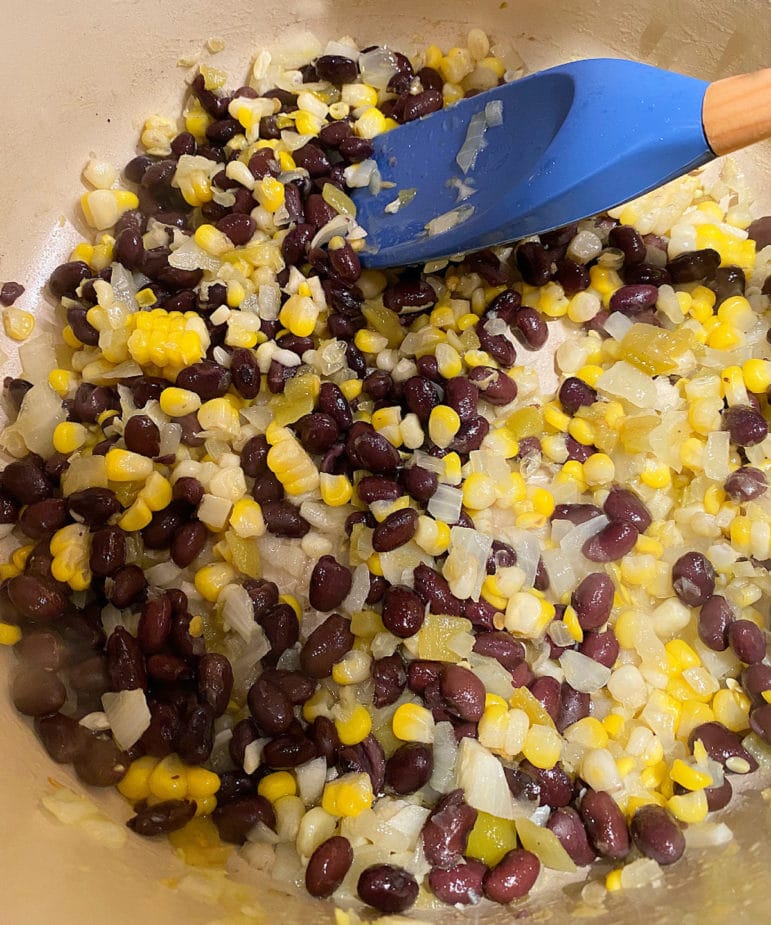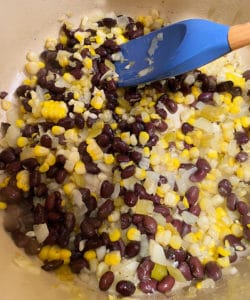 Add the diced tomatoes with their juice, jalapeno peppers, lime zest, taco spice mix, and chicken, and cook for a couple of minutes.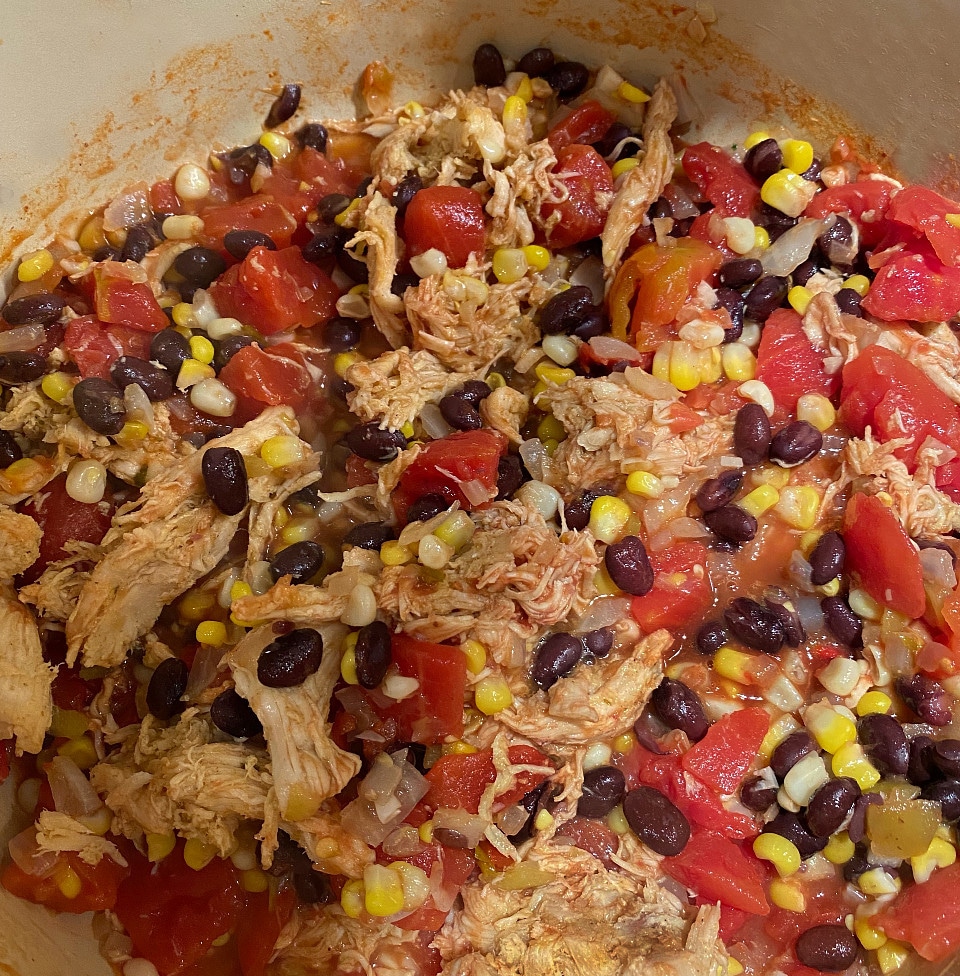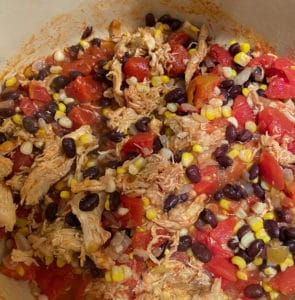 Then add the chicken broth and cook until it is hot. Mix in the lime juice and cilantro just before serving. The lime juice added at the end adds a burst of flavor and it helps cut down on the amount of salt you need.
Variations
Use leftover chicken, rotisserie chicken, or shelf-stable chicken.
Swap in canned tomatoes with added chili peppers instead of adding fresh jalapeno peppers.
Not into black beans? No problem – leave them out and increase the amount of corn and tomatoes or use another type of bean like pinto beans instead.
Don't like cilantro? You could add some chopped fresh parsley instead or just eliminate it altogether.
Need it to be dairy-free? Either skip the cheese or try a plant-based cheese instead.
FAQs
Can the recipe be doubled or tripled? – Absolutely! This soup is perfect for a party or large family gathering. You can change the number of servings in the recipe card below so you get the right measurements without having to calculate it yourself!
Can you freeze Chicken Tortilla Soup? – You can certainly freeze chicken tortilla soup. Making a big pot of this makes an easy meal later on. It will last for about 3 months in the freezer. See below for storage tips.
How do you make a vegetarian version? Great idea! Just eliminate the chicken, double the beans, and use chicken broth, or substitute tofu for the chicken and use vegetable broth.
Can you use turkey or beef in place of chicken? Sure! This would be a great way to use up leftover turkey or ground beef.
Is this soup gluten-free? Yes, this chicken tortilla soup recipe is gluten-free. If you add tortilla strips or chips, just make sure they are made from cornmeal and that they are gluten-free.
Other questions? Let me know in the comments and I'll be sure to address them!
Storage Tips
This soup makes 4 servings but can easily be doubled to make extra to freeze for later. It will last in the fridge for a couple of days but freezing it will make it so you have another meal down the road.
How to Freeze Chicken Tortilla Soup
1. Allow the soup to cool slightly before placing it in freezer-safe containers.
2. Place 2 – 4 servings in a freezer-safe container or a freezer-safe storage bag. Always freeze hot things in small portions so they freeze quickly.
3. Label the container with the contents and the date.
4. Place the container in your freezer. If you have a number of containers of hot soup, place them in different parts of your freezer to help them freeze quicker.
This soup will keep for about 3 months in the freezer. When you are ready to use it, thaw it in the refrigerator and reheat it on the stove or in the microwave. You have an easy meal for a busy night down the road!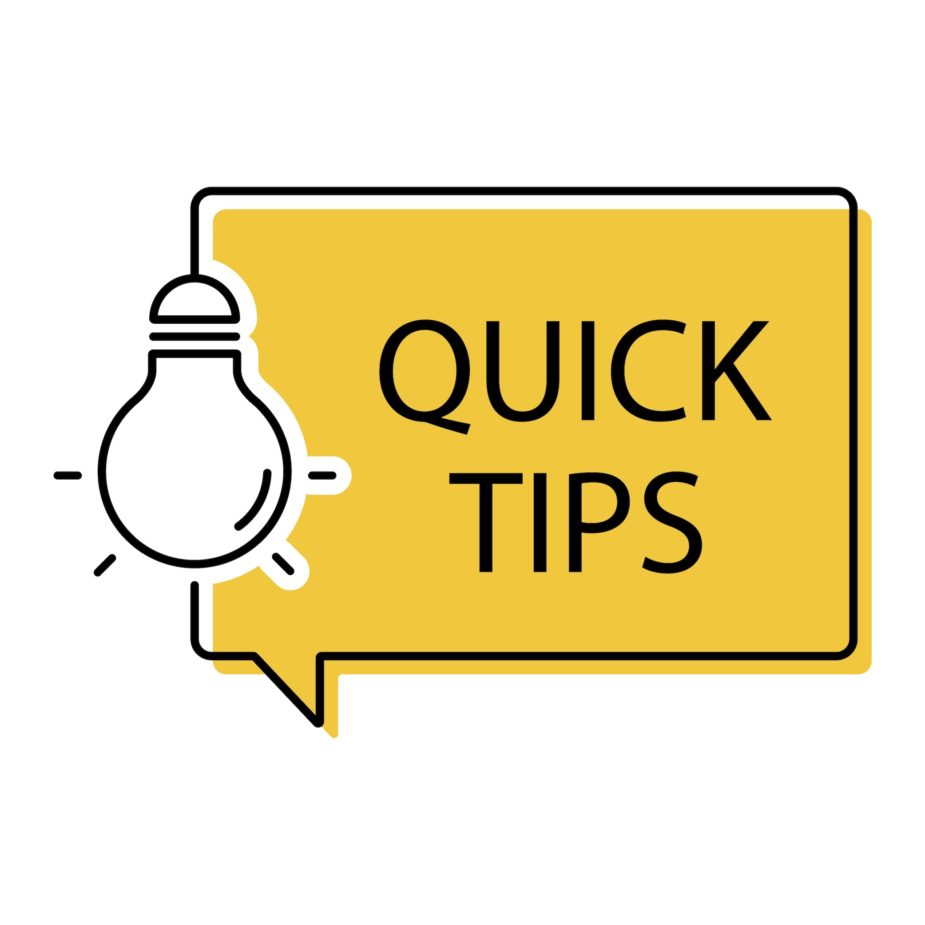 Putting large quantities of hot food in your freezer at once could raise the temperature of your freezer causing the temperature to rise above the freezing point. This could prevent your food from freezing and cause frozen food to thaw.
If you have a lot of hot food to freeze, cool it first by separating it into small quantities and placing it in separate parts of your refrigerator.
Serving Suggestions
I love topping chicken tortilla soup with some chopped avocado and a teaspoon or two of shredded cheese. Then a quick squeeze of half a lime over the top gives this a nice flavor burst. Serve it with a slice of cornbread and chopped salad on the side or cheese quesadilla.
This soup makes a good lunch or hearty dinner meal and while delicious on a cold winter day is also nice in the summer alongside a salad.
Other Recipes You'll Love
If you are in the mood for soup – I have a few others that I love here.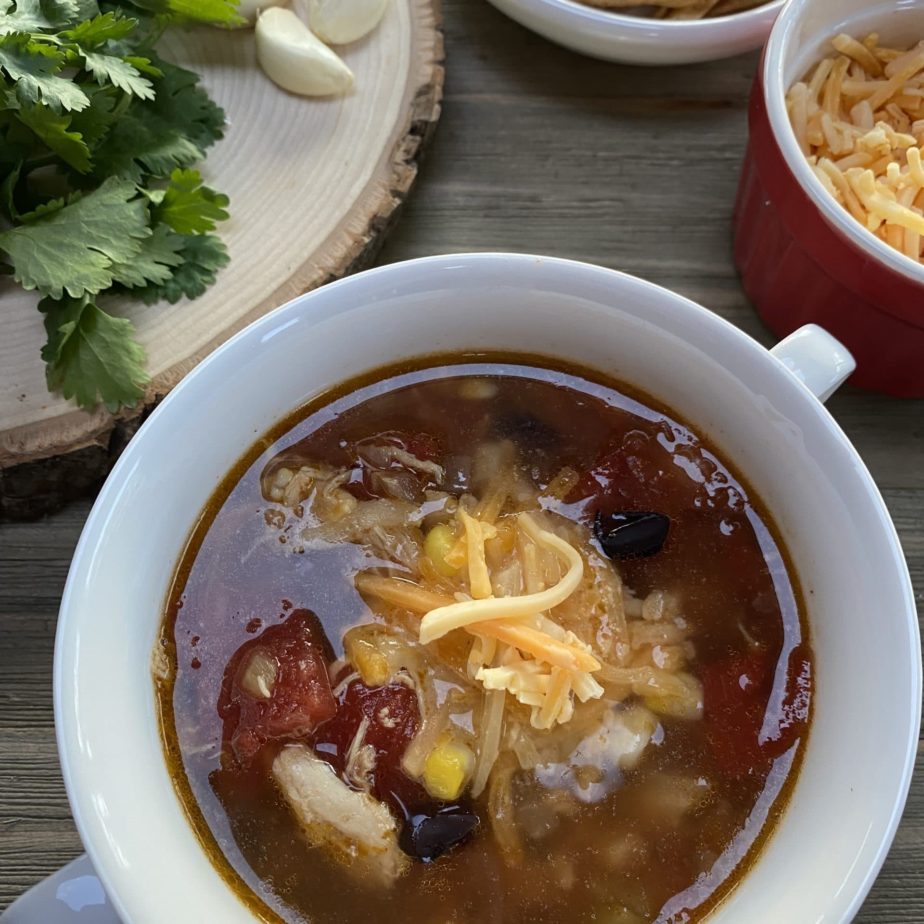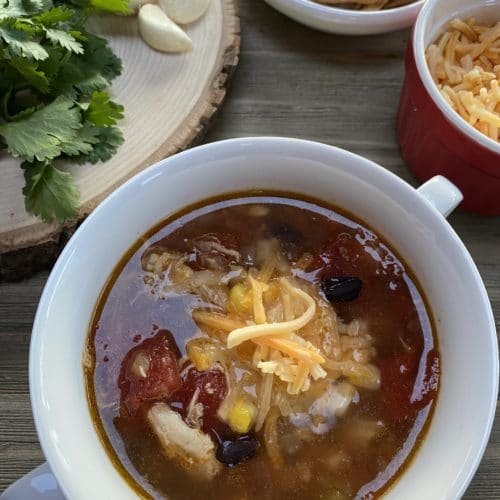 Chicken Tortilla Soup
A rich chicken broth based soup filled with tomatoes, corn and beans. This soup gets a good kick from the jalapeno peppers and garlic.
Ingredients
1

tbsp

grapeseed oil

or canola oil

½

cup

chopped yellow onion

2

each

garlic cloves

minced

2

tbsp

minced jalapenos

1

cup

corn

if using canned, no salt added

1, 15

oz

can black beans

rinsed and drained

2

cups

shredded chicken

1, 14.5

oz

can diced tomatoes

including juice

1 ½

tsp

taco seasoning

4

cups

chicken broth

reduced sodium if using canned

1

tbsp

lime juice

1

tsp

lime zest
Garnishes/Serve with
1

avocado

chopped

½

cup

shredded jack cheese

½

cup

tortilla strips or chips

2

tbsp

chopped, fresh cilantro

2

tsp

lime juice
Instructions
In a large stockpot, heat the grapeseed oil over medium heat. Once hot, add the onion and saute for 4 – 5 minutes, until softened and translucent. Stir in the minced garlic and jalapenos and cook for 1 minute.

Add the corn and black beans to the onion mixture and cook, stirring for 2 minutes.

Add the chicken, tomatoes with their juice and the taco seasoning to the pot and stir over medium heat to combine well.

Add the chicken broth and lime juice and cook for 10 minutes over medium heat until the chicken is hot and the broth is steaming but not boiling. Stir in the lime zest just before serving.

Serve in bowls with chopped avocado, shredded jack cheese and a sprinkle of lime juice and cilantro if desired.
Notes
In place of fresh jalapenos, canned minced chilis will work well in this recipe.
Nutrition
Calories:
180
kcal
Carbohydrates:
17
g
Protein:
18
g
Fat:
4
g
Saturated Fat:
0.5
g
Polyunsaturated Fat:
2
g
Monounsaturated Fat:
1
g
Cholesterol:
35
mg
Sodium:
710
mg
Potassium:
490
mg
Fiber:
1
g
Sugar:
4
g
Vitamin C:
15
mg
Calcium:
50
mg
Iron:
2
mg